Obviously you want to provide your Yorkie with the best possible care.
In order to do that, there are a few key things you need to have.
If you are unable to provide these things, you should seriously reconsider getting a Yorkie.
It's just not fair to these little pups, if you can't give them the care they need.
So what exactly do you need to care for a Yorkie properly?
Keep reading to learn what caring for a Yorkie entails and how you can ensure you are ready and able to give your pup the loving care it deserves.
How To Take Care Of A Yorkie
First, however, let's see just what makes a Yorkie so unique.
Why To Get A Yorkie
All dogs deserve care, so what makes a Yorkie right for you?
For starters, if you are looking for a smaller, indoor dogs, a Yorkie could be perfect. These family-friendly dogs are cute and fun-loving. What's more, they're naturally friendly, making them great with older kids.
Are Yorkies good with kids that are younger, too? They are not generally viewed as a good dog for young kids, but if you teach your kids how to play with the dog correctly, and take some additional precautions, they can be.
So is a Yorkie a good family dog? They are not the best, but they can be great with the right training. And yes, they will need a bit of extra training to learn how to deal with young children.
They will also need special care in other areas. For example, many are unable to make leaps from high places—such as off your sofa—due to weaker hip bones.
For this reason, it's important to understand your dog's needs to provide the best possible care.
With that in mind, let's take a look at the ten things that you need to properly take care of your Yorkie!
Top 10 Things You Need To Care For Your Yorkie
So, what do you need for your Yorkie? Let us count the things!
Keep in mind that this list is not exhaustive—your Yorkie will need more than these ten items. However, if you're not sure where to start, make sure that you've got all ten of the following!
Dog Bowl
First and foremost, when taking care of your Yorkie, make sure that you have a designated food and water bowl. What's more, you'll want to make sure that you place the bowl in a location where your dog can find it.
A regular feeding schedule is important to maintaining the health of your pup. Because your Yorkie is small—especially if you have the teacup variety—you'll want to make sure that you're not overfeeding it. Read "How much do Yorkies eat?"
The good news is that there are several doggie bowls available on the market. This means you can choose a cute bowl that will go well with your current home furnishings.
You can even find some that are specifically tailored to Yorkies. Because of this, you can get a bowl perfectly optimized for your dog. Yorkies need the right size bowl, after all.
Don't forget that you're going to need a water bowl, too. With this combo, you can be sure that your dog won't be hungry, even if you have to leave the house during the day. By having quick, convenient access to food and water, your dog can live in comfort even when you're away.
Toys
But a doggie bowl is only the first item that you should get. Because while eating is important, you're going to want to make sure that your dog has plenty of fun, too.
Here's the deal: Yorkies love to play.
These fun-loving dogs are always ready to have a good time. This means that you're going to want to make sure that you've got enough fun dog toys for them so that they can stay active.
But be careful. Remember, Yorkies are a bit more delicate than other dogs. This proves especially true if you're working with teacup Yorkies, because their small frames are particularly fragile.
For this reason, consider getting toys that are specifically designed for your Yorkie. And don't be afraid to get a wide variety. By having a large pile of toys, you can enhance your dog's quality of life.
What's more, you'll want to make sure that you leave a few toys in an accessible location, so that your dog can play with them throughout the day.
This proves especially true if you sometimes have to leave for extended periods—such as going to work during the week.
In this way, you can help reduce the separation anxiety that your dog will feel when you're gone. By having access to toys it is familiar with, your dog can enjoy a better time during the day.
So what toys are good for Yorkies? Try getting soft, squeaky toys. These toys generally entertain Yorkies, and they don't pose serious risks to your pet.
What's more, if you have a Yorkie puppy, you may want to consider getting a chew toy. This will allow your pup to teethe in comfort.
Finally, puzzle toys are great to challenge your Yorkie mentally. This breed is quite intelligent and your pup will appreciate the chance to use its brain.
Leash
In order to properly take care of your Yorkie, you're going to need a leash. The truth is that many places won't allow you to take your dog out, if you don't have a leash.
For example, you may find that your local public park requires pets to be leashed—or that you need one simply to walk through the neighborhood.
For this reason, it's important that you get a leash. This will allow you to take your dog outdoors, giving it the opportunity to exercise.
What's more, fresh air and sunshine are just as good for your pet and its mood as it is for you. Just think about it—you wouldn't want to be locked indoors all day, would you?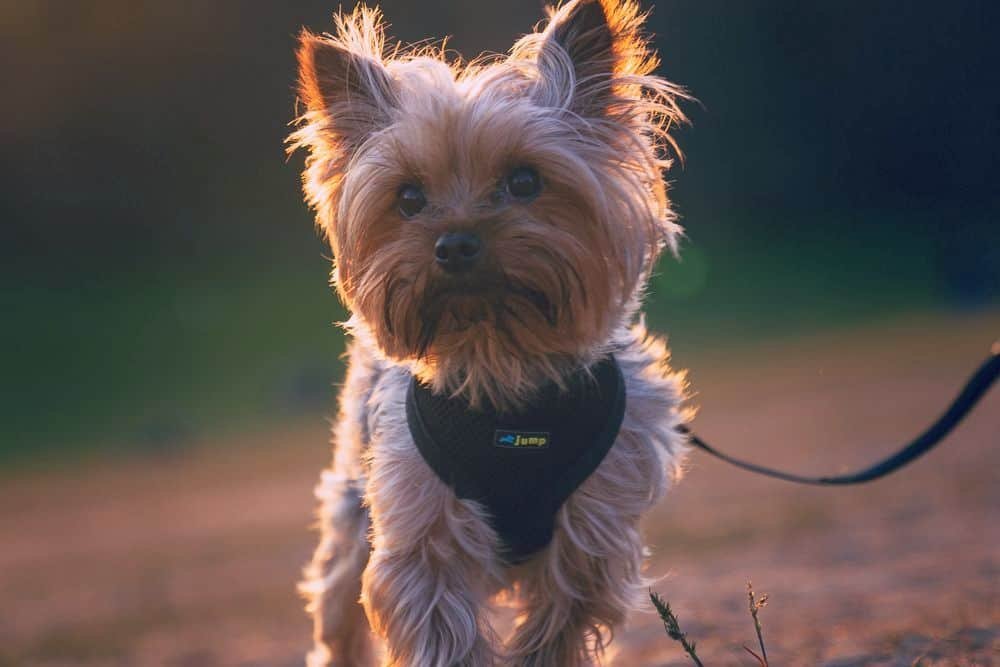 That's what we thought.
With a leash, you'll also be able to safely protect your Yorkie from running into dangerous places—such as the street—or from getting into confrontations with other dogs. For this reason, it's an integral part of your equipment list, if you plan to raise a Yorkie.
Comb Or Brush
Yes, Yorkies are cute—but you should expect to do a fair bit of grooming.
This means that you're going to need to invest in a comb or brush for your Yorkie. These dogs can grow their hair relatively long, so you'll want grooming tools to keep it tidy.
In addition to regular trims, you need to use products like brushes and combs to keep your Yorkie's hair under control. Do Yorkies shed a lot? No, they shed far less than most dogs, but they need regular grooming to help minimize shedding.
Hair Tie
But that's just one of the tools you'll need. If you're really hoping to make sure that your dog is as cute as possible, you're going to need one more thing—a hair tie.
With a hair tie, you can style your Yorkie's hair for maximum cuteness. Win the favor of all your friends and family by investing in a hair tie set.
You'll want to experiment with different colors and styles so that you can get the look that's best for your dog. This is perfect if you love taking photos, or you simply want to spoil your pet.
Furthermore, should your pet get lost, having hair ties can be a great way to indicate to a passerby that it already has an owner. It will also make it easier for you to identify your dog and describe it to others, since you'll be able to explain exactly what hair ties it may have been wearing.
In this way, investing in hair ties can improve both your Yorkie's style and its safety.
Time
One of the most important considerations of all is something you can't buy.
If you plan on raising a Yorkie, one of the most important things you're going to need is time. And if you're not going to have enough, you might want to reconsider your decision to get a Yorkie.
Here's the deal: these fun-loving creatures can get high levels of separation anxiety.
They're family-focused and oriented, and being separated from their humans for a long period can cause them great distress.
What's more, if you're not around to play and help provide them with social and physical activity, they can grow both depressed and physically unfit.
For this reason, make sure that you have adequate time to spend with your Yorkie. Make time during the day to play with it and to take it out for walks.
Let your pup know how much you care about it by spending time with it whenever you're free.
Most important of all, however, is to make sure that you're going to have enough time to begin with. So how much time is enough?
For starters, make sure that you're able to spend time with your Yorkie both in the morning before work, and in the evening and at night later. This will keep your pet comfortable throughout the day and help it feel loved.
A yorkie can be left alone for shorter periods. 4 to 6 hours, at most. It is very hard on them because they are social creatures and they get very lonely if you leave them home alone.
Training will also take a considerable amount of time and can be a frustrating process overall. But there is one key thing you can do to make it much faster and smoother. Read "How To Train A Yorkie Puppy" for more.
The Right Food
We've already discussed how a doggie bowl is something that you should invest in. But that's not all. If you're really looking to take proper care of your Yorkie, you're going to need the right food.
Unfortunately, many brands of dog food use less-than-stellar ingredients. What's more, some brands may be particularly bad for your Yorkie, because of their small stature and makeup.
This is a consideration when buying treats, as well.
Because your dog's situation may be unique, consider talking to your vet about the type of diet that is right for your Yorkie. This will allow you to make a specialized plan that will maximize your Yorkie's health and happiness.
A Doggie Bed
Remember that your Yorkie's joints aren't as strong as those of other dogs. This means that you should be wary of putting it in high places—such as on your sofa or bed.
That being said, your dog will still need somewhere comfortable to sleep. Ideally somewhere that accommodates all the various yorkie sleeping positions.
With a cushioned doggie bed, you'll be able to provide it with a soft and comfortable location to relax and sleep. This will also prove beneficial for its joints, because the extra cushioning will be kinder to it than the hard floor.
All-Natural Flea And Tick Repellant
Of course, you're going to need to make sure that your Yorkie stays flea and tick free. This is in addition to any shots and vaccinations that your dog will require.
Many flea and tick supplements must be taken every month or every few months to be effective. But making sure that your dog stays itch-free is something that you shouldn't try alone.
Speak with your vet first about the right flea and tick repellant for your dog. You're going to want something that's all-natural and non-toxic, as well as something that's suitable for your dog in particular.
Your vet will be able to assist you in finding the right flea medicine for yorkies, allowing you to significantly raise the standard of living for your pet.
Collar With An ID Tag
Finally, you're going to need a collar with an ID tag. This will serve two purposes. First, it will allow you to use a leash with your dog when in public, though we strongly recommend getting a harness for walks, instead of a collar.
As mentioned above, using a leash allows you to keep your dog safe, while giving you the freedom to take it outdoors.
What's more, it will allow you to give it an ID tag. This proves especially important if you want to make sure that your dog doesn't get lost. By having a collar and ID, you can provide important contact information should your pet get lost.
Caring For A Yorkie: The Bottom Line
Having a Yorkie can be an incredibly rewarding experience. Before you get one, however, make sure that you're able to properly provide for it, and that you know what to look for to ensure you get a healthy Yorkie.
This guide listed the basic items that you need to properly take care of your Yorkie. With these items, you can help protect your pet, all while giving it a better quality of life.
You may be thinking that al of this will cost a lot. Well, yes. Owning a dog is not cheap. And the cost of the yorkie itself is usually quite high, too. The teacup yorkie cost is even higher than that of a regular sized one, which you need to be aware of, if you were thinking of a mini yorkie.
But as long as you're ready for the cost in terms of time and money, a yorkie is a great addition to any family. Keep this list in mind as you plan to take care of your future or current Yorkie! We know your dog will thank you later!