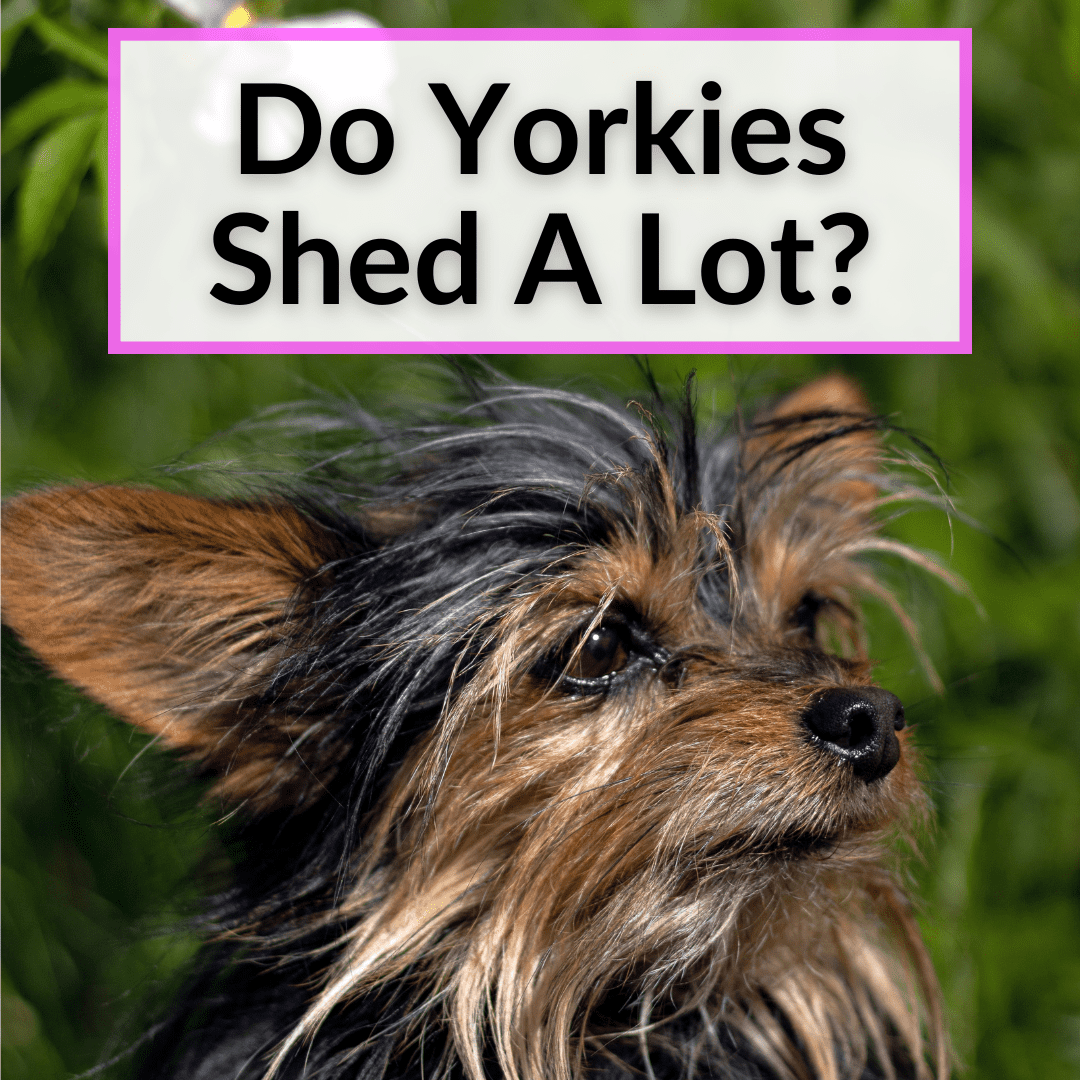 Do you have allergies?
Or do you just hate vacuuming?
Even if neither is the case, having hair all over you home at all times can be a bit annoying.
Of course, it is a price we gladly pay to enjoy the privilege of sharing our homes with our beloved pets.
But maybe we don't have to pay it.
You might have heard that Yorkshire terriers are hypoallergenic dogs and that they do not shed.
Neither of those is strictly true, but there is also some truth to both.
Confused? Keep reading to learn if Yorkies do indeed shed, how much they shed, and whether they are a good breed for those suffering from allergies.
Do Yorkies Shed A Lot?
Yorkies do not shed a lot, when compared to most other breeds. Most dogs have a coat with two layers, but Yorkshire terriers have a single-layer coat. That is a big reason they are light shedders.
You will still find some Yorkie hairs on your carpet, but you won't find nearly as many as you would with most other dogs. But the single-layer coat is not the only reason they shed less than other dogs.
If you have ever pet a Yorkshire Terrier before, you probably noticed that the texture of the coat feels different than other most other breeds. This is because Yorkies have hair, instead of fur.
Yorkie hair is fine. In fact, it's of a similar texture to human hair. Because it's so fine, the hair clings to itself. Loose hairs are likely to catch onto other hairs on your Yorkie's body, rather than fall off onto the floor or furniture.
Of course, this means it's important to regularly brush your pet. The build up of hair on their bodies could start to become unhygienic. Yorkies tend to need more grooming than other breeds, so you'll definitely want to invest in some quality grooming tools.
How Much Do Yorkies Shed?
Even though you may not have to vacuum your sofa every day of the week, you will still find Yorkie hairs on your carpets and furniture. They basically lose hair in the same way we do. We find our own hairs everywhere, but it's not the same as your average dog.
However, sometimes a Yorkshire terrier does shed a lot. This generally indicates a problem.
Excessive Shedding
Is your Yorkie contradicting everything you just read and shedding all over the place? The you are obviously now wondering why your pup is shedding so more than usual, given that it is not that common for this breed.
There are a few reasons why this could occur, like stress, hormonal levels, or certain health conditions.
Stress
If your Yorkie is stressed, it may start to lose more hair than normal. Stress can also impede hair growth and reducing stress is one of the key tips in our article on how to grow dog hair faster.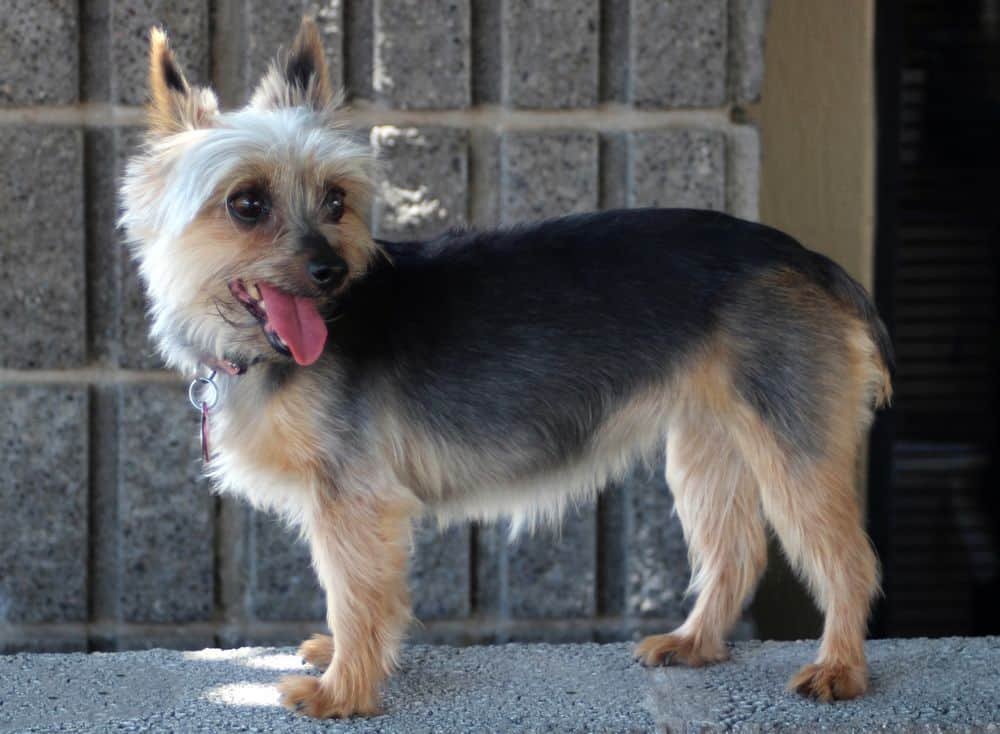 A new pet or a new home can be a contributing factor to stress levels. Really, any change in your dog's environment can cause it undue stress.
Sometimes, your stress can even reflect on your dog. If your Yorkie picks up on the fact that you don't seem quite yourself, this can also cause it to worry.
Usually, this factor will mend itself. Once your Yorkie becomes more relaxed, or you become more relaxed, its fur will stop shedding so much.
Hormone Levels
Elevated hormone levels can also have an impact on your Yorkie's hair shedding. This is a particularly common thing to happen if your dog is pregnant.
It usually isn't anything to worry about and once your Yorkie has given birth and her hormones have balanced out again, the excessive hair shedding should stop.
Health Problems
One other cause of hair shedding you should pay attention to, is if the shedding is due to a health condition. Certain conditions could affect the health of the skin.
If your Yorkie is shedding excessively and you don't think it is stressed or pregnant, you may want to take a trip to the vet.
The health of your Yorkie's skin could be impacted by allergies or parasites. Both of these can cause excess shedding of its hair. Parasites can cause the skin to become inflamed which may lead to irritation, dryness and a whole lot of itchiness.
It can cause your Yorkie to excessively scratch and this scratching can also lead to infections. Both of these things will cause hair loss.
You can treat any parasites, like ticks, with home remedies. But if you suspect your Yorkie has contracted an infection, you should it to the vet, because it may need antibiotics.
Allergies are a little easier to manage than parasites. Usually, you can just cut out whatever you believe may be the source of the irritant.
It could be a certain food or the type of shampoo you use on your Yorkie. Use the process of elimination to identify the allergen and remove it from your pup's life. Once it is gone, you should notice an improvement in its skin and a reduced amount of hair loss.
There are also diseases that cause hair loss. Alopecia X is one example. This article has everything you need to know about Black Skin Disease, which is another common name for Alopecia X.
How To Minimize Yorkie Shedding
The two most important things you can do to ensure your Yorkie's coat stays healthy and glossy, and to keep shedding at normal levels, are to provide your pup a nutritious diet and to regularly grooming it.
Healthy nutrients to add to your Yorkie's diet include both omegas 3 and 6, zinc, and vitamin B7. These will improve your dog's immune system, and with a healthy immune system comes strong and glossy hair that is full of life and less likely to shed.
You can feed your dog fish oil supplements for the omegas and look out for kibble that contains the essential B7 vitamin and zinc. Good food for your Yorkie will contain all of these essential ingredients already.
Regular grooming will minimize hair shedding. Brushing your Yorkie at least twice a week (ideally daily) removes any fur that has latched onto its coat and will also encourage hair growth and shininess.
Regular bathing keeps the fur clean and washes away any skin irritants. If you keep up to date with regular haircuts, you can help ensure the hair remains tangle free and healthier. Some owners like to shave their Yorkies to make grooming easier.
Exercise is another essential factor to reduce hair shedding. It reduces stress and strengthens the immune system. As we've learned, both stress and illness can cause loss of hair.
Do Yorkshire Terriers Shed: Common Questions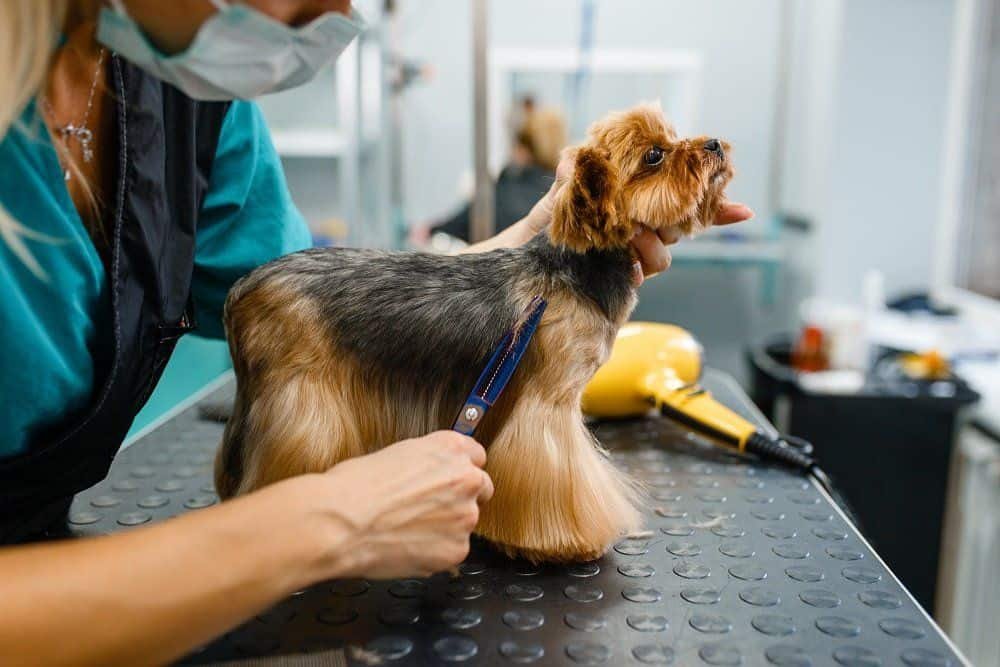 Next we're going to answer some common questions related to Yorkies shedding. If you have any additional questions, please ask them in the comments below.
Are Yorkies Hypoallergenic?
Yorkies are famous for being hypoallergenic, but the truth is no dogs are 100% hypoallergenic. Yorkie hair is much more like human hair rather than dog fur, which means they produce far fewer allergens.
But it's not zero allergens. Having the hair they do also means they don't shed as much. With less fur lying around, you're less likely to have an allergic reaction to the hair. The end result is one of the best breeds for allergy sufferers.
Can you be allergic to Yorkies anyway? Yes, you can. They are less likely to trigger an allergic reaction, but it can still happen. Especially if you have heavy allergies.
Do Yorkies Shed More Than Poodles?
Yorkies and poodles are both low shedding breeds of dogs, so one is not more likely to shed than the other. They do, however, both require regular grooming so that any hairs that have shed can be removed from their fur. This makes both dogs a great option for those that suffer from allergies, because they are less likely to produce allergens.
Does A Yorkie Poo Shed?
A Yorkie Poo is a cross between a Yorkie and a Poodle. Since both breeds are low shedding dogs, this also means the Yorkie Poo is a low shedding dog. They will shed, just not as much as other breeds, like Labradors.
You'll want to make sure you regularly groom them to minimize any fur dropping. Twice a week should be enough to keep on top of brushing your dog, but if you can manage to give your pup a quick brushing every day, that is ideal.
You can also choose to keep your pup's hair short, to reduce shedding. There are three popular Yorkie Poo grooming styles to choose from, but you can obviously do something different and creative, too.
If you do notice more hair than usual shedding, it could be a sign of a health condition or stress. If this continues then you may want to think about scheduling a visit with your vet.
Do Yorkie Puppies Shed Their Puppy Coat?
Yes, Yorkie puppies do shed their puppy coat, but you will probably not even notice. They lose it gradually over time, in several stages, so it just looks like their coat is changing color over the course of a few months.
Yorkie Shedding: Conclusion
Yorkies do shed but not nearly as much as most dogs. You can compare it to the amount of hair we lose as humans. It is far less noticeable than other dogs.
If they shed much more than that, it usually means there is something wrong. Generally, if you groom your dog regularly and feed it a healthy diet, hair loss is at a minimum. This makes the Yorkie great for allergy sufferers, although people with severe allergies may still have some issues.