Before learning how to shave a Yorkie, you should ask yourself if you should do it in the first place.
There are some advantages.
It makes the hair easier to care for. It also helps your pup stay cool during the summer.
However, the hair also protects your Yorkie's delicate skin from the sun. And from other things.
And, the hair actually helps your dog stay cool.
Plus, it could grow back irregularly after it has been shaved.
You'll have to decide for yourself if shaving is the way to go. But usually, it is better not to shave your Yorkie.
Cut the hair short, but not overly so.
With that out of the way, if you do decide to shave your Yorkshire terrier, keep reading for a full step-by-step guide on how to do it correctly.
How To Shave A Yorkie With Clippers
We'll begin with a list of the things you'll need. Usually, the easiest way to get them is in a grooming kit for dogs, like the one linked to after 'clippers' in the list below. Once we've covered what you need, we'll go through the steps of actually shaving your Yorkie.
Materials Needed
Step 1: Comb
To begin with, put your Yorkie on a flat surface. You may need to restrain it lightly, or have a second set of hands to help you hold it still. This is where a grooming table, or a regular table with a detachable grooming arm, comes in handy.
Once your Yorkie is on the table and ready to go, you want to first make sure its coat is tangle free. To do this, comb through its coat, starting on the back and then working your way down to the legs and belly.
You may be thinking: why do I need to comb my Yorkie's fur if I'm just going to shave it all off?
When the fur is tangle free, it comes away more easily. When it is free from tangles or areas of matting, you also don't need to pull at it when shaving, causing your poor pup pain. It also means your clippers will not become jammed with matted fur, which means the whole process goes quicker.
Step 2: Introduce The Clippers
You don't want to alarm your Yorkie by jumping right in and beginning to shave right away. It is better to let your dog become used to the feel of the clippers before you turn them on and begin shaving.
This is especially important, if it is your Yorkie's first time being shaved. You want it to feel comfortable with the clippers, to avoid any squirms that could lead to an injury.
To get your pup used to clipper, run it over your Yorkie's back a few times, without turning it on. As you are doing this, praise your pup and give it a treat, so that it knows it is being a good Yorkie.
Step 3: Trim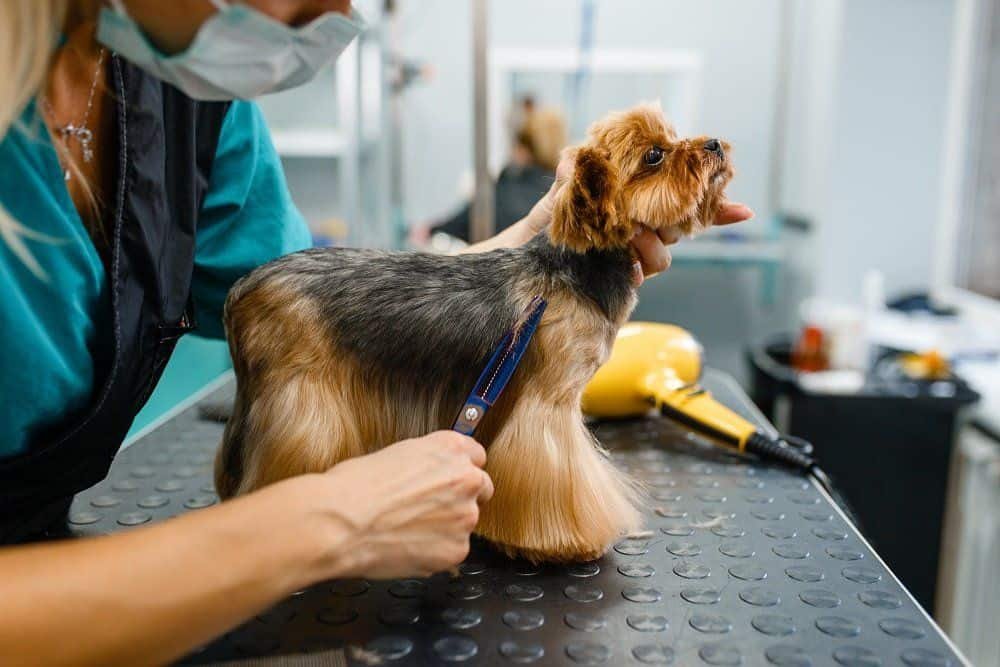 If your Yorkie's fur is particularly long, you may want to think about trimming it, before you start with the clippers. Grab a pair of small scissors and trim where it is needed. This will also allow you to see better when you are clipping and avoid any nicks to your Yorkie.
You may want to cut under the belly where the fur can get quite long and also around the eyes, snout, jaw, and chin area.
Step 4: Shave
Select the ½ inch clipper attachment for your dog. You don't want a bald Yorkie, after all. Start with its neck, then work down onto its legs and stop at its hindquarters. Make sure you're shaving with the direction of fur growth and not against it.
I would recommend shaving a little more slowly around delicate areas like the nipples. These are areas that you're more likely to catch with your clippers.
You should also make sure your clippers are well oiled and aren't getting too hot, because this could cause discomfort to your Yorkie.
Repeat the process on your Yorkie's sides and then move onto the legs. If your pup has been well behaved, you can give it a treat once you have finished clipping.
Step 5: Trim Paws
Once you've clipped away all of the fur, it is time to add the finishing touches. That means trimming the paws and rectum area. These areas are a little more delicate, so it's best to avoid the clippers here. Instead, grab your small scissors and gently trim under the paws and then move to under the tail.
Step 6: Brush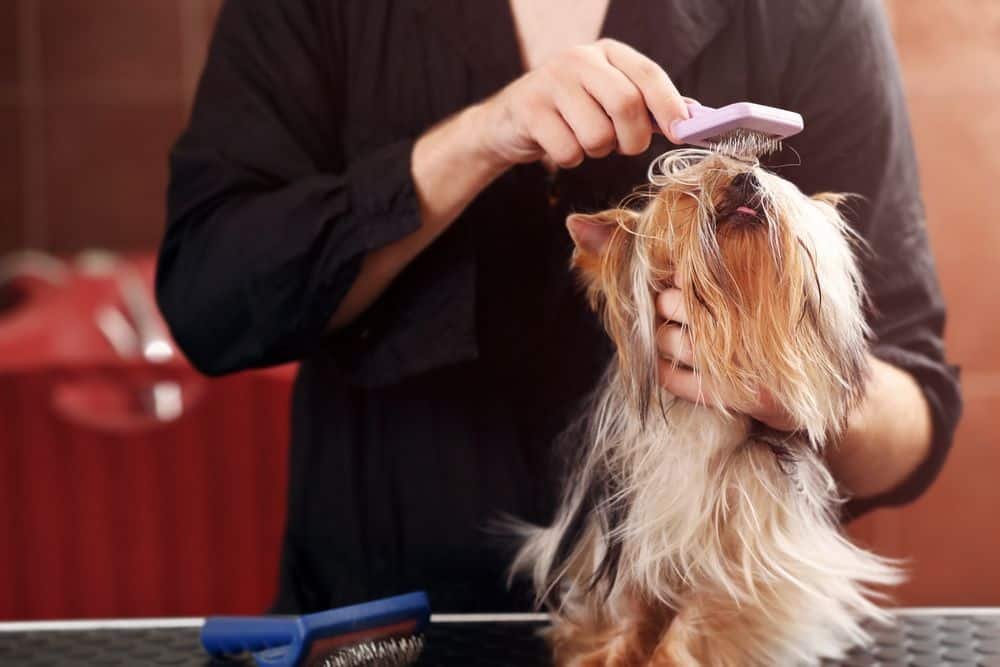 There's going to be lots of excess hair left over on your Yorkie from using the clippers. The best way to get rid of this is to give your pup a good brush, so that the hair can come free.
Once you've done this, you'll be able to see your handiwork and spot if there are any areas that you may need to go over again with the clippers.
It may take a little time for you to get the hang of shaving your Yorkie, but once you have, it will save plenty of time and money over taking your Yorkie to the groomers.
Shaving A Yorkie: Common Questions
Now we will briefly answer some of the more common questions related to shaving your own Yorkie at home. If you have any additional questions, please ask them in the comments below.
Is It Okay To Shave A Yorkie?
It is okay to shave a Yorkie, but it does have some drawbacks. Should Yorkies be shaved?
Full shaving of a Yorkie is not advisable. Their hair serves a purpose that protects their skin from harmful rays of the sun in summer. Also, their hair helps to protect them from the harsh cold during winter.
That said, a Yorkie's coat can become quite dirty. Longer hair means excess dirt can begin to build up, which may lead to skin conditions. A shaved coat also means your Yorkie will be cooler in the summer months, making it much more comfortable.
In general, it is usually better not to shave your Yorkie, even in the summer (and certainly not in the winter). The best haircuts for Yorkies in the summer keep the hair short, but don't shave it completely down.
Can I Cut Yorkie Hair Myself?
Yes, you can. Cutting your Yorkie's hair by yourself is a great way to save time and money. And the more your practice the better you will get. It is a good idea to make sure your Yorkie is in a calm mood before you start and that you have plenty of treats to offer as a reward.
You want to make sure you get a good set of pet clippers. Can you use human clippers on dogs? You can, but it is a bad idea. Dog fur is not the same as human, and using human clippers on dogs can hurt your pet or the clippers themselves.
How Can I Groom My Yorkie At Home?
There are lots of things you can do to groom your Yorkie at home and leave it looking clean and fresh. You may want to start by giving its coat a good cleaning. Buy high quality dog shampoo and conditioner that will leave its fur looking healthy and shiny.
You should brush your Yorkie regularly. They have a silkier coat than other dogs and it is usually kept longer, too. This makes it more prone to tangles. Brushing your Yorkie's fur leaves it feeling soft and smooth. If you do find any stubborn knots, you can gently work them out with a comb.
You can also take care of the teeth, nails, and ears. You can buy special toothbrushes and different kinds of toothpaste that are made for dogs. You may want to brush your Yorkie's teeth daily to avoid any plaque build up.
You can clip their nails with nail clippers. Long nails can cause your Yorkie pain when walking. Keeping the nails trimmed short not only looks better, but it also helps prevent injuries.
To look after the ears, keep them neatly trimmed and clean the insides occasionally. We have an entire article on how to trim Yorkie ears. Keeping the ears clean is important to avoid infections or other potential health issues.
How To Shave Your Yorkie: Conclusion
Yorkies are generally high maintenance dogs, mainly due to their gorgeous hair. While they don't shed much, they do require some extra attention when it comes to their grooming.
That is why some owners choose to shave their Yorkies. It makes grooming a lot easier. It also helps your pup stay cool in the summer.
That said, the hair helps it stay cool too. And there are a few disadvantages of shaving that usually end up outweighing the advantages.
But don't feel bad, if you decide to shave your pup anyway. As mentioned above, it is a decision everyone need to make for themselves. Just make sure you shave your Yorkie correctly, so that it does not suffer. And now that you have read this guide, you should be able to do just that.