Yorkies are known for having long silky hair.
It is actually closer to our hair than to other breeds of dogs.
And just like us, they can fashion that hair into many different styles.
Well, we can fashion it for them. They don't really have much say in the matter.
Which of the common Yorkie haircut styles is best for you and your dog depends on a number of things.
Your dog's coat type plays a role, but it mostly comes down to your personal preference.
Shorter hair styles are easier to maintain, but longer ones show off that gorgeous silk hair.
Keep reading for a list of the most popular Yorkie hair cut styles, along with brief instructions on creating each one, plus a list of each style's advantages and disadvantages.
Yorkie Haircut Styles
For many Yorkie owners, being able to fashion their pup's beautiful fur into different Yorkie haircuts is one of the best things about owning this breed.
Looks are definitely a factor when choosing the best haircut for your Yorkshire terrier, but practical considerations come into play, too. Hair length is a big factor.
Shorter hair is much easier to maintain, but longer hair shows off that beautiful, silky fur. Longer hair also adds some warmth in the winter, while shorter hair is cooler for those hot summer months.
Of course, if you want to enter your Yorkie into dog shows, then you have to go with a show cut. That means a long, flowing coat that takes a lot of extra work.
Let's take a look at the most common and most popular Yorkie haircuts. We'll give you the pros and cons of each, along with basic instructions on how to achieve the cut. That should help you decide which haircut is best for your Yorkie.
If you have a Yorkie with short hair, but you want to give it a longer hairstyle, you will have to wait a while. How fast does yorkie hair grow? Between ¼ and ½ an inch per month, on average. This article on how to make dog hair grow faster may help.
If you have a mini Yorkie, any of the cuts below work well too. That said, we also have this article on teacup yorkie haircut styles specifically.
Puppy Cut
The name of this style suggests that it is exclusively for younger Yorkies or Yorkie puppies. However, that isn't the case.
The puppy cut is ideal for Yorkies of all ages. It is a simple style that entails keeping a uniform length of hair all over.
If you are giving this cut to a puppy, make sure you read this article explaining when a Yorkie puppy should get its first hair cut. You don't want to do it too early.
Steps
Work from the dog's neck backward. Hold the clippers parallel to your Yorkie's body.
If needed, use a guard on the clippers to achieve uniform length (typically 1-2 inches) throughout.
Make sure the coat is even on the back, sides, and belly. Shave the anal area if needed.
Give the paws a rounded shape.
Advantages
Easy to style at home
Prevents mats and knots
Disadvantages
The puppy cut is not standardized and is open to interpretation. If you go to a groomer, make sure you convey exactly what you have in mind.
Teddy Bear Cut
The teddy bear cut and puppy cut styles are quite similar but the former is more suitable for curly-haired Yorkies or Yorkie mixes. Also, there is no restriction on length in the teddy bear Yorkie cut – you can go as long or as short as you like.
Like the puppy cut, the teddy bear cut entails leaving uniform hair all around the body and on the dog's face. However, the dog's face should look round and full when looking at it from the front.
Steps
Start from the base of the skull and run the clippers down the topline to the tail.
Clip the hips and beneath the tail.
Next, clip both rear legs on the outer side first, then clip the insides.
Work your way down the sides and then the neck, shoulders, and below the dog's lower jaw. Give the paws a rounded shape.
For the face: use straight scissors and angle them up to trim the hair on the top of the nose close to the eyes.
Trim back long hair around the eyes.
Use rounded scissors to trim and shape the jaws and cheeks.
Ears should also be rounded.
Advantages
No restriction on the length of hair.
Fairly easy to achieve at home.
If your Yorkie dislikes going to the groomer's, you can keep the length short, so it gets longer breaks.
Disadvantages
More suitable for curly-haired dogs.
Top Knot
As the name indicates, this style has a ponytail or top knot over your dog's head.
Steps
Use a fine-toothed comb to part your Yorkie's hair just above its nose. (Take care not to hurt your pet's eyes if it moves a lot.)
Gather up the hair on top while separating any "mustache hairs". Form a V-shape with the hair above the nose and between the eyes. The wide part of the V is closest to the Yorkie's nose while the narrow part is at the top of the head.
Place an elastic band to tie a small ponytail of the hair you have gathered. Use a smaller (1/4th-inch) band if there is not much hair to work with. If you use a 3/8th inch band, knot it 2-3 times to hold the hair.
Comb or brush down the remaining facial hair with an old toothbrush or a fine-toothed comb.
Advantages
Disadvantages
Could cause hair breakage.
Show Cut Or Full Coat
The show cut, show trim or full coat style consists of a top knot as described above and leaves long locks all over the body.
Steps
Tie a top knot as described above.
Brush the hair all over the body so it flows down smoothly. Ensure there are no mats.
Advantages
This style helps you show off your Yorkie's beautiful and shiny coat in style.
Disadvantages
You need to adhere to strict standards laid down for show Yorkies.
A lot of work to maintain.
Lamb Cut
As the name suggests, this style is reminiscent of sheep or lamb's hair and gives a fluffy look to your tiny dog. The hair all over the body is kept short but you leave more fur on the legs and on the head.
Steps
Use #7F clippers on the body and #4F on the legs. Keep the body hair uniformly short.
Leave more fur on the legs but make sure it is trimmed to an even length.
You can choose to keep a long mustache.
Advantages
A great choice for winters as it leaves fur on the legs to keep your pet warm.
Disadvantages
May not be suitable all year round.
Lion Cut
The Lion Cut is a popular hairstyle for Yorkies. It entails leaving more hair on the face and mane, while cutting the body hair short.
Steps
Use #7F to shave or trim body hair evenly.
Leave a lot of fur on the head. You can tie a top knot if the hair seems to bother your pet's eyes.
Shape the hair under the jaw to resemble a lion's mane.
Leave the legs and tip of the tail furry.
Advantages
This cut can enhance your Yorkie's style statement.
It reduces mats and tangles.
Disadvantages
The fur could grow back in odd patches which can be problematic if not maintained.
Neaten
This is not a hairstyle or haircut per se; it just involves neatening an overgrown Yorkie's appearance. It is effortless and easy to achieve and really simple as well.
Steps
Bathe your Yorkie.
Use clippers, trimmers, or scissors to shave or trim off excess hair on the face, ears, back, belly, and around the privates.
Neatening also includes nail trimming, ear cleaning, and anal gland expression.
Advantages
Simple to achieve. Can be done at home.
Disadvantages
There is nothing unique about this style.
Schnauzer Trim
As the name implies, this cut is seen on Schnauzers. It can vary in length but mostly has a tight and uniform body with longer bits on the belly. The leg hair is also kept long and rounded. The mustache is distinctly visible.
Steps
Use #8 or #10 blade clippers. Move the clippers down from the base of the skull to the tail.
Trim the tail and give it a rounded appearance.
Clip down along the body and hind legs to about 1-inch from the hocks.
For the paws, trim the hair upwards to give a rounded look. Remove mats and excess hair between pads.
Clip the front legs to a solid full and straight look.
Clip the chest downwards to the shoulders.
Use a scissor to trim under the belly.
Go against the grain of hair when clipping cheeks, throat, and top of the skull.
Trim mustache and ears longer.
Advantages
Dignified and adorable cut for an elegant Yorkie.
Disadvantages
Needs a professional groomer specializing in the cut.
Different Yorkie Hair Style Lengths
As mentioned, shorter hair is always easier to maintain than longer hair. However, many owners feel the longer hair styles are more striking and really show off the Yorkie's silky coat. Here are the different hair lengths you can give your pup.
Shaved
You can have your Yorkie shaved when you take it to a dog groomer. You can also shave your Yorkie at home yourself.
The big advantage of the shaved coat length is that it gives fewer problems in terms of grooming. Is it ok to shave a Yorkie? It is, but it is usually better to not shave your dog completely. The short length is a better option for most.
Short
Most Yorkshire terrier owners prefer this coat length. For a short haircut, you generally want to leave about ¾ inch of hair throughout the body, depending on what short style you prefer.
The big advantage of short hair is that it is easy to care for and you won't have to worry about mats and tangles. Many owners opt for a shorter cut during the warmer months and a longer cut during the colder months, to give their dog that bit of extra warmth.
Medium
The medium coat length is also quite popular for Yorkies. This coat length is about 2 to 3 inches long. Medium length hair is a good compromise.
You still won't have to worry much about the hair getting tangled up and maintenance is not much more work than a short cut. But because the hair is longer, you get to show that gorgeous hair off more and it also provides a bit more warmth during the winter months.
Long
Long hair is generally longer than 3 inches, but not so long that it reaches the floor. A long coat helps keep your Yorkie warm during cold weather and it really shows off that beautiful hair. But you need to brush it daily, because it easily gets tangled.
Very Long
This coat length reaches the floor. It is a lot of work when it comes to grooming, because the hair will get tangled, if you do not brush it daily.
It usually takes about 18 to 24 months for the hair to grow to this length. That obviously means that only adult Yorkshire terriers can have this length of hair.
Types Of Yorkie Coats
Yorkshire terriers do not all have the same type of hair. There are actually three basic types of Yorkshire terrier coats.
Puppy Coat
As the name suggests, this type of coat is reserved for puppies. Yorkie puppies have a thicker and softer coat. The color also tends to be darker. It is usually black and tan, which changes to blue and gold as the dog reaches maturity and goes through several stages of changes to its puppy coat.
Silky Coat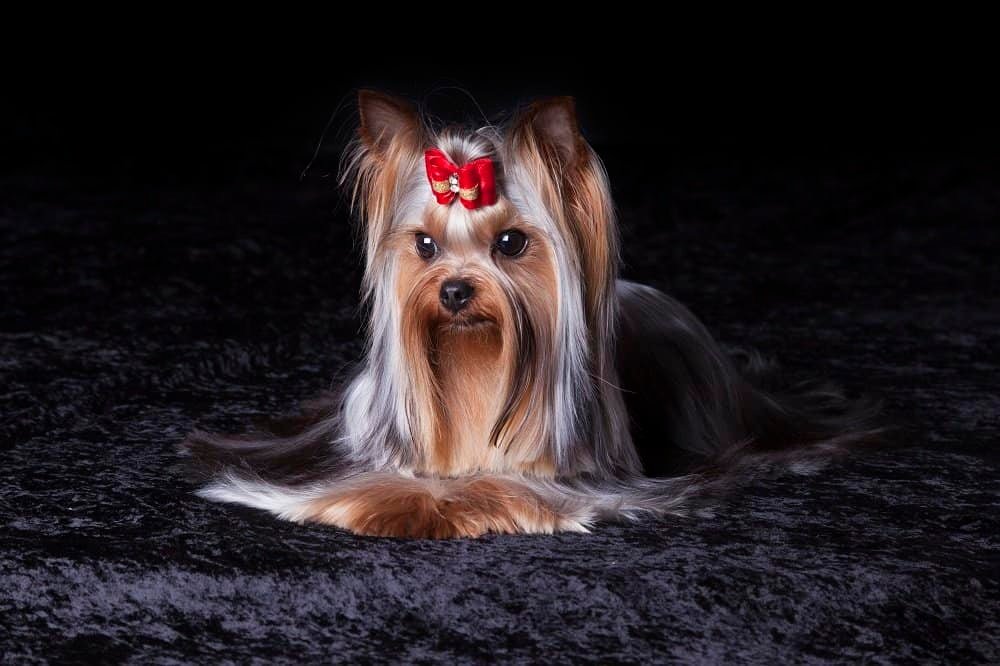 The silky coat is the most common type among Yorkshire terriers. It is their main distinguishing physical feature. Yorkies only have a single layer of fur, making their hair more like ours than like other dogs.
Wiry Coat
Some Yorkies do not have the famous silky coat. Instead, their fur is more like other breeds of dogs. this coat is also referred to as a cotton or wavy coat. The reason for these names is obvious.
This type of coat is cottony, wavy, and woolly. It does not grow long. The wiry coat is also thick. It tends to shed more than the silky coat.
Hair Cuts For Yorkies: Related Questions
Next, we will answer some common questions related to Yorkie haircut styles. If you have any additional questions, please feel free to ask them in the comments below.
How Long Does It Take For Yorkie Hair To Grow Back After Being Shaved?
How fast does Yorkie hair grow? It takes about 4 to 6 weeks for their hair to grow back after being shaved. In the first two weeks, there will already be visible growth of hair.
How Often Should I Give My Yorkie A Haircut?
You can give your Yorkie a haircut every four to six weeks. The hair will be quite long after six weeks, so you should give it a trim or cut before that time to maintain proper grooming. You can go to a professional groomer or learn how to cut yorkie hair at home.
Different Types Of Yorkie Haircuts: Conclusion
For most Yorkie owners, the best hair cut style is a short or medium cut. They are far easier to maintain than longer hair styles.
However, if you plan to show your dog, you will need to give it a show style, which means long, flowing hair. Even if you do not plan on entering your pup in a show, you can adopt this hair style.
Many owners do just that, since it shows off the Yorkshire terriers most distinguishing feature: it's long, silky hair. Just be aware that maintaining longer hair is more work. You will need to brush it daily and washing it takes more effort, too.