Yorkies are famous for their long silky coats.
But many Yorkies have extremely short hair.
Many owners keep it short to make it easier to manage, and to make their pet more comfortable in the summer.
What if you shaved your Yorkie's hair, but now you wish it were long again?
How long does it take for Yorkie hair to grow back?
Keep reading to learn exactly how fast a Yorkshire terrier's hair grows, plus some tips on maximizing the growth rate.
How Fast Does Yorkie Hair Grow?
Yorkie hair is estimated to grow between ¼ and ½ an inch per month. If your adult Yorkie measures six or seven inches at the withers, it could take 8 to 10 months for it to develop a floor-length coat.
Yorkie hair grows pretty fast. In most dog breeds hair growth is slow, but not in Yorkies. They have a human hair-like coat, so their hair growth rate is different than that of other dog breeds.
You can expect a fully-shaved Yorkie to show good hair growth within a matter of weeks. Just like human hair grows between 0.2 to 0.7 inches (0.5 and 1.7 cm) per month, a Yorkie's hair can grow between 0.25 and 0.5 inches a month. In centimeters, this is 0.6 to 1.27 cm.
If you completely shave your Yorkie (or trimmed its hair very short) and want a fully-grown floor-length coat, then it could take between 8 to 10 months to see results.
Overall, a Yorkie's hair growth rate is very comparable to the human hair growth rate. But it does vary from dog to dog. Several factors affect a Yorkie's hair growth rate, like the dog's age, hormones, diet, environment, body part, overall health, and how you groom it.
Factors Affecting Yorkie's Hair Growth
The following factors all have an effect on how fast a Yorkie's hair grows.
Age
Just as the human hair growth rate decreases with age, so does a dog's. In general, older Yorkies have a slower hair growth rate than puppies and young Yorkies.
Their hair and skin also undergo several changes with aging: the color might become lighter, your pet might have more gray hairs in certain areas, and its skin might also become thinner. It is also possible that old Yorkies begin losing their hair.
Hormones
An imbalance of hormones can cause hair loss or stunted hair growth in Yorkies. If your Yorkie's hair is clipped and fails to grow back within a month, you need to consult your vet.
A blood test can help measure various concentrations of different canine hormones. This will help your vet evaluate the exact cause of slower hair growth.
Diet
If your Yorkie has slow hair growth, a dull coat, and hair loss in patches, it could be due to dietary deficiencies or an inadequate diet. Dogs need 25 to 30% of their food intake to come from protein.
Yorkie puppies need even more. The food should also contain essential fatty acids, zinc, copper, B-vitamins, and other minerals.
Environment
If your Yorkie is constantly stressed due to its environment, or other factors like loud noises, separation anxiety, etc., then it could also show slower hair growth.
Yorkies that are living under poor conditions (shelters, rescue homes, crowded foster homes, etc.) tend to have higher levels of stress hormones which, when combined with a poor diet, can slow down their hair growth.
Region Of The Body
The hair on different parts of your Yorkie's body grows at different rates. For example, the hair on a Yorkie's face and around its mouth grows quite slowly.
Most Yorkie pups need facial trimming only once every 5 to 7 months.
On the other hand, the hair around the ears and inside the ear flaps grows rapidly, so your pet will need an ear-hair-trim in a matter of 4 to 5 weeks.
Similarly, the hair around your Yorkie's private parts will need trimming once every 4 to 6 weeks.
Overall Health
Healthy Yorkies generally have healthier hair growth. If your Yorkie has any underlying health issues, like kidney or liver problems, diabetes, or even skin infections like ringworm, mange, etc., then its rate of hair growth could be slower.
There are also diseases that cause hair to fall out and not regrow. Alopecia X is one example. It is also known as black skin disease. Learn about it here.
How You Groom Your Pet
Yorkie hair growth also depends on how often you groom your pup, the products you use, etc. If your Yorkie's grooming takes a back seat, your dog could suffer from skin problems and even have massive hair loss or alopecia.
The use of human shampoos or other bad products can also impact the rate of hair growth in Yorkies.
How To Help Yorkie Hair Grow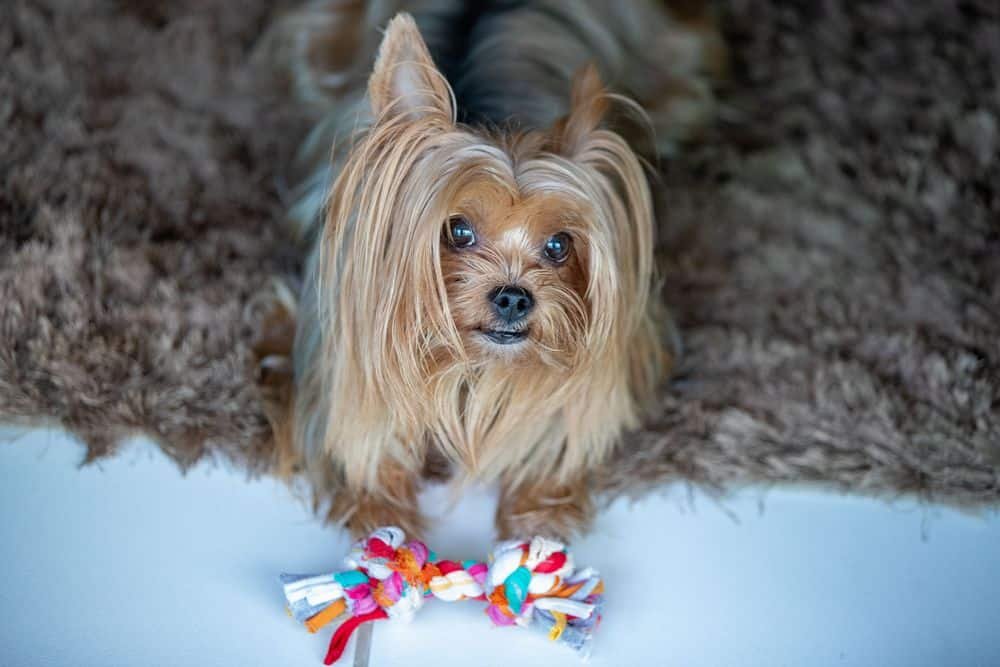 If you want your Yorkshire terrier's hair to grow faster, there are a few measures you can take. Here are some ways to help your pup's hair grow.
Feed It A Good Diet
Good hair growth can only come from a healthy and balanced diet for your Yorkie. Consult your vet and feed your tail-wagger a diet rich in proteins, omega fatty acids, vitamins, and minerals.
If needed, ask your vet for a prescription for omega-3 and omega-6 essential fatty acid supplements. These could prevent or reduce dryness, itching, and hair loss, and stimulate hair growth.
Groom Your Dog Regularly
Yorkies need daily brushing. It is vital for the health of your pet's coat. Brush your dog using a boar bristle brush to redistribute the natural skin oils, prevent dryness, and stimulate new hair growth.
Bathe your Yorkie once every 2 to 3 weeks using a vet-approved shampoo. This will remove dandruff, parasites, and other conditions that inhibit hair growth. If your pet has a specific skin issue, treat it right away with vet-approved grooming products and medicines.
Reduce Environmental Stress
If your Yorkie is stressed, try making some changes to reduce that stress. If needed, speak to a canine behaviorist. Make sure your pet gets plenty of exercise and mental stimulation.
Treat Underlying Health Issues
If your pet shows slow hair growth despite a good diet, or it has other symptoms like poor appetite, weight gain or loss, or lethargy, then have it examined for diseases like thyroid conditions, diabetes, etc. Treat skin conditions promptly after consulting a vet.
How Do I Make My Yorkie's Hair Fluffy?
Professional groomers use a process called fluff drying to fluff dogs' hair post-shampooing. Here are the steps to fluff dry your Yorkie's hair to make it bouncier.
Tools You'll Need
Hair dryer
Towel
Spray bottle
Dog shampoo and conditioner.
Slicker brush
Steps
Bathe your Yorkie as usual. Use your pet's regular shampoo and follow it up with a dog conditioner. Rinse your Yorkie thoroughly, making sure there is no shampoo left behind. This could weigh down your dog's hair.
Pat your Yorkie dry; avoid rubbing too much to prevent mats and tangles.
Run a slicker brush through your dog's coat and simultaneously use the hair dryer.
Lift your Yorkie's hair by the roots upwards using the brush, and simultaneously run the dryer. Point the dryer at the brush against the grain as you slowly brush the hair upwards to fluff it. This process is rather similar to blow-drying human hair.
Continue blow drying and brushing and cover the entire body in small sections. Avoid blowing warm air into your Yorkie's eyes.
If there is a mat or tangle, turn the blow dryer on cool, and blow air in the grain of the hair to loosen it.
The fluff-drying process takes some practice and getting used to, but once you do, you will be a pro at fluffing your Yorkie's hair.
How Long Does It Take For Yorkie Hair To Grow: Related Questions
Below, we will answer some common questions related to how fast Yorkshire terrier hair grows. If you have any additional questions, please feel free to ask them in the comments below.
How long does it take for Yorkshire Terrier hair to grow back?
Most Yorkshire Terriers regrow their hair within a matter of few weeks, although the hair grows differently on different parts of their body. On average, the body hair growth rate for healthy Yorkies is ¼ to ½ inch per month.
Is it okay to shave a Yorkie?
Yes, it is ok to shave your Yorkie, especially in the summer months. Shaving can keep your Yorkie's hair neat and tidy and also keep your pet cool in the hot months.
Most importantly, the neatly shaved hair will develop fewer mats and tangles. Worry not, the hair should grow back within a matter of few weeks.
Which oil is best for dog hair growth?
Coconut oil with its lauric acid content could stimulate hair growth in dogs. You can apply the oil topically or administer it internally, (in moderation). Always check with a vet first, to see if coconut oil is safe for your Yorkie.
Which food promotes hair growth in dogs?
Foods like wild salmon, eggs, liver, and oats could help your dog's hair grow faster. Make sure you feed your dog a balanced and nutritious diet as advised by your vet.
How Fast Yorkie Hair Grows: Conclusion
How fast your Yorkie's hair will grow depends on a number of factors. However, in general, Yorkshire terriers have a faster hair growth rate than most other breeds. In fact, their hair grows about as quickly as ours does.
If you need your pup's hair to grow faster, implement some of the tips we provided above. You can't speed up the natural growth rate, but you can ensure the ideal conditions to maximize that natural hair growth rate.
Our article on how to make dog hair grow faster will help you with that.