Dog hair grows at a certain speed.
If you want it to grow faster than its natural speed, some of the tips below may help.
But in general you can't speed nature up all that much.
However, there are cases where hair growth is far slower than it should be.
In that case, there is a lot you can do.
Keep reading a number of tips on how to make dog hair grow faster, along with a list of issues that may be impeding your dog's hair growth and what you can do about them.
How To Make Dog Hair Grow Faster
We will begin with tips on how to grow dog hair faster. You'll probably notice that these are all things you should be doing for your dog anyway.
In other words, if you provide your dog with a healthy and happy life, its hair will also see healthy growth. If it still does not grow at a normal speed, the next section below covers issues that may be impeding hair growth in your dog.
Feed Your Dog A Healthy Diet
Fur growth can halt when your dog's body is lacking nutrients. Make sure you feed your dog a suitable diet based on its breed, size, overall health, activity levels, and age.
Your vet or breeder can give you recommendations for the best dog food. If your dog appears to not like the food you are currently feeding it, or if it develops a dull coat, hair loss, or upset tummy, then it may be time for a change.
We have an article on the best dog food for Yorkies. you can also make your own food, if you prefer. Here are some recommendations for a healthy and balanced diet for most dogs.
Look for foods where the first ingredient listed is an animal protein. This could be chicken, lamb, turkey, fish, beef, etc. If your pet is allergic to any of these, try novel proteins like emu, rabbit, or kangaroo meat.
The food should contain at least 40% protein. Protein is the most important ingredient for a healthy coat. All dogs need 1 gram of protein per 1 pound of their ideal body weight per day.
Apart from protein, the food should contain omega-3 fatty acids, vitamins, minerals, and antioxidants. Like humans, dogs also need key nutrients like vitamins C, D, and E, and B vitamins like biotin, as well as zinc, copper, and iron. High-quality dog foods are usually fortified with these nutrients.
Massage
Head massages are known to help humans grow their hair long and strong, so there is a chance they might help your dog too.
Massage can stimulate blood flow to benefit your dog's hair follicles. It can also make your dog feel good by stimulating endorphins. This can be very beneficial for your dog's overall well-being.
Here's how to proceed with the massage:
You can massage your dog with or without oil. Both are totally fine but oil massages may assist in speeding hair growth, relieving itch, eliminating dandruff, and it is even a great Yorkie dry skin home remedy.
If you go for an oil-based massage, use a topical oil specially formulated for dogs, like this one. It penetrates the fur to increase skin surface lipid levels and encourage hair growth in dogs.
A small disadvantage of oil massages for dogs is that their fur can get greasy and attract dirt. You might want to bathe your dog a few hours after the massage, once the oil has had a chance to seep into the skin and hair.
Regular Baths
Bathing your dog can help stimulate the fur to grow. It is best to bathe your dog at least once every three weeks, but not more than once a week. If you do need to bathe it more often, only use shampoo once a week at most.
Bathing washes oils out of the fur. Those can clog of skin pores, preventing hair growth. They can also produce an unpleasant scent.
To bathe your dog, use warm, clean water and a quality canine shampoo. We'll cover good shampoos in the next section below. Rub the shampoo into the fur in long, circular motions, while softly massaging the scalp to strengthen hair follicles.
You should also brush the coat after ever washing. In fact, it is always best to brush your dog's coat when it is moist, not dry. When brushing without bathing your dog first, use a spray bottle with water to moisten the coat, similar to what hairdressers do with our hair.
Use A Vet-Approved Shampoo
Your dog's skin and coat are constantly exposed to pollen, dirt, mold, and parasites like fleas, ticks, lice, and mange. These elements can delay hair growth and also result in excessive shedding in dogs. They also cause dull and lackluster coats.
You can tackle these issues by using a vet-approved dog shampoo for bathing your pet. Look for shampoos containing yeast-fighting ingredients. If your pet has a specific skin condition that is preventing hair growth, ask your vet for recommendations for a good shampoo.
And always remember that using a human shampoo or conditioner for a Yorkie is not a good idea. We have a different skin pH than dog's do, so they need a shampoo formulated for their pH levels. Here are some recommendations.
Pet Honesty Chlorhexidine Shampoo
This shampoo treats fungal/yeast infections. It can also help with itchy skin, seasonal allergies, and dandruff and is suitable for dogs with sensitive or irritated skin.
Biotin & Oatmeal Shampoo
Biotin helps regrow lost fur and also promotes hair growth. The shampoo also contains conditioner to make your pet's hair soft and shiny.
We also have an article covering the best shampoos for Yorkies here.
Use The Right Brush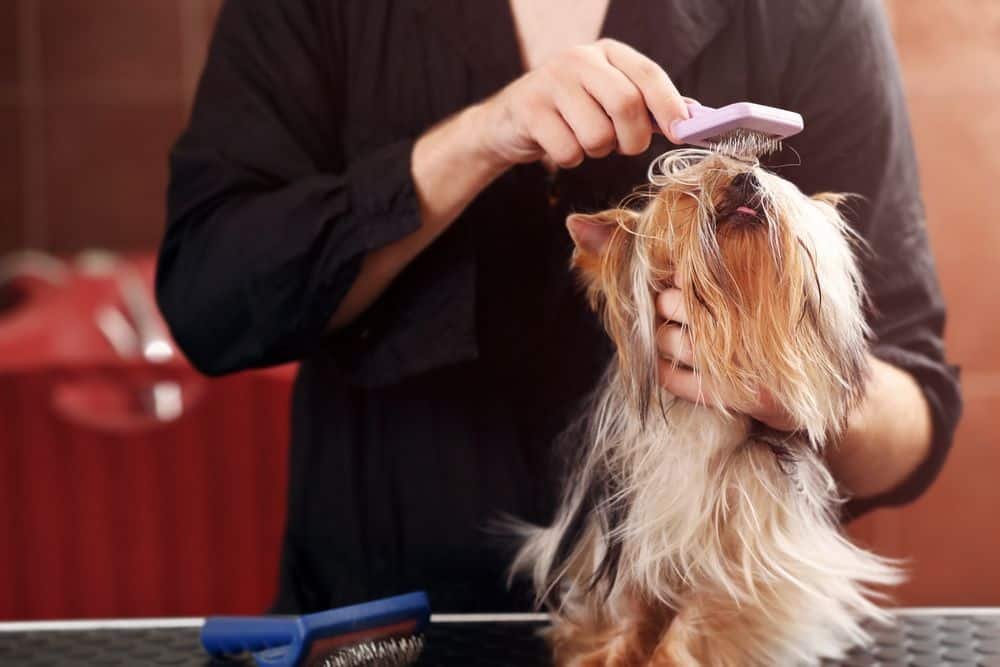 There are different types of dog coats and different types of brushes to go along with them. It is important to use the correct type of brush for your dog's coat. Your vet or breeder can tell you which type of brush is best for your pup.
In general, dogs with thick fur coats, need brushes like a grooming rake or a slicker pad. Dogs with thinner hair, like Yorkies, need a bristle brush, if their hair is short.
It works as a massager on the dog's skin, which stimulates hair follicles. It is also useful in extracting dirt and debris, and the boar bristles give the coat a beautiful glow.
Yorkies with medium to long coats are better served with a pin brush with stainless steel pins and fair spacing. This kind of brush works well in running through their hair. Because unfinished pins will scrape, get one with polished or cushioned tips.
Prevent And Manage Stress
According to the experts at Everhart Veterinary Clinic, chronic stress in dogs can also reduce hair growth and even result in excess shedding.
Keeping your dog calm can prevent stress-related hair loss and help the fur grow. Here are some tips to manage stress in dogs.
Exercise: a well-exercised dog is a happier dog.
Music Therapy: some music videos like these are known to have helped dogs relax during thunderstorms.
Spend Time With Your Pet: physical contact can soothe dogs and relieve stress. If your pup has separation anxiety, consider hiring a pet sitter to watch it. Try not to leave your dog alone for prolonged periods.
Manage Shedding And Prevent Hair Breakage
All dogs shed, including hypoallergenic breeds like Yorkshire terriers. Some shed all year round, while others shed once or twice a year.
Unseasonal or abnormal shedding combined with dryness can also reduce hair growth in dogs. Here are some tips to stop excess shedding and prevent hair breakage.
Feed your dog a diet rich in proteins, biotin, zinc, omega, and iron.
Use a shed-control shampoo.
For dogs with long hair, use a detangler or a conditioner to prevent mats and knots. This can prevent breakage.
Avoid using heat to dry your pet after a bath. Allow its fur to dry naturally. If using a towel, do not rub the coat; instead, use a gentle blotting or patting action.
After the fur is dry, gently brush its coat.
Most dogs need weekly brushing and some might need daily brushing. Brushing stimulates natural skin oils which can also promote hair growth. Use a good brush with natural bristles (boar bristles) for grooming your dog.
How To Make Yorkie Hair Grow Faster
Since this website focuses on Yorkies, it made sense to add a section specifically to making Yorkie hair grow faster. But it is a very short section, because the advice is exactly the same as above.
There is nothing special you need to do for Yorkie hair, above and beyond what you should do for any other breed's hair.
9 Reasons Your Dog's Hair Is Not Growing
Many factors can impact how long it takes a dog for its shaved or clipped hair to grow back. Here are the 7 main reasons your dog's hair might not be growing as fast as it should.
Seasonal Delays
Studies in Labrador Retrievers have shown that shaved hair grows back to the pre-clipped length in 14.6 weeks in spring but requires around 15.4 weeks in winter. This indicates that hair regrowth in dogs depends on the season and may be more rapid during the warmer months.
Breed-Specific Issues
In some breeds, hair regrowth is naturally arrested for several months. For example, in breeds like the Chow Chow, hair regrowth can take almost 18 months.
Hormonal Imbalance
Certain canine hormones stimulate hair growth while others may delay it. Hormones that are responsible for hair growth in dogs are thyroxine, growth hormone, insulin, etc. An imbalance in any of these could result in delayed growth.
Blood tests can show you the exact hormones that are either lacking or are in excess in your dog. Some dogs may need lifelong hormonal therapy to combat such issues.
We have an article on Black Skin Disease in Yorkshire terriers. That is a condition that affects the hormones and end up leading to hair loss and darkened skin.
Poor Diet
Diets lacking in proteins, B-vitamins, healthy fats, copper, etc. can also cause hair loss and reduce hair growth in dogs. Discuss supplementing these nutrients with your vet.
Stress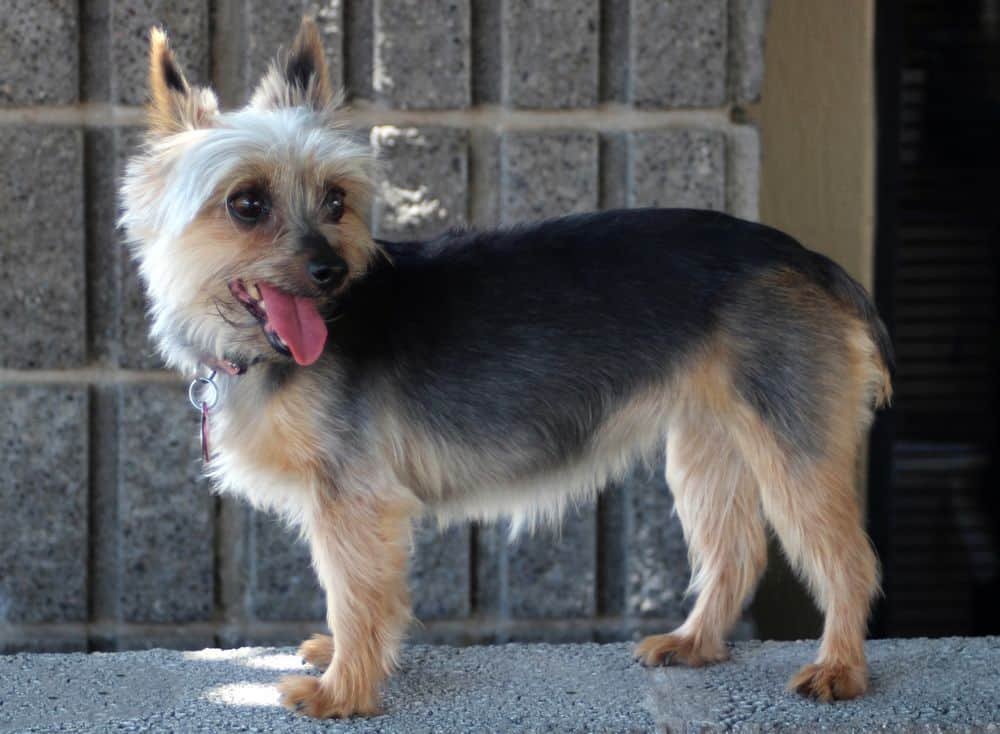 A stressed dog produces excess adrenaline and constant stress can also ramp up cortisol in dogs. Both could lead to hormonal imbalance which could result in shedding and a dull coat.
Infections
Bacterial infection in the hair follicles could result in patchy hair loss, delayed re-growth, and excessive shedding. Similarly, ringworm and fungal skin infections can affect hair growth in dogs.
For example, folliculitis is an inflammation of hair follicles followed by a series of blisters with a pus-type discharge or crusting of the skin. In certain instances, patches can become bald, and sores and blisters of pus may develop weeks afterward.
Medicated shampoos, systemic antibiotics, topical lotions, etc. can help treat such infections and restore normal hair growth.
Drugs
Certain medications like corticosteroids used for treating allergies or other canine health issues can also delay hair growth in dogs. It may take up to 3 to 4 months for the hair to regrow normally once the medicine is discontinued.
Allergies
A number of different allergies can affect your pet's hair and skin. The most common way they affect hair growth is by causing itching. This results in your dog scratching it to the point of losing their hair.
If you suspect your dog may be suffering from an allergy, take it to a vet to determine the cause of the allergic reaction.
Parasites
One parasite that induces hair loss is demodectic mange. It typically causes hair loss in the eye line, neck, and legs. The balding regions may also display skin lesions that are swollen or crusted and can lead to Yorkie scabs on skin.
The telltale symptoms of this parasite are triangular bald spots that occur on the eyes, arms, or legs. There may be a red patch in the center, and the field may or may not be overgrown.
How To Grow Dog Hair Faster: Conclusion
If your dog is suffering from slow hair growth, or even from hair loss, it is likely due to one of the issues mentioned above. It would be a good idea to take your pup to the vet to get a solid diagnosis and course of action.
If your dog's hair is growing normally, but you just want to speed it up, there is not much you can do. Read through our tips on how to make dog hair grow faster and implement any your are not already implementing.
Because, to be honest, those are all things you should already be doing for your dog anyway.