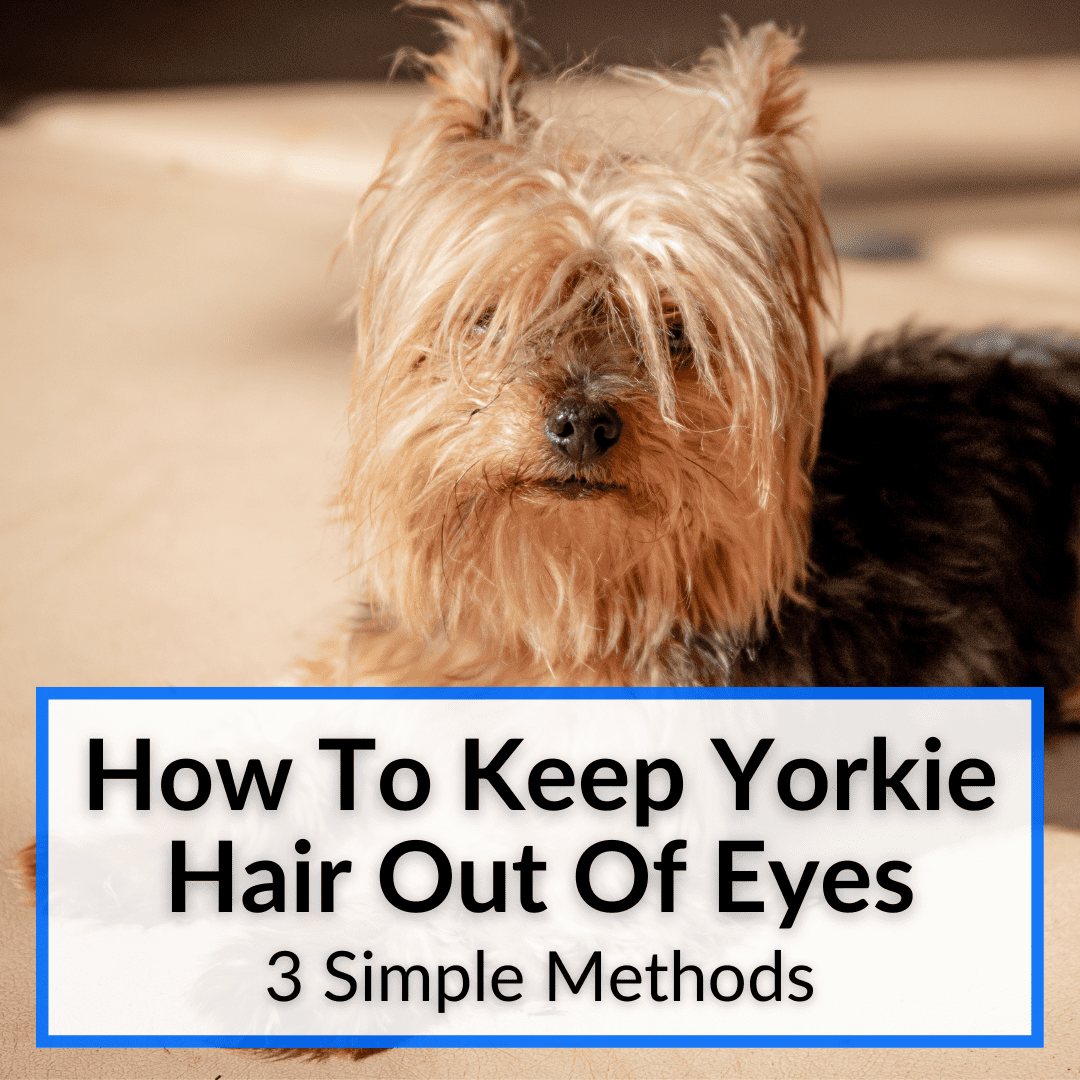 Yorkies are known for long, luxurious hair.
Many owners let it grow long to really show it off.
But it does take some effort to maintain.
In addition to daily brushing (ideally), you also need to trim certain parts, primarily around the face, the base of the tail, and the paws.
Keeping your Yorkie's hair out of its eyes is especially important.
And it's not just about the ability to see. Hair hanging in the eyes can lead to serious issues, like an infection.
But keeping the hair trimmed is not the only solution. You have other options.
Keep reading to learn several ways to keep Yorkie hair out of the eyes. Some of them can be quite adorable!
How To Keep Yorkie Hair Out Of Eyes
Yorkies are sensitive around their eyes and prone to several eye issues. Stray hair in the eyes can lead to an infection other type of eye irritation. Of course, it also impedes vision and is annoying to your poor little pup.
That's why it is important to make sure your dog's hair does not hang into its eyes. Here are three great options for keeping your Yorkies hair out of its eyes. We'll go through each one step by step.
Top Knot
One of the easiest methods to keep hair out of your Yorkie's eyes is simply to tie it up. All you need for this is a simple hair tie, though some owners like to use more stylish ones.
You should have a brush ready, too. You may also want some hair gel to help bunch up the hair, but you can also use water. Or nothing at all.
Step 1: Make Sure Your Yorkie Is Still
To start, you're going to want to make sure your Yorkie is on a stable surface as a way to try and limit any movements, making it easier for yourself.
If your Yorkie is well-trained have it sit or lie down. It should only take a few minutes and it should hopefully be able to stay still for this period.
Step 2: Brush Hair
Brush your Yorkie's hair to remove any tangles and dirt. You can do this with a comb or a brush. You'll then want to push the hair up onto the top of its head, preferably on its crown.
If your Yorkie's fur is a little on the shorter side and you feel like you're going to struggle to tie all of the hair onto the top of its head, you may want to think about using some water or special doggy gel.
Both make it easier to bunch the hair and tie it. The gel will add texture to ensure all the fur stays in place.
Step 3: Twist
Give the hair a twist with your fingers to make sure you've got it all. You don't want to miss any strands and then have to repeat the steps again!
Step 4: Tie
Now grab a hair tie and twist it around the hair you've collected on top of your Yorkie's head. You want to secure the hair tie around an inch from the base of the head, so that it isn't too tight
I recommend wrapping it around a couple of times to ensure it is secure and won't slip down onto your Yorkie's face. This can be becoming very annoying for your poor pup.
As mentioned above, you can get a lot more fancy than a basic hair tie. For example, you can pick a hair tie to match your Yorkie's personality.
Perhaps a bright pink one, if you pup is extra girly, or yellow if it is always chirpy. Make sure you're buying ones that are latex free. Latex can irritate your pet.
Step 5: Treats
If your Yorkie has stayed still and behaved while you tied up its fur, make sure to reward it with a treat. That way your dog will know to repeat its good behavior in the future.
Hair Clips
Maybe clips are more your thing, rather than hair ties. After all, you can have much more fun with clips and buy special designs and patterns.
This is perfect if you want to make a statement with your Yorkie. In addition to the hair clips, you should also have a brush ready.
Step 1: Brush Fur
Similar to the previous method, you want to make sure your dog is on a stable surface and then give your Yorkie's hair a brush first to remove any tangles and dirt.
Step 2: Clip Back
Once the fur is tangle free and feeling soft, you can begin to clip it off your Yorkie's face. Make sure your chosen clips are on the smaller side, to avoid any irritation. You don't want your dog scratching at them all day.
You can either clip all of the hair back with one clip, or if you want to get creative, why not add a few at a time. You just need to make sure all the hair is out of your dog's eyes. Otherwise, it can lead to dirt and harmful bacteria making their way into your Yorkie's eyes, which can mean discharge and eye infections.
Step 3: Treat
Once again, if your dog was well behaved while you clipped back the hair, make sure you reward it appropriately.
Cutting Hair Around Yorkie's Eyes
This is pretty self-explanatory. What you need for this should be obvious, too: a comb and a pair of scissors or an electric trimmer.
Our article detailing how to give a Yorkie a haircut can help, too, especially if you want to trim more than just the face.
Specifically for the face, we have an article with step by step instructions on how to cut Yorkie face hair.
Step 1: Stable Surface
Before you begin, you want to make sure your Yorkie is still and comfortable. This step is especially important, because your scissors are going to be getting very close to your Yorkie's eyes!
Your chosen stable surface should either be waist or chest height, whichever is most comfortable for you. I would recommend using a table or kitchen counter.
Step 2: Comb The Fur
Comb all of the fur around the face using a fine toothed comb. This will untangle any tangles and remove any dirt or debris that can fall into your Yorkie's eyes while cutting the hair.
Start combing from the tips and work your way down. This way you avoid pulling at your Yorkie's fur as you're combing.
Step 3: Cut The Fur
You are now ready to begin cutting your Yorkie's fur. Start by cutting any fur between the eyes. Grab your scissors and start gently trimming.
Be careful not to poke your pup with the scissors. Cut down to the bridge of the nose and trim the fur as short as possible.
For any fur above the eyes, pull it forward between two fingers and then start snipping to your desired length. The shorter you can get it, the better, because it means less upkeep. You won't have to trim the fur that regularly.
Trim the fur from the ears all the way to the chin, to ensure your Yorkie looks fully groomed and will be the best looking dog in the park. Our article on the different Yorkie haircut styles will help make that happen.
You may also want to give your Yorkie the once over after you're done, to double check that the haircut is even. No one likes a dodgy trim! And Yorkie hair can grow fast, so you'll want to make trims a regular thing.
These trims are an important way to prevent your Yorkie from contracting eye infections, getting weepy eyes, or hair rot. Untreated infections can be particularly nasty for your dog and may even necessitate a visit to the vet.
If you are still worried about this even after trimming the hair, you can also keep the eyes clean by wiping them daily, either with a soft tissue or a warm, damp cloth.
Step 4: Treat
Don't forget to treat your Yorkie for holding still and being well behaved!
Keep Yorkie Hair Out Of Eyes: Conclusion
You have several different options for keeping Yorkie hair out of the eyes. And all are easy to do and don't require expensive materials. In fact, you likely have things around the house already that can work.
All three methods work well, but you do want to make sure you choose one of them. Letting your Yorkshire terrier's hair hang into the eyes is just asking for trouble.
It can lead to Yorkie eye discharge, infections, smelly eyes, or other problems. Not to mention, it's just plain annoying for your poor little pup!