Are your little Yorkie's eyes watering more than usual?
Don't panic.
Chances are it is nothing serious.
Yorkie eye discharge is fairly common and usually easy to remedy.
However, it could also be a symptom of a serious condition.
In that case, you definitely need to take your pup to the vet for a checkup.
How do you know if it is serious or not? You rule out the less serious causes.
Keep reading for a list of the most common causes of Yorkie eyes watering. It should help you narrow down the cause in your pup's case.
We'll also provide you with some remedies for the non-serious causes, as well as some tips to prevent eye discharge from occurring in the first place.
Why Do Yorkies' Eyes Water So Much?
Yorkies are born with abnormal eyelids, making them more prone to excessive tearing. The way the eyelids and eyelashes are positioned makes Yorkies more prone to eye issues than many other breeds.
One major issues that can cause Yorkies' eyes to water is irritation caused by their long hair. Other causes of eye-watering or eye discharge in Yorkies include reflex tearing due to small-tear ducts, allergies, entropion, dry eye syndrome, cataracts, and glaucoma.
Stress, emotional issues, and injuries can also result in Yorkie eye discharge. Let's take a closer look at the 9 main reasons Yorkie eyes water a lot.
Yorkie Eye Discharge: 9 Common Causes
Here are some of the most common causes of eye discharge in the Yorkshire terrier breed.
Allergies
Dogs suffer from allergies just as much as humans do. Your Yorkie may not sneeze frequently, but it could display other allergy symptoms, such as watery or red eyes, frequently pawing its eyes, itchy paws, etc.
Allergies won't kill your Yorkie but they can greatly impact its quality of life. Your pet could be allergic to something in its food or in the environment. Pollen, grass, dust, and household cleaners are some of the common allergens that could harm Yorkies' sensitive eyes.
Irritation From Long Hair
Long-haired Yorkies are often prone to eye irritation, which can result in eye-watering and eye discharge. The long hair on the dog's forehead curls inwards and hurts its eyes.
You might see your small dog trying to get the hair out of its eyes. Sometimes your pet's unclean paws might worsen the irritation, resulting in redness, eye-watering, and even infections like conjunctivitis.
Reflex Tearing Due To Small Tear Ducts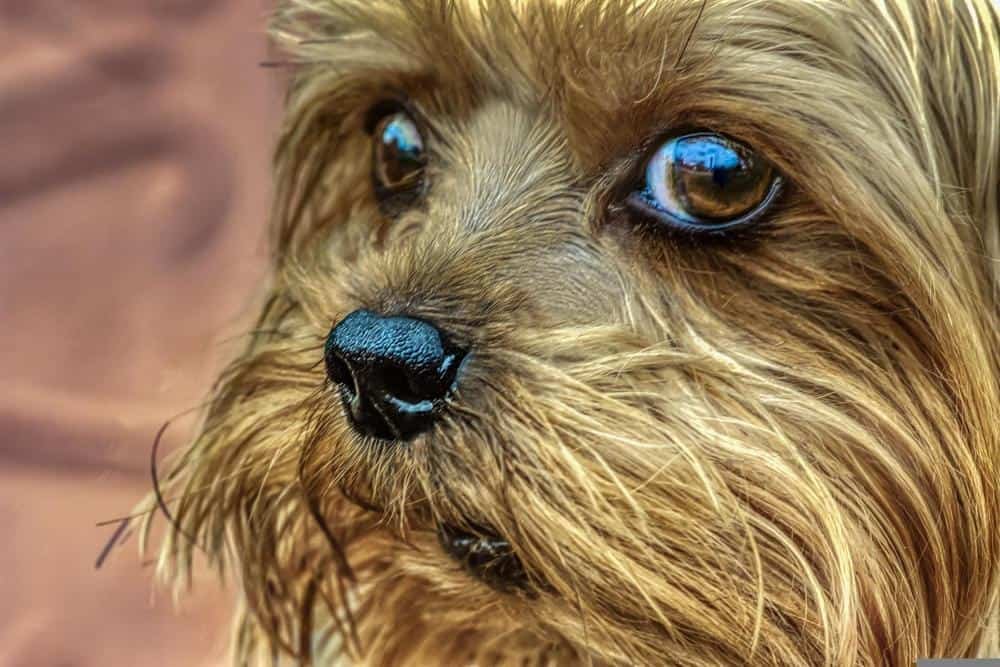 Small or toy breed dogs like Yorkies usually have small tear ducts. This causes tears to occasionally fall from their eyes. Such reflex tearing sometimes results in tear stains that are seen prominently under the eyes, especially in dogs with light-colored fur.
Reflex tearing is not a sign of disease, but you might want to take care that your pet's fur under its eyes does not get stained.
That said, even if your Yorkie does develop tear stains, it won't affect its health or happiness. And you can get rid of tear stains naturally or with a good tear stain remover.
Entropion
A dog's eyelids protect it from dust and debris, but if they roll inwards, a condition called entropion, then the eyelashes could rub against the eye causing pain and irritation. Entropion is usually congenital, but could also occur due to an injury.
Symptoms of entropion include thick eye discharge, redness, squinting or excess blinking, and pawing of the eye. If left untreated, the condition could lead to conjunctivitis infection and even corneal ulceration. Treatment includes the use of eye drops and surgery.
Dry Eye Syndrome (Or KCS)
Dry eyes or keratoconjunctivitis sicca (KCS) can also result in eye discharge in a Yorkie. KCS is the inflammation of the cornea and its surrounding tissues. These tissues dry out resulting in eye pain and redness.
Affected dogs tend to squint or blink excessively and also develop a thick eye discharge containing mucus without tears. If left untreated, dry eye syndrome could lead to corneal ulcers.
To diagnose dry eye, your vet will conduct a Schirmer eye test. If KCS or dry eye is confirmed, your pup will need lifelong administration of eye drops to manage the condition.
Glaucoma
Almost 40% of dogs are left blind due to glaucoma, which is characterized by increased eye pressure. Glaucoma occurs when there is insufficient drainage of fluid within the dog's eyes.
Symptoms of glaucoma are eye pain (rubbing the eyes), watery discharge, bulging of the eyeballs, cloudy eyes, and dilated pupils. Depending on the cause and extent of the condition, your pet might need surgery or medication to treat the condition.
Cataracts
Many factors can cause cataracts in Yorkies, including old age, trauma, diabetes, genetics, etc. The condition results in eye discharge, cloudy eyes, and partial or complete vision loss. Treatment for cataracts is surgery, which is quite expensive.
Trauma Or Injuries
Eye injuries can range from mild to serious and one of the major symptoms is eye discharge. This may be accompanied by redness, pus, excessive eye blinking, and twitching.
It is best to take your pet to the vet, if you suspect an eye injury is causing your Yorkie's eye discharge. If you are worried that you can't afford a vet visit, this article will help you with tips on finding alternative ways to get money for veterinary help.
Stress Or Emotional Causes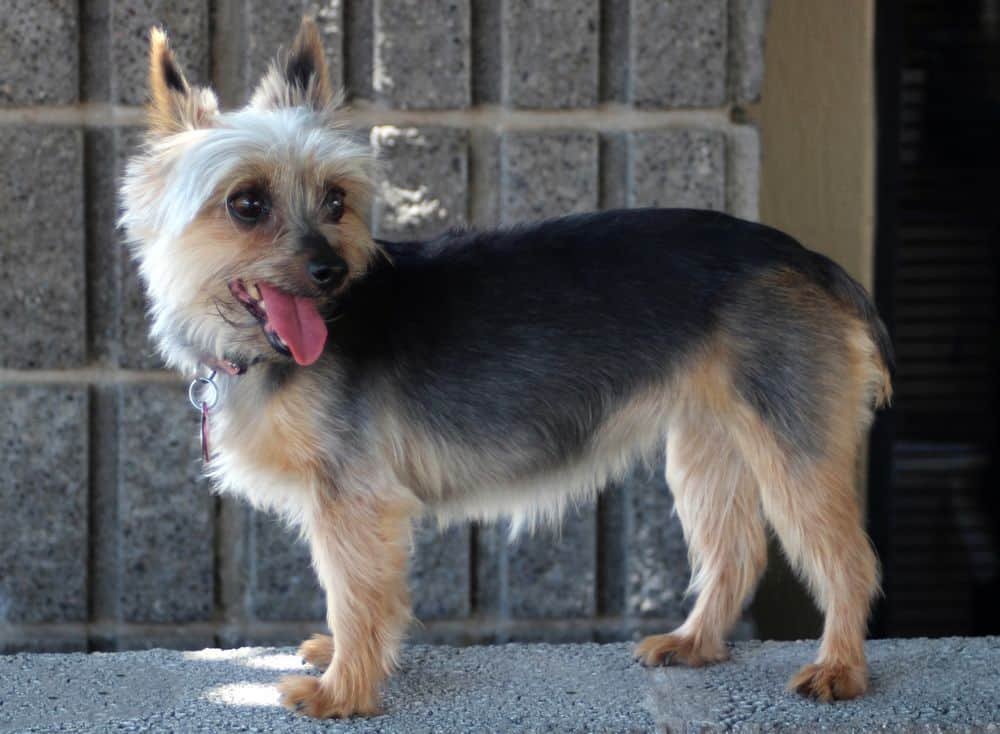 Dogs are capable of showing emotions, just like humans do. If your pet has separation anxiety, or is generally overwhelmed due to changes in its environment, then it could cry tears. If you ever see your Yorkie crying for no reason, separation anxiety is the most common reason.
Watery eyes in dogs are often an emotional response to separation from a loved human. Other symptoms of stress, or emotional response, in Yorkies are whimpering, indoor urination, hiding, cowering, lack of appetite, etc.
What To Do About Yorkie Eye Watering
It is important to take action at the first sign of eye-watering in your Yorkie. Not only can it lead to serious health issues, but it can also make your dog's eyes stink. Here are the steps to take to tackle it:
If the discharge is mild and your pet is otherwise healthy, then simple eye cleaning can help. Clean your pet's eyes using gentle pet wipes or saline water to wash out the eyes and the skin around the eyes.
Eye drops or eye wash can also help with mild cases of eye-watering.
If your Yorkie has seasonal allergies, administer antihistamines to reduce itching, redness, and eye watering.
Take preventive steps to minimize allergens and irritation through proper grooming practices.
If you suspect eye trauma or injury caused due to animal claws or a sharp or blunt object, please take your pet to the vet right away. Also do not hesitate to contact your vet if you notice foul odor from the eye discharge, yellow or green colored discharge, excess blinking, vision issues, etc. in your Yorkie.
How To Prevent Yorkie Eye Discharge
If your Yorkie has chronic eye-watering without a serious underlying cause, you can take the following measures to prevent it.
Use An Eyewash Or Eyedrops
An eyewash for dogs can help you clean your pet's eyes and also prevents tear stains. Regular use of the eyewash can clear away irritation, puffiness, and allergens and even prevent eye infections like conjunctivitis.
Use Eye Wipes
You also want to clean away eye boogers or other debris whenever you see them in your Yorkie's eyes. They are usually harmless, but could get infected and cause problems. Plus, they are ugly.
Eye wipes or sterile eye pads are soothing and gentle and can be used to clean debris and eye boogers from your Yorkie's eyes on a daily basis. Make sure you use dog wipes and not baby wipes.
Groom Your Pet's Face
If you keep your Yorkie's hair long, tie a top-knot to prevent its forehead hair from entering the eyes. Or try one of these other ways to keep your Yorkie hair out of its eyes.
If the eye irritation is affecting your pet's quality of life, it may be better to trim its facial hair and keep it short.
Regular Health Checks
Take your pet for regular health checks. An experienced vet can diagnose eye issues and early diagnosis can prevent many complications.
Yorkie Eyes Watering: Conclusion
In many cases, Yorkie eye discharge is harmless. If you've deducted that your Yorkie's eyes are watering due to hair in its eyes or some other condition that is easy to remedy, please take steps to remedy it immediately. Why force your pup to be uncomfortable?
If you are unable to determine why your Yorkie's eyes are watering, or you have determined it is likely a more serious issue, please contact a vet as soon as possible to set up an appointment. Again, your dog is suffering and you want to make it feel better as quickly as possible.