Tear stains are ugly.
Many dog owners want to remove them just for that reason.
But they can also be a symptom of a more serious issue.
If your dog suffers from excessive tearing and is constantly getting tear stains, you should take it to a vet to see if there is an underlying health problem.
Of course, some tear staining is natural. You will always see some level of discoloration on lighter-colored dogs.
If your dog is lighter and tends to get tear stains, you can try any of our remedies below to remove those tear stains naturally.
We also give you a number of preventative measures, so you can reduce the amount of tear stains your dog gets before they even happen.
How To Remove Dog Tear Stains Naturally
There are really just two primary ways to get rid of tear stains. You either clean the affected area, or you remove the affected portion of hair.
All possible ways to remove tear stains fall under one of those two categories. However, you can also take steps to prevent tear stains from appearing in the first place.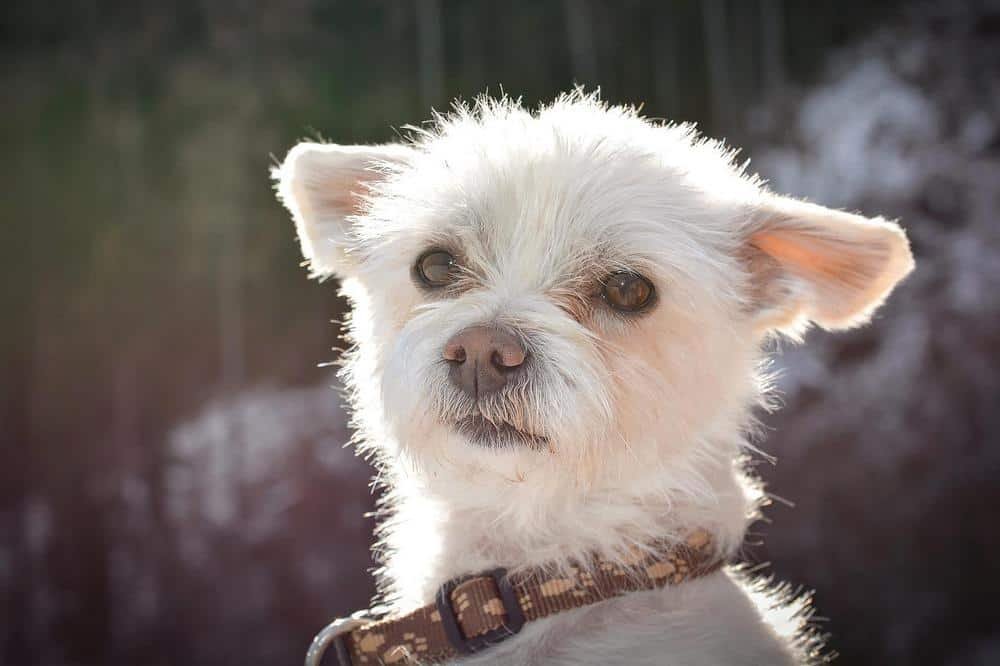 Or at least, to reduce their frequency and severity. And that is ideal. Excessive tearing can lead to more serious conditions and can even leave you wondering: "Why do my dogs eyes stink?"
After some natural home remedies for removing tear stains, we will also provide you some natural preventative measures.
Pet Wipes Or Cotton Pads
There are several grooming products you can use to remove your dog's tear stains naturally. You can choose from pre-treated pet wipes or sterile eye pads containing special eye cleaning solutions.
Whatever product you choose, do make sure it is free from soap, bleach, antibiotics, and harsh chemicals. Do not use baby wipes. Learn about the differences between baby wipes and dog wipes to understand why.
Products like this one are great. It contains juniper berry extract and coconut oil, which can help remove eye crusts and gunk that can result in stained fur.
Take care not to let the solution in the wipes enter your pet's eyes. However, even if a bit does enter, it won't cause stinging or burning, since the product is natural.
Here is how to use these pet wipes.
Wipe your pet's eyes with the pet wipes or pads.
Focus on the area just below the dog's eyes where the stains appear.
A small disadvantage of this method of tear stain removal is that you need to be very consistent to see results.
It also does not treat the root cause of the problem. A few dog owners reported seeing no difference in the stains despite months of use, so it does not work on all types of stains.
Tear Stain Removing Pet Facial Cleansers
A quality all-natural tear stain remover for dogs can brighten the fur and, with regular use, can completely eliminate tear stains. To use these products, follow these steps.
Wet your pet's fur.
Use the product all over your dog's face and gently scrub the stained fur.
Allow the lather to remain on the stains for 3 to 5 minutes before rinsing it off.
Use diligently to see results.
A downside to using this method for removing dog tear stains is that it could cause allergic reactions in sensitive dogs. Also, harsh cleansers could irritate your dog's eyes.
Saline Rinse
Make saline rinses a part of your dog's daily grooming maintenance to clear off eye crusts and tears which result in tear stains.
To use a saline rinse, follow these steps.
Sterile saline solutions are available to buy. You can also make your own rinse by warming up distilled water and adding some rock salt to it.
Test the water temperature. It should be warm, but not too hot.
Soak sterile cotton pads or pet wipes in the solution. Squeeze out the excess water and gently wipe around your pet's eyes.
Diluted Hydrogen Peroxide
A 3% to 10% hydrogen peroxide solution diluted with water can also effectively remove dog tear stains naturally. Hydrogen peroxide is a natural stain-removing agent.
It is safe and also effective in removing discoloration without harming your dog. A major disadvantage of this method is that it might only work on very mild stains. Here is how to use it.
Soak a sterile cotton pad into the peroxide solution and squeeze out the excess.
Wipe the dog's eyes with the pad.
A word of caution: be very careful not to get the solution into your pet's eyes as it could sting or hurt them.
Cornstarch
Cornstarch can help absorb tears and is effective in getting rid of tear stains. To make a cornstarch paste, mix two teaspoons of it with a little hot water and two drops of bleach. Then let it cool down to room temperature.
You can now apply it directly to the tear stains and let it dry for at least 1 hour. After 1 hour, wipe it with a damp cloth and repeat the treatment every other day for two weeks. You can also put it around the muzzle and between their toes.
You may also make a paste with equal part cornstarch, 3 percent hydrogen peroxide, and milk of magnesia. Then apply this to the tear stains and leave it for 1 hour, before rinsing. And remember to be careful not to get it in your dog's eyes.
White Vinegar
Vinegar is another effective remedy for removing dog tear stains. Its acidic nature can help prevent the bacteria or yeast that causes eye infections and excess tearing from taking hold in your pup's system.
And for tear stains that come not from infection, but from mineral-rich water, the vinegar can still help clean the affected area.
To use vinegar, dip a cotton ball in white vinegar and then use it to clean the stained area around your dog's eyes. You can also add one teaspoon of white vinegar or apple cider vinegar to your dog's drinking water.
Can dogs have apple cider vinegar? They can, and it is just as good for them as it is for us humans. It can help prevent the buildup of microorganisms in your dog's body and make it more alkaline.
Chamomile
Chamomile is effective in removing a dog's tear stains thanks to its anti-inflammatory properties that help combat bacteria and fungi. To use a chamomile solution to clean tear stains from your dog's eyes, follow these steps.
Prepare a weak cup of chamomile tea and allow it to cool down completely.
Apply the tea to the tear stains and leave for bit.
Rinse the tea off with clean water. 
Clip Off the Stained Hair
Tear stains usually occur in dogs having white or light-colored fur around the eyes. Clipping the stained fur can help reduce the appearance of ugly tear stains.
Naturally, this method does not eliminate the root cause of the problem and simply gets rid of the symptoms. Here is how you do it.
Only use pet hair clippers with a guard for clipping the stained fur, or safety scissors. Never use sharp scissors around the dog's eyes.
Carefully trim or shave off the dark fur and repeat for the other eye.
You need to clip it every few days to keep reducing the appearance of stains.
Ways To Prevent Tear Stains Naturally
Prevention is always better than cure. To prevent tear stains, you can try some of the following measure.
Anti-Tear Stain Supplements
Natural tear-stain prevention supplements contain a blend of antioxidant, antibacterial, and anti-inflammatory agents such as lutein, which are great for a dog's eye health.
These supplements can help reduce the oxidation released from a dog's tear ducts which are responsible for tear stains.
Anti-tear stain supplements are available as flavored soft chews or even as a powder to mix with your dog's food.
Feed the supplement based on your dog's age and weight. For example, for pets under 14 pounds, a single chew is adequate, whereas larger dogs might need 2 to 3 chews per day.
The downside to tear-stain supplements is that most only lighten the stained fur. They may not completely eliminate very dark tear stains.
You might need to use other grooming techniques to clear off the existing stains. While they are mostly safe, especially if you use natural supplements, it is always better to consult with your veterinarian before using such supplements.
Tear-Stain Preventive Diet
Diet is an essential part of tear stain prevention in dogs. What foods cause tear stains in dogs? Dog food containing excess carbohydrates with minimum proteins and healthy fats can often result in tear stains in dogs.
Pay attention to how many carbohydrates your dog is getting (including treats). Always feed high-quality dog food free from GMOs, fillers, preservatives, etc.
Vets have also come up with dog food specially formulated to prevent tear stains and improve dogs' eye health. Such foods can clear up tear ducts, increase natural lubrication in the eyes, and even boost your dog's immunity. Regular intake can eventually help prevent new tear stains.
Look for dog food containing anti-inflammatory ingredients like turmeric, antioxidants with cooling and lubricating properties, omega-fatty acids, and natural immunity boosters.
It is very important that you discuss dietary changes with your vet first. As with any food, start small to ensure your pet is able to digest the new food.
A major disadvantage of using a tear-stain preventive diet is that such foods tend to be more expensive.
Blueberries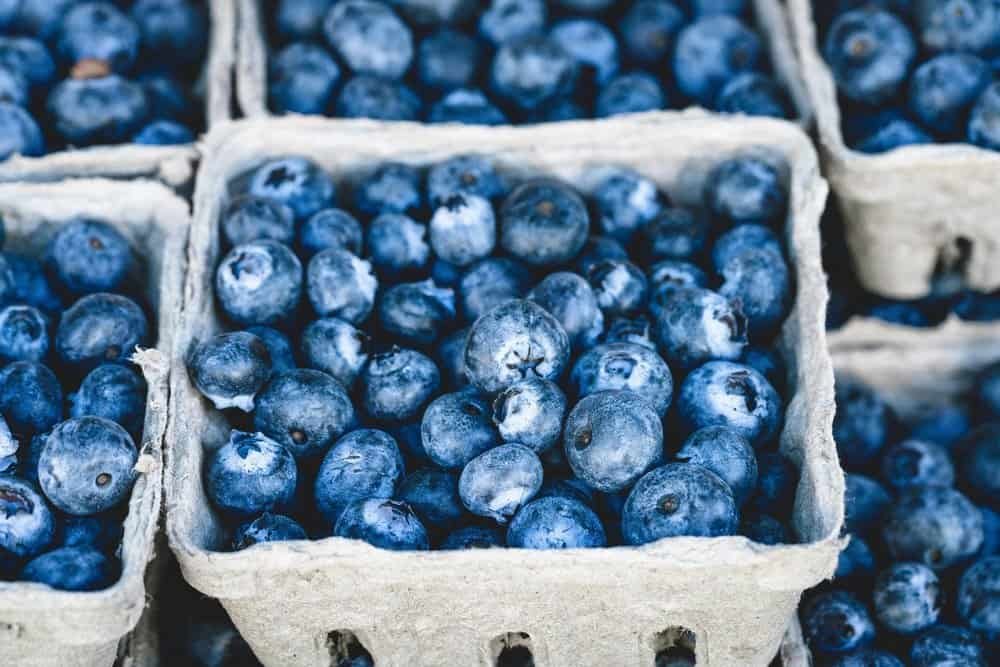 It's true, blueberries work to prevent dogs' tear stains! A big cause of tear stains are impurities and the antioxidants in blueberries remove those. Plus, blueberries are super healthy and not harmful to dogs at all. In moderation, of course.
Avoid Tap Water
One way to prevent tear stains in dogs is to avoid feeding them tap water. Tap water is filled with minerals like iron, which can cause ugly tear stains. Instead, feed pure well water or bottled spring water to your dog.
After several weeks of use, you will start seeing a noticeable difference in your pet's fur around its eyes and mouth.
Treat Underling Health Issues
No dietary changes, supplements, or regular grooming can get rid of tear stains and prevent new ones, unless their underlying cause is eliminated.
Several health conditions can result in canine tear stains including lacrimal duct obstruction, entropion, certain drugs, pH imbalance, eye or ear infections, etc. Work closely with your vet to treat these health issues.
Home Remedy For Dog Tear Stains: Conclusion
Dog tear stains are not generally a serious problem. But if you leave them and do not remove them, they can become infected, which can lead to serious eye problems.
The best way to deal with tear stains is to take steps to prevent them from happening in the first place, or at least to minimize them as much as possible.
However, if your dog already has tear stains, you can use any of our natural remedies above to remove them. But if your dog suffers from frequent staining due to excessive tearing, please have a vet take a look, too. Chances are, there is a health issue at play.