Yorkies are famous for their hair.
It is different from other dogs and actually quite similar to our hair.
But it also takes a bit more work to keep those gorgeous locks looking their most luscious.
You'll have to brush the coat, or at least every other day.
You'll also want to cut it regularly.
Going to a professional dog groomer is the easiest and usually results in the best Yorkie haircuts.
But it also costs money.
If you know what to do and you have the time, there is no reason you can't cut your Yorkshire terrier's hair yourself.
Keep reading to learn how to cut a Yorkie's hair at home, without hurting your pup, or embarrassing it with a hideous hairstyle.
How To Give A Yorkie A Haircut
We'll begin with a list of items you will need in order to properly give your Yorkshire terrier a haircut. Then we'll guide you through the haircutting process step by step.
Materials Needed
Step 1: Find A Suitable Area For The Haircut
If you have a dedicated grooming table, you can skip this step. If not, you'll need to find a suitable area in your home to groom your Yorkie.
You'll need a wide area that is at least waist height and comes no higher than the chest (your waist and chest, not your dog's), like a kitchen table. This way you'll be able to easily view your work as you begin to cut your Yorkie's hair.
It's important to be at eye level with your Yorkie, to avoid any mistakes. A surface at this height also means you'll also be able to easily keep a hold of your dog while cutting its fur.
It may also be worthwhile grabbing a non-slip surface, like a bathmat, to place on your chosen area. This will keep your Yorkie extra safe, by helping avoid any accidents if it tries to pull away while you're cutting its fur.
It is not unusual for dogs to get a little spooked, especially the first time you cut their hair.
Step 2: Calm Your Yorkie Down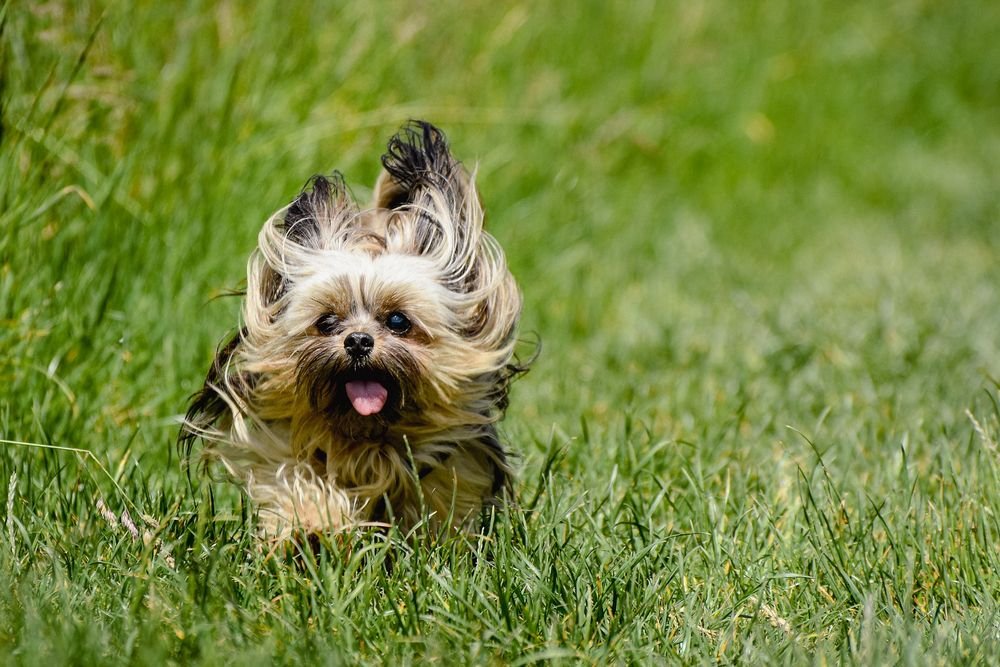 It is always a good idea to calm your Yorkie down before a haircut, especially if it is a younger and livelier dog. The last thing you want to do is cut the hair of an overly-excited Yorkie!
The best way to do this is by tiring your pup out. You can take your Yorkie out on a long walk or maybe spend a little while playing with it to burn off some energy and put it into a chilled out mood.
Step 3: Brush Your Yorkie
Once your Yorkie is calm and you have it standing comfortably on your chosen surface, you can start prepping the fur by giving it a good brushing.
It's important to brush the fur, because it removes any dirt and tangles. Untangled and clean fur is always easier to cut.
Removing knots from your Yorkie's fur also helps prevent the hair from matting, which can lead to sores. Regular brushing will curb any future skin conditions that could arise.
Step 4: Cut Your Yorkie's Facial Hair
Now comes the fun part, so grab your scissors! I would recommend using special dog grooming scissors, because they have rounded edges for added safety and come in different sizes depending on the size of your dog.
Let's start with the facial area. You'll want to be extra careful around the eyes and ears. Not only are they the most delicate areas on your Yorkie, but this is also when your Yorkie is most likely to be on its highest alert level.
You can't blame it, though. No one likes a pair of scissors so close to their eyes. If you are worried about trimming the eye area, we have an article on how to keep yorkie hair out of eyes that gives you two alternatives to cutting.
If you do decide to cut the hair, you'll want to start at the back of the nose and work your way up between the eyes. Once you've done this area, go ahead and trim above the eyes.
Pull the fur down with your fine-toothed comb and cut to your desired length. Make sure you're at least cutting off enough hair that your Yorkie won't have any difficulty seeing.
Next, carefully trim around the ears and then move down the jawline until you reach the chin. Repeat on the other side. Try to get both sides to match as much as possible. You don't want your Yorkie walking around with an uneven haircut!
Once the chin has been completed, move your scissors to the area underneath the nose. Repeat the same process you used above the eyes, by pulling the fur down with your comb and then trimming it to your desired length. When you have finished this part, congratulations! You've completed trimming the facial area.
Step 5: Cut The Body Hair
Now it's time to put down your scissors and turn on your clippers. I recommend putting on the half-inch guard (don't go shorter than that, since you don't want to shave your Yorkie completely) and then making it obvious to your Yorkie that you are about to use the clippers.
This ensures you are less likely to surprise and scare your dog. You don't want it to jump when you get near its skin and accidentally end up clipping any delicate areas. Or just taking off a huge patch of fur
You may need to restrain your Yorkie a bit more during this part, either with the restraints built into your grooming table, a leash, an extra set of hands, or something else. Just make sure it does not cause your pup and pain.
Start clipping your Yorkie's fur in the direction of its hair growth, not against it. Start at the neck and work your way down the back, until all of the desired areas have been clipped.
Once all areas of Your Yorkie's torso have been clipped, grab the brush and brush through your Yorkie's fur to remove any excess hair that has built up from clipping. This will allow you to check if all areas have been clipped evenly, or if you need to go over any areas that haven't.
When you're satisfied with the look of your Yorkie's torso, you can move on to all of the smaller areas, like the pads of the paws, down the backs of the legs, and under the tail.
It's important not to forget the underside of the feet, because a fur build-up can leave your Yorkie feeling uncomfortable when it has to walk.
You'll also want to make sure you aren't forgetting underneath the tail. This area is important to keep trimmed for hygiene reasons. You don't want your Yorkie to pick up any nasty infections in that area.
It's also one of the first areas a dog goes to when saying hello to another dog. You're going to want to keep it in tip-top condition to avoid any embarrassing encounters.
Step 6: Reward Your Good Boy Or Girl
Once you're finished cutting don't forget to reward your Yorkie with some treats! This is obviously going to be your little pup's favorite part and the one thing that makes the whole ordeal worth it in their eyes.
Cutting Yorkie Hair At Home: Pros And Cons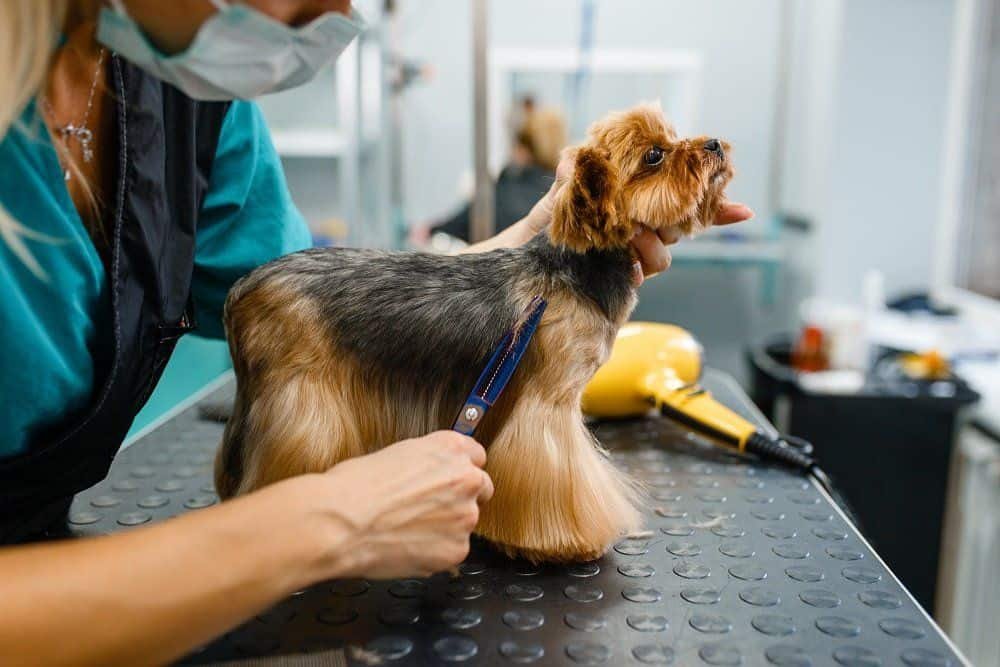 We usually recommend getting your Yorkies hair cut by a professional groomer. But that does not mean you can't do it at home. Many do and it definitely has its advantages.
Let's take a look at the main advantages and disadvantages of cutting your Yorkshire terrier's hair yourself at home.
Pros Of DIY Grooming
Cost Savings: The first time you do it, you will spend more, since you have to buy all the equipment. But in the long run, you'll save a lot of money.
Stay Home: When you groom at home, there is no need to travel anywhere, which takes time, costs money for gas, and is always stressful on your dog (and you!)
Your Yorkie Trusts You: Having a stranger groom your Yorkie is always going to be more stressful than having someone it already trusts do it (that's you!)
Cons Of Grooming At Home
Need To Buy Equipment: Not only does this cost money, but it also takes some time to get everything you need. If you use it often enough, it all pays for itself pretty quickly though. You can't just use human clippers to cut dog hair.
Haircuts Take Time: Once you factor in the value of time, DIY haircuts no longer save as much (if any) money. It all depends on how much free time you have and what you give up to cut your dog's hair.
Professionals Are More Skilled: Most of us simply don't have the same skill level of a professional groomer. This means your Yorkie won't look as good if you do it, but you could also cause your dog discomfort or pain.
Groomers Offer Other Services: Groomers also cut nails and perform additional services that you may or may not want to do yourself at home. You can get them all done at once, if you like.
How To Cut A Yorkie's Hair: Conclusion
If you want to save some money, or just prefer to take matters into your own hands, there is no reason you can't cut your Yorkies hair at home. All you need to do is get the proper tools and follow the instructions above.
It will be a bit difficult the first time, both for you and your dog. It will be nervous, because it doesn't know what to expect. And you will need a few cuts under your belt before you get the routine down and feel confident in your grooming skills.
But don't let that deter you. Like everything else about dog ownership, you just have to do it and learn. And also like everything else, it ends up being a great bonding experience between your and your pup!