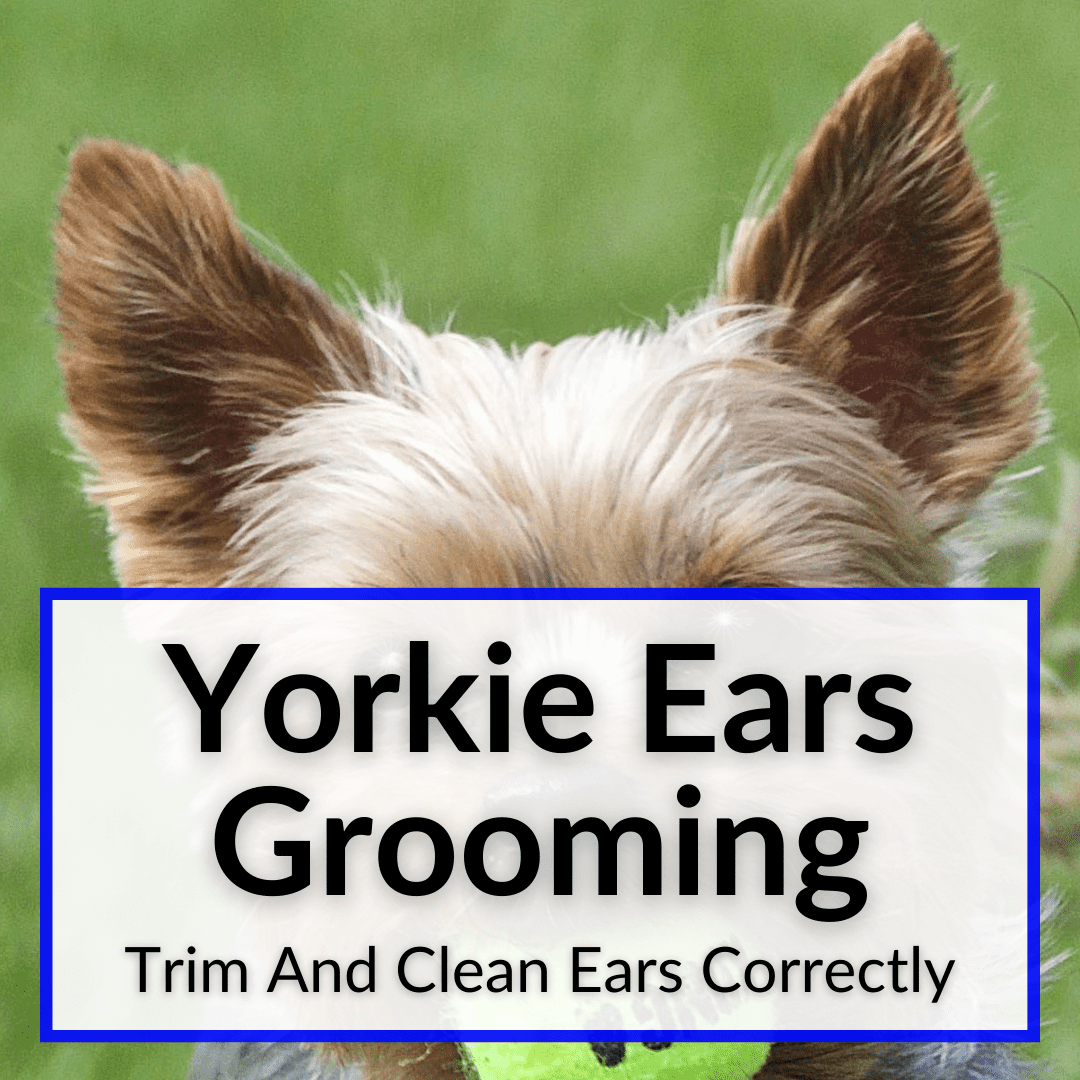 Yorkies are famous for their gorgeous silky hair and their perk little ears.
If their hair is a mess or their ears dirty and overgrown, these adorable little pups lose some of their charm.
Many owners just have a professional groomer take care of everything.
That is easiest and usually best.
But not everyone can afford that. And you can do a lot of grooming at home.
Even if you pay a groomer, sometimes your Yorkie needs a bit of touching up in between, especially around the ears. That's something we can all do at home.
Keep reading to learn all about grooming Yorkie ears. We will take you step-by-step through the entire process, from cleaning to brushing to trimming.
Yorkie Ears Grooming Step By Step
Yorkie ear grooming includes cleaning the dog's ears, followed by brushing, combing, and trimming the ear hair. It is important to groom an adult Yorkie's ears to accentuate their upright point. In Yorkie puppies, ear hair trimming can help the ears stand up erect.
Grooming your Yorkie ears requires a few specialty items to make the job easier. You can find all of these items online or at a pet shop.
You probably already have many of these items at home, such as a hair dryer, towel, pet wipes (not baby wipes: read baby wipes vs dog wipes to find out why), hair clippers, cotton balls, pet grooming table, etc. Here are the step to groom Yorkie ears, beginning with the items you will need
Step 1: Initial Preparation
Gather all the tools you need to properly groom your Yorkie's ears.
Comb Or Brush: You need a metal comb, a curry brush with rubber teeth, or a slicker brush. Yorkie ears are covered with very fine hair that is prone to mats and tangles. We review the best brushes and combs here.
Scissors Or Trimmers: You also need scissors to trim and shape the ear hair. Electric clippers are also a must-have, if you want a close trim or shave around the ears. We recommend a good pair of scissors in our article on Yorkie grooming tools.
Shampoo: If you plan to bathe your Yorkie first, purchase a vet-approved shampoo. There are special Yorkie shampoos available these days. You can also select one according to your Yorkie's age (adult/puppy shampoo). This article covers the best shampoos.
Cotton Balls: Regular cotton balls are just fine. You probably already have these at home anyway.
Ear Cleaner: You can use an ear cleaning solution or pet ear cleaning wipes.
Grooming Table: You could just use any table, but a dedicated dog grooming table makes things easier.
Step 2: Bathe And Wash Your Pet
When you bathe your Yorkie, it is important to place cotton balls inside your little dog's ears. This will help prevent water from going inside. However, make sure not to insert them too deeply inside your pet's ears.
Gently wash your pet's ear flaps. You can lightly scrub the inner ear flaps to remove accumulated gunk. If needed, apply a bit of shampoo to remove dirt inside and outside the ears.
Bathe your pet as you usually do. After your pet's bath is over, remove the cotton balls from the ears.
Dry your pet thoroughly. You may use a hair dryer (make sure it is not hot) or towel dry it. Always use a soft towel to wipe the inside of the ears.
Step 3: Clean Inside Your Yorkie's Ears
Cleaning your Yorkie's ears is especially important after its bath. It also gives you a chance to examine your pet's ears for ear infections, yeast, foul odor, etc. You should also clean them thoroughly before taping Yorkie ears.
Once your pet is dry, place it on a grooming table to complete the rest of its grooming. You can also groom your Yorkie in the bathroom itself.
However, if you are trimming your pet, then it is best done in an enclosed, safe area. A pet grooming table works best because it elevates your pet to a comfortable height and makes grooming easier.
If needed, lay your Yorkie down on its side on the table. This will help you access the ear more easily.
Use pet ear cleaning wipes or put a few drops of the ear cleaning solution on regular wipes or cotton balls. Insert the soaked wipe into your dog's ear and gently wipe the inner ear. Clean the ear's inner skin and hair to remove crusted gunk.
If needed, put a few drops of the ear cleaning solution inside the ear. Gently fold the ear down and massage and rub it gently from the outside to spread the ear cleaning solution inside the ear.
Use a clean wipe or cotton ball to remove the excess solution or moisture. Repeat the above steps for the other ear.
Step 4: Comb Or Brush The Ear Hair
Use a metal comb or a brush with rubber tips. Gently comb your pet's ear hair. If you encounter tough mats and tangles, you may need to trim or cut them.
Step 5: Trim Your Yorkie's Ears
Hold one of your Yorkie's ears gently to lift it up. You can place one hand under the ear to raise it and make the hair more accessible. Use your other hand to work the scissors.
Use the scissors or shears to snip away all the hair that is overgrown and falling below the ear flap. Continue trimming and use a comb side-by-side to help you assess how much extra hair needs to be trimmed.
Trim and style as you go, to give the ear an even and uniform shape. You can decide if you want round or pointy ears. Asian style grooming for Yorkie involves shaping the ears like a butterfly. Check out this video to replicate this cute style.
Keep combing and trimming all around the ear to ensure even hair length all around the ear. Once you're done, repeat the steps for the other ear. You can also check out our article explaining how to groom a Yorkie face.
How To Trim Yorkie Ears Step By Step: Video
Here is a video showing how to trim Yorkie ears step-by-step.
Pro Tip: If you show your Yorkie, you may have to keep its entire coat short. In this case, you need to trim the ears with clippers. Run the clippers by turning them parallel to the edge of the ear to give a close shave.
Should I Shave My Yorkie's Ears?
If an adult Yorkie has small ears with a thick mop of hair covering them, chances are that they need some shaving.
Shaving Yorkie's ears is also imperative with young puppies. The hair tends to weigh down their ears and this can be detrimental to having the ears stand up erect in a timely fashion.
In short, shaving Yorkie ears is recommended for:
Older Yorkies with a very thick coat or those who haven't been groomed for a long time.
For young Yorkie puppies, when you want to tape their ears or when the hair is weighing the ears down, preventing them from standing up.
For show dogs.
Shaving Yorkie Ears
Have your pet lay down on a rolled-up towel so it is comfortable.
Hold your pet's ear upright using two fingers.
To shave the outer ear, use the electric clippers to gently shave the ear in the direction of hair growth, typically downward.
For the inner ear, follow the outline of the pink part of the ear. Use your fingers to cover up the skin. If needed, use a metal comb to get stray hair out of the way as you shave.
Shave the inside of the hair moving from the top tip of the ear downwards towards the center of the ear.
Repeat for the other ear.
Here is a video showing how to shave a Yorkie with clippers around the ears.
Grooming Yorkie Ears: Conclusion
The silky hair and upright, perky ears are some of a yorkie's most famous traits. You want to make sure they always look their best.
But grooming Yorkie ears is not only important for aesthetic reasons. It is also a matter of health. Clean ears help prevent infections and other issues.
In general, we recommend hiring a professional groomer to do this type of work. But we also understand that this might not be in everyone's budget. For that reason, we wanted to provide a complete guide, to help you groom your Yorkies ears at home.
How much does it cost to groom a Yorkie? It varies, but you can expect to pay between $20 and $95 for a full grooming. If it's just the ears, it will be on the lower end of that.
And even if you have a professional do the major grooming, it is always a good idea to clean the ears on a more regular basis, and perhaps do a little maintenance trimming as well.
Yorkie hair grows fast, especially around the ears. But with the steps above, you should confidently be able to handle the occasional trim.