Try to imagine a yorkie.
What does the rear end look like in your mind?
Does it have a long thin tail? A long bushy one?
Or a short nub that some might not even call a tail?
I ask this, because it makes clear why people ask "Do yorkies have tails?"
Imagining a yorkie with a long tail is difficult. That's because it is a rare sight.
Why is that? Are some yorkies born with short stubs for tails?
Or do they actually start out with long tails that are then removed? And if that is the case, for what purpose is it removed?
Keep reading for the answers to all of those questions and more. But we'll begin with a formal answer to the original question that brought you here.
Do Yorkies Have Tails?
Yes, yorkies have tails, just like other dog breeds. That said, you have probably seen Yorkshire terriers with short, stubby tails. The reason is that many owners prefer to have the tail docked.
We're going to cover what exactly docking is, how it is done, why it is done, and everything else you need to know. We also have a comprehensive article on yorkie tail docking.
Tail Docking Explained
Back in the day, yorkies in England were a working breed rather than a companion pet. Their job was to catch and kill as many rats as possible in mines, factories, shipyards and other locations that had rat problems.
But rats are vicious fighters and some get quite large. They would fight back and a yorkie tail made an inviting target for their sharp teeth. The dog owners began cutting the tails off their dogs, so that the rats would have one less thing they could attack.
These days, this is obviously no longer an issue. So why do most yorkies still get their cut?
You may have heard that it helps improve their health. That is completely false. The main reason for the procedure these days is to comply with the standard of the American Kennel Club (AKC).
The AKC's standard states that the Yorkshire terrier should have a tail that has been docked to a medium length. That is why many yorkies have a short tail stub that sticks up a bit above their back. In short: it is purely for aesthetics purposes.
The AKC also suggests that since the docking happens when yorkies are only a few days old, they don't feel any pain. But this theory is disputed and has no basis in terms of medical facts.
There are still some cases where a yorkie's tail is docked to prevent injury when catching small animals. As mentioned, that's what yorkie were originally bred for, though they rarely do this type of work anymore these days.
Natural Tail Vs Docked Tail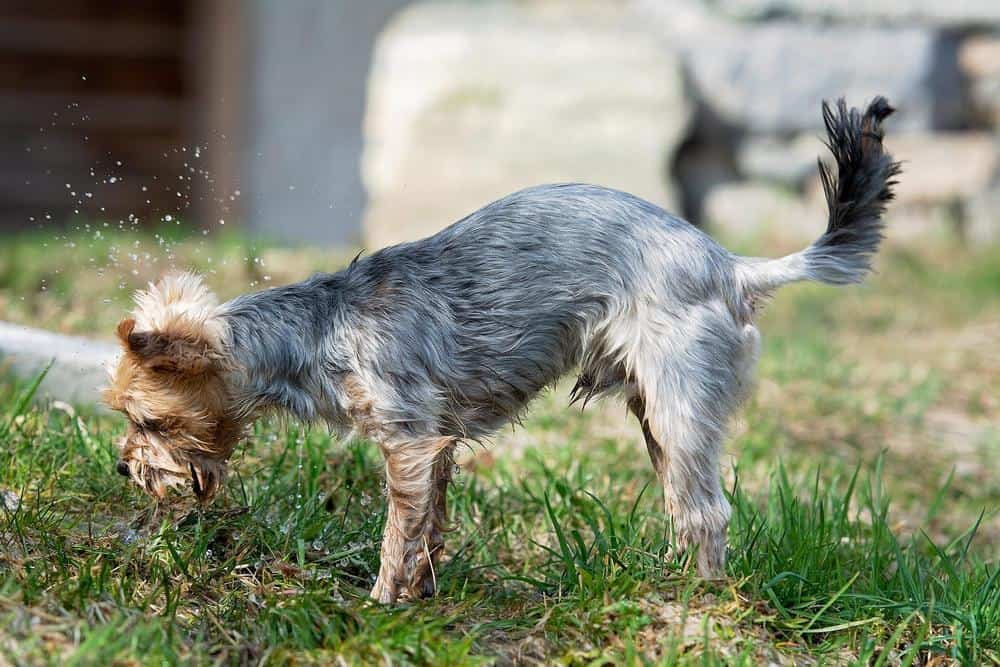 Docked tails in yorkies have become the standard. In fact it looks somewhat unusual to see a Yorkshire terrier with a complete tail.
There are basically two main differences between the shorter and longer tails. The appearance is obvious, but we'll start there anyway.
Appearances
The first thing that you'll notice about Yorkies with natural tails is obviously the tail itself. Natural tails are long and often curl up over the dog's back, like tails in most other dog breeds whose tails are not cut.
On the other hand, a docked tail is only a few inches long. Some people would also call it a nub, since that is basically what it is.
Maintenance
Yorkies need regular brushing to maintain their long, silky hair. If they have natural tails, that obviously means a little bit of extra brushing. But it is minimal. Tails aren't that long.
On the other hand, when a tail is docked tail, the yorkies does need a bit of extra medical care. This is mainly to ensure the wound does not get infected. Basically, you'll want to give it a regular cleaning using warm water and a clean rag.
It is also a good idea to use a non-toxic ointment that promotes quicker healing. Once the wound heals, the hair will grow naturally on the spot where the amputation took place.
The Docking Process
There are two ways to remove a dog's tail. One is to affix a tight rubber band to the tail to constrict the blood flow, so that the tail falls off after a few days. The other is to amputate it surgically.
Opponents of the process generally claim that it is painful, but it isn't, if it is done early enough in life. This means as early as 24 hours after birth, up to 5 days of age. This may seem exceedingly early, but there are numerous benefits to doing it at such a young age.
Painless: Yorkies' neurodevelopment begins within 2 to 4 weeks of birth, meaning their pain sensation is still weak; it may hurt slightly but it's much less painful than doing it later when their nerves start to mature.
Smaller Tail: A newborn Yorkies tail is tiny, making it the perfect time to dock; since there is less width and length, the tail should fall off within three days of applying the tight band.
Better Healing Process: A newborn yorkie has rapidly developing cells that adapt to their environment, so the tail heals much more quickly; if you do it later in life, you'll want to wait until at least ten weeks after birth, when the surgical method becomes an option; recovery from the surgical procedure can be painful, but at that age, they are strong enough to handle it.
Cost And Legality
If you know what you are doing, removing the tail can be free. You can just do it yourself. But make sure you do know what you are doing. Otherwise, get an expert to do it for you, to avoid any complications.
Usually the breeder from whom you get your dog can do it. A licensed groomer can also take care of it. The procedure should cost you around $10 and $20. But if need to use anesthesia, the price will obviously increase. You ca expect to pay around $100 in that case, depending on the vet.
Docking tails is a hotly debated issue. It is legal in the United States, but the World Small Animal Veterinary Association is against the practice and is actively trying to get laws on the books in many countries to end it. In 2007, many countries prohibited the practice altogether.
Some countries that have banned the practice include Australia, Canada, Denmark, Germany, Iceland, Norway, Sweden, and the United Kingdom.
Yorkies Have Tails: Conclusion
Yorkies have tails, just like all other dog breeds. Long tails that curl up over their back. The reason you rarely see those tails is that they are generally removed right after birth.
There was a practical reason for this procedure once upon a time. But these days it is simply done for aesthetic reasons, in order to meet the standards for the breed set out by the AKC.
The same is true for many Yorkie mixes, even though in those cases, it has nothing to do with AKC standards, since they do not recognize mixes. For example, most Yorkie poos have a tail that has been docked. Morkies also have docked tails a lot of the time.
But the practice is slowly being outlawed in more and more countries. Many say it is cruel. And since it serves no practical purpose, I suppose it makes sense to ban it.
In the United States, you still have a choice. Personally, I like having the option, but I would prefer to let my yorkie keep his tail. Of course, most yorkies you find for sale have had them removed. I hope that changes and the choice is left up to the person adopting the dog.