Have you ever wondered "Do yorkies have tails?"
There is a reason for that.
In many countries, the US included, it is common practice to cut the tails off Yorkshire terriers shortly after they are born.
If you're like me, you probably have some questions, like:
"Why do they cut yorkies' tails?" and "Is yorkie tail docking cruel?"
And probably a lot more.
Keep reading to learn everything you need to know about docking a Yorkshire terrier's tail. We'll also help you decide if it is the right thing o do for you and your puppy.
Yorkie Tail Docking
Tail docking is the process of removing the tail, usually at a very young age. It is a far easier and less painful procedure if done within days of birth.
When a dog is this young, you can simply tie a band around the tail to cut off circulation. The tail will then fall off after a few days. With an older dog, the tail will have to be removed surgically, under anesthesia.
As you can imagine, there is a lot of controversy surrounding this procedure. We'll get into that in a minute. First, lets answer the most important question.
Should You Dock Your Yorkie's Tail?
There is no need to dock your yorkie's tail. There is no medical reason to do so. It is done purely for aesthetics, or to meet the AKC breed standards.
Meeting the AKC standards only matters if you want to have your pup compete in dog shows. Apart from that and the look, the only other reason given for docking the tail is if your yorkie is going to hunt small animals.
The Yorkshire terrier was originally bred to hunt vermin like rats. Rats are vicious and could bit yorkies' tails, so their owners removed the tails to eliminate this danger.
Obviously, this is no longer an issue for the vast majority of yorkies, who are kept as companion dogs. But if your yorkie is going to be hunting, then this reasoning might tempt you.
The problem is that it is complete BS. We'll get into that in just a minute. first, let's take a quick look at the legality of cutting your dog's tail.
Legality Of Tail Docking
The world is divided on this issue. Some countries are vehemently opposed to the removal of a dog's tail, while others encourage it or even mandate it for dogs competing in dog shows.
The American Kennel Club recommends that the tail of a Yorkie be docked to a medium length. In general, tail docking is legal in the United States, except for Pennsylvania.
In Pennsylvania, local law states that there should be no tail docking without anesthesia on puppies older than five days.
Puppies can only handle anesthesia if they are at least 12 weeks old. This means that tail docking is prohibited, if your puppy is between 5 days and 12 weeks old.
Maryland is the other state with some restrictions. They allow tail docking only if vets use anesthesia when performing the surgery.
In addition to the United States, a number of other major countries allow the removal of a yorkie's tail. Some of those countries are:
France
Hungary
India
Czechia
Japan
Mexico
Peru
Portugal
Thailand
Costa Rica
Chile
Bolivia
Egypt,
Indonesia
Philippines
New Zealand (only on puppies under four days old)
Some major countries where tail docking is illegal are:
Austria
Belgium
Brazil
England
Greece
Italy
Israel
Netherlands
Norway
Poland
Scotland
Spain
Sweden
Switzerland
Slovenia
Colombia
Turkey
Tail docking is permitted in some working dog breeds in Germany, Ireland, Serbia, and Whales. It is illegal for any other dogs.
Why Do They Cut Yorkies' Tails?
Many dog breeders in the United States dock yorkies' tails before selling the dog. As a result, you usually have no say in the matter. Most yorkies for sale have had their tails cut.
If you want a yorkie with a natural length tail, you need to talk to the breeder in advance. Most will agree not to dock the tail of one puppy from their, if you put down a deposit on the puppy.
This is generally a good idea. These days, it does not make much sense for the majority of yorkies to have their tails removed.
There are generally three main reasons given for cutting a dog's tail. But, as mentioned, one of them is not a valid reason. Let's take a look at each of the three in turn.
To Meet American Kennel Club Standards
The American Kennel Club has stringent regulations for Yorkshire terriers. Among them is the requirement that the tails be docked to medium length.
This means your yorkie needs to have a short tail stub that raises slightly above the level of its back. This is considered a marker for the breed.
These standards are applicable to parti yorkies and teacup yorkies as well. But they are not required for biewer yorkies, because they are considered a different breed. The AKC does not consider them purebred yorkies.
Meeting the standards of the AKC is essential for yorkies in the dog show scene. If you do not plan on having your dog compete in dog shows, there is no need for you to meet the breed standards of the AKC.
The reason Biewers do not have docked tails as the breed standard is that they originated in Germany, where tail docking is illegal. They are still quite rare in the US and mostly found in Europe. Read our comparison of the Biewer terrier vs Yorkie for more.
For Aesthetics
The look is the main reasons many breeders still dock yorkie tails. Many customers prefer the tail stub, because it has come to be associated with this breed.
For many, the long and high-riding look of a natural tail is simply undesirable. A shortened tail also gives small, long-haired dogs a more compact.
This is even more true if you have a teacup yorkies. Many owners of a mini Yorkshire terrier give their dog a teddy bear haircut to amplify the cuteness, and the tail negatively affects this look.
To Protect From Hunting Injuries
As mentioned, yorkies were initially bred as hunting dogs, and those with undocked tails were said to suffer far more injuries, because the rats they hunted supposedly bit the tails.
But think about it for a second. Yorkies attack rats from the front, not with their butts. It is much more likely they would get bitten on the face or the front legs, than on the tail.
Here's what was really going on back then.
Anyone owning a pet dog in England in the 18th century had to pay a levy. But if you owned a working dog, on the other hand, you were exempt from paying those taxes.
As a result, people came up with creative ways to distinguish their working dogs from pet dogs. Tail docking was one way to accomplish that.
They made the claim that docking was necessary to protect their do from injuries and therefore, any yorkie with a docked tail was a working dog.
But there was never any support from the medical or scientific communities that docked tails prevent injuries.
Docked Tail Vs Natural Yorkie Tail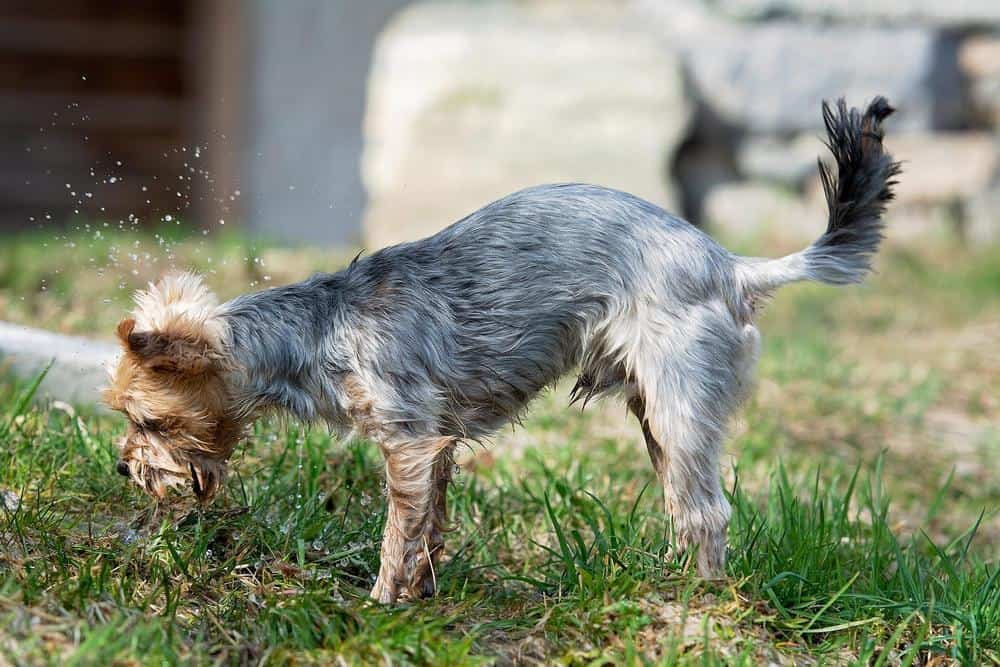 Let's take a look at the differences between a docked tail and a natural tail. You'll see that there really aren't any, apart from the appearance.
Difference In Care
There is no particular difference in treatment between a cut tail and a natural one. Yorkies with longer hair need to be brushed regularly anyway, and brushing the longer tail won't take more than a minute or two.
The only additional care a docked tail needs is medical attention right after the procedure. You need to make sure to keep the area clean to prevent infection in the open wound.
You can simply use warm water and a clean rag to clean the wound. It is best to do this daily and also to apply a non-toxic antibiotic ointment to speed up the healing process.
Once the wound has healed, hair will develop over the spot where the amputation took place.
Difference In Appearance
Most of us in the United States have gotten so used to the look of a docked tail, that when we come across a yorkie with a natural tail, it looks odd.
It's basically like a Shih Tzu or other small dog breed with a longer tail, in that it curves up and over the dog's back.
How To Dock Yorkie Puppy Tails
There are basically two ways to dock a dog's tail. The first is known as "simple banding" and it is commonly used for tail docking in newborn puppies. The other is surgery, which is the method you need to use for older puppies.
Banding is much easier, which is why it is best to cut the tail when the dog is very young. Using this method is so easy, that you can actually do it yourself at home.
You just need the right tools and the know-how. And the right timing. As mentioned, you need to do this when your dog is young, otherwise, you have to surgically remove the tail. for that you need a professional.
Let's take a look at both methods in more detail. After that, we'll cover the advantages of removing the tail right after your pup has been born, as opposed to waiting until it is a bit older.
Simple Banding Method
The aim of banding to restrict blood flow to the upper part of the tail before cutting it off with a sterile clamp and scissors. You can also leave the band on for a few days, until the tail falls off by itself.
I mentioned that you can do this at home, but this is only the case if you have the proper tools and you know what you are doing. Otherwise, have a vet or a qualified breeder or groomer do it. It is an inexpensive procedure (we'll cover the costs below).
Surgical Tail Docking
Your other options is to have the tail surgically cut using anesthesia. Since newborns cannot cope with anesthesia, you can not use the surgical method for very young puppies.
It becomes an option once puppies have reached 10 to 12 weeks of age. The problem is that by the time they reach this age, the nerves in the tail are fully developed. That means cutting the tail will cause great pain.
This is why banding is no longer an option for older dogs. It has to be surgery and you really should use anesthesia. To do the procedure without would be exceedingly cruel.
The use of anesthesia means that you can not feed your dog for 12 hours before the procedure. The surgery 45 to 90 minutes to complete.
Of course, any surgery, especially under anesthesia, has the potential to result in complications. If performed incorrectly, it may result in a lot of discomfort, infection, or it may look bad, among other things.
The healing time is almost non-existent if you dock your newborn's tail when it is 3 to 5 days old. It usually takes three days for the upper part of the tail to fall off if you tie the string around it.
In the case of surgery, the wound heals quickly as well. Just be cautious in the first few hours after the procedure. If you observe any signs of bleeding, call your veterinarian right away.
When To Dock A Yorkie's Tail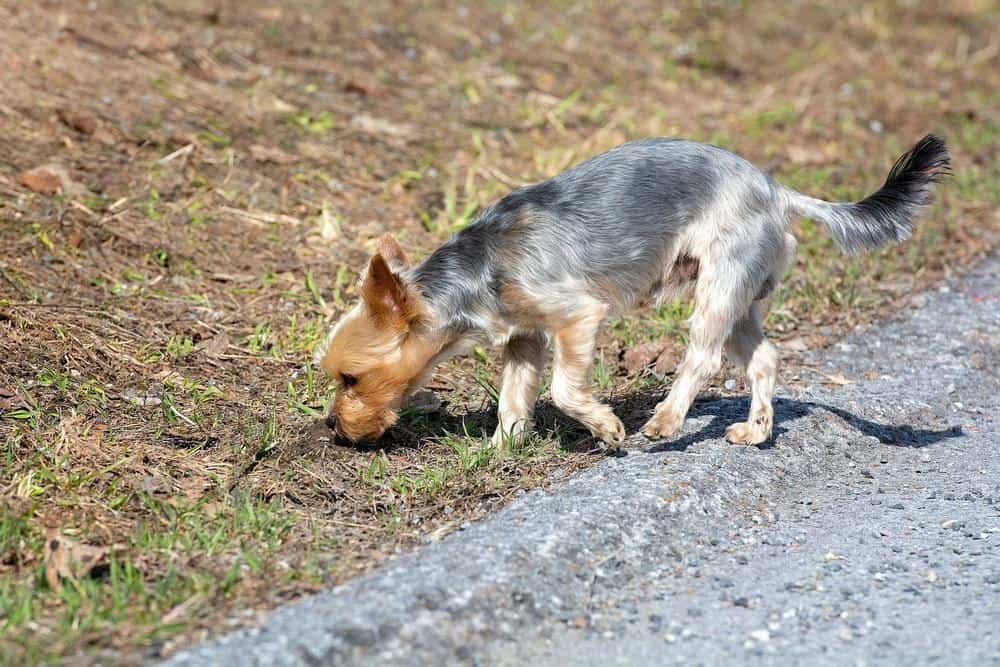 We already touched on this a bit above, but the best time to cut your yorkie's tail is shortly after birth. You need to give them a bit of time, but once 24 hours have passed, you can apply the band. Many people like to wait an extra day or two, but you should do it before the 5th day after birth.
If you wait until your puppy is older, the banding method is no longer a good option. You will have to go with surgery. That is a big reason it is best to dock the tail early. Let's look at all the reasons you want to do this procedure shortly after the birth of your pup.
It Is Mostly Painless
Neurodevelopment takes about 2 to 4 weeks after birth. This means that newborn yorkies' senses (apart from the sense of smell) are not fully developed and they haven't started walking, and can't even hear or see, yet. They also do not have a developed nervous system.
As a result, they sense pain much less than they would when older. They barely notice if you tie a band around their tail shortly after birth, but it would be painful if done a little later, once the nerves have begun to develop.
The Tail Is Smaller
The tail of a newborn yorkie pup is tiny. The whole dog is tiny! When the tail is this small, it falls off quickly if you tie a band around it tightly. As mentioned, it usually takes around three days.
It Heals Better
Newborn yorkies experience a growth spurt shortly after birth, when their cells develop quickly. Docking the tail at this time takes advantage of this fast development, which means fast, and complete, healing.
No Need For Surgery
As mentioned, if you miss this initial window, you can no longer cut the tail using the banding method. You will need to have it surgically docked. This means using anesthesia, which always carries risks. It also means a longer and more painful healing process.
Yorkie Tail Docking Cost
The cost of docking your yorkie's tail depends on many factors. The biggest is which procedure you choose. Simple banding can even be free (apart from the cost of the supplies you need), if you do it yourself.
But even hiring someone to do it costs very little. In fact, due to the cost of supplies, hiring someone may even end up cheaper. And it is certainly safer, unless you absolutely know what you are doing.
So how much can you expect to pay, if you hire a qualified groomer, your breeder, or a vet?
In general, you will have to pay a breeder or licensed groomer from $10 to $20 to cut the tail using the banding method. If you choose to go the surgical route, the price tag will be a little higher.
Most of the additional cost is due to the anesthesia, but that is not something you want to skimp on. You don't want your puppy to suffer, do you?
You can expect to pay around $100 for the surgical procedure. The actual cost will likely be a bit lower or higher, depending on your vet and your location (things like this always cost more in big cities).
Cutting A Yorkie's Tail: Conclusion
Tail docking is not medically necessary. In fact it is not necessary for any reason, unless you plan on entering your yorkie in dog shows.
That said, some people just prefer the way it looks. Is that a good enough reason to put your pup through this procedure? That is something you have to decide for yourself.
As mentioned, in the United States, yorkie tail docking is still the default. You will usually have to make special arrangements with a breeder, if you want a yorkie that has a natural tail. And forget finding a free Yorkie that still has its tail.
Most agree that cutting the tail when the dog is only a few days old is mostly painless. But not completely. There is also a small danger of infection.
On the other hand, docking has no side effects down the road. It will not stunt the growth of your yorkie, shorten the lifespan, affect its sleeping habits, or mess up its heat cycle. Read "What Is The Lifespan Of A Yorkie?" if you have questions about that.
In other words, there is no major reason to avoid the procedure, but also no real reason to do it, unless your dog is meant for the stage. Personally, I would leave my yorkie's tail intact, but there is nothing wrong with you if you prefer to have it docked. As stated before, it is completely up to you.