It's a shame.
The Biewer Terrier is an adorable little dog, but it is still relatively unknown in the US.
In fact, it was only recognized by the American Kennel Club as a distinct breed in 2021.
But what is with the two names? Is the Biewer Terrier the same thing as a Biewer Yorkie?
And how do they differ from the Yorkshire terrier?
We'll answer both of those questions below. Plus a whole bunch more.
Keep reading to learn everything you need to know about the Biewer Terrier. By the end, you'll know if this is the dog for you.
What Is A Biewer Yorkie?
The Biewer Yorkie is a rare toy dog breed very similar to the Yorkshire terrier. It was originally considered a color variation of the Yorkshire terrier, until it was recognized as a separate breed by the American Kennel Club in 2021. The Biewer Terrier is the AKC's 197th dog breed.
The Biewer (a German name pronounced similar to 'beaver') Yorkie originated in Germany in 1984 and came to the United States in 2003.
In the USA, it is still a relatively rare breed, although its popularity is on the rise. Today, it is ranked 83rd in AKC's popular dog breeds list.
The first Biewer was named Schneefloeckchen von Friedheck. Its owners and breeders were Gertrud and Werner Biewer. They lent this new breed their last name.
The Biewers performed a lot of selective breeding to produce more dogs like the first. By the end of 1989, they were already being viewed as a separate dog from the typical Yorkshire Terrier, with its own set of standards. The Biewer Yorkie was officially born.
The Biewers created this new breed by selectively breeding Yorkshire terriers that had the recessive piebald gene (white spotting). The result was a sweet-tempered, energetic, and loving dog with a soft, silky, tri-colored coat.
Biewer terriers look a lot like Yorkshire terriers but are smaller and lighter. They also have white coloring around the face and legs. White is not a recognized official color for purebred Yorkies.
How Big Do Biewer Terriers Get And What Are Their Official Colors?
Biewer Yorkies weigh between 4 and 8 pounds and measure between 7 and 11 inches.
They are tri-colored dogs with piebald coloring. They tend to have a lot of whitish-blue patches over their white fur. A Biewer Yorkie's face sometimes has the characteristic Yorkie black and tan coloring.
Standard AKC colors for the breed are blue/black, gold/tan, and white. Any combination of the following two colors – gold/tan and white and blue/black and gold/tan – is acceptable.
Biewer Terrier Temperament
Biewers are friendly and affectionate dogs. They make excellent family pets and are known to get along with kids.
However, Biewer owners must supervise all interactions between their kids and dogs (at least in the beginning), since these delicate dogs could get injured by boisterous kids. They could also snap at one of those kids if they accidentally hurt or threaten the dog.
They are likely to get along with other dogs, but you need to socialize your Biewer from an early age.
Biewers are sensitive dogs that do not like being left alone at home. They are known to suffer from separation anxiety. It may be a good idea to have another dog to give your pet company, unless someone will be home most of the day.
Most Biewers also get along with cats, but a lot depends on how the dog and cat were introduced and also on their individual personalities.
When it comes to strangers, Biewers tend to appear aloof in the beginning. They may take some time to warm up. But once they see you relaxed and comfortable around new people, then they relax as well.
Biewer Terrier Cost
The AKC's newest toy dog breed is quite rare, so there are not many breeders around. This makes them fairly expensive dogs. Biewer Yorkie breeders often charge between $1500 and $3000 for their purebred puppies.
The puppy's price will depend on its coat color, lineage and bloodlines, and also your location. Breeders also charge extra for shipping the puppy to you, if you live further away.
Are Biewer Yorkies Good For First-Time Dog Owners?
Biewer Yorkies make good pets for first-time owners. They are intelligent dogs, which makes them fairly easy to train. They also do not need too much exercise, making them an excellent choice for people with limited mobility or seniors.
However, as with any dog, it is very important to train the puppy from the very beginning, in a patient and consistent manner.
Biewer terriers also need plenty of grooming to maintain that gorgeous coat. You may want to brush your pet daily, or at least every other day, and also give it a puppy cut to prevent mats and tanks.
And remember that Biewers are small dogs. While that makes them great for apartment dwellers, they may not be the best choice for families with unruly kids.
Comparing Biewer And Yorkshire Terriers
There are several physical and temperamental differences between Biewer Terriers and Yorkshire terriers.
Physical Differences
Yorkshire terriers are slightly larger than Biewer Yorkies. Biewers weigh between 4 and 8 pounds and measure between 7 and 11 inches. Yorkies stand between 3 and 12 pounds and stand between 8 and 12 inches at the shoulder.
Their coat colors also differ. Biewers are usually tri-colored with colors like black-white-brown, blue-tan-white, and white-blue-black. Yorkies are bi-colored with combinations like black-tan, black-gold, blue-gold, and blue-tan.
Biewers tend to have more whitish coloring on their faces. They are also born blue-white-tan whereas standard purebred Yorkie pups are born black and tan.
If you compare the Biewer Terrier vs Parti Yorkie, then you will see more similarities, especially physically. The Parti Yorkie also carries the piebald gene and thus has similar colors, although there are still differences.
Differences In Temperament
Biewers are lighthearted and comical dogs. They are friendly, affectionate, and mild-mannered. They also happen to be energetic, adventurous, brave, loyal, and clever.
The Yorkie, on the other hand, is a bold, curious, intelligent, courageous, and confident dog.
Similarities
Both Biewer and Yorkshire terriers are cute dogs that make great family pets (although better with older kids). They are affectionate, intelligent, and fairly easy to train. They also have hypoallergenic coats that make them a great choice for people with pet allergies.
The lifespans of both dogs are between 13 and 16 years. They both make excellent pets for apartment dwellers and people with limited mobility or those who aren't too active.
Biewer Yorkie: Related Questions
Next we're going to ask some of the more common questions concerning Biewer Yorkies. If you have any additional questions, please don't hesitate to ask them in the comments below.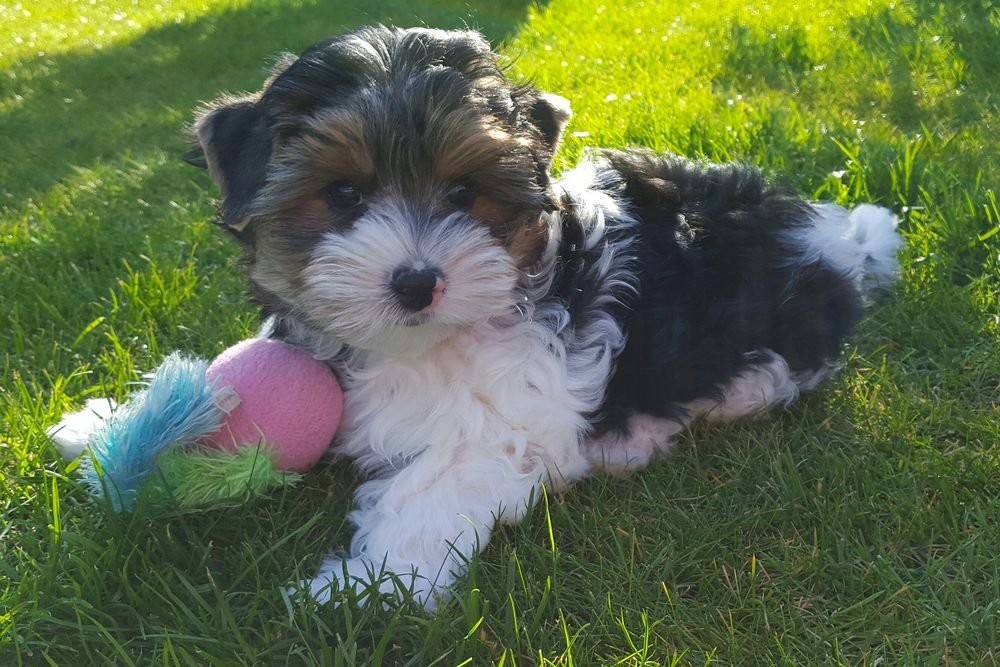 Is the Biewer terrier the same as the Biewer Yorkie?
Yes. According to the AKC, the official name of the breed is "Biewer terrier." However, most people refer to them as Biewer Yorkies, owing to their similarity to the Yorkshire terrier. They are also descended from Yorkies originally.
Do Biewer terriers have hair or fur?
Just like the Yorkshire terrier, Biewers have medium-length silky fur with almost a human-hair-like quality. It is non-shedding (they still lose hair, just like we do) which minimizes their dander, making them mostly hypoallergenic dogs.
How often should a Biewer terrier be groomed?
Biewers need plenty of grooming. You may want to brush out your pet's coat every day, or at least every other day. In addition, you need to have it trimmed once a month.
Do Biewer terriers have tails?
Yes. According to German standards, Biewers have a full tail which they carry in a plumed arch over their body. It may be relaxed when the pet is lying down.
When do Biewer terrier puppies' ears stand up?
Most puppy ears stand up between the ages of 6 to 9 months. However, it depends on the dog's genetics, diet, and overall health.
Biewer Terrier: Conclusion
Biewer terriers are adorable little dogs that make great pets for families (maybe not if you have very young kids), people who live and small apartments, and anyone else, really.
The biggest drawbacks of the Biewer Yorkie are the high price tag and the fact that they are still fairly rare, at least in the US. The rarity is a big reason for the high cost. A purebred Biewer puppy will cost you between $1000 and $3000.