Dog hair is quite different from human hair.
But some dogs, like Yorkies, have hair that is also quite different from other dogs.
In fact, Yorkie hair is similar to our own.
Can you use human clippers on dogs with human-like hair?
What about dogs with regular dog hair?
Of course you can use them. The real question is if it is a good idea, or if it can harm your dog, your clippers, or both.
Keep reading to learn if it is a good idea to cut dog hair with human clippers. We'll also go over the features you need in clippers for dogs.
Can You Cut Dog Hair With Human Clippers?
You can cut dog hair with human clippers, but it is a bad idea. Human hair and dog fur have different textures. Using human clippers on a dog's fur could pull on its skin causing cause pain or injuries.
Human clippers could also get clogged with dog fur, become dull, and just make the grooming process more difficult all around.
4 Reasons Not To Use Human Clippers To Cut Dog Hair
At first glance, human clippers and dog clippers look similar. It is natural to assume you could just use your family clippers to trim your pup's fur. However, as mentioned above, this can put your dog's safety and hygiene at risk.
Here are the main reasons why human clippers are not the right grooming tool for your pet.
Pet Clippers Are Specially Made For Different Types Of Pet Fur
Different dog breeds have different hair types. For example, breeds like the Yorkshire Terrier have silky smooth, almost human-like hair. On the other hand, breeds like the Husky have double-coated, rough, and thick hair.
Furthermore, there are different types of hair on a dog's body. You have whiskers around the muzzle and hair called bristles that form the 'guard' layer on the exterior of double-coated breeds. You also have a 'woolly' layer on the undercoat of double-coated breeds.
Some dogs have feathering on their ears and the backs of the legs, as well as on the belly. Some breeds sport thick mustaches. Breeds like Welsh terriers have bushy eyebrows, which can grow so long that they can hurt the eyes, if left untrimmed.
As a result, you really should not use a single pair of clippers to trim these different coats and hair types, especially not a pair made specifically for human hair.
Pet Clippers Have Adjustable Speeds
Specially designed clippers for pet hair have variable speeds. Some even reach speeds of 5000 strokes per minute. This gives faster results and also helps you trim your pet's hair at an optimum angle.
This is very important to give smoother cuts and also prevent pain and injuries. Moreover, you can reduce the speed to comfortably trim the fur around your dog's face and paws, which is much more delicate.
Pet Clippers Are Equipped With A Cooling Mechanism
Trimming human hair usually takes a few minutes in most cases. However, pet fur trimming can take a lot longer, depending on the dog's size.
Some dogs can take up to 2 hours to groom thoroughly! This can overheat your clippers. That's why pet clippers are equipped with a cooling mechanism.
This mechanism reduces the clipper motor's vibration and helps cool the overheated motor. Many human hair clippers do not have this functionality.
Pet Clippers Have Different Blade-Types
Depending on the dog breed, you'll need to use different blades to trim the hair. The rule of thumb for pet hair clipper blades is that the lower the number, the longer the hair will be cut.
For example, if you are aiming for a puppy cut, you would use the number 4 blade. This will leave the hair about 1-inch long in long-haired dogs such as Yorkies.
The number 7 blade is equipped with coarse, uneven teeth and is useful for clipping away matted and tangled hair. The number 10 blade is useful for grooming the feathered areas on the back of the legs, ears, an similar areas in breeds like Cocker Spaniels, Salukis, and more.
Human clippers generally have smaller and finer blades that cut close to the skin.
How To Choose Pet Clippers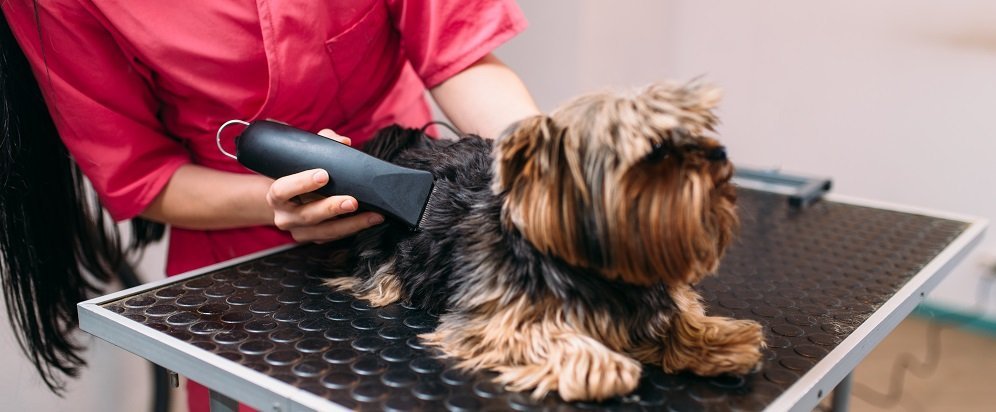 The pet industry offers a large variety of pet clippers for trimming pet hair. These range from light, inexpensive trimmers to heavy-duty tools with adjustable blades and speeds. Choosing the right kind of clippers will help you get the job done right and give you the best results.
Here are some factors to consider when selecting pet clippers.
Your Pet's Coat Type
Your dog's coat type is the main factor to consider when buying pet clippers. For dogs with short, thick, and smooth coats, you need heavy-duty professional clippers with single or interchangeable blades having greater rotary power.
These can help you work through that thick coat quickly. For silky-haired and long-coated dogs, go for clippers that come with number 4, number 4F, or number 5FC blades.
For dog breeds with tight curly coats (Portuguese Water Dogs, Cockapoos, etc.), you need heavy-duty clippers with long-toothed combs that can run through the tight curls with knots and tangles.
However, the same dog will need a shorter-toothed comb to groom its chest and belly. Look for clippers that come with these different attachments.
Noise Level
This is another factor to consider when selecting pet clippers. Many dogs are scared by the clippers' loud noise and might not allow grooming with a noisy clipper. Look for silent clippers that produce little vibration, without compromising on the clipper's power.
Corded Or Cordless
Cordless pet clippers run on battery and are beneficial when you want to groom under the dog's belly. However, if you have a large dog that needs hours of grooming and you don't want to stop to recharge the clippers, then a corded model may be better for you.
Can I Use Human Clippers On My Dog: Tips For Safe Usage
Now that you have your pet clippers and your dog and you are ready to cut your Yorkie's hair at home, here are some tips to ensure everything goes smoothly.
Get your pet used to grooming right from puppyhood. This will make grooming sessions a lot easier in its adulthood.
Do your homework. Watch videos or read about how to groom your dog's coat based on its breed. This will give you clues about how your pet should look. If needed, check the breed's official website. Many dog breeds' official club websites give free tutorials and videos on grooming.
Make sure the clipper blades are sharp. Dull clippers pull hair and could hurt your pet.
Use the right blade and accessories. If unsure, use the snap-on guide combs provided. These will guide you and help you make uniform cuts.
Use coolants/lubricants on the blade. These cool the blade and keep the clippers sharp. Never use hot or overheated blades. Your dog won't forget and it might make future grooming sessions difficult. Make sure to wipe off the excess lubricant/coolant to prevent it from getting on your pet's shiny coat.
You should always wash and brush your Yorkie's hair before cutting, to remove any mats and tangles and make the job easier on both of you.
Get your Yorkie used to the sound of the clippers before start cutting.
Don't rush the clipping. Take it slowly and you make sure you clip in the direction the fur grows. If you move the clippers too fast or go against the grain, you could end up with an uneven cut and you could cause your dog discomfort or pain.
Maintaining Dog Clippers
All dog clipper kits have specific instructions for use and you should read yours carefully. In general, it is best to clean the clipper with the included cleaning brush after use.
By brushing it thoroughly, you get rid of all the hair and other unwanted deposits. Those can build up over time a impair the functionality of the clippers.
It is essential that you maintain the clipper blades to ensure they last a long time. This means washing them occasionally (ideally after every use) and always making sure they are sufficiently lubricated.
Any good clipper comes with a little bottle of oil to use for lubrication, so make sure you use it. It is also a good idea to vacuum the air vents after each use.
Can You Use Human Clippers On Dogs: Conclusion
It is best not to use human clippers on dogs. Even Yorkies, which have hair similar to humans, should not be cut with human clippers, if you can avoid it.
Using human clipper can cause harm to your dog's skin, and also to the clippers themselves. It is to get a good pair of dog clippers, especially if you plan on keeping your pet's hair short, which means you will be using the clippers a lot.
Many owners like to shave longer-haired breeds in the summer to keep them cool and make the grooming job easier. Good clippers are essential for this. However, cutting the hair super short is not always a good idea. Should you shave a Yorkie in the first place? It is usually better not to do so.