I am lucky.
My sister and brother both suffer from allergies, but I was spared this curse.
It has always been a problem for them, because we all love animals and had both cats and dogs growing up.
My parents tried to find a hypoallergenic breed and obviously stumbled on the Yorkshire Terrier.
They have a reputation for being hypoallergenic.
But this is not entirely true.
Can you be allergic to Yorkies then?
Keep reading to learn the truth. We will cover why people say Yorkies are hypoallergenic and why that is not exactly the truth. We will also cover what this all means for allergy-sufferers.
Can You Be Allergic To Yorkies?
Yes, you can be allergic to Yorkies, but the chances are lower than with most other breeds. Yorkies have hair instead of fur, which makes them a low-allergy dog breed. But they are not entirely hypoallergenic. No breed is.
Let's take a closer look at why people say Yorkies are hypoallergenic and why that is not true. That will help explain why some people ca be allergic to Yorkies even though they are considered hypoallergenic.
The Hypoallergenic Myth
You have probably heard or read that Yorkies are hypoallergenic. This is not entirely true. While they shed minimally and thus are far less likely to trigger allergies than most breeds, Yorkies do still have some dander.
Moreover, dander is not the only thing that triggers allergies. Proteins in the saliva or urine do so as well, which is why no dog is 100% hypoallergenic. They all have a certain protein that can make you itch, sneeze, cough and break out in rashes.
Yorkies do produce much less dander than other dog breeds, thanks to their single layer coat. Other dogs have an undercoat and shed more heavily, producing larger amounts of dander.
As a result, you are less likely to be allergic to Yorkies. But if you have strong allergies, chances are Yorkshire terriers will still trigger them, due to the allergy-triggering protein in the saliva and urine.
This is why you might find yourself having allergic reactions to your Yorkie, even though you were told the breed is hypoallergenic. If this is the case, do not feel like here is something wrong with you.
It is perfectly normal for allergy sufferers to find themselves allergic to a Yorkie. It may just mean that your allergies are more sensitive than others, and even the much smaller amount of that allergy-triggering protein is sufficient to set them off.
Signs You Are Allergic To Yorkies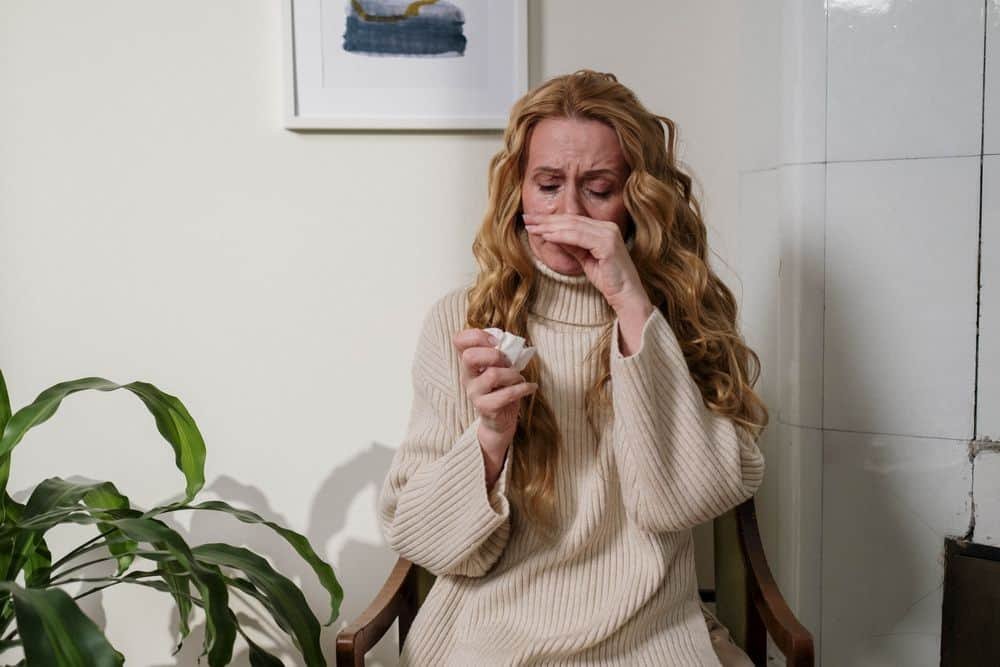 If you're planning to purchase a Yorkie, but are worried you may be allergic to it, there are certain symptoms you can look out for that should confirm your allergies.
If you know any friends that have a Yorkie, or even any other dog, I would suggest spending some time around that dog first before you purchase a Yorkie.
Or you could go to a pound or other place where you can spend some time around dogs. Yorkies live up to 15 years. That is a long time to spend allergic to something, so find out beforehand, if you can.
One key allergy symptom to look out for is breaking out in a rash or hives. This often happens in a place that a Yorkie has recently licked.
If you pick up a dog toy and it has saliva on it from being chewed, then this could also cause your hands to break out in rashes.
Other common signs include an itchy nose or eyes, sneezing, or breathing issues like coughing, shortness of breath or wheezing.
Can You Have A Yorkie If You're Allergic To Dogs?
Even if you have allergies, that doesn't mean you can't have a Yorkie. But you may want to take extra care when it comes to your allergy.
Yorkies are as close as a dog breed can get to being hypoallergenic, so they are definitely one of the better choices of breed, if you are planning on getting yourself a furry friend.
You can help minimize your allergies with regular grooming and bathing. For your dog, not you (you should also be grooming and bathing, but this should go without saying).
This will keep a build-up of dander at a minimum, and dander is one of the main culprits for making you itch and sneeze.
However, I would advise having another family member or a groomer do this, if you have allergies. The act of grooming itself will definitely trigger them.
Regularly cleaning your home will also help if you're allergic. This will help to rid your home of any dander lying around on your furnishings, which can also still cause reactions.
Make sure you are dusting, spraying and vacuuming to ensure that none of your Yorkie proteins are left in your home.
You can also train your Yorkie. While you can't train them to stop shedding dander, you can train them to only go into certain areas of your home.
For example, you could limit them to the living room and kitchen and keep them out of the bedroom, so that you can have a restful night's sleep.
If you work from home, you might also want to banish them from the home office (sad, I know). If you have trouble training your dog (you could just keep doors close, too) then you can hire a trainer to speed up the process.
What Breed Of Dog Causes The Most Allergies?
If you're allergic to dogs then the worst breeds that you can get, or spend time around, include golden retrievers, German shepherds, Siberian Huskies, pugs, Dobermans and basset hounds.
You may have noticed a pattern. Those are all breeds that either have long hair and shed a lot, or that drool a lot. Dander and saliva…
Being Allergic To Yorkies: Final Thoughts
If you are considering a Yorkshire terrier, because you heard the breed is hypoallergenic, you might want to hold off. You can be allergic to Yorkies.
It is true that they are far less likely to trigger allergies than other breeds, but they can still trigger them. You best bet is to spend time around a Yorkie before getting one, just to be sure.
If you do not have the opportunity to do so, you can still get an idea from the strength of your allergic reactions to other dogs. If you are highly allergic, you are likely to be allergic to Yorkies as well. If other dogs only trigger small allergic reactions, Yorkies may not trigger those allergies at all.