I bet you thought nothing could be cuter than a teacup Yorkie.
Well, many people say the same about toy Poodles.
It stands to reason, then, that combining the two might result in the cutest dog ever!
While we can certainly argue about that, there is no denying that the Yorkie Poo is absolutely adorable.
But does it have anything else going for it?
Yes, it has a ton going for it!
Especially if you end up with one that combines all of the best qualities of both parent breeds, and none of the worst.
Keep reading to learn everything you need to know about the Yorkiepoo. This should help you decide if it is the right pet for you.
What Is A Yorkie Poo?
The Yorkie Poo is one of the smallest designer dogs out there. It is the result of crossbreeding a miniature or a toy Poodle with a Yorkshire terrier.
Yorkie Poos combine qualities of Yorkshire terriers and Poodles. Some are close to poodles, while others are closer to Yorkies. Some sit right in the middle.
In general, Yorkie Poos have soft, low-shedding, silky coats that come in a variety of colors. Like their parent breeds, these gorgeous dogs are affectionate, smart, and highly trainable.
Since this is a designer dog breed, it is not recognized by any canine club. As a result, there are no defined breed standards for it. Their origin is also largely unknown. The common belief is that they date back to the early 2000s.
Due to the rising popularity of designer dog breeds like Labradoodles and Cockapoos at the time, Americans wanted even smaller dogs with hypoallergenic coats and high intelligence. Thus the Yorkie-Poo was born.
Yorkie Poo is also commonly spelled Yorkie-Poo, Yorkipoo, Yorkiepoo, or also Yorkie Doodle. We will use all of these spellings throughout this article. So let's get right to it and take a closer look at the Yorkiepoo.
Yorkie Poo Size And Weight
How big do Yorkie Poos get? They measure between 7 and 15 inches (18 to 38 cm) and weigh between 3 to 14 pounds (1 to 6 kg). Although they are thin, with  long legs and a fine bone structure, they tend to have a muscular build.
Yorkie Poo Colors
The Yorkie Poo's coat comes in various textures and lengths. It can be anything from straight and silky (like the Yorkie) to wavy and curly (like the Poodle). Do Yorkies have curly hair? Only mixes, like the Yorkiepoo. That is one big difference between the Yorkie vs Yorkie Poo.
Thanks to its Poodle parent, which comes in a variety of coat colors, you can find the Yorkie Poo in gorgeous hues like apricot, red, sable, white, cream, and black. Basically, any Poodle or Yorkie colors can appear in a Yorkie Poo.
Yorkipoo Grooming
Yorkie-Poos have greater-than-average grooming needs and their coats require regular care and maintenance. They may even need professional grooming from time to time. This is important to maintain their beautiful coats.
That said, their grooming needs are far less than those of a Yorkshire terrier, on average. It really depends if your pup has a coat closer to that of a poodle or that of a Yorkie. The more like a Yorkie it is, the more grooming your Yorkie Poo requires.
Most Yorkie poos have their tails docked shortly after birth, just like their parent breeds. This means that Yorkie poodles do have tails originally, but they are removed when they are very young.
Does A Yorkie Poo Shed?
Most Yorkipoos have low-shedding coats. However, being hybrid dogs, there is no standard for their coat type. This means that some Yorkie Doodles might shed more than others. Yorkie shedding can also occur due to skin problems, parasites, food, and environmental allergens.
Are Yorkie Poo Hypoallergenic?
Both parent breeds are hypoallergenic, so the Yorkipoo is hypoallergenic as well. However, that does not necessarily mean that a pet-allergy sufferer won't experience allergy symptoms around a Yorkipoo.
Dog allergies occur not only due to the dander in pet hair, but also arise from the dog's saliva and urine. If you are allergic, you will still need to take the usual precautions, like washing hands and bathing frequently, to prevent pet allergy symptoms.
Yorkie Poo Temperament
Again, there are no standards defined for a Yorkie Poo's temperament. However, we can predict the breed's general behavioral traits from its parent dog breeds.
Like its Poodle parent, the Yorkie Poo is brilliant and easy to train. And like its Yorkie parent, the Yorkie Poo has high energy and a bold nature. In fact, the small Yorkie Poo's overconfidence can be quite shocking!
This is a loving, affectionate dog with endless spunk. With a Yorkipoo around, life will always be filled with fun, love, and happiness!
Trainability
The Yorkie Doodle is highly trainable thanks to its inherent nature of being a people-pleaser. Your little Yorkie Poo will love receiving praise from you and will do anything to keep you happy.
Combine this with the fact that this little foodie loves treats and you have a highly trainable dog on your hands. One potential problem is that this is an extremely cute dog. Yorkipoo owners often treat their pets like 'Kings of the Castle'.
This can lead to tyrannical behavior patterns where the dog gets away with all kinds of bad behavior. It also makes training much harder. This is a highly spirited dog and its behavior could become a headache, if not kept in line and trained properly.
But if you can overcome those obstacles, a high natural intelligence makes them very trainable. Both parent breeds are smart, which means their offspring is smart too. How smart are Yorkies? They ranked 34 out of 135 on a list of the most intelligent breeds.
Good Family Pet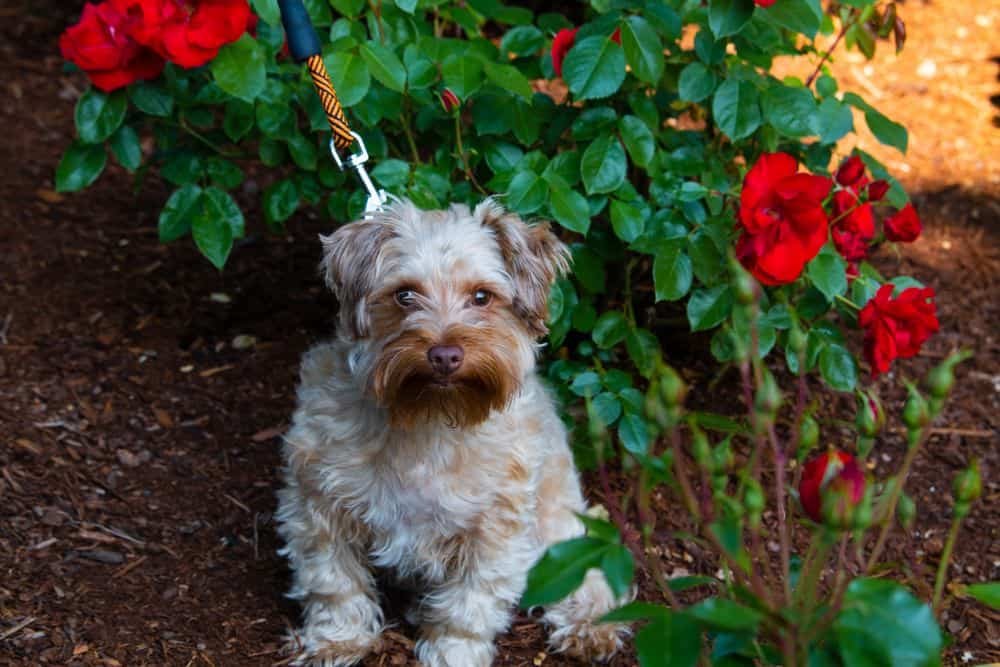 This hybrid dog is great for families and for first-time dog owners. This is mainly due to their compact size, low-exercise needs, hypoallergenic coats, and of course, their high intelligence and easy trainability.
If yours is an active family that loves to include their fur baby in all activities, then the Yorkie Poo is ideal for you. It is a a highly versatile dog that loves being a part of its human family pack.
The breed is compact and adaptable, which makes it equally suitable for apartment-dwelling or homes with yards. It can easily fit in recreational vehicles, too, if you're the adventurous travel type.
It gets along well with kids and other house pets, provided you get your pet used to them from a young age. Of course, you must make sure to teach your kids to be gentle around your tiny dog, so they don't accidentally hurt it.
Yorkipoos also need a lot less exercise than many other dog breeds. Bt they do need some. You still need to play with and walk your dog a couple of times a day, to ensure it does not gain weight.
Barking
Yorkiepoos are quite the barkers, like their Yorkie parent. They have a lot to say and will always bark to alert you to something wrong in the surroundings. This makes them excellent little watch dogs.
If you want a quieter pooch, you might want to incorporate some training measures early on to curb your pet's barking habit. Just like the Yorkshire terrier, you can train the Yorkie-Poo to stop it's constant barking, too.
Yorkie Poo Price
Yorkie Poos are expensive dogs, due to their high popularity. Good breeders are known to charge anywhere between $800 and $3000, depending on their reputation and the dog's coat color, size, and bloodlines.
Make sure you find a good breeder from whom to buy your Yorkie Poo puppy. You want to avoid backyard breeders and puppy mills at all costs, even if the cost of a Yorkie Poo is lower there.
If the Yorkie Poo is a bit outside your budget, you should consider a Yorkie Chon. What is a Yorkie Chon? It is a mix between a Yorkshire terrier and a Bichon Frise.
Yorkie Poo Health And Life Expectancy
Yorkies live much longer than most dogs. Toy poodles don't live quite as long. The average Yorkie-Poodle lifespan ranges from the bottom of the toy poodle life expectancy to the top end of the Yorkie range.
This means a lifespan of 10 to 15 years, with proper care, good nutrition, and exercise. It is also important to take your dog for regular vet checkups so you can catch health issues in time, before they escalate.
Although the Yorkipoo is generally quite healthy, some health issues do crop up in these pets from time to time. These include skin diseases, Legg-Calve-Perthes disease, Cushing's Disease, hypothyroidism, and epilepsy.
Yorkipoo: Conclusion
The Yorkie Poo is a small, intelligent, adorable, easygoing, energetic, and relatively low maintenance dog breed. This breed is well-suited for families with children, older people, and even those who suffer from allergies.
These adorable dogs are a versatile crossbreed. But always remember that it is important to have no expectations with crossbreeds. The way they look and act is much more unpredictable than purebreds. They can be a lot more like one parent than the other, or fall somewhere more in between.
For another adorable and fun Yorkie crossbreed, check out our article on the differences between Silky Terrier vs Yorkie. The Silky is an Australian dog that resulted from the breeding of a Yorkshire Terrier and an Australian Terrier.