Tiny in size with oversized personalities.
That describes the Yorkshire Terrier perfectly.
They are one of the most popular dog breeds worldwide, due to the combination of small size and fierce, loyal, and outgoing personality.
But what exactly does 'tiny in size' mean?
How big do Yorkies get on average?
And how big can the biggest Yorkshire terriers get. And how small are the smallest?
Keep reading to learn exactly what you can expect from a Yorkie, in terms of size. We'll also help you estimate how much your Yorkie puppy might end up weighing in adulthood, and how tall it could get.
How Big Do Yorkies Get?
Adult Yorkies weigh between 4 and 7 pounds (1.81 and 3.18 kg) and measure about 6 to 7 inches (15.24 to 17.78 cm) in height.
You will see breeders advertising teacup, purse, baby doll Yorkies, or other such names. However, these are not standard sizes for purebred Yorkies as set out in the guidelines by the American Kennel Club.
Let's take a closer look at what you can expect from your Yorkshire terrier in terms of size. We'll also look at the possible extremes and everything else you need to know about a Yorkie's size and weight.
How Big Is A Full-Grown Yorkie?
The Yorkshire Terrier is a small dog even for a toy dog breed. Ideally, a purebred adult Yorkshire Terrier should not exceed 7 pounds, or 3.2 kg.
A weight above that would results in disqualification in conformation. A purebred Yorkie should ideally weigh between 4 and 7 pounds (although there is no official lower limit) and measure 6 to 7 inches (15.24 to 17.78 cm) at the withers.
Due to its compact size, the Yorkshire Terrier makes an excellent pet for people living in apartments or for those who want to enjoy the benefits of having a miniaturized dog.
Your Yorkie won't take too much room on the bed or sofa. It won't need too much food and you can easily carry it around everywhere you go.
As a potential pet parent of a Yorkie (or even for those who already own a cuddly Yorkie puppy), it is but natural to wonder how big your Yorkie will get. Let's take a look at what you can expect.
Yorkie Height And Weight Chart
| Age | Weight | Weight | Weight | Weight | Weight | Weight | Weight |
| --- | --- | --- | --- | --- | --- | --- | --- |
| At birth | 3 oz. | 3.5 oz | 5 oz. | 5.5 oz. | 6 oz. | 6.5 oz. | 7 to 10 oz |
| 1 week | 4.5 oz. | 4.75 oz. | 6.5 oz. | 7.5 oz. | 8.5 oz. | 9 oz. | 12 - 14 oz. |
| 2 weeks | 7 oz. | 7.75 oz. | 8.5 oz. | 9 oz. | 11.5 oz. | 11.75 oz. | 16.5 - 18 oz. |
| 4 weeks | 8 oz. | 8.75 oz. | 9 oz. | 10 oz. | 12.75 oz. | 13.75 oz. | 18.5 - 19 oz. |
| 6 weeks | 10 oz. | 10.75 oz. | 11.75 oz. | 12.5 oz. | 13.75 oz. | 14.5 oz. | 20 - 22 oz. |
| 8 weeks | 11 oz. | 11.75 oz. | 12.5 oz. | 13.5 oz. | 14.5 oz. | 15.5 oz. | 22 - 24 oz. |
| 6 months | 30 oz. | 32.75 oz. | 42.75 oz. | 45.5 oz. | 48 oz. | 49.5 oz. | 51 - 80 oz. |
| 8 months | 40.5 oz. | 44.5 oz. | 48.5 oz. | 50 oz. | 53 oz. | 55 oz. | 58 - 96 oz. |
| Adult (1+ year) | 45 oz. | 49.5 oz. | 52.75 oz. | 54 oz. | 55.75 oz. | 58.5 oz. | 4 - 7 lbs. |
Newborn puppies should ideally start gaining weight right from day one. It is estimated that puppies gain 0.07 to 0.70 ounces of weight in the first few days.
How To Tell How Big A Yorkie Will Get
There is a formula available that can help you estimate the weight and height your puppy will reach as an adult.
Weight
To calculate how much your adult Yorkie will weigh, use the following formula:
Divide your Yorkie puppy's weight at 20 weeks (in pounds) by its current age in weeks (20 weeks) and multiply the result by 52. This will give you the weight of your Yorkie in adulthood.
Based on this, if your Yorkie puppy weighs 25 ounces (or 1.56 pounds) at 20 weeks, then it will weigh around 4 pounds in adulthood.
Height
Most Yorkie puppies achieve 75% of their height at 6 months. Therefore, to predict your Yorkie's adult height, measure its height at the withers at 6 months. Multiply this by 100 and divide the result by 75.
Based on this, if your Yorkie measures 9 inches at 6 months, then using the above formula, your dog will be around 12 inches tall in adulthood.
Is My Yorkie A Healthy Weight And Size?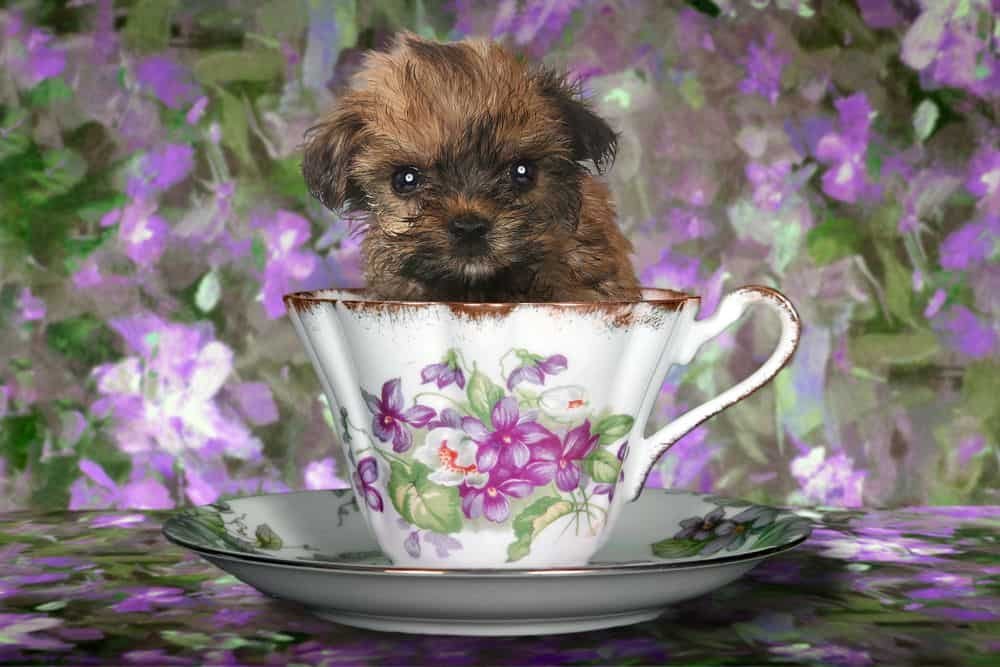 According to the AKC, there are several ways to tell if your Yorkie is at a healthy weight and size.
Check Its Shape
Look at your Yorkie from the top. Is it looking oval-shaped? Is it rotund? Then it is likely on the heavier side. On the other hand, if it has a straight build on its sides and a well-defined waist, then it is at a healthy weight.
Feel Its Ribs
You should be able to feel (but not see) your Yorkie's ribs. If there is too much fat, then you won't be able to feel your pet's ribs and it is probably on the heavier side. If you can see them, you pup needs to eat more, or healthier.
Check Its Stomach And Hips
If your Yorkie's belly is sagging and hanging down, then it is likely overweight. In dogs, the abdomen should be tucked in and not at the same level as their chest. Overweight Yorkies also have fat pads on their hips, which you might feel during petting.
Factors That Can Affect A Yorkie's Growth
A Yorkie's growth can vary depending on a number of different factors. These factors can affect how big they get and when they stop growing. These are the most important factors affecting growth.
Genetics
Genetics play a big role in the growth of a Yorkie. If you got your Yorkie from a breeder, you should have information about its parents. This can help you figure out some of the physical attributes your Yorkie might possess and some health conditions you should be wary of.
The size of the parents gives you a good idea as to how large your puppy might grow to be. But there are many ways in which genetics can affect your Yorkie. Some genes might be stronger than others, meaning one parent trait can overrule the other parent's qualities and characteristics.
Diet
Food intake plays a vital role in your Yorkie's growth. Not only can it determine its size, but some ingredients can also have a substantial effect on how the bones inside the body develop.
Make sure you feed your pup a high-quality kibble or wet food (or a combination of the two). This article covers the best food for your Yorkie.
Yorkies grow fast and healthy if they get a proper balanced diet. But if you feed to much, they can quickly get fat. Too little, and they grow up undersized and malnourished.
Exercise
All dogs need exercise and the Yorkie is no exception. They have a lot of energy and need at least 30 minutes of walking per day. Ideally, you should give your pup two walks of at least 15 minutes every day. You should also give it two or three more vigorous exercise sessions per week, like a game of fetch.
How Big Do Teacup Yorkies Get?
Obviously, teacup Yorkies are quite a bit smaller than regular sized ones. On average, they weigh between 2 to 4 pounds and can be as short as 4 inches at the withers. Learn more in our article comparing Yorkie sizes.
How Big Do Yorkie Poos Get?
Yorkie poos are a combination of Yorkies and miniature poodles, so they fall in between the smallest Yorkies and the largest mini poodles in average size. That means a height of 7 and 15 inches (18 to 38 cm) and a weight of 3 to 14 pounds (1 to 6 kg). Our article on Yorkie Poos has more.
How Big Can A Yorkie Get: Related Questions
Here are the answers to four of the most common questions we get related to Yorkies' size. If you have any additional questions. you can ask them in the comments below.
How Big Was The Largest Yorkie?
There are no definite records, though some say that a Yorkie named Brandy Lyn is the largest. Also, in this Yorkie forum, several owners claim their purebred Yorkies are some of the largest. For example, a purebred Yorkie named Brownie weighed about 20 pounds in adulthood.
How Small Was The Smallest Yorkie?
In the case of the smallest Yorkie, we do have a Guinness record. In the 1940s, a dwarf Yorkie (name unknown) owned by one Arthur Maples of the UK measured 3.75 inches long (9.5 cm) and 2.8 inches (7.11 cm) at the withers. Not only does that make it the smallest Yorkie, but it might be one of the smallest and shortest dogs ever!
What Is The Largest Dog Breed?
According to Scotsman, the largest dog breed of 2022 is the English Mastiff. An English Mastiff named Zorba holds the Guinness Record as the largest dog in the world. He weighed a whopping 142.7 kilos or 314.59 lb. and stood at 27 inches (68.58 cm) at the withers.
What Is The Smallest Dog Breed?
Chihuahuas are the smallest dog breed. A Chihuahua named Milly owned by Vanesa Semler and Edwin Davila holds the current Guinness record as the shortest dog in the world. She stands less than 4-inches tall (3.8 inches to be precise). You may have noticed that that makes our aforementioned unnamed dwarf Yorkie smaller! Unfortunately, it was never officially verified.
How Big Does A Yorkie Get: Conclusion
Most Yorkie owners got their dogs at least in part due to their small size. They wanted a small dog for a variety of reasons. But obviously, not all Yorkies are the same size. In fact, they can differ greatly.
Hopefully you now have a good idea of how big Yorkshire Terriers get and what you can expect if you adopt one. They really are wonderful dogs and even the largest of the breed are relatively small.