Yorkie puppies are perhaps the most adorable creatures on earth.
They are cute and cuddly.
Most of all, they are tiny.
But do Yorkies stay small or do they grow to be much bigger?
Some Yorkies stay exceptionally tiny. These are known as teacup Yorkies.
As for a standard Yorkie, keep reading to learn how small they stay and what else you can expect from your Yorkshire terrier in terms of size and weight.
Do Yorkies Stay Small?
Yes, Yorkies stay small. Of course, they do grow a lot from the moment they are born until adulthood, but even full grown Yorkies are tiny.
The average size for an adult Yorkie is 6 to 7 inches (15.24 to 17.78 cm) in height, with a weight between 4 and 7 pounds (1.81 and 3.18 kg).
Of course, plenty of Yorkshire terriers do fall outside that range, with some of the largest topping 20 pounds. And teacup Yorkies stay small forever.
Let's take a closer look at the standard size for a Yorkie, and also talk a bit about obesity in the breed.
Yorkie Size
Of all the dog breeds out there, the Yorkie is one of the smallest. The only breed that is smaller is the Chihuahua. The Pomeranian is around the same size as the Yorkie.
The maximum weight for a Yorkie according to the American Kennel Club is seven pounds, or just over three kilos. That is barely anything at all!
Of course, many Yorkies do weigh more than this, but they AKC does not consider them official Yorkies. That's only a problem if you want to enter your dog in shows. Otherwise, as long as you pup is healthy, weighing a bit more is fine. Especially if it is larger in size, too.
In general, Yorkshire terriers do not grow much taller than 9 inches, with the occasional rare exception. The average height is 6 or 7 inches. Of course, teacup Yorkies are much smaller.
Breeding
You may be reading this while looking at your Yorkie, which is much larger than the average height and weight. If that is the case, don't worry. There are a number of possible reasons for this. The first comes down to breeding.
It could be that your Yorkie isn't actually a purebred. Even if its parents are both Yorkies, somewhere in the family tree, your Yorkie's bloodline may include another breed.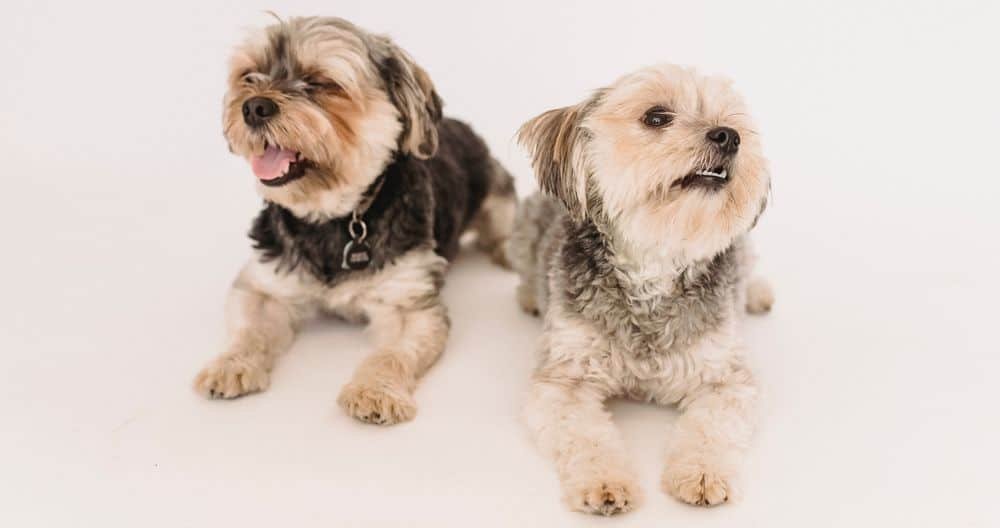 Even if for the past three generations your Yorkie has come from other Yorkies, it could be the case that another breed was mixed in five, or more, generations ago.
A lot of mixing has happened in the past, which is why it is not uncommon at all to see a Yorkshire terrier that is much larger than the breed standard. Or much smaller.
Obesity
Your Yorkie may also be larger than normal, because it is actually overweight. Obviously, this is not so good.
Yorkies can become overweight as a result of overfeeding, or from feeding it too many high-calorie foods, such as many human foods.
If your Yorkie is obese, you're going to want to put it on a diet to reduce the risk of health conditions such as diabetes or heart conditions. Being a healthy weight just leads to a happier and more active lifestyle.
If your Yorkie is over ten pounds (and it is not extremely tall), you may want to think about putting it on a diet. You can do this by making sure that your Yorkie only eats dog food, and no table scraps.
You should also cut out most treats. If you do want to add some variation to your pup's diet, stick to low-calorie foods like fruits and vegetables. Carrots or blueberries are good choices that are also popular with Yorkies.
You can also increase the amount of exercise your Yorkie gets to reduce its weight. It is a good idea to gradually increase it, because you don't want your Yorkie to become too tired or suffer from aching limbs.
If you usually take your Yorkie out for half an hour, you could try walking it for an extra 15 minutes, or playing out in the garden with it for a bit longer.
If you are worried about your Yorkie's weight and you are unsure how to help your dog, you can always have a quick chat with your vet. They'll be able to offer you the best advice to get your Yorkie back into tip-top shape and may even be able to help you with tailored meal plans or exercise routines.
What Are The Four Smallest Dogs?
If you're after small dogs, there are plenty of small and fluffy breeds for you to choose from. The smallest breed is the chihuahua. Usually, they do not weigh more than 6 pounds (2.7 kg) or get any taller than 9 inches (23 cm).
Next is the Yorkie. As mentioned, a Yorkshire Terrier can weigh up to 7 pounds (3 kg) and reach a height of 9 inches (23 cm).
The Pomeranian is the third smallest dog weighing 7.7 pounds (3.5 kg) on average and reaching a height of 11.8 inches (30 cm).
The fourth smallest dog is the Maltese. This breed has an average weight of 8.8 pounds (4 kg) and can reach a height of 11.8 inches (30 cm).
Yorkies Stay Small: Final Thoughts
The Yorkshire terrier is one of the smallest dog breeds. As such, they stay small, never growing more than 9 inches tall. They also don't weigh more than 7 pounds.
Of course you will find exceptions that get quite a bit larger than these standards. This happens when there was some mixing in the bloodline. In many cases, the mixing happened many generations ago.