One thing is for certain.
Both the Yorkshire terrier and the Yorkie Poo are as adorable as it gets.
I mean we know Yorkies are the cutest thing ever.
Now imagine that crossed with a poodle.
But it doesn't stop at cuteness. Comparing the Yorkie vs Yorkie Poo reveals a bunch of other similarities.
But there are some key differences, as well.
Keep reading for a detailed comparison of the Yorkie Poodle and the Yorkshire Terrier. We will cover everything you need to know to decide which one is the better pet for you.
Yorkie Vs Yorkie Poo
We will begin our comparison of the Yorkie Poo vs Yorkie by looking at each dog individually, before comparing them directly and examining the advantages of each breed. We will finish with a breakdown of the type of owner best suited to each dog.
The Yorkshire Terrier
The Yorkshire Terrier, also known as Yorkie for short, is an adorable dog breed that was created in the mid- 1800s to hunt mice and rodents in mills and factories.
Purebred Yorkies are one of the smallest dog breeds measuring less than 8 inches and weighing around 6 to 7 pounds. The AKC describes Yorkies as savvy, courageous, feisty, and curious little dogs. They pack a lot of personality in a small package.
Today, the breed is one of the most popular dog breeds, not just in the United States, but also around the world.
The Yorkie Poo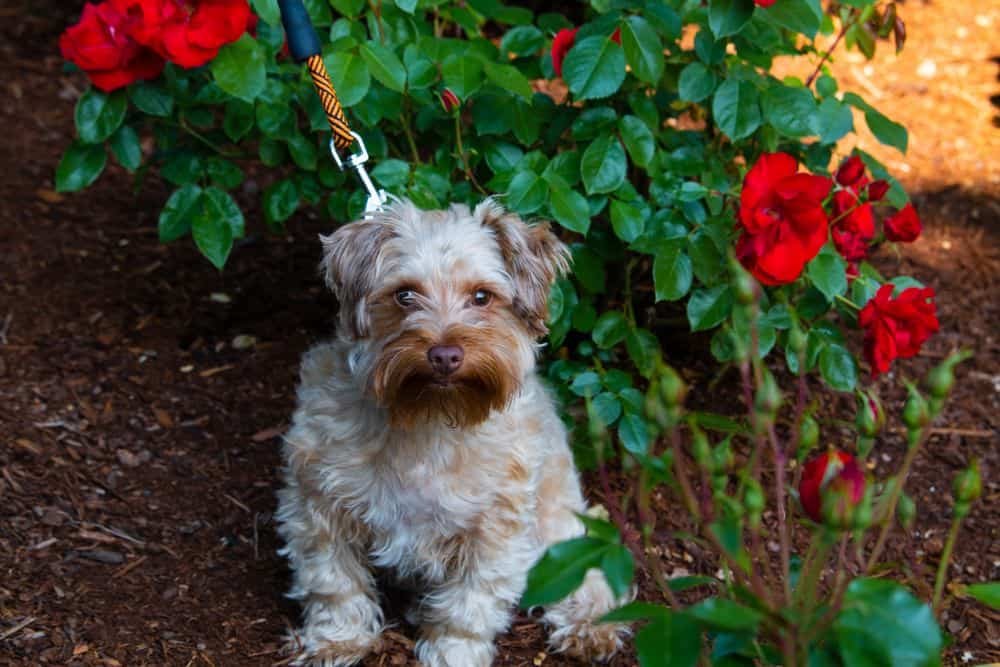 The Yorkie Poo, also known as a Yorkie Doodle, is a relatively new designer or hybrid dog breed obtained by crossing a purebred Miniature or Toy Poodle with a purebred Yorkshire Terrier. Most Yorkie Poos measure 7 to 15 inches in height and weigh between 5 and 15 pounds.
Yorkie-Poos are intelligent dogs that are fairly easy to train. Like Yorkies, they are also popular due to their low-shedding, hypoallergenic coats. They are known for their active, energetic, cheerful, and friendly personalities.
Yorkies Poos are not recognized by the American Kennel Club, although some Hybrid Dog Clubs may register these puppies.
Differences Between Yorkies And Yorkie Poos
Although both dog breeds are well-known and relatively similar, Yorkies and Yorkie Poos have many inherent differences.
Canine Club Recognition
Yorkies are a pure breed recognized by the UKC, AKC, and other major Canine Clubs. Yorkie-poos are a new designer breed that aren't recognized by these major Dog Clubs.
Size
Purebred Yorkies have standard height and weight whereas Yorkie Poos could have different heights and weights based on whether the Poodle parent used in the breeding was a miniature or toy.
Yorkie Poos tend to be slightly larger than purebred Yorkies although Toy Yorkie-Poos could be similar in size to Yorkies.
Coat Colors
AKC Yorkies have standard colors like black and tan, blue and tan, black and gold, or blue and gold. Recently, the AKC also started recognizing the Parti Yorkie as a breed.
Yorkie Poos can come in many different colors like apricot, silver, cream, brown, black, white, beige, light brown, sable, etc.
Coat Type
Yorkies have beautiful silky hair which has a human-hair-like quality. With proper grooming, their coat can glisten and reflect light.
Yorkie poos could inherit the Poodle's curly coat or they could develop long, silky hair like the Yorkie parent. Often they get something in between the two. Both coat types need a lot of grooming.
Lifespan And Health Issues
Yorkie-Poos enjoy a lifespan of 10 to 15 years. They are known to develop health issues like skin problems, Cushing's Disease, epilepsy, hypothyroidism, and Legg-Calve-Perthes disease.
Yorkies live for an average of 13 to 16 years and are known to suffer from health issues like dental problems, patellar luxation, hip and elbow dysplasia, tracheal collapse, and Legg-Perthes.
Similarities Between Yorkie Poos And Yorkies
Yorkies and Yorkie Poos are similar in various ways.
Small Size With Big Personalities
Both dogs are small and compact. They make excellent pets for apartment dwellers. Despite their tiny features, they pack a lot of personality in a small package. They are both feisty, curious, alert, and energetic dogs.
Grooming Needs
Both Yorkie and Yorkie-Poo dog breeds need regular grooming. You must brush your Yorkie or Yorkipoo's coat daily to remove mats and tangles and keep it in good condition.
Both dogs may also benefit from professional grooming from time to time. Yorkies need special haircuts, and often even a top knot, to keep their hair from getting matted.
Hypoallergenic And Low-Shedding
Both dog breeds shed minimally and could be suitable for people with pet allergies. They may also be suitable for people with asthma.
However, no dog is 100% hypoallergenic. You should still spend time with your chosen dog breed before buying or adopting it, to ensure you can withstand being around it without suffering allergy symptoms.
Temperament
Both Yorkies and Yorkiepoos are alert, energetic, and active dogs. They are known for their intelligence and being easy to train. Both breeds are playful, cheerful, friendly, and affectionate.
Your Yorkiepoo or Yorkie will enjoy being the center of attention. They usually hate being left alone for long periods and can be prone to separation anxiety. With proper training and socialization, Yorkies and Yorkie Poos can usually get along with kids, other dogs, and even cats!
Advantages Of Yorkies
Yorkies are small-sized dogs that are easy to travel with. They can also live anywhere. Many apartment complexes have weight restrictions when it comes to dogs and Yorkies fit right in.
Yorkies need moderate exercise and can make ideal companions for elderly people or people with limited mobility. They are content with a few short walks around the block a couple of times a day.
Because of their low-shedding coats, Yorkies make ideal pets for people with asthma or allergies. But they can still trigger reactions, so make sure to spend some time around one before buying, to make sure it does not trigger your allergies.
Advantages Of Yorkie Poos
Yorkie Poos are intelligent dogs. They have Poodle genes and Poodles are one of the smartest dog breeds in the world. This intelligence is also passed on to the Doodle offspring which makes them easy to train.
Yorkie-Poos make great companion dogs and are known for their affectionate and friendly natures. With training, they could even make great therapy dogs.
Thanks to their low-shedding, hypoallergenic coats, they are also suitable for people with allergies or asthma.
Yorkie-Poos come in a variety of sizes and coat colors. No two Yorkie-poos are the same, even within the same litter. You can get them in various colors, sizes, and personalities.
Who Should Get A Yorkie And Why
Here is an ideal owner profile for a Yorkshire Terrier.
Active Owner
Yorkies need active owners who can take their dogs out at least 2 to 3 times a day. Although Yorkies are small, they still love to jump and play and run about. Without exercise, Yorkies could get gloomy and upset.
Apartment Dwellers
Yorkies are good for people living in small a homes. Even a small apartment space is great for your small dog to run around and play. Make sure to puppy-proof the house. These exuberant dogs are known to break things and get into trouble.
Family With Responsible Older Kids
Yorkies can fit in with most families, but they do better in houses where there are responsible, older kids.
A Yorkie's small size can make it susceptible to injuries and that is why you need to have calmer, quieter children around them. Also, some Yorkies tend to snap and growl at babies, so they need socializing and desensitizing to kids from a young age.
Someone Who Can Give Their Dog Time
Yorkies need a lot of grooming, training, and attention and aren't suitable pets for busy owners. They dislike being left alone for long periods of time and might not be ideal for people who travel for work or work outside their homes all day.
Who Should Get A Yorkie Poo And Why
Now let's take a look at the type of owner who would be well-suited to have a Yorkie Doodle.
Someone With Allergies
Like all Doodle mixes (dogs having one Poodle parent), Yorkie-poos have low dander coats that shed minimally. This makes them ideal for pet allergy sufferers or for people with asthma. Of course, this is also true of th Yorkie.
People Who Can Give Them Time And Attention
Yorkie-Poos are smart and highly-trainable, but they need plenty of training and socialization from the start. This is why they need an owner who can give them time and attention and train them consistently and patiently.
Apartment Dwellers
Most Yorkie-Poos are compact in size but they do have a tendency to bark. This barking tendency needs to be curbed firmly. So, while they are suitable for apartments, they are ideal for experienced owners who can train that excessive barking tendency out of their Yorkie Poo.
Active Owners
Like Yorkies, Yorkie-Poos also need plenty of exercise and activity. Without this, they can get gloomy and upset. That is why they are suitable for active owners and may not be the best companions for couch-potatoes.
Yorkie Poo Vs Yorkshire Terrier: Final Thoughts
Comparing the Yorkie vs Yorkie Poo reveals many similarities between the two breeds. They have far more in common than they have differences. But they do have a few key differences, too.
And it is those differences that usually lead to one breed or the other being better suited as a pet for every individual. For me, the Yorkie is the winner, though I could definitely see myself owning a Yorkie Poo, as well. How about you? Do you now have a clearer idea as to which dog is right for you?