Obviously, we love Yorkies around here.
But they're not the only breed we love.
In fact, we love all dogs. And another one of our favorite little toy breeds is the Bichon Frise.
They are almost as adorable as the Yorkshire terrier.
And the two dogs have a few other qualities in common, too.
That makes me think that a cross between the two breeds could perhaps be even more adorable than either purebred.
And they are! But what about their other qualities?
Keep reading to learn everything you want to know about the super cute Yorkie Bichon crossbreed.
What Is A Yorkie Chon?
A Yorkie Chon is a designer dog obtained by crossing a Yorkshire Terrier and a Bichon Frise. It is also known as a Yochon or Bichon-Yorkie.
The resulting puppy is tiny, has soft wavy hair, loves to clown around, and has a ton of love to give.
The Yorkie Chon is a fairly new crossbreed. It is thought to have existed for about 20 years now. In that short time, its popularity has skyrocketed.
Despite that, it is still a relatively unknown breed. Not many people know all that much about them. But that's about to change. Let's take a closer look at this ultra-cute little pup.
Yorkie Bichon Full-Grown Size
A mixed-breed dog like the Yorkie-Chon does not have set standards for height and weight. This is because the puppies tend to show tremendous variation in physical traits, including coat colors, gait, ear shape, eye size/shape/color, skeletal structure, etc.
Having said that, the Yorkie Chon is a toy breed. Most fully grown male and female Yorkie Chons measure between 9 and 12 inches (22.86 to 30.48 cm) at the withers and weigh between 6 and 8 pounds (2.7 to 3.6 kg).
These designer dogs come in a variety of colors like black, brown, cream/white, tan/gold, red, gray, blonde, etc.
Yorkie Chon Personality
As with physical features, the temperament and personality of a Bichon Yorkie can vary greatly. The puppies could take after their Yorkie or Bichon Frise parent.
In general, Yorkie Chon puppies are playful, energetic, alert, and smart. Like their parent breeds, the pups are happy, and affectionate. If they take after their Yorkie parent, they might have high intelligence with strong hunting instincts. If you have small pets like mice at home, the Yorkie Chon may not be right for you!
Most well-socialized Yorkie Chons get along well with other house pets. Cats and other dogs make good companions for this breed.
However, other pets need to understand that the Yorkie Chon is the boss! Yes, your Yochon might keep other pets from their toys and food. It might also growl at other larger pets when they don't do what the Yochon wants!
The Yorkie Chon is an adaptable dog that does well in apartments, as well as homes with a fenced yard. It is a great family dog, although it does well with individual owners too.
Yo-Chons get along well with kids and love their company. However, you must teach your kids to be careful around this small dog, because they could easily hurt it by accident.
Yorkie Bichons make excellent watchdogs and will bark at anything out of the ordinary. You might want to train your dog to stop barking on cue, otherwise it could indulge in excess barking, often for no apparent reason!
Training A Yorkie Chon
Training is the key to a well-behaved Yochon. No matter how small and cute they may be, all Yorkie Chons need early training and education and must be well-behaved.
To begin with, you might want to socialize your pet with other dogs. You also want to expose it to everyday sounds like the vacuum cleaner, doorbell, and so on. Your Yochon should learn to greet visitors calmly and not jump on them.
All of the above training is in addition to potty training, crate training, and obedience training, so your pet can follow commands like Sit, Stay, Heel, Drop It, and more.
Grooming A Bichon Yorkie
Your furry Bichon Yorkie will need regular grooming. You need to brush your small pet a couple of times a week, in addition to longer grooming sessions from time to time.
Take this time to inspect your pet's coat for lumps, bumps, fleas, or other parasites. Depending on the type of coat it has, your pet will also need regular professional grooming for special haircuts.
You may want to trim your pet's nails from time to time. Note that these small dogs are prone to dental issues, so you should brush your little pet's teeth every day.
Cleaning its ears is another important step in grooming. This is a good time to examine your dog's ears for foul odor which could be a sign of an ear infection.
Yorkie Bichon Price
Most Yorkie Chon puppies cost between $400 and $900, although some breeders charge more than $1000 for these cute furballs. The price greatly depends on the efforts the breeder has put in for the breeding.
Good breeders test their breeding stock for various genetic issues in order to get healthier pups. These tests cost money, which breeders naturally want to recover from their buyers.
The initial price of your Yorkie Chon puppy isn't the only expense to consider. You also want to consider other costs like food, medical, pet insurance, training, grooming, deworming, flea prevention, microchipping, travel, pet boarding, and dog-walking.
Although the Yorkie Chon is relatively low-maintenance and does not cost as much as larger dog breeds, you must still consider the lifetime cost of dog ownership before you go ahead and purchase or adopt a Yochon.
Yorkie Bichon Lifespan And Health
The Yorkie Bichon lifespan is between 10 and 14 years. Being a mixed breed dog, the Yorkie Chon will typically have fewer genetic conditions than you usually see with purebred dogs, which are interbred too often.
That said, some medical issues have been seen in the breed, from time to time. These include dental and eye problems, Legg-Calve-Perthes disease, collapsed trachea, reverse sneezing, and patella luxation.
Yorkie Chon Related Questions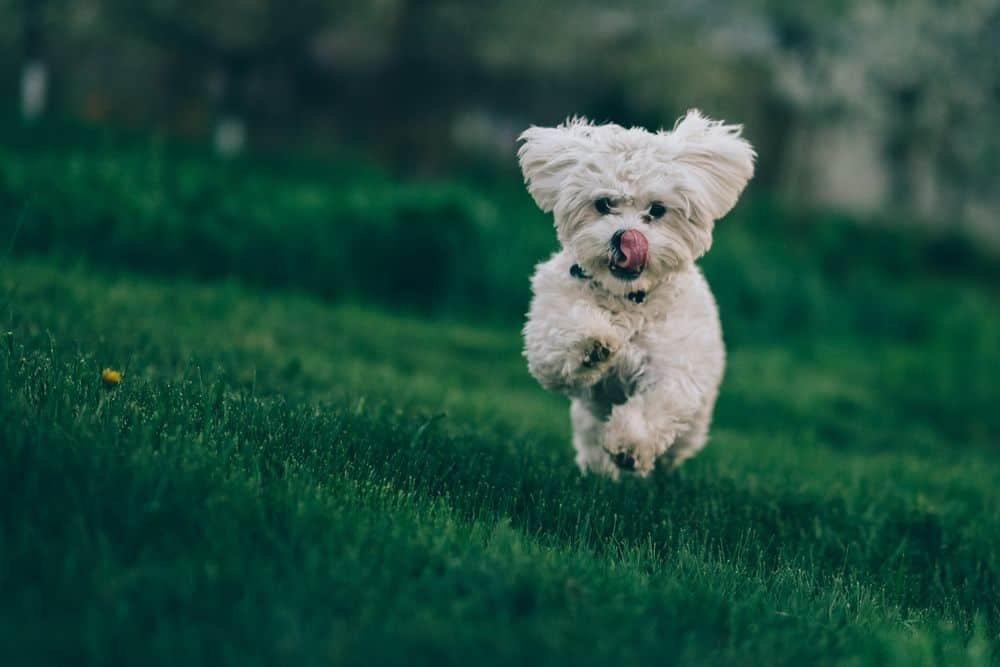 The following are answers to some of the common questions we get regarding the Yorkie Chon. If you have additional questions, please feel free to ask them in the comments below.
What Is A Bichon Yorkie Mix Called?
The hybrid Bichon Yorkie mix goes by several names such as Yorkie Bichon, Yochon, Yo-Chon, and even Yorkie-Chon. The American Canine Hybrid Club recognizes the Bichon Yorkie mix name as Yo-Chon.
Are Yo-Chons Smart?
Yochons are fairly smart since the Yorkie parent is very smart. The Bichon Frise parent typically has average intelligence. Resultantly, Yorkie Chons range from being moderately smart to highly intelligent dogs. Combined with their eagerness to please their owners, this makes them highly trainable.
Are Yorkie Bichons Good Dogs?
Yorkie Bichons make excellent pets, especially for families with kids. They are happy, playful, and quite easy to care for. This makes them good dogs for first-time owners too.
How Do You Train A Bichon Yorkie?
The best way to train a Bichon Yorkie is to be consistent and patient and start early – right from its puppyhood. Use positive reinforcement instead of negative training methods.
Yorkie Chon Information: Conclusion
Overall, the Yorkie Bichon is a wonderful companion. These dogs are friendly and fun. They combine the qualities of the Yorkie and the Bichon and both of those dogs have a lot of great qualities.
You got the best of both worlds when it comes to physical attribute and the personality department. They are playful and always love to cuddle. It is like having a ball of happiness and fluffiness combined.
Perhaps the Yo-Chon can be a little protective of its owner, but that is not usually a problem. Yes, they do tend to bark a lot, but you can train them to bark less.
Overall, this is a great crossbreed that makes an excellent pet for anyone looking for a toy breed. They also cost less than a purebred Yorkie on average, which is a nice bonus!