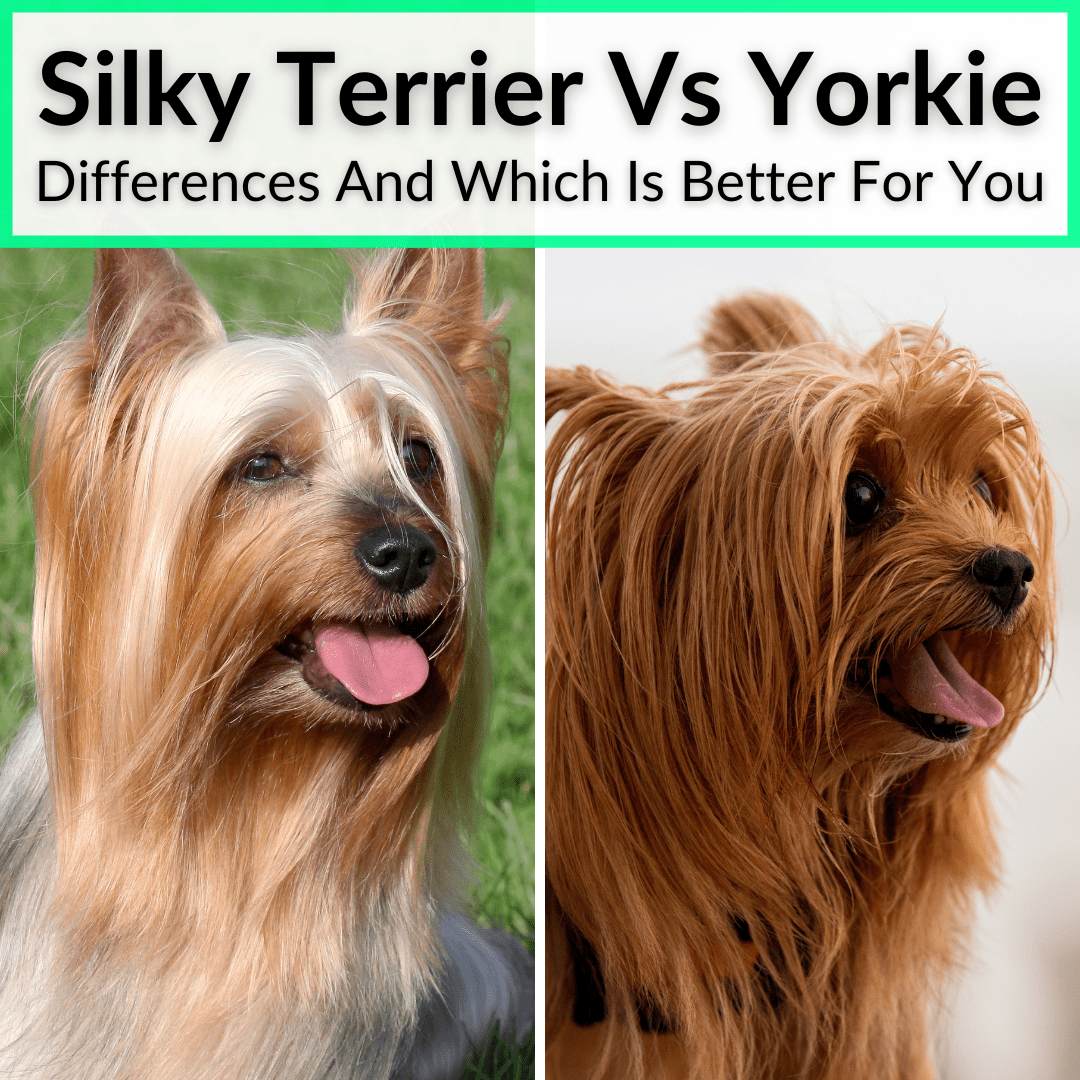 Can you tell the difference between the Silky Terrier and the Yorkshire Terrier?
Do you even know what a Silky Terrier is?
Don't feel bad if you've never heard of Silkies.
They come from Australia and are still quite rare in the United States.
They resulted from a crossbreeding of a Yorkie and an Australian terrier, meaning there are a lot of similarities with the Yorkie.
But there are also some key differences that likely make one more suited as a pet for you than the other.
Keep reading to learn all about the differences between a Silky terrier vs Yorkie, plus help in figuring out which one is better suited for you.
Silky Terrier Vs Yorkie
Silky Terriers and Yorkies look remarkably similar. Silkies, as their name indicates, have a silky coat that is blue and tan in color. Yorkie coats can be blue and tan, black and tan, black and gold, or blue and gold.
Silkies weigh up to 9 pounds whereas Yorkies are slightly smaller and should ideally weigh no more than 7 pounds. Overall, there are far more similarities between these two breeds than there are differences.
Let's take a closer look. We'll begin with a brief look at eac dog individually, before comparing them and going over the advantages of each. We'll finish by helping you decide which one is the right fit for you.
The Silky Terrier
The Silky Terrier originated in Australia. It was obtained by crossing the Australian Terrier with the Yorkshire Terrier. Also known as Silky for short, the Silky Terrier is still quite rare in the United States.
The Yorkshire Terrier
The Yorkshire Terrier is an attractive, appealing, compact-sized toy dog. It is one of the most popular dog breeds in the USA. The AKC ranked the Yorkshire Terrier as the 13th most popular dog breed in 2021.
Yorkies originated in Scotland and England and are named after the Yorkshire region of England. The popular terrier is deemed the King of Terriers.
Difference Between Silky Terrier Vs Yorkie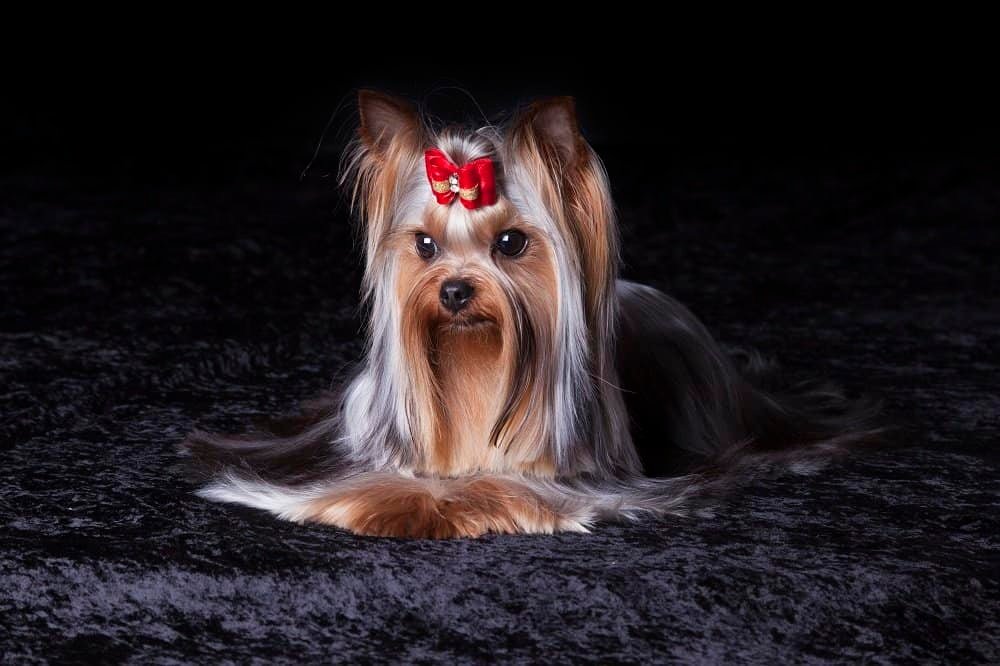 Let's take a look at the differences between the silky and the yorkie. You'll see that there are some key differences, despite all their similarities.
Size
Silky Terriers and Yorkshire Terriers are distant cousins. At first glance, they look rather similar and it can be difficult to tell them apart.
Both breeds are small and compact and quite popular as house pets and companion dogs. However, enthusiasts of each breed are quickly able to tell the difference between them.
Silky terriers are slightly bigger than Yorkies. As mentioned earlier, they weigh up to 9 lb (4.08 kg) and are 9 to 10 inches tall (23 to 26 cm). Purebred Yorkies do not weigh more than 7 pounds (3.17 kg) and measure 7 to 8 inches (17.8 to 20.3 cm) at the withers.
Thus, a Silky Terrier is only slightly bigger than a Yorkie. Often, an oversized Yorkie is mistaken for a Silky. Likewise, a smaller Silky Terrier might look like a Yorkie to the untrained observer.
Colors
The other main difference between the two breeds is in the coat colors. Purebred Silkies only have blue and tan coats. Yorkies can also be blue and tan. However, they can be black and tan, black and gold, or blue and gold, too.
In both breeds, the coat is long, silky, shiny, and consists of human-like hair.
When it comes to show dogs, the AKC allows Yorkies to have floor-length hair, whereas Silkies' coats are not allowed to reach floor-length. The hair on the head of Silky Terriers is also shorter than that on the Yorkie. Show Yorkies usually keep a top-knot while Silkies display a middle-parting on the head.
Head Shape
The head shape of both dog breeds is quite different too. Yorkies have a more rounded head whereas Silky Terriers have a wedge-shaped head. Yorkies also have ears that are larger at the base than those of the Silky Terrier.
Temperament And Personality
Both Silky Terriers and Yorkies are affectionate and loving dogs that are highly devoted to their owners. Silkies are usually more reactive than Yorkies. Both breeds make excellent guard dogs and are protective and territorial. Both breeds have a tendency to bark.
Yorkies and Silkies both display the Terrier feistiness. They are often snappy towards children and other pets. If you already have small pets like kittens, hamsters, etc., you might want to rethink your decision of keeping either breed as a pet.
Both dogs need firm training and handling. Just because they are cute looking, does not mean that you should let them get away with bad behavior. Start training them early on, if you want a well-behaved companion pet.
Advantages Of Yorkies
The biggest benefit of owning a Yorkshire Terrier is its compact size. This little dog does well in a small apartment and you can easily carry it around everywhere you go
Being small-sized, they do not need too much exercise – a short walk (at least 15 minutes) around the block twice a day, plus two or three games of fetch indoors or in the yard per week is quite adequate.
Yorkies also make excellent watchdogs and will bark to alert you to any danger they perceive in the surroundings. Of course, that danger is often just a rustling leaf. But your pet will always want to protect you and is very useful as a natural alarm system.
This robust breed is also quite healthy. When purchased from a good breeder and with proper nutrition, regular health checks, and adequate mental and physical exercise, Yorkies live for 13 to 16 years.
Advantages Of Silky Terriers
Silkies make excellent family pets and loyal companions for people of all ages. They are also good with kids, provided they are socialized from an early age. Being small in size, they are ideal for apartment dwellers.
Silkies need plenty of exercise and mental stimulation. They are very active and energetic dogs. Without this stimulation, they tend to get bored or destructive.
They are intelligent dogs and are quite healthy too. With firm and consistent training and good overall care, they make excellent companion pets for 12 to 15 years.
Who Should Get A Yorkie?
Yorkies are good pets for novice dog owners, provided you are willing to put in the effort to train this smart dog. They make ideal pets for elderly people and those with limited mobility, since they do not need too much exercise.
Yorkies are great family dogs for households with kids. However, they have fragile bone structures. As a result, they may not be suitable for very young or boisterous children.
Yorkies dislike being alone for prolonged periods of time. If you work outside your home or travel a lot, this may not be the best dog breed for you.
Who Should Get A Silky Terrier?
Silkies are moderately good with slightly older kids. The best household for a Silky Terrier is a family with respectful children aged 10 and above. Silkies need plenty of exercise and aren't the best pets for couch potatoes or inactive owners.
Silky terriers tend to chase other smaller pets, so if you already own another small pet, you may want to rethink your decision to get a Silky. They also have a tendency to bark loudly, so they may not be the best choice if you have neighbors close by.
Silky Terriers are willful, obstinate, proud, and sensitive dogs. These traits tend to pose a challenge during training. As such, they need an experienced owner who can firmly but gently train their pet from the very beginning.
Silky Vs Yorkie: Conclusion
Silky terriers and Yorkshire terriers have a lot in common. That makes sense, given that the Silky originated from a Yorkie and an Australian terrier.
It is that Australian parent that accounts for all of the differences. It is the reason the Silky is a bit larger and only has one coat color. It is also the reason for the differences in personality and temperament.
If you are trying to decide between these two breeds, the good news is you really can't go wrong either way. Both make excellent pets. But one is likely better for you. Hopefully this brief comparison has helped you figure out which one that is.