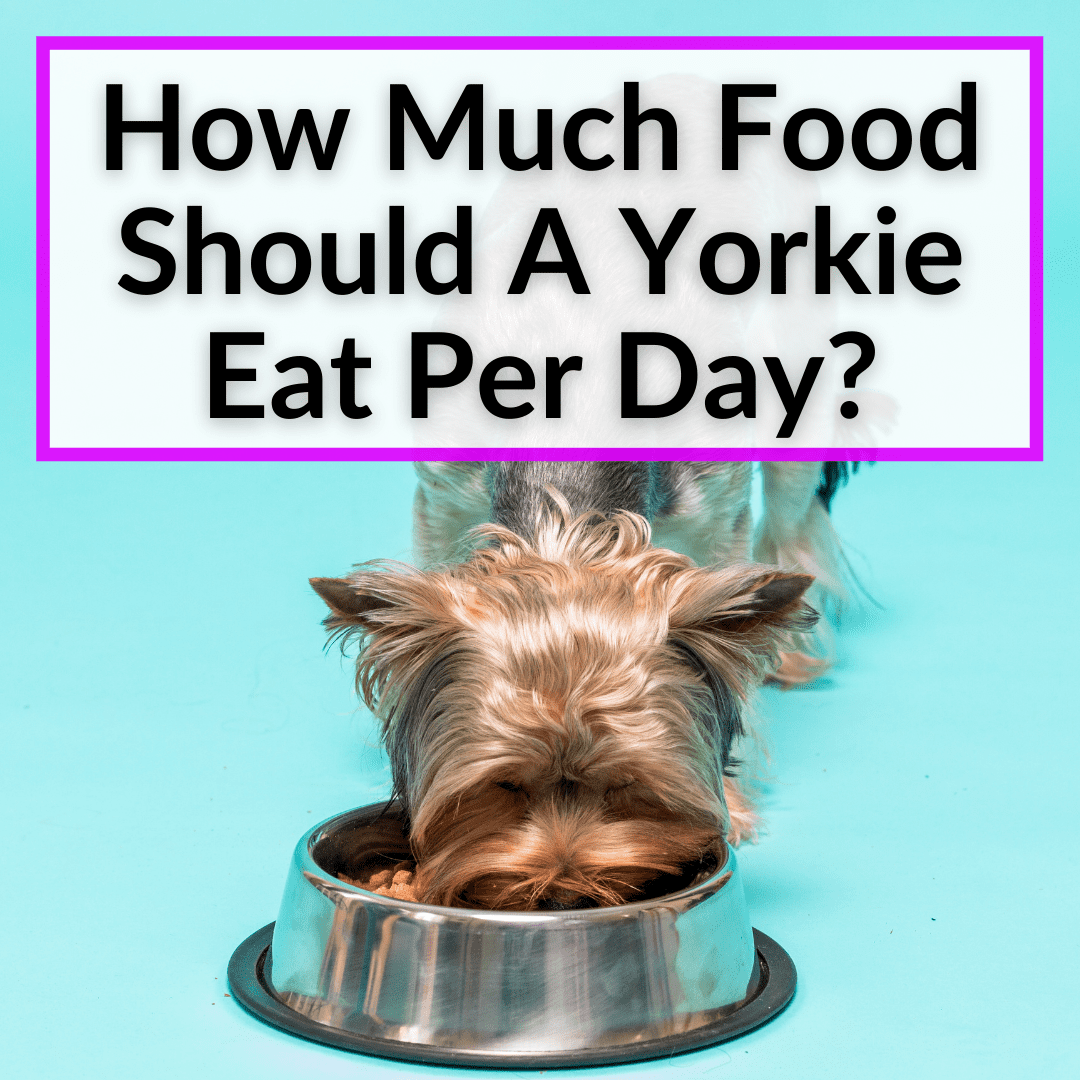 Yorkshire terriers love to eat.
That makes them no different from any other dog.
But they are much smaller than most dogs. That means they also have tiny stomachs.
Those stomachs fill up quickly. It is important not to feed your Yorkie too much food at once.
That means multiple smaller meals per day.
But how much food should a Yorkie eat per day?
It depends very much on the age and weight of the dog in question.
Keep reading to learn how much Yorkies eat and how often to feed them per day. We'll also cover which foods to give them and which to avoid at all costs.
How Much Do Yorkies Eat?
An adult Yorkie needs 1/2 to 3/4 cups of food per day. A puppy needs 1/4 to 1/2 cup. Do not feed this much at once. Split it up over 3 to 5 meals daily.
In terms of calories, you are looking at about 55 calories per pound of body weight for puppies, 40 calories per pound for adults, and in the 35 to 38 calorie range for senior dogs.
But there is no need to count calories so exactly. Let's look at the different stages of a Yorkies life and see how much food a Yorkie should eat per day in each stage.
As for the type of food that is best for a Yorkie, we have an article covering the best foods for Yorkies here.
Yorkie Puppies
What to feed, how much to feed and how often to feed depends very much on the age and weight of the puppy. Let's take a look at the different stages of a puppy's growth.
Newborn To 4 Weeks
Newborn Yorkies should not get any solid foods. Ideally, they should consume only the milk from their mother, but you can give them a good substitute, too. You'll want a vet's help with a dog this young.
4 Weeks To 4 Months
This is around the time the mother will wean the puppies. That means it is time to introduce solid food. It is best to begin with a mix of wet food and dry kibbles that have been softened by soaking in water.
You can gradually move to drier kibble to allow the pup to get used to the crunchiness. At this stage, you should just leave food available at all times and let your puppy eat whenever it wants.
4 Months To 9 Months
At this point, you should move your puppy to a regular feeding schedule. Some dogs can practice self-control and not scarf down any food available at once, but most can't.
If you are lucky enough to have a grazer, you can continue free feeding (i.e. leaving food available at all times), but most Yorkies this age need to have their food regulated.
Feed your puppy 1/4 to 1/2 cup of food per day. Break this up into smaller amounts and feed your dog every 4 hours or so. It should be getting 3-5 meals per day.
The largest meal should come in the morning and the smallest toward the end of the day. Do not feed your pup within 2 hours of bedtime.
Yorkie Adults
Yorkie adults need 1/2 to 3/4 cups of food per day. You should continue to break this up over several feedings, though you can reduce the number of meals per day.
A common recommendation is 2 meals per day, but we prefer 3 or 4. Yorkies have small stomachs, so it is better to provide them multiple smaller meals throughout the day.
At what age is a Yorkie fully grown? Generally, they finish most of their growth by the 9th or 10th month. They stop growing altogether by the time they are 4 years old.
Senior Yorkies
Continue to feed your senior dog the same way you have been, but you might need to reduce the overall amount of food slightly as your dog ages.
Maintain A Feeding Schedule
Once a dog is older than 4 months, you should establish a feeding schedule and stick to it. Your dog needs a regular routine.
It is also a good idea to track what your dog eats, how much it eats and how fast it eats. Keep a notebook for this.
Monitoring your dog's eating habits will help you detect any rapid changes in the appetite of your pup. This will ensure that you can make adjustments the dietary plan to avoid any potential disorders.
Monitor your Yorkie's food intake will also help you gauge whether you are giving it enough to cater to its energy needs when it comes to growth and development. You want to know if you are over or under feeding your dog.
Type Of Food To Feed A Yorkie Puppy
Puppies typically need more food per weight than a fully grown dog. That's because they need the extra energy to cater for their growth.
What we feed Yorkie puppies has changed a lot over the years. Veterinary science has continued to do research and there have been many innovations over the years.
The result is that you no longer have to rely on only one type of food for your pup, which was common in the past. There are many foods Yorkies can eat.
We also no longer feed our dogs table scraps or leftovers. Research has shown that such foods usually have a negative effect on your puppy. We'll cover this in more detail below.
One major discovery veterinarians have discovered is that the ideal diet for young canines is quite different from fully grown ones.
For one, young dogs need a lot of calories, because puppies go through a brief, but intense, period of growth and development. They'll need all the energy they can get during this time.
Thanks to the diverse foods on market today, you now have the chance to widen the diet of your Yorkie. You can also take a look at our article on the best homemade food for Yorkies for some great recipes.
You should also remember that the first 7 months in any Yorkie is the most critical in terms of taking in the right nutrients. That makes finding the right foods for your Yorkie puppy even more important.
Your dog needs food that is able to meet the intense energy needs of a growing puppy. All dogs require the right balance of proteins, vitamins, minerals, carbohydrates, and water, but due to the small size of Yorkies, you really want to find the optimum mix for these ingredients.
In general feeding your pup commercially produced foods labeled 'balanced and complete diet' is perfect for their growth.
It also saves you the headache of trying to balance out the ratio of nutrients in foods before feeding your pup.
We have an entire article covering what to feed a Yorkie puppy.
You should also be careful about Yorkie treats that you use to show appreciation to your puppy. It is good to give it treats, but make sure they are also healthy. We cover the best treats for Yorkies here.
The Issue Of Hypoglycemia
Since your Yorkies never get large, they are at higher risk of suffering from low blood sugar (hypoglycemia). The smaller the dog, the higher the risk. This means puppies and teacup Yorkies have the highest risk.
A major contributing factor that might lead to hypoglycemia in Yorkies is when they burn too much energy at once, without having the chance to replenish. This can be fatal.
As mentioned, hypoglycemia is common in young pups due to their size, but also because they are still learning how to eat. You need to give your baby Yorkie the chance to learn how to manage its energy.
Stress can also lead to hypoglycemia. Yorkies often feel stressed when trying to adjust to a new environment, when cold, or even when over-handled.
With that in mind, you should always have a glucose source on hand, in case of emergency. Simple sugar water works well, or an oral concentrated solution of glucose, like corn syrup or Nutri-Cal.
Other Conditions That Require Special Foods
An addition to hypoglycemia, there are a few other disorders that require a special diet plan.
Obesity
Due to their small size, it is easy to overfeed a Yorkie, and often with the wrong nutrients. Currently, about 50% of the dog population suffers from obesity.
Any dog owner needs to take precautions, but especially Yorkie owners. If your dog is getting chunky, pay attention to the number of calories your dog takes in every day. Though calories and fat are vital to the diet of your pup, it is important to have limits.
An overabundance of these nutrients leads to obesity. On the other hand, low levels of calories and fat will lead to an underweight dog. Find the right amount of calories is an important balancing act.
We have an article to help you determine how much a Yorkie should weigh. It will help you determine if your pup is at a healthy weight.
Heart Disease
We don't want to scare you, but the small body of your Yorkie will definitely have an effect on his or her heart.
This problem is magnified if your dog's diet isn't properly balanced. One of the factors that can lead to such problems is too much sodium.
An increase in the intake of sodium leads to a high circulation of sodium in the bloodstream. This causes water retention in the vessels, which leads to elevated blood pressure.
As the blood pressure increase, the heart problem will also increase. Again, you need to feed your pup a balanced diet.
A common reason for too much sodium is feeding your dog table scraps. These are likely to contain table salt, which means high sodium levels. It is never good to feed your dog table scraps.
Pancreatitis
The major symptoms of this disorder include vomiting, diarrhea, and abdominal pains. But if your dog has any of the above symptoms, it doesn't necessarily mean that it has pancreatitis.
Pancreatitis starts when your dog's pancreas is inflamed which leads to the release of digestive enzymes in the abdominal area. When it occurs, the enzymes start to break down the proteins and fats in various other organs, including the pancreas.
This disorder is mainly connected with dietary fat which stimulates the secretion of hormones that eventually induce the pancreas to secrete digestive hormones. If your dog has any of the above symptoms, you should consult a vet and get a proper check-up done.
Are Table Foods Bad For Your Yorkie?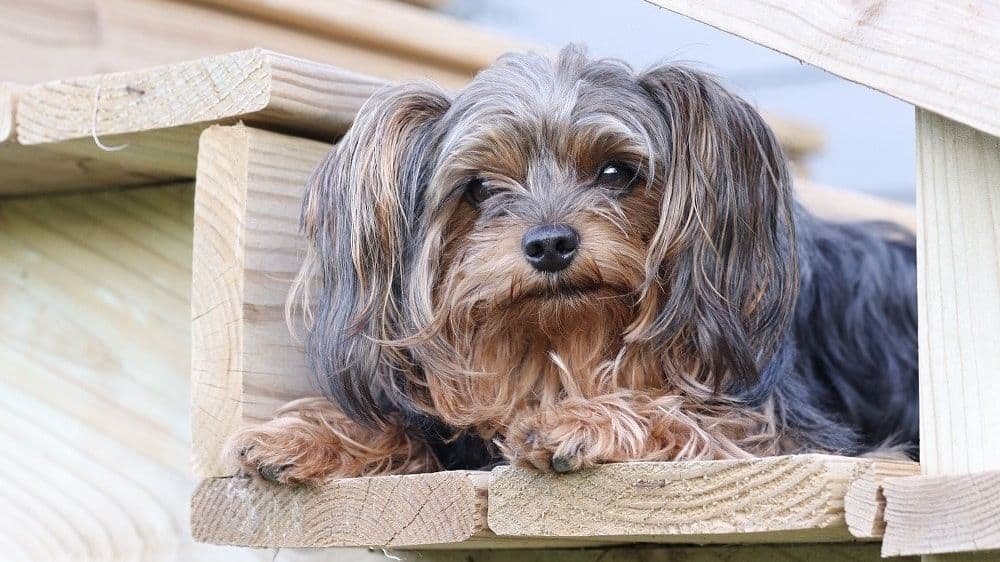 Yorkies are just like any other dog breed, despite their size. They are not above begging for scraps. As much as most dog breeders (and us, too) would advise against this, an occasional treat from the table isn't a horrible idea.
But you definitely need to be careful when offering table foods. Not only will feeding your Yorkie table food encourage its desire for special treats, but it will also promote the bad habit of begging.
More importantly, many table scraps are bad for your dog's health. If you do give some of your food to your pup, make sure you only do so in moderation, and you only give it healthy scraps.
What can't Yorkies eat? More than you think. Some healthy foods besides dog food that are good for your Yorkie are lean meats, like chicken, turkey, and beef among others. Very small amounts of carbohydrates are fine, too.
How about other animal products like cheese or eggs? Can Yorkies eat eggs? Yes, Yorkies can have eggs or cheese. Of course, they should only get these in moderation and as a small part of a healthy diet, not as their main source of calories. And no raw eggs.
Since Yorkies have sensitive digestive systems, you should only give them dairy products with caution and in small amounts, because dairy might upset their stomach and cause gas.
Also, make sure you choose milk that is low in fat. Yorkies seem to be okay when it comes to yogurt or cottage cheese. The calcium in these products is helpful for their teeth and bone growth.
In the end, you should never substitute food treats for love. But the occasional treat is a good thing. If it's from the table, fine. But much better to feed your dog treats meant for a dog. And there are some foods to never give a dog.
Foods To Never Feed A Dog
The following foods are harmful to dogs. Please never feed your Yorkie any of these food items.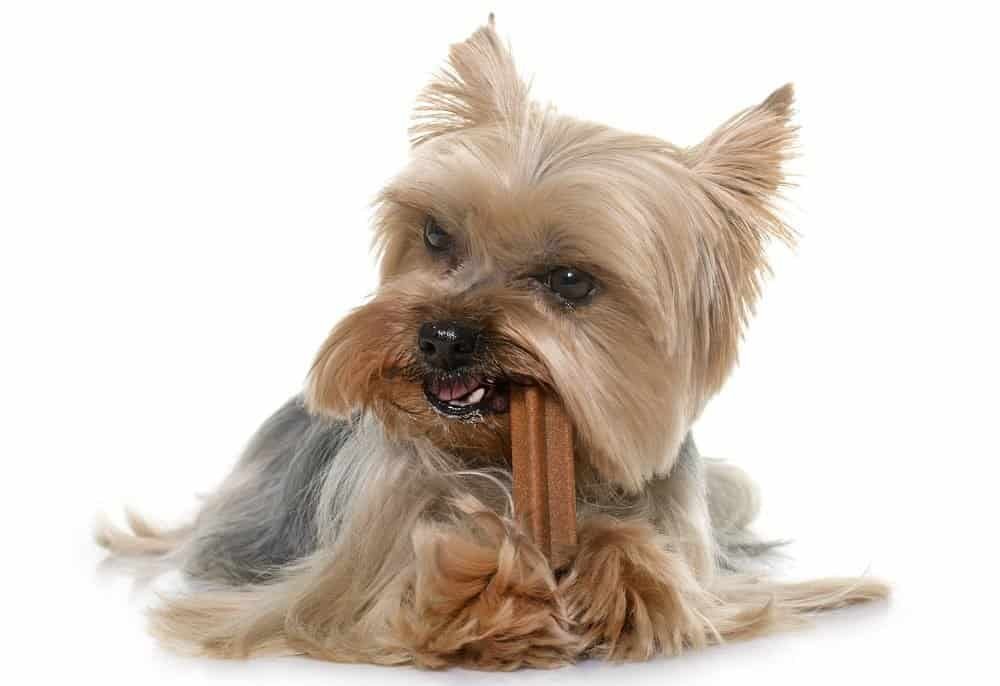 Caffeine
Caffeine causes a dog's blood pressure to rise, which can result in cardiac arrhythmias. This is very dangerous to pets, since they might lose muscle control. It might even result in seizures.
Avocados
Avocados are sweet and nutritious. For humans. It's not the same when it comes to Yorkies, or any other dog. Avocados contain high levels of persin which is toxic to them. It may result in your Yorkie having diarrhea and vomiting.
Macadamia Nuts
This is another toxic food you should avoid giving your dog. Consequences of these nuts include vomiting, hyperthermia, and depression, among others.
How Much Food A Yorkie Should Eat: Final Thoughts
Now you know what to feed your pup and what you should avoid. And always remember that baby Yorkies require different nutrients to cater for the extra energy requirement.
Yorkies also need to eat more often than larger dogs, since they have such a small stomach capacity. But be cautious not to overfeed your Yorkie.
Their cuteness and begging might tempt you to give your dog more food. This is always a bad idea, since obesity is another major health problem in Yorkies.
You know better than your dog what it needs. So feed it a healthy diet and you'll have a healthy, happy and energetic pup to play around with for many years to come.