You often hear of people giving away puppies for free.
Those puppies are never Yorkies.
The Yorkshire Terrier is one of the more expensive dog breeds.
But you can still get one for a fairly reasonable price.
There are certain factors that have a great influence on the price. If you are willing to forgo some things, you can get the price of a Yorkie down considerably.
How far down?
Keep reading to learn how much a Yorkshire Terrier costs, plus which factors influence the price.
How Much Does A Yorkie Cost?
Yorkshires terriers generally cost between $800 and $10,000 for a single Yorkie pup, if purchased from a reputable breeder. As mentioned, they are an expensive dog breed.
$800 to $10,000 is a fairly large range. Below, we will discuss why Yorkshire Terriers go for such a high price and what factors influence the price, including which factors are the reason for the large variance in price.
Factors Affecting The Price Of Yorkshire Terriers
I'm sure that $800 to $10,000 range has you wondering how puppies of the same breed could vary so much in price.
Especially since Yorkies that go for $800 (or even for $300) and those that go for $10,000 look absolutely the same in pictures.
Well, they might look the same, and perhaps even be the same, but they are not. Confused? Let's get into the factors affecting the cost of a Yorkie and everything will soon be clear.
Factor
Lowest Priced
Higher Priced
Highest Priced
Bloodline
Mixed Breed
Purebred
AKC Champions
Documentation
Without Documentation
With Documentation
AKC Registered
Health
Known Health Conditions
No Known Health Conditions
No Illness In The Ancestry Pedigree
With Documentation
Appearance
8+ lbs & Curly/Thick Coat
4-7lbs
4-7lbs & Silky Coat
Breeder's Reputation
No Documentation Or Reputation
Documented Pure Bloodline Breeder
Documented Champion Breeder
The Bloodline
This is definitely the most important factor to consider when you want to buy a Yorkshire Terrier puppy. You need to know if it is a purebred or a mixed breed.
But you also need to be careful. There are some scrupulous breeders out there, whose will do what they can to exploit you.
That can result in you paying purebred prices for a puppy that is anything but. So always make sure the breeder has the proper documentation, if you are considering a purebred Yorkie. We'll get into documentation a bit further down.
The Yorkie pups that are on top of the scale are the American Kennel Club champions. And if they have an aristocratic pedigree?
That means that the lineage of the pup in question has won more titles. This makes the pup much more costly still. Such a dog can costs up to $10,000.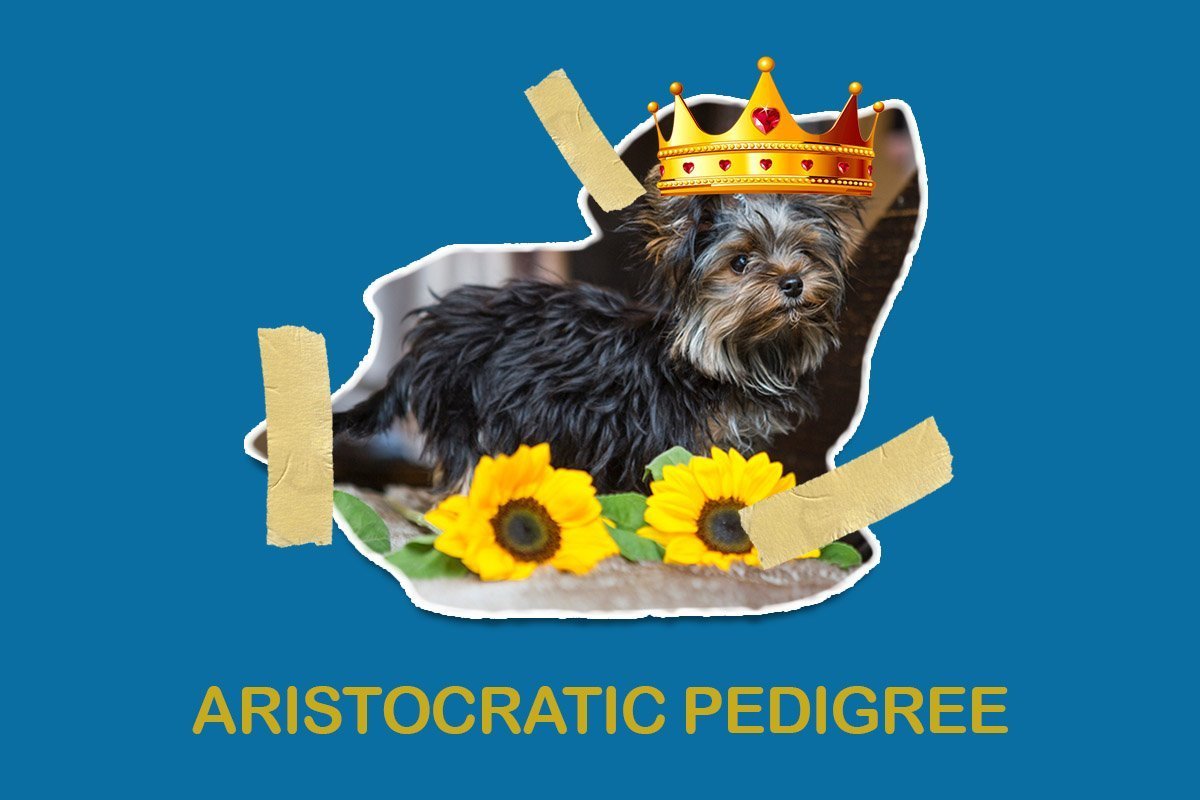 There are some reputable breeders out there who have the privilege to own such high-end dog breeds.
In that case, they mate their high-class sires and dams so that the offspring can be of the same bloodline.
You should not be surprised when a breeder travels across the state to meet a purebred dam or rather a high-level sire.
Documentation
Another thing to consider when getting a puppy is whether it has the necessary documents. These registration documents should indicate the dog's bloodline.
There are a couple of registries that offer documents for your dog. The most reputable of them all is the American Kennel Club.
With the documents, you can verify that the dog you are considering is a purebred. What is more, you get to access other important details about the dog such as:
This information gives you an understand of the dog's ancestors and siblings, including their names and any other pertinent information.
What's more, you get a guarantee of the puppy's health condition, working condition, and other exterior qualities. For these reasons, a registered Yorkshire pup will definitely cost more than one that is not registered.
There are certain fees that the breeder incurs during the registration process of the puppy. It is the breeder who pays for these costs. And the registration process does not only cost money, but also a lot of the breeder's time and effort.
Some people buy unregistered pups and then register them themselves. But there isn't much point to this, since you will end up incurring the same cost as you would have, if you had just bought an already registered puppy.
In addition, there are some documents that require the signature of the breeder during the registration process.
Health
The health of the puppy you are considering is another vital factor when choosing your Yorkie. If you come across a Yorkie that has good papers and comes from a good bloodline, but costs around $1000, you should be very cautious.
At that price, there is almost certainly something very wrong with that particular Yorkie. And the most probable explanation is that it is somehow in poor health.
When buying a Yorkie, you always want to know as much as possible about the parents. That can give you a clue about any possible genetic defects.
You should also inquire if the pup has suffered from any medical conditions. This will also give you a good idea of whether or not the breeder takes good care of their dogs.
Do not simply rely on the vet papers for this kind of information. It's always better if you go and visit the kennel yourself.
Make sure to check the overall environment of the place. How the ancestors look will also tell you a lot about the puppies.
This is especially important when dealing with a less known breeder who does not have any reviews that you can check and rely on to give you an idea of the breeder's trustworthiness.
Doing this type of research beforehand is important with any dog, but especially with Yorkshire Terriers. Because they are so tiny and delicate, getting a healthy one is even more crucial.
That is because even the slightest health problem could pose a serious risk to your Yorkie. In addition, like all dogs, Yorkies will get sick from time to time. If your pup has a weak immune system, it is more likely to develop a serious illnesses, while a dog with a healthier immune system would only get mildly ill.
Appearance
There are not many factors that have a huge influence on the price. We've already listed the most important, but the appearance of the dog definitely plays a role as well.
These days, you will find that the smaller the Yorkie is, the higher its price.
There is not exactly a definite reason for this, but most likely, it is simply that smaller Yorkies are in higher demand. I'm not sure if people like them more or if is it just that they are more fashionable.
Normally, a Yorkie weighs around 4 to 7 lbs. That is the size that fetches the highest prices.
This is another area where you need to be on guard, especially if you are buying from a lesser known breeder. It is not unheard of for owners to end up with a fake Yorkie. Yes, really.
The breeder might actually sell you a smaller dog that appears to be a Yorkie, but is not one.
Another thing to be aware of is that the smallest Yorkshire Terriers, teacup Yorkies, tend to be very attached to their mom. For that reason, they require expensive care that adds to the already high price tag of buying the dog.
Apart from the size, the coat of the Yorkie is the other appearance factor that has an influence on the price of the Yorkie.
A standard Yorkie should have a glossy, silky and fine coat. If the coat feels anything less than this, the dog will be less expensive. At least it should be. When it comes to Yorkies, you want to do your homework and make sure you get what you pay for.
The Breeder's Reputation
We mentioned the breeder's reputation above and that probably left you wondering how you can learn about a breeder's reputation. Well, this section is for you.
First of all, the reputation of a breeder is directly linked to the bloodline of their dogs. That alone is enough for a breeder to become trusted and well known.
Breeders with good bloodlines achieve a good reputation quite easily. And it is very easy to find information about a breeder who is well known.
However, if you find no information at all about someone who breeds Yorkies, this should raise a red flag.
We usually recommend avoiding these types of breeders, but if you want to move forward, just make sure you do your homework. Definitely pay the breeder a visit and check out their facilities. Ask lots of questions too.
Obviously, Yorkies that are bred by reputable breeders obviously will cost much more than those that are not. Especially if they are also on the high end for all of the other criteria mentioned above.
Cost Of Purebred Yorkies With Documents
If you want to buy a Yorkie registered with the American Kennel Club, be prepared to spend at least $1500. And it will likely be higher, if the puppy's bloodline has a link to champions.
If this is your first time buying a dog, you might think that this price is too high. But if the puppy has all the necessary documents and has a link to champions, this cost will probably be even higher.
If you want to pay less, you will have to make some sacrifices. Look for a mixed breed Yorkie, or one that does not have full documentation.
But if you want to get the best Yorkie from a reputable breeder, you simply can't expect to find a bargain. You're going to have to pay. What you should be concerned about is the quality of the Yorkie, not the price..
When you get a Yorkie that has AKC papers, a health guarantee, a pedigree certificate and has been bred by a reputable breeder, it will cost you upwards of $2000.
Most people will undoubtedly think that this price is too high for a dog, especially when you can get puppies for free. However, if you need a show dog, then the price is very reasonable.
A dog that will be able to win a lot of championships in Yorkie shows is going to cost you a good chunk of change.
Earlier on, we mentioned that there are Yorkie puppies that could go for over $10,000.
These are puppies that have been bred from the most elite bloodlines. Their ancestors have long been used in breeding Yorkies suitable for championships.
When you get such a Yorkie, you are doing so with the intention that your pup will one day be a champion at the most prestigious shows.
If you want this kind of a Yorkie, you need to be fully devoted to this kind of business, as well as the accompanying lifestyle.
Price Of Yorkies Without Papers
Some (probably most) people are just fine getting a Yorkie without any documents or papers.
These types of puppies are sold at a lower price than the ones that have documents. Yorkshire Terriers without papers generally cost between $600 and $1200.
In fact, you will probably come across advertisements for Yorkies as cheap as $400 or $500.
Such cheap puppies are likely bred by breeders who are entirely new to the field. Or even breeders who only do breeding as a part-time hobby.
But that does not mean their dogs are bad. You can definitely find a puppy that is of high quality from these backyard breeders.
The ball is entirely in your court. It is up to you to decide on the puppy to purchase. Visit the kennel before making your choice and check everything out, including the dogs on offer.
Make sure to check on the puppy's parents. A kennel will definitely tell you about the breeder you are working with and whether they are reputable and reliable.
Never be in a hurry when buying a puppy. Always take your time and do your homework. That way you are highly likely to get the best companion.
Prices For Rescued Or Adopted Yorkies
Rescuing or adopting a puppy is often a better choice than going to a random kennel you know little about.
A rescued puppy goes for as little as $100. You will get a companion and also provide a home to an ownerless Yorkie. The feeling you get from doing that is arguably far better than having a high-pedigree pup.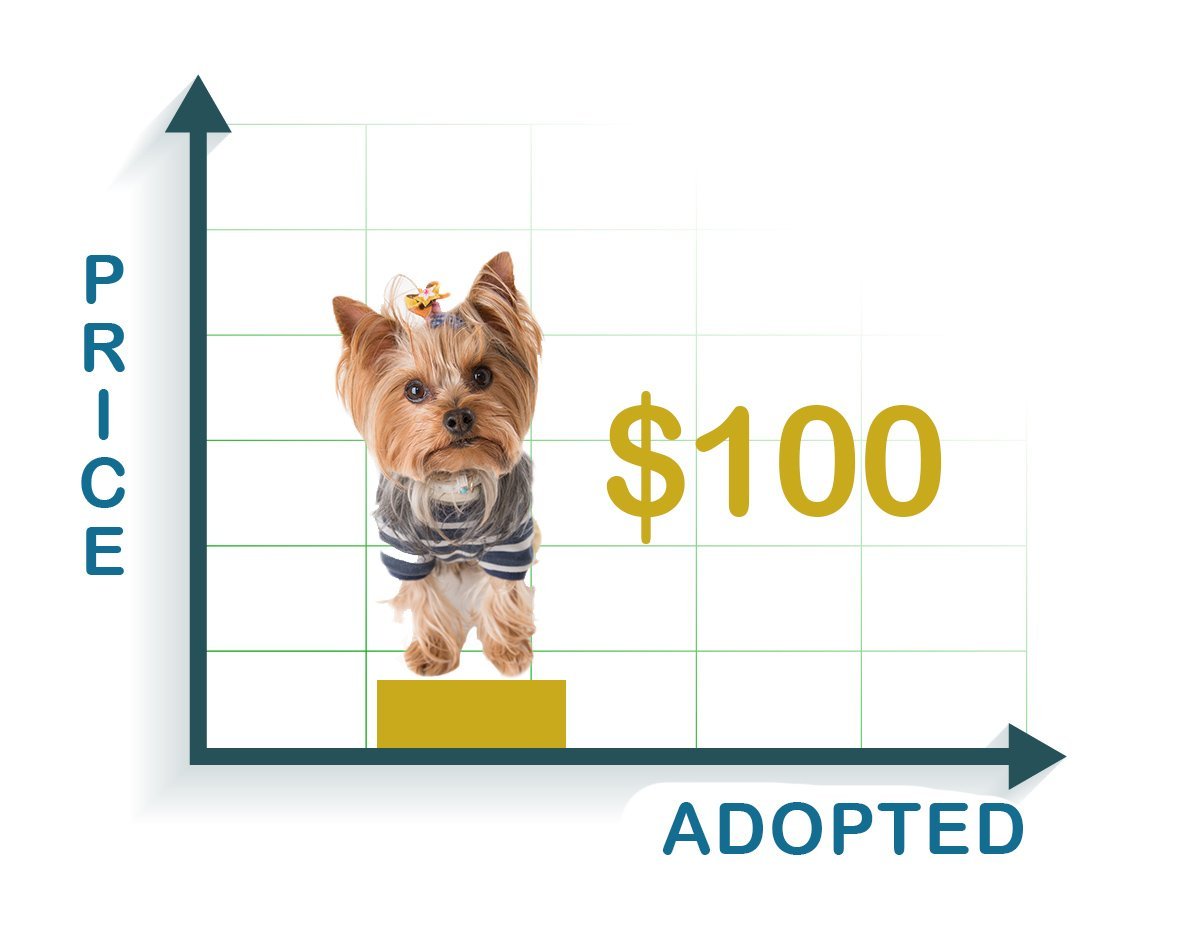 The cost of the Yorkie is not the only one you need to think about. Getting a dog brings quite a few other expenses as well.
Cost Of Yorkie Mixed Breeds
Most mixed breeds that include some Yorkie blood cost less than purebred Yorkies, unless it is a rare mix. In general, the cost falls in between the cost of a pure Yorkie and a pure dog of the other breed involved.
A good example is the Chorkie. The cost of a Yorkie Chihuahua mix is lower than a Yorkie, but higher than a Chihuahua.
Other Yorkie Costs To Consider
The following are additional costs you will incur when getting a Yorkie puppy.
Supplies
You should prepare for your new Yorkie pup in the same way you would prepare for a new baby in your family. That means getting everything you need ready in advance.
Supplies you will definitely need are: food, toys, treats, detergents, a bed, brushes, shampoo, a dog lead, harness, training pads, and a water bowl, among other things.
There are many other things like a dog carrier, clothes, and a Yorkie car seat. However, the ones mentioned above are must-haves. The necessities will cost at least $100.
Veterinarian Expenses
No matter how healthy your dog generally is, it will need to see a vet from time to time. That is a certainly. You need to budget for this.
Veterinary expenses are simply part of owning a dog. Your puppy will need vaccines, medications, and regular check-ups.
How often you need to go to the vet depends on a number of factors, like the puppy's age and general health. See our article discussing a Yorkie vaccination schedule to get an idea of what types of vaccines your dog might need and how often it will need them.
How Much Yorkies Cost: Conclusion
Many factors affect a Yorkie's cost. It all depends on the quality of the pup that you are looking for. You can adopt a puppy for as low as $100, or pay as much as $10,000 for the highest quality pup from a reputable breeder.
In general, most of us can expect to pay up to $1000 for a good quality Yorkie puppy.