Most owners want the best for their Yorkies.
Not all feel that vaccinations are necessary. And that is fine.
We will discuss the pros and cons of puppy vaccines below.
If you do want to ensure your Yorkie is up to date on all its shots, it is best to follow a Yorkie vaccination schedule.
We will give you one below.
It is an example. You do not have to follow it exactly and will probably want to work out a vaccine schedule for your Yorkie with your vet.
But our Yorkie puppy shot schedule can serve as a good starting point and give you an idea what to expect.
We will also give you a number of tips for making vaccinations are stress-free as possible for your dog.
Yorkie Puppy Vaccination Schedule
The following table summarizes a basic Yorkie vaccination schedule according to the puppy's age. After the table, we will go into more detail.
Age of Puppy
Vaccine Name
5 weeks
Parvovirus
6 weeks
A combination of parvovirus, distemper, and adenovirus type2 (hepatitis).

Also, parainfluenza (DHPPi vaccine) and kennel cough or Bordetella if the puppy is at risk.
9 weeks
A combination of parvovirus, distemper, and adenovirus type2
12 weeks
A combination of parvovirus, distemper, and adenovirus type2.

Rabies vaccine as per state laws

Parainfluenza and Kennel cough (the latter for puppies at risk of Bordetella)

Lyme disease (only for at-risk pups)

15 weeks
A combination of parvovirus, distemper, and adenovirus type2

Parainfluenza and Kennel cough (the latter for puppies at risk of Bordetella)

Lyme disease (only for at-risk pups)
Booster Shots (every 1-3 years)
A combination of parvovirus, distemper, and adenovirus type2

Parainfluenza and Kennel cough (the latter for puppies at risk of Bordetella)

Lyme disease (only for at-risk pups)

Rabies vaccine as per state laws
5 To 8 Weeks
In this period, your vet will immunize your Yorkie puppy against diseases like Distemper, Parvovirus, Hepatitis (also known as Adenovirus), and Parainfluenza.
These are known as the 'core' vaccines, popularly referred to using the DHPP acronym. Another core vaccine given at this age is Rabies. Core vaccines are vital to all puppies.
Some vets recommend a 'non-core' or optional vaccine at this age to protect your pup from kennel cough (Bordetella). This is very important if your Yorkie is likely to come in contact with other dogs that could carry the kennel cough-causing pathogens.
9 To 11 Weeks
At this age, your Yorkie puppy will need the booster doses for core vaccines (DHPP) along with non-core vaccines for coronavirus, leptospirosis, Lyme disease, and kennel cough. The Lyme disease vaccine is only essential if your Yorkie is likely to visit areas known for Lyme disease.
12 To 14 Weeks
During this period, your Yorkie will receive core vaccines (DHPP) boosters along with non-core vaccine booster shots for Lyme disease, Leptospirosis, and coronavirus.
14 To 16 Weeks
During this period, your Yorkie pup will be vaccinated against rabies along with the DHPP boosters. Additionally, it will receive non-core vaccines for coronavirus, leptospirosis, Lyme disease, and kennel cough. The Rabies vaccine may be given, depending on state laws.
1 Year
After your Yorkie is over the age of 1, it will need all of the core and non-core vaccines every 1 to 2 years and Rabies shots every 1 to 3 years.
Are Vaccines Necessary For Yorkshire Terriers?
Vets are divided over the topic of the efficacy of vaccinations for pets. Some believe that vaccines have eradicated canine epidemics and saved millions of lives. Most dogs tend to tolerate vaccines well and there aren't too many ill effects reported.
A majority of vets also believe that vaccines are beneficial and devoid of side effects. They firmly believe that abstaining from core vaccines could put your young puppy at risk of developing deadly canine diseases.
Benefits Of Vaccines
There are numerous benefits to getting your Yorkie vaccinated. Here are the major benefits of vaccines in a nutshell.
Vaccines help prepare your dog's immune system against the invasion of disease-causing pathogens
Some vaccines, like rabies, are mandated by state laws.
Vaccines could help protect your other pets.
Vaccinating your dog could help save money on serious medical bills down the road
Dog vaccinations could even help protect their human family members from illnesses, germs, and pathogens carried by pets (rabies is a good example)
Drawbacks Of Puppy Vaccinations
A small group of vets feels that vaccination is "just about the worst thing" we can do to our puppies.
For example, veterinary expert Christine Chambreau DVM believes that 'vaccines could cause diseases but not directly to where we would relate them to be caused by the vaccines'.
Current research also shows that not all vaccines need booster shots. Moreover, vaccines such as the one for distemper may be unnecessary because canine distemper is relatively rare. The distemper vaccine is also believed to have caused a parvo outbreak in the 1970s.
Some dogs suffer from chronic ailments like watery eyes, skin rashes, chronic diarrhea, and even gastritis. Distemper vaccine has been linked to arthritis and joint issues in dogs, although more tests are definitely needed to ascertain this.
To Vaccinate Or Not?
Until we have more conclusive studies, Yorkie owners should consult with their vet and discuss which vaccines and booster shots are necessary for their little puppies.
Even if you live in a jurisdiction where it is illegal to not take your dog to the vet if it needs care, there is probably no law on the books requiring vaccination.
Yorkie Vaccine Schedule: Vaccination Tips
Here are some tips to help prevent your Yorkie from getting stressed during its vaccinations.
Stay Calm
Remain calm when you travel with your Yorkie to the vet. Avoid showing your pet you're stressed, because that could stress it out as well.
If needed, use calming treats or provide your pet with its favorite toys to help it relax. You could also play some relaxing music in the car on the trip to the vet.
Transport Your Pet With Care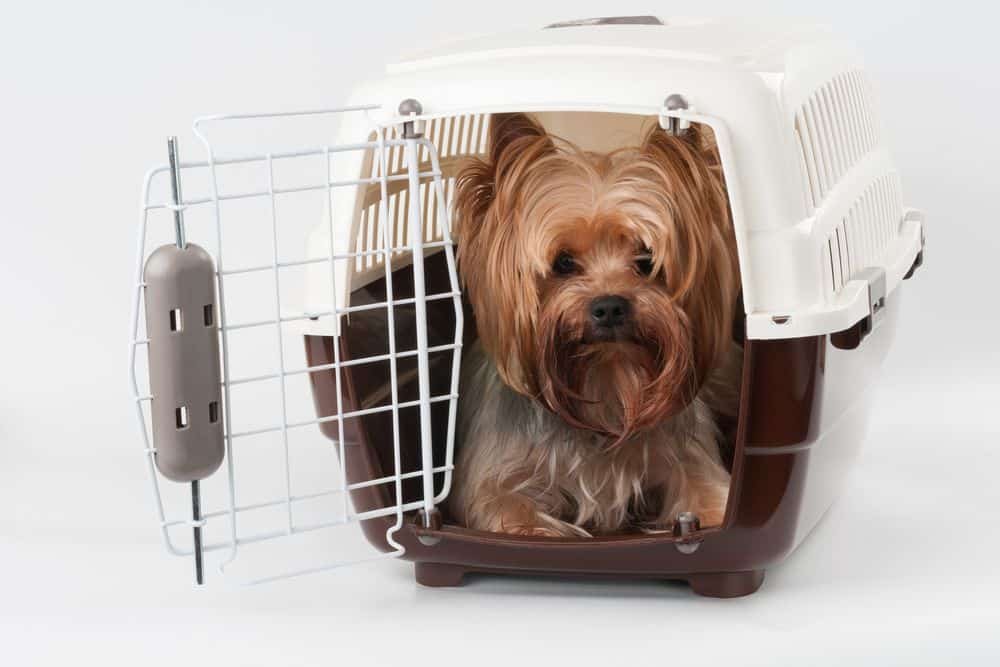 If needed, use a pet carrier or a travel crate to transport your Yorkie to the vet. You can also cover the crate with a towel to keep your pup from getting stressed by other pets in the waiting area.
Comfort It After Shots
Provide your vaccinated Yorkie a quiet place to sleep. It is normal for dogs to avoid drinking and eating for up to 6 to 8 hours post-vaccination. Your little fur baby might also look a bit 'off-color', but that is quite normal.
It is best not to pet or disturb your recently vaccinated Yorkie. It will come to you, if it wants your company. You should check on it every few hours, just to make sure it is comfortable.
Mild Fever Is Normal
Some dogs shake and develop a mild fever after their vaccination. This is also normal. It is self-limiting in most cases and will reduce after a few hours. If the shaking persists after 48 hours, or your pet develops a high fever with chills, then it may be time to call your vet.
Continue With Routine Activities
If your pet seems up for it, take it out for its walk later in the day. You do not need to withhold food or water, if your Yorkie seems to want it.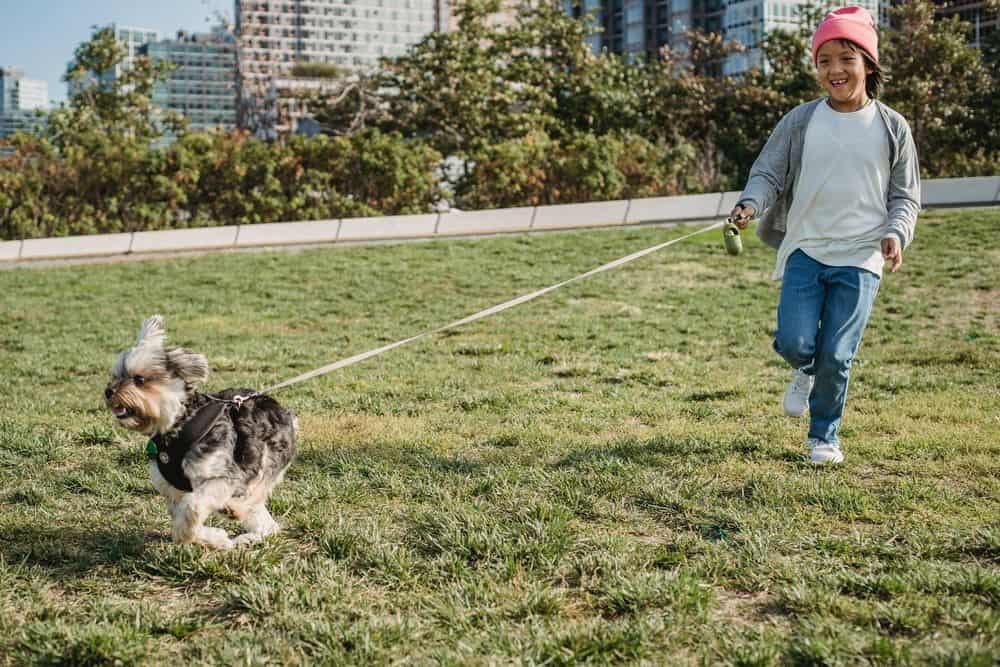 Vaccinate Before Mating
If you plan to mate your female dog, vaccinate her at least three months before you do so. Once pregnancy has occurred, you can't give your pet the shots.
Consider Side-Effects
Prepare certain medications, like Suprastin, if your dog is prone to allergic reactions. Give your dog the medication before vaccination. Also, if possible, do not leave the clinic for about half an hour after vaccination, just in case it has an allergic reaction that requires medical attention.
Consult A Vet If Uncertain
If you picked your pup up on the street, or got it anywhere other than from a reputable breeder, never assume that vaccinations are up-to-date, unless there is valid proof.
But do not also rush vaccinations either. You dog may have already received them. Instead, have your pup undergo a full vet check-up to determine its current health condition.
If you are worried about the cost of a vet visit, read "What Can I Do If I Can't Afford A Vet?" for lots of tips on getting help to pay for medical costs for your Yorkie.
Stay Updated On New Recommendations
The veterinary community will often make new recommendations regarding vaccinations for dogs, as newer knowledge is discovered. Discuss dog issues with your veterinarian dog, including vaccinations, so that you can stay updated on current protocols.
Yorkie Shots Schedule: Related Questions
Next, we will answer two common questions we get related to a Yorkie shots schedule. If you have any additional questions, please feel free to ask them in the comments below.
Is it true that small breed puppies like Yorkies get lesser doses of vaccine?
No. All puppies, regardless of body mass, breed, age, and gender, are given the same dosage of vaccine (generally provided by one-milliliter doses or upon manufacturer's instructions).
Giving a lesser amount of vaccine than recommended will probably result in inadequate protection.
Should I isolate my puppy if not yet vaccinated?
The simple answer is yes. Unvaccinated puppies need to be isolated from other dogs. But it is not always so cut and dry.
While large group socialization can be harmful to an unvaccinated puppy, some experts claim that keeping your completely secluded is unnecessary. Just be wise in selecting social interactions.
Yorkie Vaccination Schedule: Conclusion
Yorkies have a number of puppies. Whether your female Yorkie just had a litter of babies or you simply adopted a single puppy, it is a good idea to get them vaccinated.
Yes, there is still a lot of debate about the efficacy of vaccines for puppies, but it is generally better to protect your dog from potentially fatal diseases than to just rely on luck.
To that end, you should get together with your vet and create a Yorkie puppy vaccine schedule for your dog. It will most likely look similar to the vaccination schedule presented above, but may differ somewhat, especially in terms of the frequency of booster shots.