Is your dog sick?
Then take it to the vet.
That is the correct thing to do as a responsible pet owner.
And a good owner will not want to see their pet suffer.
That said, sometimes financial (or other) circumstances do not allow for vet visits.
If that is the case, and you do not take your dog to the vet for an issue for which it needs veterinary care, can you be charged with a crime?
Are you legally required to take a dog to the vet if it requires care?
Keep reading to learn if it is illegal to not take your dog to the vet, plus several other important pieces of information on the subject.
Is It Illegal To Not Take Your Dog To The Vet?
If your dog is fit and healthy then there is no legal requirement for you to take it to the vet. However, if your dog is unwell and it is suffering then legally, yes, you need to take it to the vet.
That said, this differs from one state to the next. But most states have animal neglect laws stating that you can be charged with a crime if you neglect your pet.
A Legal Requirement
If your dog is in pain or seriously ill then, legally, you must take it to the vet in most states. Otherwise, this could be considered neglect.
As a pet owner, you have a legal obligation to take good care of your dog. It would be illegal for you to ignore your dog, if it is in pain, has a disease, or is suffering from an injury.
In these cases, you should take your pet to the vet so it can be diagnosed and provided the correct form of treatment.
Not only is it illegal for you to ignore any suffering of your dog, but in many places, it is also illegal if your pup hasn't been microchipped. It's important to microchip your dog, so that it can be returned to you, if it is found after being lost or stolen.
Some State Examples
Nearly all states consider neglect of an animal as illegal, although the exact definition differs slightly. In many states, neglect means the failure to provide necessary food, water, and shelter.
In other words, the three basic needs for survival. There is no provision for veterinary care, although some local ordinances may require it.
But some states require owners to provide their animals with necessary veterinary care. This is in addition to providing sanitary conditions, physical exercise, and protection from the weather.
Even then, state and local laws have provisions that define what is necessary and what is unnecessary.
In the State of Washington, for example, pet owners can be charged for a misdemeanor if they do not provide their animals with veterinary care.
But the charge will only hold up in court if the animal suffered unjustified or unnecessary pain, due to withholding medical attention. Also, the owner in question must have acted with criminal negligence, or recklessly or intentionally.
There is also the possibility of an owner using financial distress as a defense to avoid being charged for a misdemeanor.
If Washingtonians can provide valid proof of their adverse financial situation, they can defend themselves against charges of animal neglect.
But it can be a completely different matter in other states.
In Texas, for example, a woman was convicted for animal cruelty when she didn't give her dog with a severe dermatological condition the necessary veterinary care.
She was found guilty despite her lack of financial capacity, including not having a means of transportation to the vet clinic.
She was living on a $400 per month Social Security pension and didn't own a car, not to mention that she was giving the dog homemade sulfur dips.
In the State of New York, a person who deprives an animal of its basic needs, or refuses to provide it with its basic needs, is guilty of a Class A misdemeanor.
This law was the basis for filing a case against a man who refused to take his dog to a vet to treat a huge mammary tumor.
He told the court that he wasn't providing veterinary care for his dog because of his limited finances. He also asserted that he doesn't view cancer treatments favorably. In the end, he was found not guilty by the court, because the state's anti-cruelty laws were too vague.
Vet Payments
Perhaps you want to put off taking your dog to the vet because of the hefty bill you may receive after your visit. You shouldn't let this deter you. There are plenty of options available if you can't afford to take your dog to the veterinarian.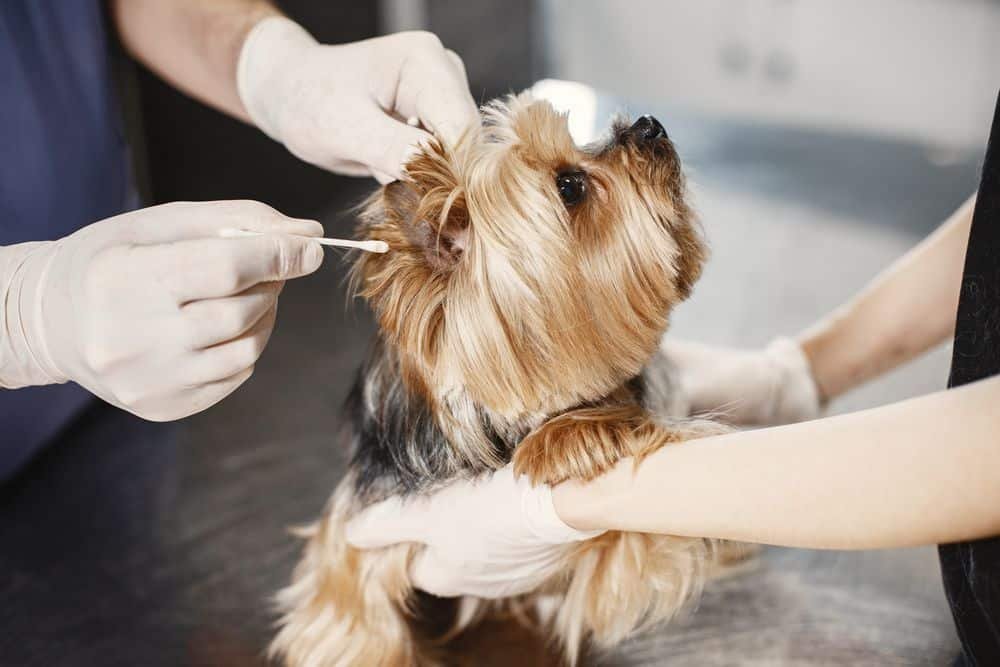 First, I would recommend taking out pet insurance as a precautionary method. This isn't something that you can do when your dog is already in the need of a vet, but it is something you should do immediately, in case your dog ever needs veterinary care.
That way, you won't have to pay some, or all, of the bill for any future vet visits. You would need to pay the insurance premium, of course.. You can usually choose to do that all in one go, or monthly.
After that, if you ever need to make a claim, you would pay the policy excess (if there is one) and your insurance would take care of any remaining amount on your vet bill.
If you don't have pet insurance and you're in need of emergency care, there are also many vet clinics that are run by charities. This means bills would be much lower than your average pet clinic, or potentially free.
There may also be the option of payment plans. This means you could split the bill and pay for it in monthly instalments.
Whatever you do, just don't try and give your vet bill the slip. This could result in lots of unfriendly telephone calls or letters. Your outstanding bill may even be passed onto a debt collector, which could impact your credit rating.
Expected Costs
The cost of your vet bill is going to depend on the treatment that your dog requires. For example, if it needs something small, like a course of antibiotics, then this shouldn't set you back too much.
However, if your dog needs a more extensive treatment, such as an operation, you may be looking at a bill in the thousands.
What If My Dog Hasn't Had His Shots?
If your dog isn't vaccinated as a puppy, it will be more likely to catch nasty diseases, like hepatitis, rabies, Lyme disease, and kennel cough. And that's just to name a few.
Making sure your dog gets its shots at a young age means it has the correct antibodies to fight off these diseases. If your dog hasn't had its shots and catches one of these diseases and it is left untreated, it could make your pup seriously ill, and may even result in its death.
Is It Ever Too Late To Vaccinate My Dog?
It is never too late to give your dog all of its necessary shots, if this wasn't something that was carried out when it was a puppy.
Usually, your dog will be vaccinated at eight weeks old and then vaccinated again at twelve weeks old. It is done in the early years, so that your pup is less likely to catch any diseases when it is young, curious, and vulnerable.
However, this doesn't mean your dog can't be vaccinated in its later years, if they missed this as a puppy. Even elderly dogs can have their first set of shots.
Consult your vet, since they can recommend which vaccinations to give your older dog, and they may want to adjust the dose as well.
Once your dog has received its initial shots, you can then book it for an annual booster vaccine, to make sure its immune system stays in the best shape.
Can A Dog Survive Without Vaccinations?
The chance of your dog surviving without any vaccinations is slim. It would have to be incredibly lucky and not pick up any diseases.
Even if your dog does catch a disease and recovers from it, it could still be left with long-term effects that would impact the rest of its life.
Vaccinations are the only way to ensure your dog stays well and is able to live a healthy life without any suffering.
Can I Vaccinate My Dog Myself?
Even though this is discouraged by the majority of vets, you can vaccinate your own dog. Some will sell vaccines to those that have more experience with a dog's health, like such as established breeders, physicians, and nurses.
Sometimes, they will even sell them to standard pet owners, but they should make you aware of problems you may face.
For example, there is a small chance your dog may have a reaction to the vaccinations. If this is the case, it will need immediate medical attention.
This is one of the main reasons vets always advise you to have your dog's shots done at a clinic. If anything goes wrong, your vet will be able to treat your dog immediately, which could save its life.
You will also have to sign a release form stating that you understand the responsibility of vaccinating your dog yourself.
Illegal To Not Take Dog To Vet: Conclusion
In an ideal world, responsible pet owners will always provide prompt and proper veterinary care for their animals. But we live in a flawed world, and there are many instances when it isn't possible, or when owners simply can't be bothered.
Whether people who don't provide veterinary care for their dogs can be charged with a crime depends very much on where they live. Most jurisdictions do have laws on the books that require owners to provide adequate care for their pets.
But those provisions do not always include veterinary care. And even in cases where they do, there are often exceptions that allow owners to escape prosecution.
In the end, pets don't have all that many rights. Legally speaking, you can usually get away with neglect. That means it is up to you to provide your pet with the care it needs. And if that is not something you want to do, please do not get a pet.