It can be incredibly frightening.
If you are a new dog owner and you suddenly see your Yorkie shaking out of the blue, it is only natural to fear the worst.
Especially if the shaking is uncontrollable.
You have no idea why your dog might be shaking, but you know it is not normal.
Worst of all: you have no idea what you can do to help.
That changes now.
Keep reading to learn why Yorkies shake and what you can do when you notice your pup shaking.
Most instances are easy to fix and nothing to worry about. But you also need to know when shaking might indicate something serious.
Why Do Yorkies Shake?
There are numerous reasons your Yorkie may be shaking. Some of them are more serious than others. It could be due to an environmental issues like the temperature, or maybe your pup is just overly excited. That is especially common in younger Yorkies.
However, it could also be something much more serious such. It could be the result of stress or fear, or a serious health condition like hypoglycemia.
If you've had your Yorkshire Terrier for a while, you should be able to read its body language and behavior. You'll be able to distinguish between normal Yorkie shaking and shaking from an injury or an ailment.
If the shaking is due to an injury or a disease, contact a vet. In fact, if your Yorkie is acting strangely in any way and you are not sure what is causing it, it is always best to contact a vet, just to be safe.
Even if you can't afford a vet, there is help available. You should never withhold veterinary care form a dog in need, even if vet care for dogs is not legally required where you live.
Let's take a closer look at the main reasons Yorkies shake. This should help you figure out what is causing your pup to shake and what to do about it.
Temperature
A common reason your Yorkie may be shaking is due to temperature. If the temperature is too cold, your Yorkie is going to start shaking. This is a natural reflex the body uses to bring its temperature back up.
Shaking is important to keep your dog's vital organs, like the heart, liver, and lungs, at a healthy temperature, in order to prevent them from failing.
You're more likely to notice shaking due to cold in older Yorkshire terriers. But all dogs are different. Younger terriers may feel the cold as well. As a small breed, they are especially susceptible to low temperatures. And their coats don't help.
Many dog breeds have double coats, which consist of a thick undercoat and a longer, thinner overcoat. Combined, they provide the dog with two layers of adequate insulation.
Yorkshire Terriers do not have double coats. They have only a single coat that does not provide them with the same insulation as dogs that have two coats.
For that reason, we highly recommend that you dressing it in a good dog sweater or jacket, whenever the temperature drops below 50° F, or 10° C.
Not all Yorkies like to wear clothes, but you can get them used to it. And they will appreciate it when it is cold out. You can find dog clothes at pet stores on online. It's actually fun to buy little outfits that match your pet's personality.
Your Yorkie's body temperature may also drop if it is especially windy outside, because this always makes the weather much colder than it appears from just the temperature.
If your Yorkie is wet, either from a bath or being caught out in the rain, it may also begin to shiver. This is because the water causes the body temperature to drop. Make sure you have a towel on hand, to wrap up your wet doggy and dry it off as best you can, until you notice the shivering stop.
Yorkies can be cold indoors, too, especially during the winter months. Make sure its bed is in a warm location, or it has plenty of blankets.
Do Yorkies get cold at night? They certainly can, if their bed is in a drafty location. Your Yorkie will love a blanket or two, for the warmth, comfort and sense of security it provides.
Stress And Fear
Another reason for your Yorkie shivering may be stress, especially if your dog seems scared. Shaking is a natural response to stress and the best thing you can do for your pet in this situation is to remove it from the stressful situation.
A common reason for stress in Yories is being around strangers, both people and other pets. If you're trying to socialise your Yorkie, do it gradually.
Introduce it to close family or friend's dogs in settings in which they feel most comfortable, before you start trying to socialise them with unknown dogs on walks. You could also get your pup professional socialisation. That can may its, and your, life much easier in the long run.
Stress can also come from a particular fear. For example, maybe you pick up your Yorkie a lot, but it is actually scared of heights. As you start to know your dog and its personality, you will begin to pick up on these types of phobias and learn adjust to them.
Even though shaking from stress may not physically harm your terrier, it can still affect it mentally. It is always best to take things slowly when introducing new factors into your Yorkie's life.
If your pup suffers from stress constantly, it could also be a confidence issue. Luckily confidence is something you can work on over time. Only you will know how far you can push your Yorkie before it begins to show these signs of stress.
Excitement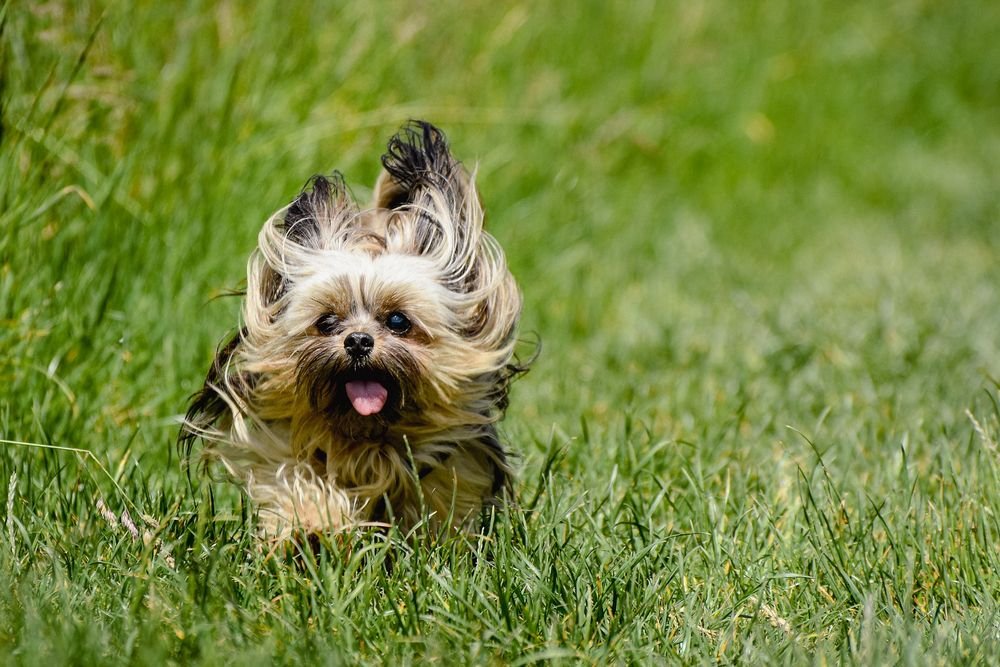 The opposite of stress can also cause shaking: excitement. If you have a younger Yorkie, it can easily become over excited, due to its eagerness.
Shaking from excitement isn't anything to worry about as long as it goes pretty quickly. I can tell you from personal experience with over-excited puppies, that it may be worthwhile having some anti-bacterial spray on hand, because overexcitement can sometimes lead to urination.
Nausea
If your dog is shaking, it can be a sign that it is nauseous. This could come from a number of causes. Perhaps it is constipated or has diarrhea.
Your dog may also feel nauseous and begin shaking after car rides or if it has eaten something it did not like. Some additional symptoms associated with nausea are vomiting, drooling, and yawning.
Poisoning
Yorkies can be mischievous pets, and with this comes eating things they shouldn't! This means their shaking could be a symptom of poisoning.
It's easy for a Yorkie to get its paws on nasty chemicals while it's out and about on walks, or from eating plants or chocolate. What happens if a Yorkie eats chocolate? Other possible symptoms of poisoning can include vomiting, diarrhea, confusion, and weakness.
If your Yorkie's condition does not improve quickly, you should take it straight to the vet.
Hypoglycemia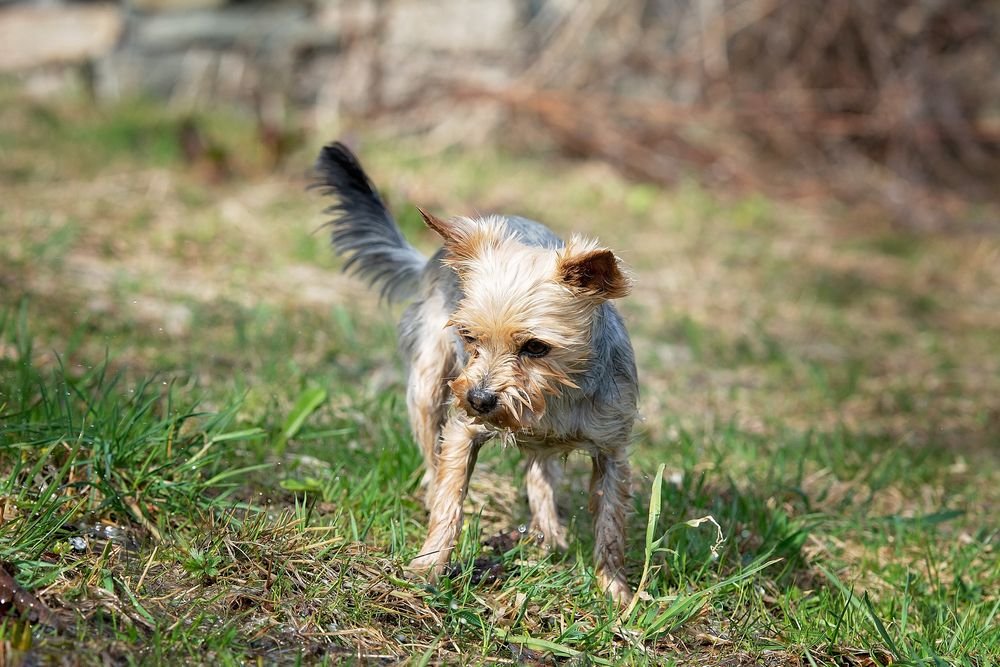 The most serious reason your Yorkie may be shaking is hypoglycemia. This is a condition where the blood sugar levels suddenly drop. It can make your Yorkie very sick and may also be a sign of diabetes.
If the cause of shaking is hypoglycemia, you will notice that the shaking is uncontrollable and affects the entire body. Other symptoms can include weakness, dizziness, and trouble walking.
If this condition is left untreated, your Yorkie may have a seizure, fall into a coma, and potentially even die. If you believe your Yorkie's shaking is due to hypoglycemia, you need to get it to a vet as soon as possible.
Seizures are not normal in Yorkshire terriers. If your pup has a seizure, that is a good indication that something is very wrong, especially if they are recurring. Get your pup to the vet.
There can be a variety of causes of hypoglycemia. Stress is one known factor. If you've recently adopted your pup, if you've move to a new house, or introduced new pets, your dog is likely stressed and tha may be causing the hypoglycemia.
Going long periods without food can also cause low blood sugar. Make sure you feed your Yorkie the correct amount of food every day.
An easy way to treat hypoglycemia quickly, before you are able to go to the vet, is to give your dog some honey. This is a common food item you're likely to have in your kitchen cupboard.
Simply put a small amount of honey on a finger and rub it into your Yorkie's gums. The natural sugars in honey increase your terrier's blood sugar levels.
But this is not always going to be enough. View it as a temporary fix to get your dog through the worst. You should still take it to the vet, where it can receive the appropriate treatment. You dog may need to be put onto a drip and perhaps be tested for diabetes.
Why Is My Yorkie Shaking?
One big clue as to what is causing your Yorkie to shake is the times when it happens. If your Yorkie tends to shake often, observe when and where it happens each time. See if there is a pattern. Even if this does not help you, it will help your vet diagnose the problem.
If you notice that your dog is shaking while it sleeps, you should ask yourself if the environment is comfortable. Provide a comfortable bed for your Yorkie and add some blankets to keep it warm. Get the type of bed that best accommodates your yorkie's favorite sleeping position.
If you notice that your dog is shaking during your routine walk in the park, it is most probable that it is cold. Remember that small breeds tend to feel the cold immediately. It is important to wrap them up and put them in warm clothes, so that they feel comfortable.
My Yorkie is shaking and won't eat. What is wrong? There are a number of issues that can cause a Yorkie to both shake and lose its appetite. Read that post to learn about them.
Why Does My Yorkie Shake: Conclusion
There are many possible reasons why trembling or shaking happens in your Yorkshire terrier. If you are unable to determine the cause, or if you have any concerns about what is causing your Yorkie to shake, you should consult your vet.
There might be some home remedies that can help alleviate such tremors and shaking. But it is always best to consult with a vet first, before giving your pup any type of treatment.
Your vet will do more than treat the symptoms. He or she can give you the exact diagnosis of any underlying condition. Your vet can also give you the best medicine and the right treatment plan.