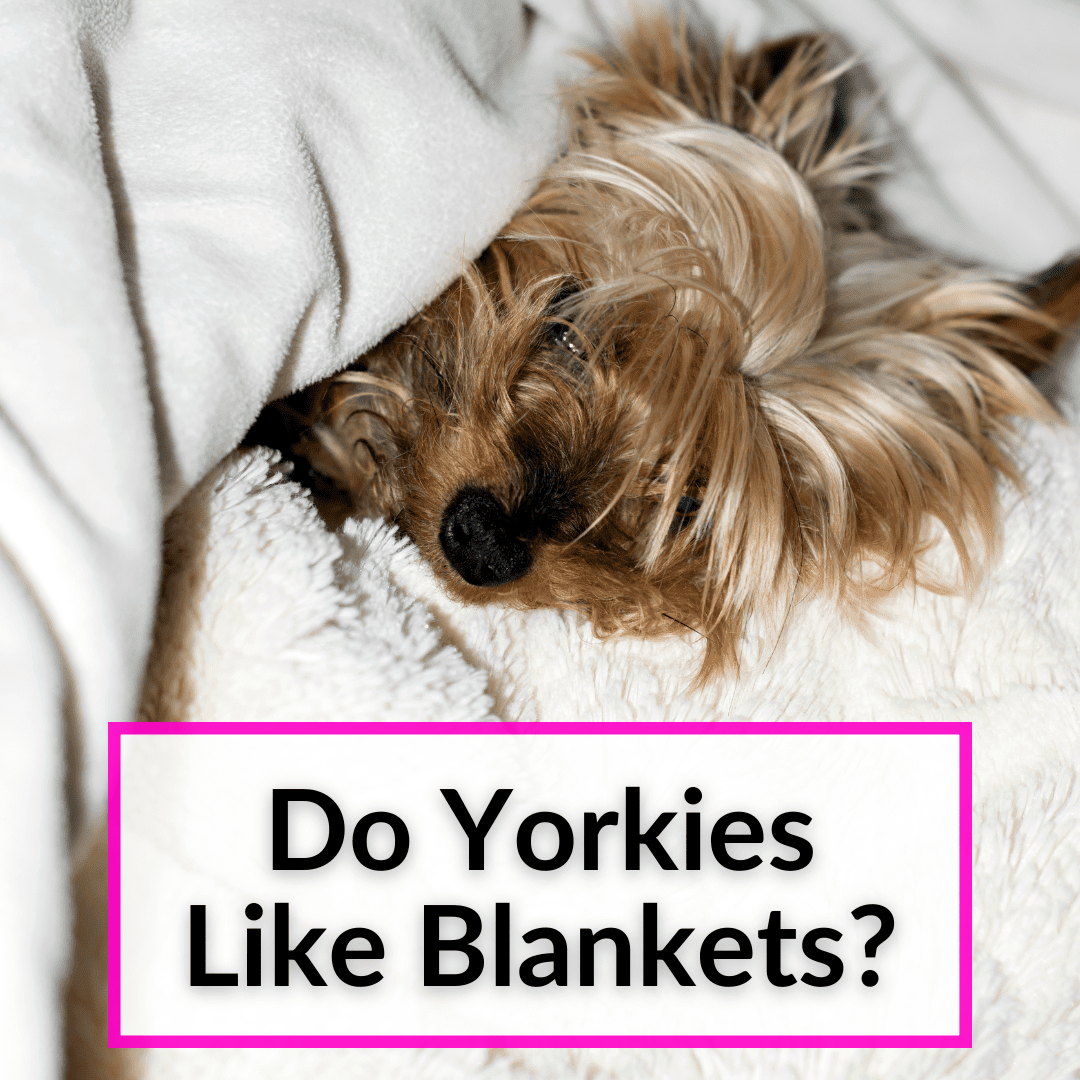 Blankets are a wonderful invention.
There is nothing like the feeling of curling up in a soft blanket on a cold night.
Even better if it's on a comfortable sofa with your favorite comfort food.
Why should things be any different for Yorkies?
Doesn't it make sense for these little doggies to enjoy a soft, cozy blanket just as much as we do?
It does. Keep reading to learn just how much Yorkies love blankets.
It turns out it's not just about warmth and comfort for them either. There are actually a number of different reasons they love them.
Do Yorkies Like Blankets?
Yes! Yorkies love blankets. They are warm and cozy and provide Yorkies with an extra layer of warmth to keep them comfortable.
Yorkies tend to get cold easily, so having an extra layer of warmth is a safe haven for them. But warmth and comfort are not the only reasons Yorkies love blankets.
Reasons Yorkies Love Blankets
There are many reasons your Yorkshire terrier loves his or her blankie. Let's take a look at the major reasons for a Yorkie's love of blankets.
They Love To Burrow
Yorkies love nothing more than to dig right into their blankets and burrow themselves in the layers. A blanket provides your Yorkie with an extra layer of warmth and also a sense of security.
They love to come home after being outside on a blistery winter's day and then jump into their favorite blanket.
One reason that Yorkies love blankets so much is that, unlike other breeds of dogs, Yorkies only have one layer of hair. Most breeds have an undercoat and an overcoat.
This means they are much more likely to become cold than other dogs. Burrowing themselves into a blanket helps to warm them back up.
Blankets Can Mimic A Den
Back in the days when dogs were yet to be domesticated, they would create dens in the wild. Their dens provided them with shelter and protection from predators and other environmental factors like the weather.
While a blanket may not be the same as a den, it still holds the same idea, which is another reason Yorkies love blankets so much.
In a modern way, they view a blanket the same as they do a den. It still provides them shelter and protection and helps to keep them warm and comfortable against external factors.
Yorkies need to have a special place in the house that can call their den. Having this place can give them serenity and peace of mind, especially if the place includes a blanket or two.
This "den" serves as their home to sleep and relax. Include a pile of pillows, your pup's favorite toys, and a soft and cozy blanket for your Yorkie to enjoy. Yorkies sleep a lot, so you want to make sure they can sleep in comfort.
Early Attachment
Giving your Yorkie a blanket as a puppy means that it will form an emotional attachment with it. This can be a good thing, because it means your pup will associate that item with a sense of security.
It will grow up with the blanket and see it as being a safe item that provides it with comfort. This is a positive thing and it can help your Yorkie with mental health or anxiety issues.
Not only this, but it should also provide it with a better night's sleep thanks to the comfort of its blanket. And that is not just good for your Yorkie, but also for you!
Separation Anxiety
A blanket is a great way to help your Yorkie with any separation anxiety. A blanket will have your scent on it, which can help your Yorkie feel like you are still around, if it suffers from separation anxiety.
It's something you can use if you're planning to go on vacation, or for a weekend away, and your Yorkie has to stay with friends or relatives. It's familiar blanket with your scent will be sure to make it feel more comfortable in the new, unfamiliar, surroundings.
Yorkies And Their Blankets: Related Questions
Next we will answer some common questions related to Yorkshire terriers and blankets. If you have any additional questions, please feel free to ask them in the comments below.
Do Yorkies Like To Go Under Covers?
Yes, Yorkies like to go under the covers, especially if you're there with them. They like tucking themselves in and enjoying the extra warmth and coziness.
Blankets provide them with a sense of security, and if going under the covers is good enough for you, then they definitely see it as being good enough for them!
Sleeping under the covers is also a comfort if your Yorkie is fearful or suffers from anxiety. It can help it feel safer and calmer.
Why Do Yorkies Dig In Blankets?
Sometimes, you'll notice your Yorkie digging and scratching in its bed. They do this as a natural instinct. It helps them to create a comfortable and warm place to rest.
This is not unlike what we do as humans. We also like to rearrange our blankets in the comfiest way we can. We do this to make our beds warm and cozy, and Yorkies do the same, just in their own way.
It stems back to their wild days when dogs used to create shelters. They would always dig to make a bed as it made hard surfaces softer.
How Do Yorkies Like To Sleep?
Adult Yorkies and Yorkie puppies sleep differently. You can expect a Yorkie puppy to sleep more than an adult. Puppies can sleep anywhere from 16 to 22 hours a day.
This may seem like a lot, but is completely normal, because a puppy grows while it's sleeping. An adult Yorkie may sleep anywhere from 13 to 18 hours a day.
Yorkies can also adapt to your sleeping schedule. They should be able to pick up that, as soon as the lights start to turn off and noises around the house become quieter, it is time to settle down.
Younger Yorkies may not settle down as quickly at first, but they should soon learn that quietness equals bedtime.
Is It Ok For Dogs To Sleep Under Blankets?
It isn't considered dangerous for dogs to sleep under blankets, but sometimes an accident may occur. For example, if they are tucked in too tightly, or start to become too warm, they could begin to panic. And if the corners are tucked in, they won't be able to escape.
It's highly unlikely that your dog will suffocate under the covers. If it does become too hot or struggle to breathe, it  will let you know by trying to escape.
Should Dogs Be Covered At Night?
If it is cold at night, or if your house is particularly drafty, then you should think about covering your dog with a blanket at night. It'll help to keep it warm and comfortable. And if your dog does get too hot, it will no doubt shake the blanket off.
Dogs usually love being under the covers. They like the feeling of extra security. It also helps them with their natural instinct to dig and bury, which stems from when they would sleep in a den in the wilderness.
Dogs have always been associated with packs. Covering your dog at night, or providing it with extra blankets, will help it feel like it is still a part of this. With all the added layers, it will be sure to feel comfortable, warm, and secure, just as though it were still a part of a pack.
With a small dog that is susceptible to the cold like Yorkies, covering them on a cold night is sometimes a must. There is a reason the Yorkshire terrier is an indoor breed. Can Yorkies live outside? No, they can't. It is simply too cold for them.
Yorkies Love Blankets: Conclusion
Yorkies generally love blankets. They like the texture and softness, and also the comfort a blanket provides. But the warmth is also important.
Due to their small size and them only having a single layer of fur, Yorkies tend to get cold easily. And since their beds are usually on the floor, that makes their sleeping location especially chilly. Providing a blanket for your pup to stay warm is vital, especially on cold, winter nights.