Few things scare me more.
Whenever I see my Yorkie acting out of the ordinary, I start fearing the worst.
I know how quickly even simple health problems can deteriorate with an animal this small.
That's why it is vital to stay on top of any potential health issues.
If my Yorkie is shaking and won't eat, I run through the list below and try to determine what is causing the problem.
If I suspect something serious, I call a vet. If I am unable to determine for sure that it is not something serious, I call the vet.
If you your Yorkie is shaking and not eating, go through the list below and call your vet when indicated. Also call them if you can't determine the problem. Better safe than sorry.
My Yorkie Is Shaking And Won't Eat
A Yorkie shaking and not eating could be a sign of illness. It could range from a simple upset stomach to serious health issues like distemper, hypoglycemia, or Addison's disease.
Inflammatory and auto-immune conditions can also cause shaking with loss of appetite in Yorkies. Stress or anxiety as well as parasites could also be a cause. Let's take a closer look at the 9 most common causes of a Yorkshire terrier shaking and not eating.
9 Reasons Your Yorkie Might Be Shaking And Not Eating
There could be several reasons your Yorkie is suddenly shaking and refusing to eat or drink. Sometimes, the cause may be simple and your pet will be normal within a few hours. At other times, there could be a serious underlying health issue causing these symptoms.
Upset Stomach
If your Yorkie has eaten something it wasn't supposed to, it could suffer from indigestion or an upset tummy. Compost ingestion or toxin ingestion are often the cause of severe shaking and loss of appetite in dogs.
Your pet might also have diarrhea and vomiting, in addition to shivering. Most of the time, dogs self-regulate and your Yorkie should get back to normal within a day or two.
If your pup continues to refuse food, or if you notice other symptoms like fever, bloody diarrhea, paleness of gums, dehydration, and shortness of breath, please see your vet immediately.
Cold Or Fever
A simple explanation behind your Yorkie's shaking and shivering could be that it is cold or has a fever. Yorkies are more sensitive to the cold because of their low body fat.
Try giving your dog a blanket or a jacket or sweater. That should stop the cold. You can also provide your dog with some warm broth or chicken stock.
Canine Diabetes Or Hypoglycemia
Diabetes or hypoglycemia are fairly common in middle-aged to senior Yorkies. If your Yorkie has already been diagnosed with hypoglycemia, then it could suffer from symptoms like shaking and shivering due to a dip in its blood sugar levels.
Feed your pet some honey or corn syrup right away to bring its blood sugar up. Speak to your vet about the best diet to stabilize your Yorkie's blood sugar. Most vets recommend a high-fiber, low-fat diet for diabetic dogs.
Parasites
Both internal and external parasites can cause symptoms like reduced appetite with shaking in Yorkies. Parasites like ticks could result in tick fever, which can cause chills or shivers, skin rashes, and appetite loss.
Similarly, internal parasites like roundworms, tapeworms, or hookworms can cause the above symptoms. It is best to take your Yorkie to the vet to determine the exact parasites that may be behind these symptoms.
Canine Distemper
Canine distemper can also cause shaking and shivering, followed by vomiting and appetite loss in dogs.
If your Yorkie has eye discharge or nasal discharge, a cough, or is lethargic, then you may want to see your vet right away.
In most cases, canine distemper only affects dogs that haven't been vaccinated for the disease.
Liver Or Kidney Disease
Yorkies with kidney or liver disease could also suffer from symptoms like appetite loss, unstable walking, confusion, trembling, etc.
If you suspect kidney or liver issues in your Yorkie, please have it checked by a vet. The vet may order some blood tests along with urinalysis to determine kidney and liver function.
Addison's Disease
Addison's disease is a fairly common canine auto-immune disorder. It can result in waxing and waning symptoms like lethargy, appetite loss, shaking, vomiting, and diarrhea. A blood test can help detect this condition.
Stress can further aggravate the symptoms of Addison's Disease, so it is important to provide a stress-free environment to your Yorkie. The treatment for canine Addison's is steroids.
Neurological Issues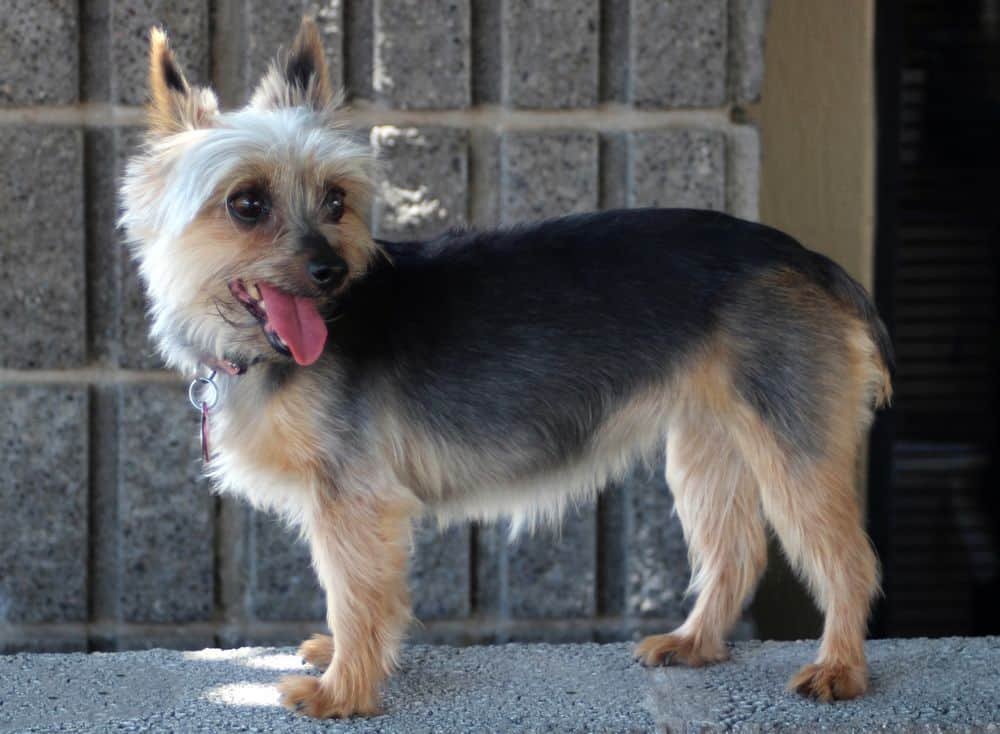 Neurological issues like White Shaker Syndrome or idiopathic tremor syndrome can also be a cause of shaking in Yorkies. If your pet has other clinical signs like vomiting, or the shaking is progressively worsening, please consult a veterinary neurologist.
Strong Emotions
Strong emotions like stress, anxiety, fear, joy, etc. can also cause shaking in Yorkies. But this type of shaking may not impact your pet's appetite. However, some Yorkies shake and shiver during fireworks and thunderstorms and might hide and refuse food.
How To Comfort A Shaking Yorkie
Here are some steps to comfort a shaking Yorkie:
Provide your Yorkie with a quiet place to rest. If your pet is crate trained, leave it in the crate but keep an eye on it. If it wants to come out, let it.
Try offering some tasty food (chicken, bone broth, etc.) to see if the shaking stops.
Give your dog space. Sometimes, anxious Yorkies may shake and shiver if they are afraid, and they may not want human contact. Allow your dog to come to you. If it wants to sit in your lap, gently pick it up.
If loud noises are causing the shaking, close the doors and windows. Play some soothing classical music or drown the noises out with the sounds from the TV.
If your Yorkie has been shaking a lot or shaking for a long time, please take it to the vet right away.
How Long Can A Yorkie Go Without Eating?
Most healthy Yorkies can go without food for 3 ro 5 days, as long as they are drinking adequate quantities of water.
However, if your pet hasn't eaten for more than 3 days, it is best to contact your vet right away. Note that the number one sign of a health issue in Yorkies is a refusal to eat, or a sudden drop in appetite.
What To Feed A Sick Dog With No Appetite?
You have several options for feeding a Yorkie that has no appetite or a Yorkie that is suddenly being a picky eater:
Rice with chicken broth: This bland meal is recommended when dogs have diarrhea. Most Yorkies love this combo and will happily eat it when they have an upset stomach.
Mashed pumpkin: Cook pumpkin pieces in water and cool them. Mash and mix with your Yorkie's wet food or rice and meat. The will also help regulate your dog's bowel movements.
Bone broth: Bone broth is another excellent food for dogs with no appetite and one they love.
We also have an article detailing what to feed a picky Yorkie here. It includes recipes and serving suggestions for 8 foods most Yorkies love.
What Can I Give My Yorkie For Low Blood Sugar?
Vets recommend applying some honey or corn syrup to your dog's gums, the lining of the cheek, and the tissues of the mouth.
You can also mix some honey and/or dextrose or corn syrup with water and feed it to your Yorkie orally. Foods like white rice and bread can also quickly increase your pet's blood sugar.
Yorkie Shaking And Not Eating: Final Thoughts
If your Yorkie is shaking and not eating, chances are it is not anything serious and will work itself out shortly. But if you can't determine for sure that it is not serious, or if you suspect something more serious, call a vet.
I indicated above for which issues I recommend calling a vet. With an animal this small, it is always better to be safe rather than sorry, because any problems can get much worse very quickly.