Kids love Yorkies.
Actually, everyone loves Yorkies!
They are adorable, intelligent and feisty. A winning combination!
But are Yorkies good with kids?
You've probably read or heard that they are not great with kids.
Well, that is partially true. Keep reading to learn everything you need to know about Yorkies as family dogs, especially in families with small children.
Is A Yorkie A Good Family Dog?
Yorkies have a reputation as not being great for families. And that is deserved. But with a little training, they can be great. It just takes more work than some other breeds.
Yorkies are energetic, fierce and aggressive. That can make them difficult with young children. If a child stresses the dog, it may snap or bite, unless it has been properly trained.
Why are Yorkies this way? That goes back to their beginnings. Let's begin by taking a look at Yorkshire terriers in general, before moving on to how they are with families.
General Info On Yorkshire Terriers
The Yorkshire terrier is a small dog with a huge personality and a heart of gold. It makes for a fun, loyal and feisty companion.
This breed originates from England, specifically Yorkshire, as the name might suggest. It was bred to hunt rats and other vermin that can carry diseases. This required a fierce, fearless, aggressive and stubborn personality, which still characterizes the breed today.
Yorkies are one of the most popular breeds worldwide and their personality is a big reason for that. They generally blend well in any home.
Yorkie Personality And Temperament
Yorkies always seem like they are full of themselves. But perhaps they have a good reason. With their silky, long hair and adorable face, you can't help but instantly fall in love with your Yorkie.
The gorgeous coat might be the Yorkshire terrier's crown and glory and the first thing anyone notices, but it's the personality that truly endears this breed to its new family.
Seemingly oblivious to their tiny size, Yorkshire terriers are the big dogs amongst all small-sized dogs. They are always on the lookout for adventure and trouble.
Who wouldn't want a dog like that in their home?
On top of that, Yorkies are quite affectionate and will never shy away from a good old cuddling session (this article discusses Yorkies and cuddling). But Yorkies are always suspicious of strangers.
That means they will always announce an approaching stranger or any suspicious sounds within the vicinity. No squirrel will ever be safe around a Yorkie, even the miniscule teacup variety.
But Yorkies also have a soft side that's hard to ignore. They need a lot of attention and family time. They easily get worked up when left alone for long hours.
They also pick up your emotions easily and will always protect you if they feel you are threatened. Don't let the small size fool you! I have never known any Yorkie that will back down in a stand-off with even the mightiest dogs.
Yorkie Training
Yorkies are a great choice for any first-time dog owner, due to their high intelligence level and the fact that they are always eager to please their masters.
That also means that this breed will need less training than many others. But they will need training to reign in their barking and aggressiveness, especially if you have children.
In the right hands and with the right training, Yorkshire terriers can be just as good at apartment life as they are for country-side living.
They form very strong connections with their masters which ends up making them overprotective. This trait goes back to their time as vermin hunters and has been rooted in their psyche.
This makes Yorkies extremely territorial. They will defend their own, no matter how big the threat might be. That's why they bark at anything and everything that comes near their property.
You will certainly need to train your Yorkie to reign in its barking behavior, otherwise it can increase to an annoying state. And that will have your neighbors knocking on your door to complain about your furry friend's late-night talks with passing neighbors, animals and every single blowing leaf.
Yorkies And Kids
Their tiny body makes them a top choice for many parents who want a play pet for their kids. But that is not a good reason to get a Yorkie.
That's not to say you shouldn't get one, if you have kids. You just need to take the appropriate precautions. The first step is to make sure your kids are trained to handle a Yorkie.
Due to their fragile bones and tiny bodies, Yorkies are at higher risk of suffering an injury when playing with rough kids. This is something young children will not easily understand, which is one reason we don't usually recommend Yorkies for families with young kids.
Unless your kids grew up together with your Yorkie, it might be a bit difficult to train young kids on how to deal with your furry friend. These are best suited for older children and not toddlers.
Another potential problem is that rough play could cause your dog to feel stressed, which may result in it snapping at your kids, or even outright biting them.
Any interaction between a Yorkie and children should be supervised by an adult at all times. While virtually impossible, it is not entirely impossible, that a yorkie could kill a human baby.
And even if your kids are old enough to understand how to deal with a Yorkie, you still need to make sure the Yorkie is well trained.
In other words, both your dog and your kids need to be trained on how to interact with each other. Otherwise, they might not understand each other.
But once you get the two teams on board, be ready for a mischievous duo that's always up to no good. But also tons of fun!
Yorkies And Other Pets
Yorkies are a whole different animal when it comes to other pets. They might tolerate living with a cat, provided that they grow up together.
But you shouldn't trust Yorkies with other smaller pets, like rodents. That's because they have a pretty strong hunting instinct, which might result in a disastrous situation.
You might also have to be cautious with Yorkies around bigger animals. This is because Yorkies apparently have no idea about how small they really are.
They will happily take on anything and anyone, with seemingly no fear that they might get hurt in the process. Whether it's playtime or a stand-off, Yorkies will always take the bull by the horns. And they would probably take on a bull literally, as well as figuratively!
Yorkshire Terrier Health Concerns
The average Yorkie lives up to 16 years, if you take care of them properly and feed them a healthy diet. Like many other dog breeds, Yorkies can suffer from hereditary health issues, for which you will have to plan in advance.
Some of the major health concerns include:
Retinal dysplasia
Collapsed trachea
Luxating patella
Dental issues
Hypoglycemia
Eye infections
Hereditary carats
Yorkie Grooming
Many Yorkie owners take pride in styling their dog. And why not? This breed has one of the best coats in the dog world.
This is a big reason for their popularity. It also brings up the question: do Yorkies shed?
One of the major complaints of any dog owner is the never-ending vacuuming routine. You constantly have to clean up shed fur in the house.
Luckily, Yorkshire terriers have hair and not fur. This means that they shed far less than other dog breeds. Say bye to the daily vacuuming!
Yorkie fur grows incredibly long and while they shed, they do do rarely. This makes taking care of their grooming a relatively easy task. But there are some health issues that can affect their fur.
Health Problems That Can Affect Yorkie's Coat
Yorkies are prone to certain issues that can affect their coat. That, in turn, can end up affecting the overall lifestyle of your dog. Some of these possible issues include:
Allergic Dermatitis: this condition is mostly triggered by household cleaning products and other environmental factors; it can also result from grooming products
Alopecia: this is a condition that causes hair loss; it is typically caused by autoimmune disorders
Hypothyroidism: this condition causes the skin to dry and become brittle and usually starts when the thyroid gland doesn't produce the required amount of hormones
Perks Of Having A Yorkshire Terrier In Your Family
There are tons of benefits to bringing a Yorkie into your family. Let's look at some of the most important ones.
Companionship
Yorkies are among the most affectionate dog breeds on the planet. Once a Yorkie knows that you are its caretaker, it will always be there for you.
This is especially great when you've had a bad day at work. Your pup will instantly greet you with a smile and a wagging tail. That's something we all love to come home to.
Yorkies Are Hypoallergenic
If either you or your kids are allergic to dogs, you'll be happy to know that won't be an issue with Yorkies. Since the Yorkshire Terrier doesn't produce excessive fur like most other dogs, they don't usually cause an allergic reaction.
There's a slight chance that you might still be allergic to this breed. But the possibility is much lower than with other dog breeds.
Yorkies Are Active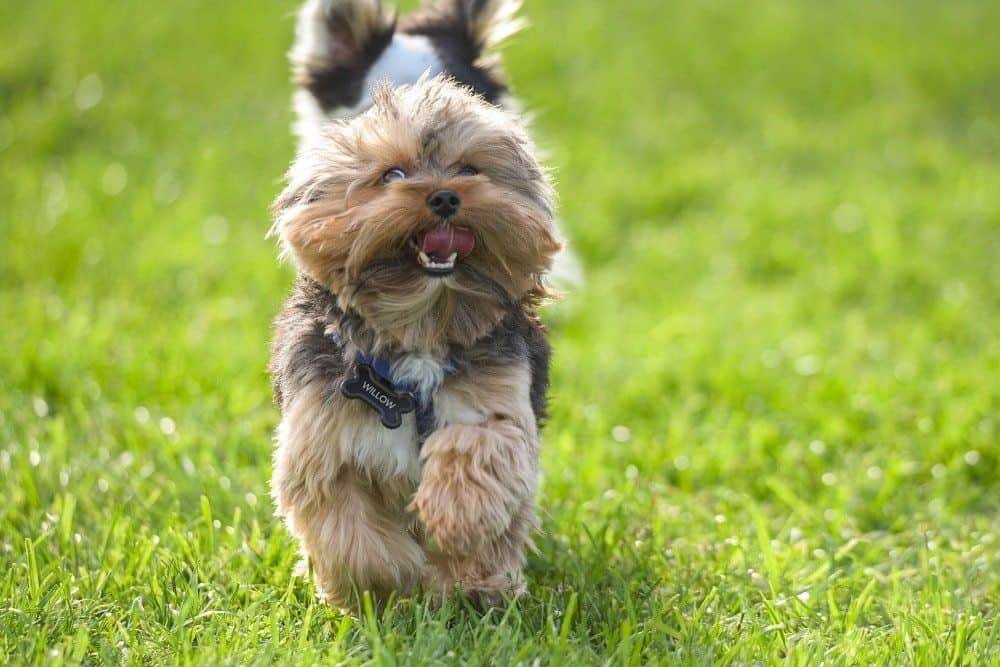 This is actually one of the reasons why Yorkies can be great with kids. They have no trouble keeping up with the intense energy that most kids bring.
On top of that, Yorkies are quite playful. In fact, they are so playful that if you don't train them well, they might end up burning too much energy (it's like they don't even realize how small they are).
Yorkies Sleep Peacefully
Yorkies are quite feisty and energetic creatures. But all this comes with a price. They end up sleeping a lot, especially after a hard day's work.
Most new owners are surprised when it comes to how much sleep time Yorkies require. But there's no need to worry. Instead, cherish those quiet moments. Your pup will be awake very soon and start yapping all over again.
Movie-Star Behavior
Yorkies are beautiful and one of the best-loved dog breeds on the planet. And they seem know it. And do yorkies like to be held? Boy do they ever!
Don't be surprised if your pup suddenly stops walking and actually waits for you to pick it up and carry it all the way home.
This type of diva behavior is something you should expect from this breed. They seem to know that they can get away with it, because they're just so ridiculously cute.
Great Fashion Sense
It is easy confuse a Yorkie with a runway model. Ok, so we actually pick their outfits, not them, but they bring the ability to pull off any dog outfit with style and glamour. If you or your family love to play dress-up, then Yorkies are your breed, no question.
Should I Get A Yorkie For My Family?
You now have all the relevant information you need to come to a wise conclusion. Take your time and talk it over with your entire family, including your kids.
Make sure everyone understands all of the responsibilities that come with a Yorkshire terrier, including how your children will need to act around the dog. You wouldn't want to have an unhappy family or an unhappy dog.
You should be particularly concerned about how your kids will interact with the furriest family member. Take your time to train them on the necessary precautions when interacting with a Yorkie.
Also, inform them that Yorkies need regular exercise, but not too much of it, since they might burn through all their energy. It is best to set up a schedule that dictates when your kids can have playtime with the dog.
If you don't have any kids yet, make sure that you have enough free time to offer your new pup. Yorkies need a lot of attention and love from their masters. If you can't spend enough time with your Yorkie, you should probably book a pet sitter.
Yorkies As Family Dogs: Final Thoughts
Yorkies are not the best dogs for families, but that doesn't mean you shouldn't get one if you have kids.
You simply need to be aware that a Yorkie will need a bit of extra training to learn how to get along with small children. And you'll want to train your kids on how to properly play with a Yorkie, too.
If you want the best possible dog for children don't get a Yorkie. But if you want the best possible dog period and you are willing to do a bit of extra work to ensure it gets along well with your kids, then by all means, go with a Yorkshire Terrier.
I guarantee you that you won't regret having a Yorkie in your home!