Yorkies are small dogs with big personalities.
Despite their tiny size, they have a reputation for being aggressive.
While only some yorkies are, the breed as a whole is definitely a bit more aggressive than most other breeds.
But how far does that aggression go?
Can a yorkie kill a human, or are they simply too small?
Keep reading to learn if yorkies can kill humans, plus everything else you need to know about aggressive behavior in these dogs and what you can do to curtail it.
Because in the end, how your yorkie behaves towards humans and other dogs depends largely on its environment and upbringing. In other words: you.
Can A Yorkie Kill A Human?
It is possible that a yorkie can kill a human, especially a baby. In fact, it has happened. But it is exceedingly rare and unlikely to ever happen.
But some yorkies can be aggressive and potentially cause injury small children. The good news is that you can easily train the aggressiveness out of your pup.
We'll cover how to deal with an aggressive pup further down. You should also read our article on how to train an aggressive yorkie.
Aggressive Behavior In Your Yorkie
Any yorkie owner will tell you that these dogs have outstanding personalities. It's fascinating that they can weigh less than six pounds, while still being stubborn and courageous.
But yorkies are also known to be hostile towards other dogs and even humans. Most are not, but enough are that they have a bit of a reputation. There is a reason "Why do Yorkies bite so much?" is a common question people ask on Google.
If your yorkie ever displays aggressive behavior toward other dogs or people, you need to take specific steps to relax your dog and ensure it curtails its aggression going forward. If you do not, aggressive action can result in injury, to either your dog, another dog, or a person.
First and foremost, you must prevent your yorkie from establishing a sense of dominance in the home. You can ensure it knows its place by establishing some ground rules. A good way start defining ground rules is by prohibiting your yorkie from sitting on any furniture.
In general, any effort you make to prevent your yorkie from developing dominant aggression will benefit you in the long run. You definitely want to teach your yorkie obedience. And any time your dog is compliant, praise it.
You also want to make sure to always keep your yorkie entertained. A busy yorkie has no time for aggressive behavior. It is when they get bored that they tend to act out.
But boredom is not the only cause of aggression. Let's look at some other possible causes of aggressive behavior in yorkies, the type of behavior that leads you to ask if it is possible for a yorkie to kill a human.
Causes Of Aggressiveness In Dogs
When we encounter a dog barking, growling, or snapping at a person or animal, we usually mark it offensive. But not all of these situations are the same.
Ask yourself "Why does my yorkie growl at me or snap at me?" They can be very different situations with many distinct reasons behind them.
It is crucial to practice socialization with a dog during its early years. It's the mechanism by which your dog learns to interact with humans, other pets, and things in their environment.
Have constructive interactions with your dog regularly. This will help it gain an understanding of how to behave and improve in any situation in life.
However, some dogs begin to exhibit threatening behavior, despite having undergone adequate socialization. There are a number of possible reasons for this.
Bad socialization
Health problems
Sexuality
Fear
Traumas
Anxiety
Stress
As mentioned, yorkies on the whole tend to be on the more aggressive side, when compared to other dog breeds. The reason for this is in their history.
Centuries ago, this breed was used to hunt rats in mines, mills and other properties. While it might not seem so, rats can be very violent. Rats also carry diseases that can infect a yorkie.
As a result, yorkies had to be incredibly brave and incredibly aggressive. And these traits are still present in their personalities today. The yorkie hunting dog part of their history never left them completely.
Yorkshire Terrier Aggression Toward People
Aggressive behavior towards people is a complicated issue to address and resolve. A Yorkshire terrier lacks the size and strength to cause much harm to most humans.
But an aggressive attitude can be dangerous if children are present. With young babies, there is even the possibility of death from an aggressive yorkie.
In order to curtail aggressive behavior toward humans, it is important to know why it may happen in the first place. Here is a list of reasons yorkies might display aggressive behavior toward humans.
Resource Safeguarding
When we approach their food, toys, or bed, dogs growl, or even bite. It is important not to punish or ridicule your yorkie, if it exhibits this behavior. It would only make the situation worse.
It is important to teach them obedience, so they learn to respect us. They also need to understand that we are the ones who provide them with their resources. One thing that can help demonstrate this is sometimes giving them food directly from our hands.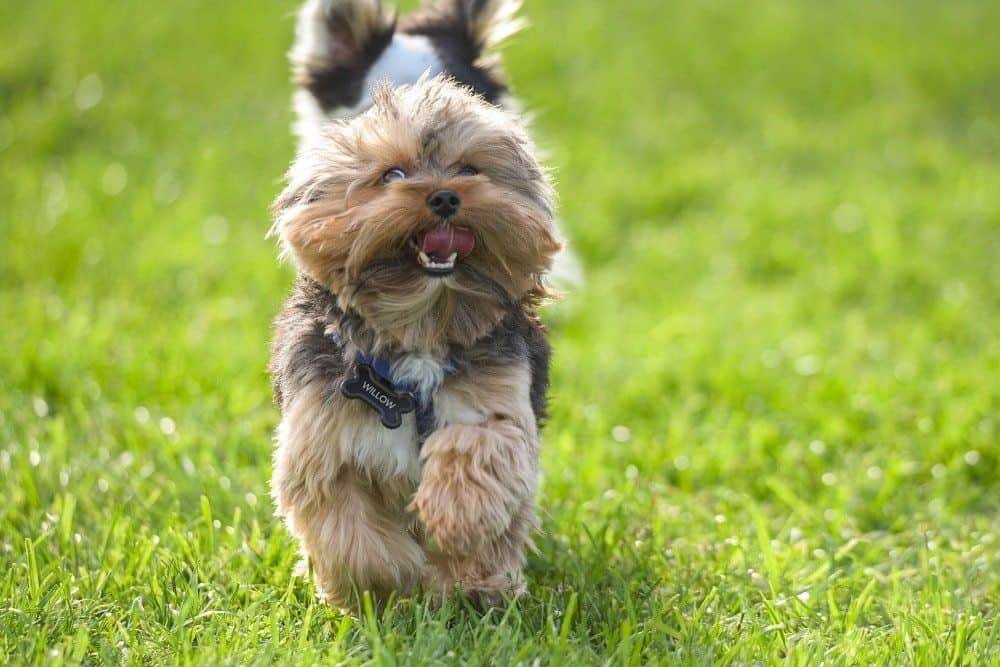 Fear
Negative interactions with people may cause your Yorkie to become violent toward both acquaintances and strangers. This is often a significant issue with dogs adopted from a shelter, if they were mistreated in their previous home.
This is something you need to address, but it takes a while for them to regain their trust of humans and feel comfortable around us once again.
Often, they also suffer trauma from something we do, without even realizing it. If your dog suddenly becomes more aggressive, try to think back what might have caused this change and make sure it does not happen again.
Dogs Trained To Attack
Many dogs have been taught to protect certain people or property and attack anyone deemed a threat. These dogs develop difficult-to-treat negative behaviors. While this is a rare occurrence in yorkies (people usually train larger dogs as attack dogs), it does happen.
A Redirected Attack
Your dog could be barking ferociously at another dog when it unexpectedly bites you! Cases like this occur spontaneously and without any ill intent toward you. Incidents like this are easy to avoid. If your dog is being aggressive toward another dog, don't get close enough to get bit.
Steps To Treat Aggressiveness
To begin, you should try to determine what is causing your dog's aggression. This usually means determining what problem your dog is experiencing.
Usually, with a problem dog, it is best to consult an ethologist or a canine trainer. They are the real experts in animal behavior. They will be able to provide you with a proper diagnosis and detailed instructions for working with your pet.
That said, before you have specific instructions for your dog's specific problem, you can begin treating your pup in general, by following these guidelines.
Provide Still And Safe Surroundings
It is essential to prepare your home and the environment in which your dog is living. Your dog should be raised in a calm and relaxed environment. It's crucial to keep in mind that dogs learn from their families.
Don't Ignore Your Dog
In any situation, never just dismiss a dog with extreme anxiety or stress issues. Always use positive reinforcement to support the desired behavior.
Start Basic Training
Your dog will become accustomed to receiving commands and obeying them after a few regular sessions. When it does well, don't forget to reward it with prizes, treats, and cuddles. To keep your dog happy and excited about learning, you must adopt a very optimistic and relaxed attitude.
Avoid Putting Your Dog In Difficult Situations
If your dog has severe stress issues, it's crucial to keep it out of high-stress situations that might cause it to become aggressive. If you live in a safe neighborhood, walk your dog early in the morning or late at night when there is less hustle and bustle.
Go On Daily Walks
You should walk your pet for at least 30 minutes a day, but much better to shoot for 90 minutes. This is too long for a single walk, so you want to split it into two or three walks per day.
Yorkies Killing Humans: Conclusion
Aggressive behavior in your yorkie is upsetting, but don't be alarmed. You and your furry buddy will solve it, if you have extra patience and follow the instructions outlined above.
If you've detected a shift in your dog's personality recently, try to figure out what might have caused it. It is usually best to contact a professional so they can recommend a training plan. Having a good training plan to follow will first of all prevent the issue from worsening and becoming impossible to handle, and hopefully also help fix the problem altogether.