Yorkies can be feisty.
They can have a natural aggression and stubbornness that belies their tiny size.
If they were a larger breed, we would certainly consider them dangerous.
But are Yorkies dangerous despite their small stature?
Can they harm us, or even kill us?
While they have the potential to hurt or kill an infant, they do not have the ability to cause most humans any harm.
Nor do they have the personality for that.
Keep reading to learn whether Yorkies are dangerous. along with everything else you need to know about the subject.
Are Yorkshire Terriers Dangerous?
No, Yorkies are not considered a dangerous breed. In fact, they are the complete opposite. They are known for being an affectionate breed of dog.
However, just like any dog, if you put them in a stressful situation then they will do whatever they can to defend themselves. In a situation like that, they can get aggressive.
But you can't blame them. Any animal has that same survival instinct and will defend itself when threatened. Apart from that type of extreme situation Yorkies are loving and affectionate dogs.
Yorkies Are Affectionate Dogs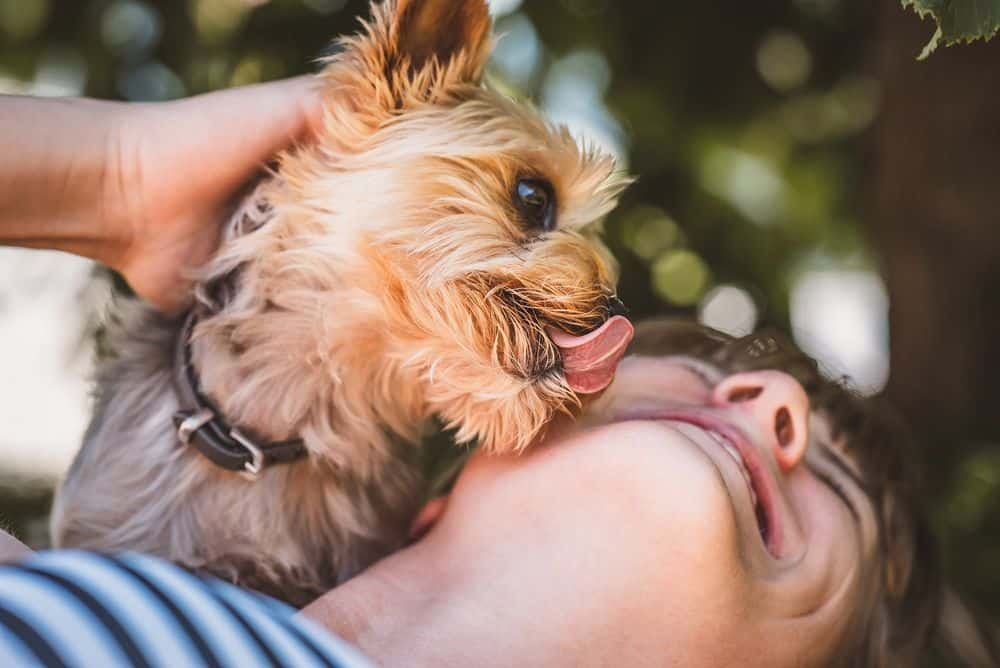 Yorkshire terries are one of the most affectionate breeds of dogs that you could own, making them the complete opposite of dangerous. A Yorkie loves nothing more than a snuggle with its owner and enjoys any form of loveable and physical contact.
A Yorkie will come up to you asking for affection. It may even lean into you or try and kiss you. These dogs love nothing more than spending lots of time with their owners.
Are Yorkies good emotional support dogs, given these traits? Yes, they are one of the best breeds for this task, in fact.
They Are Tiny
The Yorkshire terrier's tiny size most certainly makes them less dangerous. Do Yorkies stay small? Yes, they do. The Yorkie is one of the smallest breeds of dogs there is. Far from dangerous, they are delicate.
Being so small, it is almost impossible for a Yorkie to cause us much physical harm. They have little mouths and paws and even if they wanted to attack you, they probably wouldn't get very far!
Yorkies Are Naturally Protective
Even though the Yorkie isn't considered a dangerous dog, it can still be naturally protective, especially with its owner. Yorkies may not be prone to start a fight, but if they sense danger toward their owners they will want to protect them in any way they can.
Because of their natural sense of protectiveness, Yorkies can make fantastic watchdogs. Their small size means that they are not easy to spot and they can be very quick to raise the alarm.
Despite their size, the Yorkie has a very loud bark. They're able to instantly raise the alarm and once they have started barking, they won't stop until their owners are by their side and in control of the situation.
This may become a little annoying when your Yorkie is barking at a stray squirrel from your living room window, but it's always great to know their intentions are there and they have the right idea when it comes to raising the alarm.
Stranger Danger
Although a Yorkie may be loving and affectionate towards its owner, it doesn't always mean this behavior will apply to a stranger. It's quite common that a Yorkie may become suspicious of someone it doesn't know.
This is generally just because they are less trusting of someone they have never met and this causes them to put their guard up.
The case can also be the same for new dogs that a Yorkie has just met. They may become suspicious of any new dog, especially if the dog isn't giving off a sense of friendly behavior.
It can also be a sign that your Yorkie is territorial. For example, if someone your Yorkie has never met before comes to your house, your dog may, at first, exhibit stand-offish behavior with your new guest.
This is just your Yorkie being protective of its home and its owner. Once it becomes trusting of this new person, this aggressive behavior should come to an end.
Since Yorkies are not known for being a dangerous or aggressive dog, any harsh behavior toward a new person or animal should start to fade once they become more trusting of the person.
Once they are able to see that the new person doesn't pose a threat, they should start to relax. Then it won't be long until they are running up to the stranger for some love and affection.
Stopping Aggression In Yorkies
It's never nice when your dog is showing aggression to someone that you know, and it will most likely be something you want to put a stop to straight away. There are two things you can do to stop your Yorkie from showing aggression.
First, you can punish any outbursts of this type of behavior. You may want to punish your dog with the sound of your voice, rather than in a physical way.
Let your Yorkie know you are unhappy with it by speaking to it in a harsh tone. If they have been trained to learn the word stop then you should repeat this.
Punishing a dog physically, by hitting it, or trying to pull it away could completely backfire and it may even snap at you, or potentially even bite.
Of course, even verbal punishment is not generally all that effective. Yorkies respond much better to positive reinforcement than negative. Our article on training a Yorkie has more.
The second way to calm an aggressive Yorkie is to get down to the root cause of why your Yorkie is showing aggression.
If your Yorkie is a rescue dog, then they may have faced past trauma with its previous owner, and this has led to psychological issues.
It could also be that a health condition is causing your Yorkie pain, which is making it aggressive. Can't we all be snappy when we're feeling under the weather?
If you suspect a health condition, you may want to take your Yorkie to the vet so that it can get checked out.
If you suspect that your Yorkie's aggression has come from past trauma or a life-changing event that has caused mental issues or anxieties for your dog, you can seek out a specialist dog behavioralist.
They should be able to help you work out the best course of action for your Yorkie and to relieve it of any stresses from its past traumas.
You can also work on training your Yorkie so that it doesn't show aggression to new people. You can usually do this with repetitive training and lots of treats to reward your pup when it has been good.
Training can become quite repetitive and due to a Yorkie's short attention span, you will need to do it in shorter bursts. However, with plenty of patience, your Yorkie will soon be able to learn that it can't be aggressive with everyone it meets.
Are Yorkies Dangerous: Conclusion
Yorkshire Terriers are one of the most popular dog breeds, in large part due to their loving and loyal nature. They can seem aggressive at times, but they are far from dangerous.
In fact, the biggest danger they pose to us may be something completely unrelated to aggression, It comes from their history. Yorkies were originally bred to catch rats in mines and on farms and they still retain that instinct.
As a result, it's possible for Yorkies to catch a disease from a rat that they kill or eat and then pass that on to us. Of course, this is only a real possibility if your Yorkie spends a lot of time outdoors unsupervised.
In general, Yorkshire terriers do not pose a danger to use humans. The only exception is a small baby, which is why we generally do not recommend Yorkies for families with young infants.