I just can't help myself.
Whenever I see my cute little yorkie, I just want to hold him and cuddle him.
Whenever I see any yorkie, I want to pick it up and hold it tight.
How could you not? But should you?
Obviously you shouldn't just pick up someone else's dog, but how about your own?
Do yorkies like to be held or is it better to fight your instinct to cuddle the cute little furball, and let him be instead?
Keep reading to learn whether yorkies even like to be held and how to pick one up correctly. The truth is, a shocking number of people pick small dogs up incorrectly and cause them pain. That, in turn, makes the dog hate being held.
Do Yorkies Like To Be Held?
Yorkies love to be held. They are an affectionate breed and love being showered with attention and affection. Being held and cuddled is actually one of the things they love the most.
If you find that your Yorkie does not like it when you hold him or her, there is probably something else going on. In many cases, it's simply a matter of them not being held correctly.
Yorkies are delicate little dogs and holding them in the wrong way can easily hurt them. We'll cover exactly how you should pick up and hold your yorkie below, to ensure your pup loves it when you pick it up and hold it close.
Yorkies Love To Be Held Too Much
Yorkies enjoy cuddling, and even just being, at every age. But some studies show that the older they get, the more affectionate and cuddle-friendly they become.
Yorkies can certainly have an attitude at times, but overall, they are naturally-born snugglers. They enjoy spending as much time as possible close to you and other family members.
It is in part because of this love of closeness that Yorkies tend to develop a strong connection with their owners. So much so that they can be quite clingy at times.
This is not because they are timid or scared of the world. It's just that they feel an especially strong bond with you. In fact, it is said that Yorkies are a "one-person dog," meaning they only show this type of strong affection to one individual.
How do Yorkies show affection? They actually have a lot of different ways of dong so. The most common are tail wagging, playing, cuddling, and licking.
Because they tend to form such a strong attachment, many veterinarians actually warn not to hold your yorkie too much. It could lead to your dog being too attached and too reliant on you.
That can cause problems if you ever have to leave your Yorkie home alone. Or even just leave it with other people.
It could develop separation anxiety whenever you are gone. It could also lead to it having low confidence levels.
You want to make sure your dog socializes with other people and with other animals, too. You want an outgoing and somewhat independent dog, not one that is completely reliant on you and that turns into a scared Yorkie every time you leave..
So, the bottom line is that yorkies love to be held, but perhaps too much. You actually don't want to be holding your yorkie as much as it would like you to hold it.
And as mentioned above, if your yorkie does not seem to enjoy it when you hold it, perhaps you are simply picking it up and holding it in the wrong way.
How To Pick Up A Yorkie Correctly
Before we get into the right way to pick up and hold a yorkie, we need to know why doing it incorrectly can be a problem. Let's cover some things you need to know before you pick up your yorkie.
What You Need To Know Before Picking Up Your Yorkie
Knowing the following things about your yorkie will help you understand why it might hurt when you pick it up. It will also help in learning how to pick up a yorkie correctly.
Their Limbs Are Sensitive
Yorkie limbs are a marvel of shape and function, designed to push these doggies forward quickly and agilely. They aren't designed to sustain the yorkie's entire weight when he's hanging in mid-air.
Lifting a pet by the front limbs like a doll is the most common form of unsafe pet handling. And this usually occurs with young children. Adults usually lift the dog by placing their hands under the dog's armpits, as if it were a human kid. Unfortunately, neither method is good.
Picking a yorkie up in either fashion exerts undue stress on your poor dog's joints and can cause pain. The same is true when picking it up by certain other areas, too. These are the areas by which you should not pick up your yorkie.
by the front limbs instead of the chest and pelvis
by the elbows and shoulders
by the front toes
by the spine
Picking up your pup by the limbs or the spine can strain the muscles supporting the front limbs or even tear ligaments. Lifting it by the shoulder or elbow can dislocate them.
In a worst-case scenarios, you can injure the bones or cartilage. This is especially true if your pet struggles and you drop it as a result. The pain and danger of injury is amplified in older dogs, that already have issues with their joints.
They Often Endure Pain Without Letting You Know
One of the most common misconceptions I hear from dog owners is that "if it isn't yelping, it isn't hurting." But that's not always true.
Like people, some dogs are more theatrical than others and will let you know right away if something disturbs them. But other dogs are stoic and will put up with a lot more agony before protesting.
Yelping or snarling in a pet are symptoms of distress. But there are others that are less obvious.
avoidance
struggling
diverting their sight
licking their lips
half-moon eye or revealing the whites of their eyes
yawning
These are all possible indicators that your dog is uncomfortable, and you should halt what you are doing and reevaluate the situation.
Your Yorkie Doesn't Want To Hurt You
There are an estimated 4.5 million dog bites each year in the United States. Half of them occur at home, with a familiar dog. Children ages 5 to 9 are the most vulnerable.
There are numerous reasons a Yorkie might bite. Pain is certainly one of them. Learning to pick up your dog correctly not only protects your dog, but it also protects you or your family members from a possible bite.
Often a dog will bite someone else due to pain you caused earlier. When something like this happens, dog owners will often claim that the bite was unprovoked. And it is not a lie, since they believe this to be true.
But almost always, there was some type of provocation that caused the bite. It's just that it may have happened a while before the bite occurred or it is a habitual occurrence and the dog finally had enough.
And it is always something that could easily be avoided. Honestly, there is no excuse for picking up or carrying a pet incorrectly, which leads us to our final point.
No Scruffing!
Another typical misunderstanding I hear is that picking up a dog by the nape of his neck, or scruffing, is normal. After all, when he was a puppy, that's how his mother carried him.
While that is true, it was only during the puppies' first few weeks of life. This behavior does not persist until they reach adulthood. Scuffing is not comfortable or natural for mature dogs.
Picking Up Your Yorkie Safely
Yorkies are small dogs, so you can actually pick them up with one arm. To do so, slide your arm between the front legs, starting from the head. Don't go all the way between the rear legs. Instead, let your hand go outside the rear legs and cradle your dogs backside, pulling it close to you.
If you prefer two hands, slide one under your pup from the side and between the front legs. Your hand should support your dog's chest. Place your other had or arm under its rear end to offer more support.
If you pick up your dog like this, you won't cause it pain. But there are times when it may already be feeling pain (perhaps it is sick or injured) and you need to pick it up.
In these cases, there is a danger it could bite you due to pain. To prevent this, consider using a muzzle. At the very east, keep your hands and face away from its mouth (and wit it, the teeth).
You could also slide your injured dog onto a board for support, but only if it is not having trouble breathing (for example, if it is snorting like a pig).
Aside from that, all youngsters should be aware of the following key safety precautions:
Before scooping up a dog, always ask permission from the owner.
If a pet displays signs of distress or attempts to flee, let it go and do not attempt to pick it up anymore.
If a pet appears to be injured, do not pick it up. Instead, ask an adult to assist you.
We've mentioned plenty of times that yorkies love t be held, but there are some exceptions. The most common is when you first get your yorkie and it does not yet know and trust you.
To overcome this, you simply need to build a stronger bond with your dog. Luckily, this is an easy thing to do with a social breed like the Yorkshire terrier.
Building A Strong Bond With Your Yorkie
If you find that your pup doesn't want to be held, even though you are picking it up correctly and not causing it pain, it may simply be a lack of trust. You'll want to work on strengthening the bond with your dog. The following tips will help with that.
Pay Attention To Your Yorkie
Yorkies are intelligent and observant animals, and they can tell when you give them your full attention. Don't just poke or pat your buddy on the head while sitting on your couch. Give it your full attention, even if it's only for a few minutes.
When your dog is around you, just give it a bit of attention. I know they want constant attention, but just a little bit here and there can make a big difference. Maybe give it a quick belly massages and some cuddles. It will mean a lot to your pup.
But work in come more time-intensive activities too. Your yorkie waits for you to come home whenever you leave and considers you the highlight of its day. So give it a little of your time and do some of the next activities on the list.
Go On Regular Walks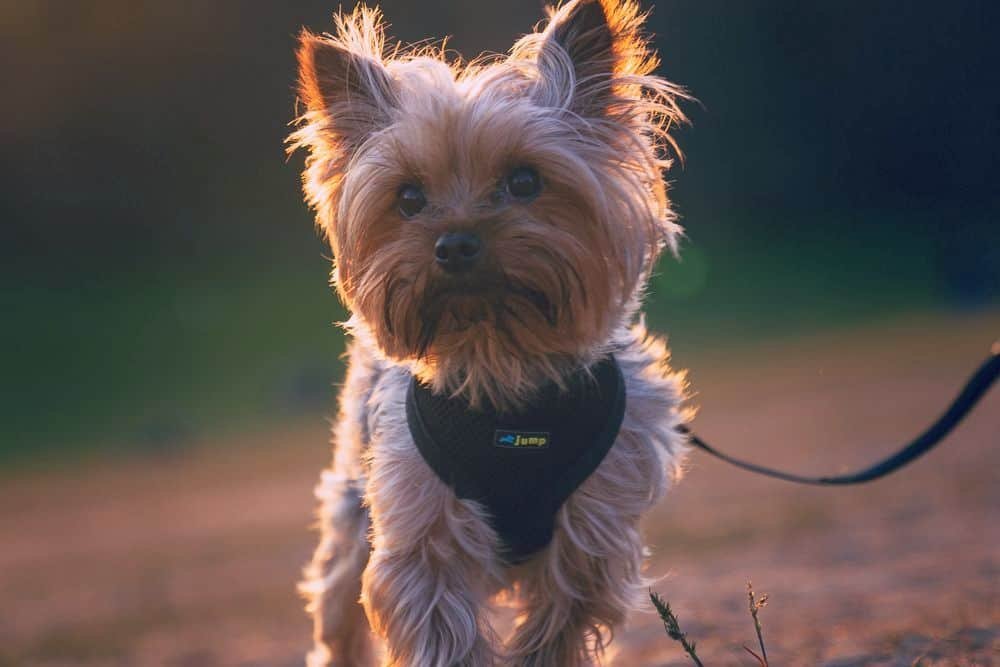 This should be an easy one, since it is something you should be doing anyway. But it's nice to know that these regular walks help nurture the bond you have with your yorkie.
Make Time For Play Dates
You and your yorkie both deserve to have some fun. So try to set aside some time each day for some lightheartedness. Or at least a few times per week.
Do things to together like playing catch, visiting a dog park, running an obstacle course, etc. Any type of fun activity your yorkie enjoys is great.
In addition to strengthening your bond, these activities are also great for your dog's health. They give them more energy and help keep them in shape.
Training Together
This is another thing you need to do anyway. And the earlier you start the better. You need to train your dog to do a number of things. Potty training is perhaps most important, as is teaching them how to socialize wit humans and other dogs.
Whether you take your dog to obedience school (and do it with them, don't just dump them there and leave) or your train it yourself at home, this is a wonderful bonding experience.
Dogs enjoy learning new tricks. But it does take patience and persistence on your part to train them. Remember that using punishment or harsh language might destroy your dog's self-esteem as well as your bond.
You want to remain calm and diligent throughout the training process and use positive reinforcement, not negative. Instead of punishing bad behavior, reward good behavior. Our article on training your yorkie has all the details.
When you train together, your pet learns to trust you more. It is a terrific way for you and your pup to strengthen your bond as you gain a better understanding of each other.
Understand Your Yorkie Better
The better you understand your yorkie, the better a bond you can build. You want to get to know its body language, it's mannerisms, etc. It can't tell you what it needs and how it feels, so it is up to you to learn how to read this.
Understand Your Yorkie's Body Language
Many (perhaps most) owners do not understand what their dog is attempting to communicate. And this leads to a loss of trust.
We have a lot of articles on this site about various ways your dog communicates with you. One of the most important is the tail Always keep an eye on your Yorkie's tail. Observe how fast it wags and how high it stands.
Look at the ears too. In which direction are they pointing? Observe all other areas of the body to see what your dog is trying to tell you. This is different from dog to dog, so you can only learn your dog's "language" by observing and studying.
Yorkies Stare A Lot
Yo may have already noticed that your yorkie stares a lot. It wants to keep an eye on you so that it always knows what you are doing, or are about to do.
Yes, it sounds a bit stalkerish, but that's yorkies. They are seriously afraid of missing out on something fun, so they watch intently to make sure they miss nothing.
Yorkies Are Courageous
Their tiny body hides a strong spirit that is always ready to protect themselves and their loved ones. They are tiny dogs, but they have a confidence level that still surprises me to this day.
It is an admirable trait, but it can get them in trouble, too. When you're out, make sure to watch for larger dogs. Yorkies won't back down, even if the other dog is 3 or 4 times their size. So you'll have to hold them back, or avoid the big dog altogether.
Yorkies Are Your Tiny Guards
Yorkies aren't intimidating in size, but when they sense something wrong, they're ready. They are always aware of their surroundings, and when they sense something is off, they will make noises to signal to you. If need be, they will protect you, too. Against just about anything.
Yorkies Are Attention Seekers
Yorkies have many good traits, but this is not really one of them. At least not in my opinion. They are definitely big are attention seekers. If they feel they are not getting the attention they want, they will make sure you take notice. This can get annoying, but it's just one of their quirky traits.
Yorkies Like Being Held: Conclusion
In general, Yorkies love being held. They love being the center of attention and they don't like to be left alone, so it only makes sense they would enjoy it. But it is not always the case.
If your yorkie does not like to be held, that may just be its personality. But more likely, there is something else going one. Most commonly, it is simply a matter of you not picking it up correctly and causing it discomfort or pain. It could also be that you have not yet built a strong enough bond with your dog.
Hopefully this article helps you fix either of those issues. Follow our instructions for picking your pup up correctly and you should have no more issues there. If yo need to build a stronger bond with your dog, our tips above will help with that as well.