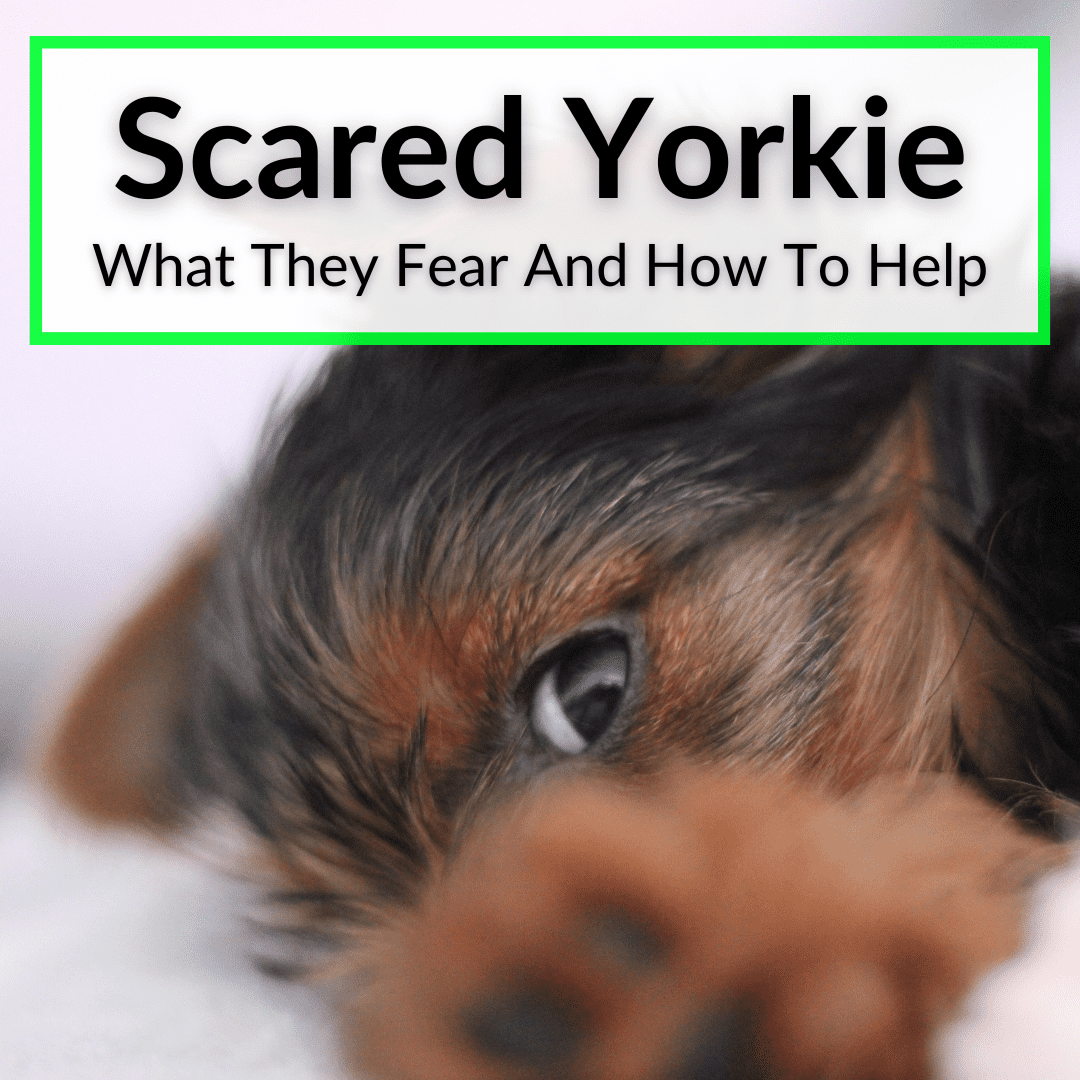 Yorkies are famously brave.
Despite their small size, they often seem to feel no fear and will take on threats far larger than themselves.
But Yorkies do feel fear.
Many are afraid of very specific things and situations.
And that makes sense, given how small they are.
The world is full of much larger and quite intimidating things.
Including us humans. Not surprisingly, certain humans are one common fear Yorkshire terriers have.
Keep reading for a list of other common things Yorkies are afraid of.
We'll also cover the signs to look for to determine if your Yorkie is afraid of each thing, plus what you can do to help your pup overcome its fear.
What Are Yorkies Scared Of?
It is very common for Yorkies to be afraid of loud noises, like thunderstorms and fireworks. But they can also become fearful of children, other people, riding cars, going downstairs, or esoteric things.
Let's find out exactly what Yorkshire terriers typically find terrifying, how to tell when your pup is frightened, and how to calm it down.
Being Left Alone
A lot of dogs suffer when being left alone. This is commonly known as separation anxiety. It is one of the biggest and most common fears for Yorkies, because they easily become very attached to their owners.
Causes
The exact cause of separation anxiety is difficult to pinpoint. It could be due to a medical condition, environmental changes such as a move to a new place, the death of the owner, changes in the dog's schedule, the arrival of a baby, etc.
Signs
Exhibiting distress or panic as soon as you're about the leave
Vocalizing, i.e whining, barking, crying
Destroying things or acting out or strangely in other ways
Indoor urination/defecation
What To Do
Systematic desensitization: gradually expose your Yorkie to being left alone. Start with 5 minutes and gradually increase the duration of leaving your pup alone.
Start doing the same things you do before you leave (grabbing your car keys, wearing outside clothes/shoes, etc.) randomly throughout the day. The idea is to get your Yorkie to not associate these actions with signs that you're about to leave.
Do not make a big deal of leaving and coming back.
For extreme cases of separation anxiety, talk to your vet. You could consider mild anxiety-reducing medication along with behavior modification training for your Yorkie. An experienced canine behaviorist could help you.
Children
Many Yorkies are terrified of kids. Come to think of it, so are many humans.
Causes
The main cause of the fear of kids in Yorkies is a lack of socialization from their puppyhood. However, a negative experience in the past (a child pulling the dog's tail or sitting on it or hitting it) might also trigger such fear.
Signs
Signs your Yorkie is scared of kids include tucking in the tail, keeping the ears plastered against its head, yawning frequently, growling, snarling, licking its lips repeatedly, or displaying other signs of aggression.
What To Do
The main thing to do is follow precautions. Never let a Yorkie that is scared of kids come in contact with them.
It is also important to socialize your dog with kids from the very beginning. Try your best to expose your Yorkie to kids of all ages, starting from puppyhood.
Teach your kids to respect your Yorkie – behaviors like pulling the dog's fur, hitting, taking the dog's toys or food, or disturbing it when it is sleeping should be strictly discouraged.
Train your Yorkie in basic obedience. This can help you call your pet back if it shows signs of aggression towards a child.
Provide your dog with a safe space to rest – a good crate works best.
Fireworks Or Thunder
Do you find your Yorkie cowering or shaking on the Fourth of July, New Year's Eve, or during a thunderstorm? Then it is a sign that it is scared of loud noises.
Causes
Most Yorkies hate loud and unpredictable things and fireworks and thunder are exactly that. The loud bangs and pops sound very threatening to your little dog. Depending on where you live, the loud noises could even make your Yorkie feel trapped.
Signs
Some dogs tend to run away during fireworks or thunderstorms. In fact, reports by the ASPCA indicate that almost 1 out of 5 pets go missing during the Fourth of July fireworks.
Other signs of the fear of loud noises in Yorkies include shaking, hiding, cowering in fear, lack of appetite, refusing to go on walks, indoor urination/defecation, etc. If your Yorkie is shaking and won't eat, loud noises are one of the possible causes.
What To Do
Keep your Yorkie indoors. Close all windows and doors to muffle the loud sounds. If your dog is crate trained, place it in its crate and place the crate in the bathroom or another room farther away from the loud noises.
Stay by your pet's side – your presence can be very comforting to your pup.
Use white noise such as calming music to make your pet feel more relaxed.
Provide CBD based chews (or oil, treats or supplements). These are known to help dogs that are anxious or afraid relax. Discuss with your vet prior to feeding such treats.
Desensitize your dog to the loud sounds in question. You could use desensitizing CDs specially created to remove a dog's fear of fireworks or thunder and lightning. Play the CD in another room and then slowly bring it nearer and nearer to where your Yorkie is resting. Do this gradually until your pet can remain calm even if the CD is played right next to it. Treat and praise your dog while the CD is being played so that your Yorkie starts associating the loud sounds with yummy treats.
As a precaution, make sure your Yorkie is microchipped and also wearing ID tags.
Other Dogs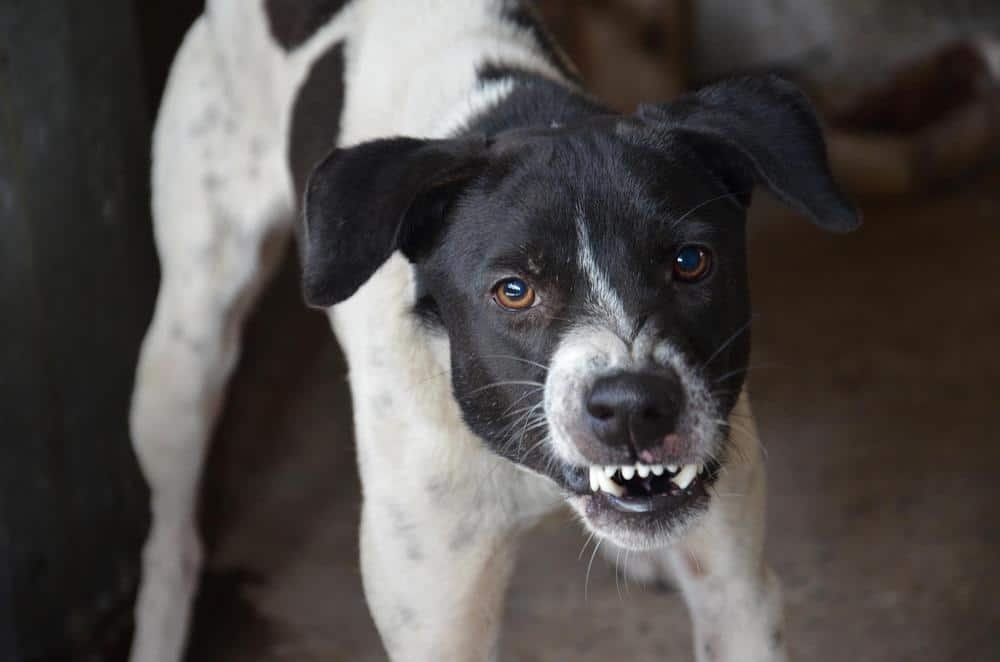 Some Yorkies are also afraid of other dogs. They might be afraid of all dogs in general, or only of dogs that bark or that jump on them.
Causes
Yorkies that are naturally submissive or shy tend to be afraid of other canines. Sometimes, the simplest explanation behind the fear of other dogs is a lack of socialization with other dogs from puppyhood. A Yorkie that has had a negative experience with a dog in the past might also show such fear.
Signs
A scared Yorkie might shake, lick its lips, start cowering at the sight of dogs, yawn exaggeratedly, attempt to hide when it spots a dog on its walks, growl, lunge at, or show aggression towards other dogs. It might refuse to play or interact with other dogs.
What To Do
Gradual desensitization is the best way forward in this case. Slowly introduce your dog to other dogs. This will help boost its confidence and it will grow accustomed to being introduced to and meeting other dogs.
When walking your Yorkie at the dog park, treat it whenever a dog approaches. This will help your pet associate other dogs with something positive.
Take your dog to places like obedience school, doggy daycare, dog boarding, etc. This will help it have positive interactions with other dogs.
Never force your Yorkie to interact with other dogs. This may only worsen the problem.
Trips To The Vet
Vet visits can be extremely stressful to your Yorkie and might even induce a permanent fear in your pet.
Causes
In addition to the painful shots, dental procedures, anal gland expressions, and pokes and prods, your little guy (or girl) also has to deal with the strange smells and noises in the clinic.
Signs
Nose licking, panting, flattened ears, cowering, crying or whining, trembling, and urination, are just a few of the signs that indicate a dog's anxiety or fear.
What To Do
At-home veterinary service could ease some of the panic your Yorkie feels at the vet.
If your Yorkie associates car rides with vet trips, you may want to take it on car rides to fun places such as the park or a beach.
Ask your vet if you could make nonmedical visits to their clinic. This could help desensitize your dog. Bring plenty of treats.
Car Rides
Car rides are a common dog phobia and can be dangerous for the dog as well as the driver.
Causes
A Yorkie that gets motion sickness could develop a phobia of riding in cars. A past traumatic event such as a crash or falling down in the car or even trips to the vet can result in a car phobia in dogs.
In general, car rides can be scary for small dogs due to the vibrations, strange smells, and the general odd feelings associated with them.
Signs
The main sign is a refusal to get into the car. Your Yorkie might also whimper, shake, urinate, lick its lips, or cry.
What To Do
Use vet-prescribed or OTC medicines to reduce your dog's motion sickness.
Make the process of getting into the car fun – you can do this by offering treats.
Spend some calming, bonding time with your Yorkie by simply sitting in the car with it. Continue talking to it in a soothing voice. Praise and treat your pup. Once your Yorkie is calmer, you can gradually start the engine and go on very short trips.
Slowly increase the duration of the trips.
Take your pet on fun rides to the dog park, beach, mall, etc.
Going Up Or Down Stairs
This fear is normally seen in younger Yorkies or Yorkie puppies. Those stairs are pretty big obstacles to such small dogs!
Causes
A lack of early exposure to stairs is one of the main causes of fear of stairs. However, in some cases, it could also be due to a physical ailment or injury, or some other medical issue.
A Yorkie that has had a negative experience, such as falling down the stairs, might also be left with a permanent fear of going up or down the stairs.
Signs
The main sign is a refusal to get anywhere near the stairs.
What To Do
Make sure the stairs are safe for your pet. Remove all obstructions that could cause your small dog to trip.
Start small – instead of the entire staircase, have your pet climb up or down one or two steps.
Use treats to lure your Yorkie up or down the stairs.
Be patient with your dog and only use positive reinforcement during these training sessions.
Men
Believe it or not, some Yorkies are afraid of men. They will be fine around women, and maybe even children, but become fearful and aggressive around men they do not know (and sometimes even men they do know).
Causes
Usually, this fear stems from being abused by men. Dogs that have had traumatic experiences with men in the past learn that some men may hurt them.
This fear is commonly found in dogs that were raised in a very unhealthy environment. But it can also be the result of a lack of socialization.
Yorkies that have not spent time around men may be afraid of their deeper voices, larger builds, and facial hair.
Signs
Signs your Yorkie is afraid of men include tucking in the tail, keeping the ears plastered against its head, yawning frequently, growling, snarling, licking its lips repeatedly, or displaying other signs of Yorkie aggression.
What To Do
To help your pup overcome a fear of men, you want to slowly desensitize it to men in a non-threatening manner. Keep in mind that a fearful Yorkie may growl, snap, or bite you due to its fear.
Carefully expose your Yorkshire terrier to men from a distance. And make sure the men know not to make eye contact with your dog, since this is a sign of aggression.
Calming Yorkie Fear And Anxiety
Fear in dogs can stem from the strangest set of stimuli. It can be everything from the sound of bubblegum to thunder.
There are usually many components within a particular stimuli. You need to figure out which part of it is causing your dog fear. Usually this is obvious.
For instance, a Yorkie that appears to be afraid of garbage trucks is probably frightened by the crushing sound or the sound the motor makes, not the truck itself.
Once you know exactly what causes your pup to be afraid, you can work on calming that fear. The best way to do that is usually desensitization.
This involves exposing your Yorkie to the object of its fear, but doing so very slowly and carefully. If your pup shows signs of fear, stop immediately.
Keep exposing your dog little by little and reward it with treats, to show that the object of its fear is not actually something it needs to be scared of. With time, it will become used to the thing it feared and will no loner fear it, or at least fear it less.
Scared Yorkie: Conclusion
Yorkies are brave, but they can feel fear too. Many Yorkies are afraid of very specific things or situations like loud noises, or children, or being left alone.
A fearful Yorkie depends on us to make it feel secure. We try to keep scary things away from our dogs as much as possible, to make them more comfortable.
But sometimes, keeping the source of fear away is not possible. That is when we want to take steps to desensitize our Yorkies.
This can take time, but with patience and persistence, and a lot of positive reinforcement, you can teach your Yorkie that the source of its fear is not something scary.