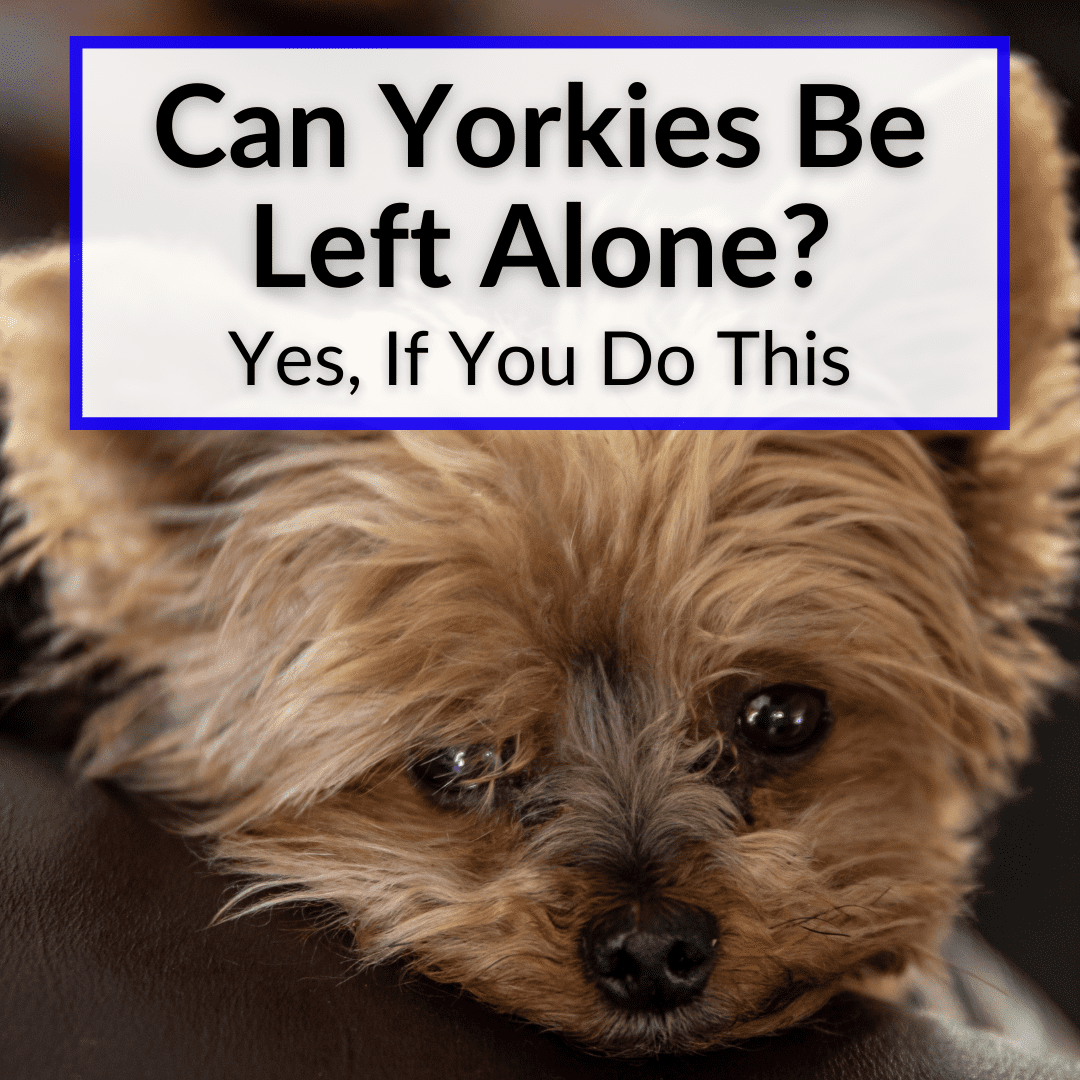 You never want to leave your dog home alone.
You know how much they suffer when they are all by themselves.
But sometimes, you simply have no choice.
The good news is that you can train Yorkies to learn how to deal with being alone.
But even then, there is a limit on how long a Yorkie can be left alone. And it is probably shorter than you think.
Keep reading to learn how long Yorkies can be left alone and what you need to do to help your pup deal with being alone.
We'll also give you some alternatives for when you need to be away for longer periods, for example for work.
Can Yorkies Be Left Alone?
Yes, you can leave a Yorkie alone. But not for extended periods. If they are left alone too long, they begin to suffer from anxiety and stress.
You can leave an adult Yorkie over 18 months old alone for 4 to 6 hours a day. Puppies under 18 months of age should not be alone longer than 2 to 3 hours per day.
But you can't just bring home a new Yorkie and just leave it home alone. You need to get it used to being alone gradually.
We'll cover how to do that in just a bit. First, let's take a closer look at what it's like to leave a Yorkie home alone and how long you can leave them alone safely.
Yorkies Being Alone
Like most dog breeds, Yorkies don't enjoy being left alone. In fact, it is harder on them than on many other species, because this has a very social personality and loves being around people.
Of course, all Yorkies are different. Most Yorkshire Terriers are fine being left alone at home for a few hours, but some suffer from severe stress and anxiety.
With proper training, most Yorkies can learn how to control their anxiety when their humans are not home for a while. But those with severe anxiety may not be able to learn this.
The general term for the anxiety experienced by your pet when it is alone is separation anxiety.
But what this term actually refers to is a state of extreme anxiety or panic. When a Yorkie is in this state, there is a high possibility it could hurt itself.
Most dogs do not have this issue. Separation anxiety is not common. When it does happen, it should be addressed by a professional dog behaviorist right away.
Most Yorkies simply dislike being left alone. It is an issue with isolation. If your pup can't stand to be away from you at all, then you might be facing separation anxiety.
But even Yorkies that can be alone for a good amount of time have their limits. You should never leave these dogs home alone for too long. How long is too long? Let's find out.
How Long Can Yorkies Be Left Alone?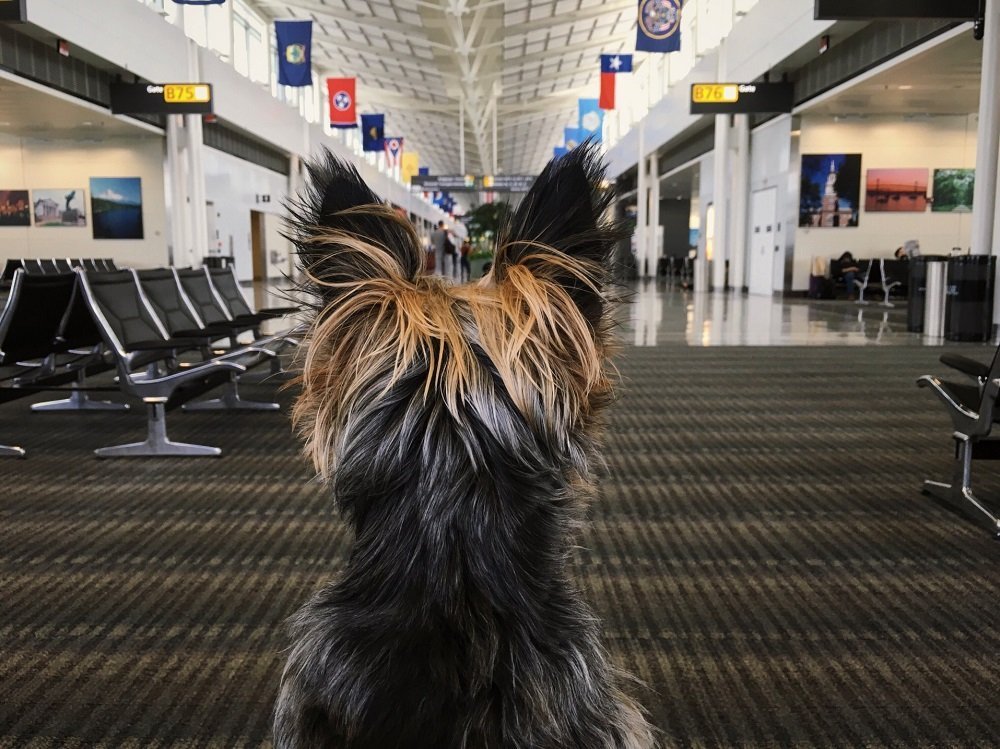 How long a Yorkie can stay home alone, depends on a few different factors, including its character, its training, and its ability to entertain itself. Age also plays a big role.
Younger dogs need much more attention than older ones. For that reason, puppies under 18 months of age should not be left alone for more than three hours a day.
Adult Yorkies over 18 months old can be alone for longer periods. But be sure to limit it to no more than 4 to 6. Dogs this age are a bit better at keeping themselves entertained and will likely play with their toys and sleep while waiting for your return.
Any yorkie will be confused, scared, and even feel lost when you leave it alone for the first time. And, of course, there is also the biological need to go outside and relieve itself.
If you are going to leave your dog home alone for hours at a time, you should begin getting it used to this in advance.
Teaching A Yorkie To Be Home Alone
It is always bet not to leave your Yorkie alone at home, but sometimes you simply have no other option.  That's why it is important to make sure your pet learns how to handle being alone, in preparation for the times when you really need to leave it home alone.
Ideally, your dog should learn this skill at a young age. But if you missed the boat, older dogs can learn to tolerate the boredom and stress of being alone, too.
To begin the training, leave your dog alone in a playpen, a particular room, or any confined area for 30 to 1 hour every day.
Don't make a big thing out of it with your dog. Simply close the door to the confined area and leave it at that. Then return after the set period of time.
Start with shorter periods and gradually extend the alone time. Your Yorkie will eventually learn how to patiently wait for you, when no other pet or person is home.
But it is important to make sure the experience is pleasant. That means providing your pet everything it needs, like water, food, and some form of entertainment.
Keep A Yorkie Home Alone Entertained
The best toys you can provide your Yorkie to keep it occupied are chew toys and puzzle toys.
Chew Toys
Chew toys are always a good option for any dog. They love to chew and a good chew toy can keep them entertained for hours. Our article on recommended chew bones is a great place to start.
Puzzle Toys
Yorkies are naturally intelligent, so giving them puzzle toys to challenge their minds is an excellent way to keep them occupied while alone.
Among the best toys to provide them with are interactive puzzle toys that can stimulate their minds. These toys involve your pet having to solve a simple puzzle to get at a treat inside.
This is great motivation to keep them interested in the game. Read our post covering recommended puzzle toys for some great suggestions.
Dog Enrichment Box
You only need a larger cardboard box, empty toilet paper rolls, smaller boxes, and newspaper to make an enrichment box for your Yorkie.
Place treats inside the toilet rolls and wrap them in a newspaper. You can place them inside smaller boxes to keep your pup interested in the game.
In addition to the treats, you can also put a fun toy in there. That way your pet has something to play with when it is finished finding and unwrapping all the treats.
Provide Ambient Noise
An ambient noise generator helps to keep your Yorkie calm and relaxed while it is alone. It also drowns out other noises from outside that can get your pet scared or excited, like car horns, thunder, or even noisy neighbors.
This one is a good choice.
You can also just get mp3s with ambient noise files. There are even ones created specifically for dogs, like these Zen Dog sounds.
Another alternative is to leave your TV on when leaving your dog alone. Some Yorkies really love watching television.
Interactive Dog Camera
These are wonderful, but they are not cheap. The best one is the Furbo dog camera. It works with Alexa and connects to your phone so you can watch and interact with your Yorkie from anywhere.
You can talk to your dog to calm it down, if it gets anxious being alone. The Furbo even lets you dispense a treat for your pup from a remote location.
Leaving Your Yorkie For 8 Hours Or More (e.g. While At Work)
There are instances when you don't have a choice but to leave your dog at home alone for longer period of time. The most common reason for this is work.
Leaving Yorkies home alone while you have to work is not usually a good idea. It is simply too long of a time. Most people are gone for a minimum of 8 hours per day for work, but with the commute, etc. it is usually longer.
Being alone for this long can lead to your pet developing stress, behavioral problems, anxiety, or even depression.
Depression can be especially problematic. You want to recognize this issue early one. Here are the signs to look for that could indicate your pet is suffering from depression.
Loss of appetite: you notice your pet starts consuming less food or doesn't eat at all
Weight loss: you notice your dog has lost weight; because yorkies are naturally small, it can be difficult to notice a slight change in weight
Change in sleeping habits: you notice that your pet sleeps almost all the time, even when you are home (it is normal for Yorkies to sleep a lot when you leave them alone)
 Loss of interest: you notice your pet is no longer interested in going for a walk or playing
These signs might not necessarily indicate depression, but there is a chance that is the problem. If you notice any of these possible indicators, I highly recommend contacting a veterinarian.
But even if your dog does not suffer from depression, leaving it home alone the entire day while you go off to work is not a good idea. Here are some alternatives.
What To Do With A Yorkie While At Work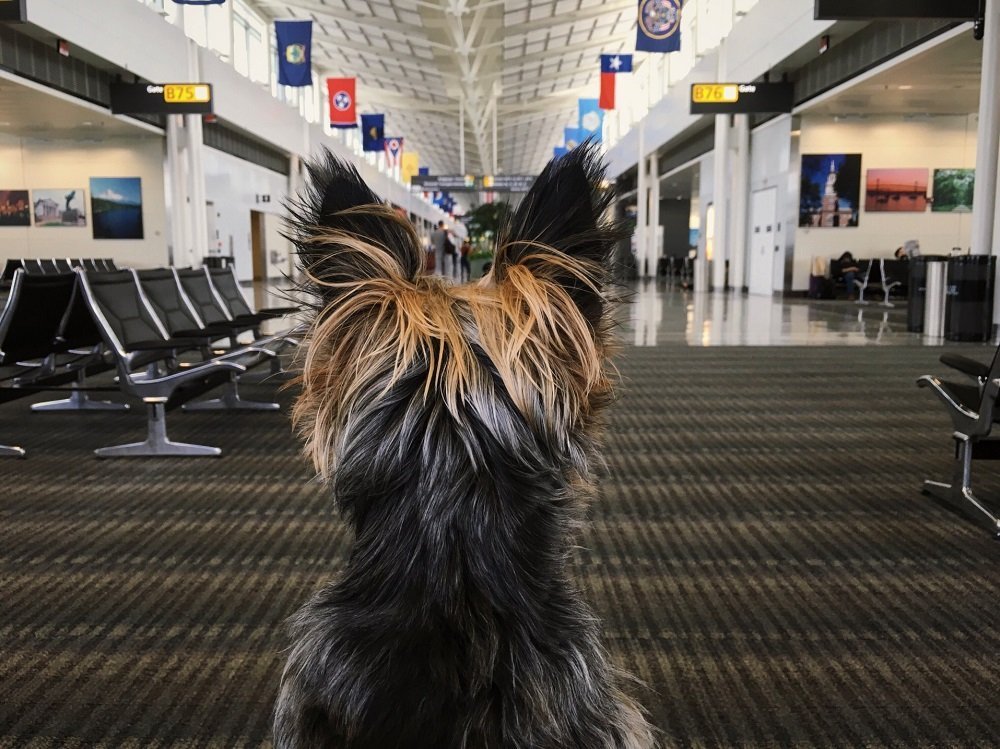 Leaving your Yorkie alone all day can cause it a lot of problems. And honestly, it is just cruel. Here are some other options to consider, if you have to leave your dog while you work.
Doggy Daycare
If your dog destroys everything in your home when you leave it for long hours, you should take it to a dog daycare. The same is true for dogs that bark all day. Both of these behaviors are signs that your dog is suffering when alone.
Leave Your Yorkie With Family Or Friends
If you have friends or family available to take care of your dog while away, that is a great option. It is cheaper than daycare and not as cruel as leaving your dog alone.
Hire A Dog Sitter
Hiring a pet minder is another excellent option to keep your dog company while you are at work. Some pet sitters will stay in your home with the dog, while others will take your dog to their own home.
Bring Your Yorkie To Work
This is not an option for most people, but some fortunate dog owners work for companies that allow employees to bring their pets to work. If you are have pet-friendly workplace and you don't mind your dog being around while you work, why not bring it with you?
Combination Of Options
If your work situation fluctuates and you only need to leave your Yorkie home alone occasionally, it might be most convenient to use different options on different days.
You can leave your dog with a family member on some days and get a pet sitter on others. Whenever you have a period of a few days that need to be covered, you can leave your dog at a daycare.
Sometimes, getting a second dog, or other pet like a cat, can help your Yorkie feel less alone. Learn if a Yorkie can have a kitten in this article.
If you want to get a second go, another Yorkie is the obvious choice. But you can also get a different breed. This article lists the best dog companions for a Yorkie.
What Can I Do For My Yorkie After Returning?
When you return after long hours at work, make time for your Yorkie. But you do want to make sure you don't shower it with too much affection. These tips will help you out.
Don't give it treats when you come back
Take it for a walk so it can stretch its legs
Play fetch (or other physical activity) to help expend pent up energy
Plan a relaxing visit to a dog spa after an especially long period alone
Leaving Yorkies Alone: Final Thoughts
In summary, Yorkies are not great at being left alone, especially for long hours. But training helps teach them how to tolerate being alone and stay calm when no one is around.
The first time you leave your dog alone, you can expect it to struggle. But it will gradually learn to cope with the situation. Follow the suggestions provided above to keep your dog relaxed, stress-free, and happy.