Before we begin, I have an important question.
Is your dog housebroken?
If not, then you stop your Yorkie from peeing in the house by potty training it.
We'll help with this below.
If your Yorkie has already learned to pee outside, then peeing inside indicates a problem. Something is wrong.
We'll help you figure out what might be wrong and what you can do about it.
And right off the bat: getting angry is never the answer.
Keep reading to learn how to stop a Yorkie from peeing in the house the right way, whatever the reason for the accident.
How To Stop A Yorkie From Peeing In The House
Peeing in the house (aka inappropriate urination) is a common issue with Yorkies and other dogs. If your dog is still a puppy, it probably just hasn't been housebroken completely yet. We'll help you with this below.
If you have an adult Yorkie that has been house trained, but has recently started suffering from inappropriate urination, you should probably get it checked out by a vet. Most likely there is some health issue at play.
Stress and anxiety can also cause your dog to pee in the house. Older dogs that have not been potty trained can benefit from the same house training as a puppy. It might be a bit harder to potty train an older Yorkie, but it is still doable. Follow the steps below.
You also need to make sure you give your Yorkie enough opportunities to go outside and empty its bladder. How long can a Yorkie hold its bladder? Generally between 6 and 8 hours, so you want to give your dog the chance to pee 3 to 5 times per day.
If your Yorkie has already been potty trained, but it is suffering from inappropriate urination, the first thing you should do is figure out the cause.
Identify The Trigger
You need to identify the trigger that is making your dog pee. It is common for dogs to urinate when they have anxiety. If that is the case, you need to eliminate the cause of your pup's anxiety.
For instance, avoid going for walks at times when it is crowded and noisy outside. If there is construction noise (or something else loud and annoying) that you can hear inside the home, play some white noise inside the house to calm your dog's nerves.
Other possible causes are ones we already named above: an illness, or having to wait too long between bathroom breaks.
Don't Hit Or Yell
Never shout or yell at your Yorkie, if it urinates inside the house. Punishment never works well and will likely backfire. Instead of learning the proper way to urinate, your Yorkie may simply learn that people are unpredictable and unsafe to be around.
This can also lead to behavioral issues with your dog, especially if it is a puppy that is still learning new things.
Clean Up Properly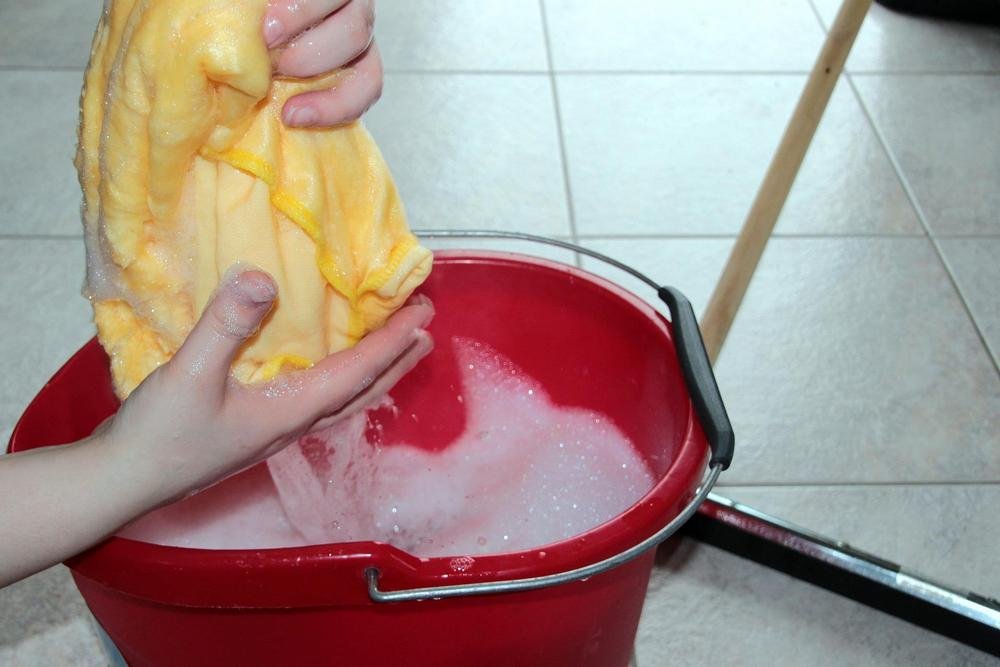 When an accident happens, make sure to properly clean up the location where your dog urinated. Use an enzymatic cleaner to eliminate the smell of the urine. Otherwise, the smell may tell your Yorkie that this spot is its bathroom.
If your dog already knows to pee outside, but has just begun having accidents indoors, these three steps should take care of the problem. The key is the first one: identify the cause of the accident and eliminate it. This may mean making a visit to the vet.
If your dog has not yet been potty trained, you will need to teach it that it is not acceptable to pee in the house.
Teaching Your Yorkie To Stop Peeing In The House
Yorkshire terriers are always full of energy, which can make them slightly more challenging to potty train than other dogs. The tiny size also means they have smaller bladders than other dogs and can only hold so much water before they need to pee.
While house training a Yorkie can be challenging, it is not impossible. In fact, they are highly intelligent and actually learn quite fast. The key is overcoming their natural stubbornness and short attention span.
To do that you just need to keep training sessions short and ideally, train your dog in a distraction-free environment. Here are some steps to follow to effectively teach your Yorkshire terrier to stop peeing in the house.
Step 1: Pick A Spot
Simply put, picking a pee spot for your puppy means giving your Yorkie dog its personal space to empty its bladder. The designated bathroom area should be easy to use for the pet.
Picking a bathroom area for your Yorkie should not be hard. After all, you likely had a spot in mind even before getting the puppy
Being consistent is paramount, so make sure you pick the right spot from the start. You will likely struggle a lot to potty train your pup, if you change your mind midway through training and decide to pick a new pee spot.
Choose a spot that is convenient for your pup and you. Indoors is easiest, but outdoors can work too. Choose a spot that is easily accessible in all kinds of weather, including snow and rain, and that does not see a lot of foot traffic to make it comfortable for your Yorkie.
Convenience is key, because you will need to bring your Yorkie to the bathroom spot every time during the housetraining process. It is best to avoid letting your dog use the bathroom on its own.
Letting your Yorkie puppy run free when it has to pee is counteractive to the learning process. Moreover, it can be dangerous if the peeing spot is outdoors.
If the spot is indoors, put down a puppy pad like these.
They make cleanup far easier and train your dog to go on the pads. That makes it easy to just move the pads outside later, to show your dog it should be going outside.
Step 2: Set Up A Confinement Area
Constant supervision is critical for quick and successful housebreaking. It isn't easy and presents various challenges, but the result is worth all the effort.
To make house training more manageable, set up a confinement area for your Yorkie, to keep it close to the peeing spot. Ideally, you should choose a site within the house or at least close to it, if outdoors.
It's likely that you've recently brought home a Yorkie, so make sure to make your dog feels comfortable during the house training process. A new puppy can start feeling lonely quicker than you can imagine.
Setting up a confinement area can make the process much easier for your puppy and you. It would be best to set up a comfortable bed for your dog near the bathroom. Provide a cozy base for resting, toys to encourage teething, and sufficient food and water.
Step 3: Be Alert
Lack of supervision is one of the primary reasons for pee accidents. It is easy to begin thinking everything is going wonderful after a few successes, but then a house training failure happens.
Simply glancing over at the puppy now and then is not enough. Instead, you should always be at hand, ready to take your Yorkie to the pee spot at the first sign of it needing to go.
Knowing when your puppy needs to pee is an important step towards successful house training. Often, Yorkie puppies empty their bladders after playing, exercising, and eating. Dogs also like to pee right after waking up or before bedtime.
It is best to take your puppy to the designated bathroom spot within ten to fifteen minutes of these events. Also, make note of when your Yorkie has an accident, so you can be quicker to take it to the bathroom in the future.
Step 4: Tons Of Praise
Giving praise is one of the top dog training strategies to get a dog to do something you want. Learning new things isn't easy for a dog, and appreciation can keep it motivated.
You should show your appreciation every time your pup pees in the designated spot. Effusive praise and excitement when your puppy uses the bathroom functions as positive reinforcement and encourages a repeat of the good behavior.
You can further let your Yorkie know it made you happy by scratching its ears and rubbing its back. Such acts of affection show your dog you are happy with what it did.
You can also reward your Yorkie with a treat after it pees in the correct place. Of course, giving a treat every single time your dog pees is not a good idea. It may start to pee constantly in order to get more treats. Before you know it, you have a chubby little Yorkie on your hands.
Additional Steps
Once your Yorkie has learned to go in its designated spot, the hard work is done. From there, you just need to teach your pup to hold it until it gets a chance to go outside to do its business. Our article on potty training your Yorkie will help you with the entire process.
Stop Yorkie From Peeing Indoors: Conclusion
How you stop your Yorkie from peeing in the house depends on its situation. If it is a young puppy that has not yet learned that it is wrong to pee indoors, you need to potty train it.
Patience is the key, in that case. It can take time to potty train a Yorkie puppy and it is easy to get frustrated, especially when things are going well and suddenly there is a setback. Just stick with it. Your dog will learn eventually.
If your dog has already been potty trained, but has begun having accidents, you need to figure out what is causing them. If you can't, a trip to the vet might be in order.