Yorkies have a reputation for being tricky to potty train.
In fact, their reputation is that they are hard to train in general.
And there is some truth to that.
They are stubborn and have short attention spans. They also have small bladders, meaning they need more potty breaks throughout the day.
But they are also highly intelligent and can learn very quickly. If they want to.
If you know how to deal with their stubborness and short attention spans, they can be easier to train than many other breeds.
So, how long can you expect it to take before your Yorkie is completely potty trained?
Keep reading for the answer, along with some housebreaking tips to ensure you can minimize the amount of time it takes.
How Long Does It Take To Potty Train A Yorkie?
It typically takes 2 to 3 months to completely potty train a Yorkie puppy. How long exactly depends on several factors, like your expertise in dog training, your pet's age and size, and also how consistent you are in following a strict potty-training schedule.
As you might expect, if you are an experienced dog owner who has raised several dogs, it might take you a shorter time to get a puppy to stop peeing in the house than it would take a brand-new dog owner.
Most Yorkshire puppies get fully housebroken within 4 to 8 weeks. Yorkies are smart and they learn quickly. Of course, there are a lot of variables here that could extend or shorten the duration for your Yorkie to go accident-free.
We'll go over those in a minute. First, it is important to know when your should begin potty training your Yorkie puppy.
When To Start Yorkie Potty Training
The perfect time to start potty training is when you bring home your Yorkshire Terrier. Yorkies that come from the pet store should be potty trained as soon as possible. And be prepared to train them from a long haul.
Dogs from pet stores mostly live in cages and have the habit of defecating there. Training them will be a little difficult, because you first have to break that habit. But you will get there.
If you got your Yorkie from a breeder, your task will be easier. A good breeder usually potty trains their puppies once they are over 7 to 8 weeks old, and they may begin the process even earlier.
Chances are, your new puppy will have already undergone some potty training. But not all breeders do this (most reputable ones do), so make sure to ask them about this before adopting a dog from them.
Getting a dog that has already undergone some housebreaking training will definitely speed up the process a bit. There are also a number of other factors that affect how long it takes to potty train a Yorkshire terrier.
Factors Affecting How Long It Takes To Housebreak A Yorkie
Let's take a look at the factors that have the greatest effect on how long it might take to potty train your Yorkie. Some of these factors you ca control, meaning you could speed up the process a bit. Other factors are outside your control.
Your Expertise
Things are always easier the second (or the third time around). If you have raised any dog (not just a Yorkie) in the past, then it will definitely be a lot easier and faster for you to train your Yorkie.
Of course, every dog is different and you will always have different experiences with each one. But just having that experience in the past with any type of dog teaches you invaluable lessons that ensure you will do a better job the next time.
Your Patience And Consistency
The key to potty training a Yorkie lies in patience and consistency. The better you are in strictly and patiently adhering to a potty-training schedule, the faster the results.
How You Establish A Routine
All dogs thrive on routine. Without it, you can not train them effectively. You have to set fixed times for meals, playing, training, and naps. Your Yorkie's potty-training schedule will revolve around all of these.
How Much Time You Can Dedicate To Potty Training
It helps if you can work from home for this duration, or have someone come over to take your Yorkie outside for potty while you are at work.
How Your Family Helps
Potty training a Yorkie is a joint effort. If you have other family members on board to share the potty-training responsibility, it is very important that you all follow the same commands and methods of training.
Too many cooks can spoil the broth and if everyone teaches your puppy different things, it will only end up confused. This can delay potty training.
Age And Size Of Yorkie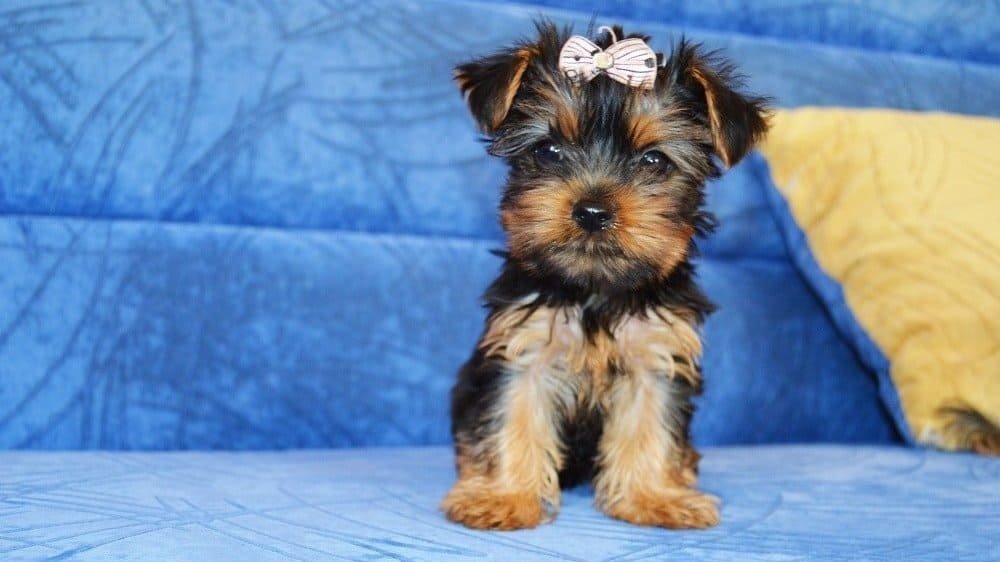 A young Yorkie puppy has a smaller bladder. Similarly, teacup Yorkies have much smaller bladders than standard Yorkies. The puppy's bladder size will dictate how often it needs to go. Smaller and younger Yorkies will need more frequent potty breaks.
When you first bring your Yorkie puppy home from the breeder around the age of 8 weeks, chances are that the breeder has done some basic groundwork.
Good breeders usually teach their puppies to go on paper or potty pads, and they might instruct you to follow the same steps so your puppy does not get confused.
In any case, you must take your Yorkie to the designated potty area multiple times a day to empty its bladder. By the time your pet is around 8 to 12 months old, it will have better bladder muscle control, so it can hold it in a lot longer.
This is also the reason why adopting an older Yorkie can have its perks. Most rescue dogs are potty trained so you might not have to spend too much time training them. If not, you'll want to learn how to potty train an older Yorkie.
Health Of Your Dog
If, despite your best efforts, your puppy continues having accidents indoors, chances are that it could have a urinary tract infection. Please have your pet examined by a vet.
UTIs are only one possible reason your Yorkie might have to pee a lot more than usual. Read that article for other common reasons for frequent urination.
How Often Yorkies Need Potty Breaks
If you want your pup to learn to go outside, you need to make sure you give it plenty of opportunities. Don't make it hold its bladder until it becomes painful. How often you need to take your puppy out to go potty depends on its age.
8 Weeks To 6 Months
During this period, your puppy has a very small bladder which needs emptying frequently. You might want to take it out every 3 to 4 hours, or at least 4 to 6 times a day. It helps if you can take your pet out before crating it (if you are crate training your Yorkie), first thing upon waking up, and after each meal.
6 Months To A Year
You can reduce the frequency of potty walks slightly at this point. Most Yorkies still need around 3 to 4 potty breaks at this age.
After 12 months
You should take your adult Yorkie out to potty 2 to 3 times a day. Most adult Yorkies require around 3 potty breaks per day and 3 is always better than 2. Why make your pet suffer?
How Long To Potty Train A Yorkie: Related Questions
Let's go over some of the more common questions we get related to potty training a Yorkshire terrier. If you have any additional questions, please feel free to ask them in the comments below.
Are Yorkies easy to house train?
Yorkies are a fairly intelligent breed and that makes them easy to train. However, some owners might tell you that Yorkies are difficult to housebreak, and train in general, because of their stubborn streak.
Some Yorkies are even known to spitefully urinate on their owners' belongings when they are upset.
In a sense, training a Yorkie is just like having a rebellious child. You have to tackle the issue with love and patience. Reward-based training can help you see results faster, as opposed to using punishments, like rubbing the dog's nose in its urine etc.
Can Yorkies use a litter box?
It might sound strange, but many owners have trained their Yorkies to use a litter box. There are several benefits of doing so: litter boxes are convenient, they make potty business easier when the weather outside is bad, they provide a great alternative to a yard for apartment dwellers, and they could help prevent accidents on the carpets, etc.
Unfortunately, litter boxes also come with several issues. Firstly, they can be messy, especially if your Yorkie is a digger. Good luck cleaning up that mess!
Even if your pet is well-behaved, you still need to clean the box frequently. Male dogs may even spray outside the box, so you might need to try out different box sizes that your dog accepts and which also keep the mess minimum.
So, choose your potty-training tools wisely, after evaluating all the pros and cons.
How do I get my Yorkie to stop peeing in the house?
The best way to prevent your Yorkie from peeing in the house is to take it to the designated potty spot several times. Reward and praise it every time it goes in the designated area.
You should also use enzyme-based cleaners to eliminate the doggy urine smell indoors, because your Yorkie might take that scent to mean that location is its toilet and pee there over again and again.
How do I potty train my Yorkie in 5 days?
In order to potty train your Yorkie quickly, pick a potty spot, keep your pet confined, take it to the spot 5 to 6 times a day, and reward it when it uses the spot. Teach it a command such as go potty each time you take it to the spot. Be patient, kind, and consistent.
What is the hardest dog to potty train?
Most small dog breeds and toy breeds (Chihuahuas, Dachshunds, and Bichon Frise), as well as toy mixed breeds like the Yorkie-Chon, are considered difficult to potty train. Their small size and cute looks help them get away with many bad behaviors. It is also difficult for small dog owners to know when and where the pet has peed (or when it is about to have an accident on the rug!).
How Long It Takes To Potty Train A Yorkie: Conclusion
To conclude, Yorkies' potty training can be a hard task for new dog owners. If you don't know how to deal with their stubborness and short attention spans, it will take you longer to housebreak your dog.
The keys are patience, consistency, plenty of potty breaks, and rewarding good behavior, instead of punishing bad. Doing those things will speed up the process considerably.
Potty training any dog can be a daunting prospect for a new pet owner, but it is not overly difficult. If mainly just takes time and patience. So don't give up and keep at it. Your little Yorkie will learn to go outside and accidents in the house will become a thing of the past!