Is your Yorkie racing around the house?
Or spinning in circles, jumping all over everything, or barking up a storm?
It is not uncommon for these tiny dogs to become hyper.
There are actually a number of reasons your Yorkie might be hyper.
And in order to calm your pup down, you'll first need to figure out why it is hyper in the first place.
Keep reading to learn the most common reasons Yorkies are so hyper and some steps you can take to calm a hyper Yorkshire terrier.
Why Is My Yorkie So Hyper?
There are a few reasons your Yorkie may be so hyper. It could be due to lack of exercise, there could be an underlying health condition, or it may just be hormonal.
Let's take a look at the most common reasons for hyperactivity in Yorkshire terriers. After that, we'll go over some ways to calm your little pup down.
Not Enough Exercise
One reason Yorkies can become so hyper is a lack of sufficient exercise. All of their pent-up energy has to go somewhere. If they can't release it while out on a walk, they're going to become hyper and erratic.
Spending a lot of time lazing around the house means that your Yorkie will become bored and restless. A way to kill this boredom is by becoming hyperactive.
This issue is easily fixable by making sure your Yorkie gets all the exercise it needs. We recommend two short walks (15 to 20 minutes each) per day, plus 2 or 3 more vigorous exercise sessions per week, like a game of fetch.
That should be enough to keep your Yorkie calm. After all, with their short legs, it does not take much walking or running to get them a good amount of exercise!
Hormonal
Your Yorkie may just be hormonal. If your Yorkie is young and it haven't been spayed or neutered, then this can have an effect on how hyper it is.
Having your Yorkie spayed or neutered may help to balance its hormones and calm any hyperactivity. However, this hasn't been scientifically proven.
Health Condition
Another possible reason for your Yorkie being hyperactive is a health condition. If you're not used to seeing your Yorkie hyper and if it comes on within a short period of time, then it could be the result of an underlying health condition.
If this is the case, you'll need to take your pup to the vet to have it diagnosed. The vet may be able to put your Yorkie on medication that can help relieve any hyperactivity.
All Yorkies are going to react differently to pain or discomfort. Just because some dogs become quieter, it doesn't mean all will.
Increased hyperactivity could be due to a wide range of conditions. If you suspect something isn't right with your Yorkie, my advice is to have it checked out.
Age
Your Yorkie may be hyper purely because it is a puppy. Young dogs naturally have more energy. They usually need longer and more frequent walks to burn this off.
It's completely normal for your young Yorkies to be energetic. Sometimes, they are simply unable to calm down at all, until they reach the age of three.
How To Calm A Hyper Yorkie
If you need some fast ways to calm your Yorkie down, you've come to the right place! There are a number of different things you can do to relax your pet and bring some peace to your household.
Exercise
Firstly, try taking your Yorkie for a walk. Depending on how hyper it is, take it on a long enough walk to burn off any excess energy, so that when you arrive home, it will be sleepy and quiet.
A quick way to burn some energy is to play with your Yorkie. You could head out into the yard and play fetch with it.
This means lots of running which will burn off a lot of that energy. Your Yorkie will also love playing with its favorite owner, so this is also a great opportunity for the both of you to bond.
Learning a new sport or game is another great bonding experience. Flyball, freestyle, or disc dog are some great examples of games you may not know yet.
Look up how to play them and then teach your dog. This kills two birds with one stone, because is is both a physical and a mental exercise at once.
You can also set up a home fortress to play in. Or an obstacle course in the backyard. These are more fun ways to stimulate the body and the mind.
And speaking of stimulating both body and mind, teaching a dog new tricks achieves this as well.
Training
If you've got some time on your hands, training your Yorkie is another great way to burn some energy. Teaching dogs a new trick is a great way to distract them from being hyper.
Plus, they love being rewarded with treats when they do their new trick right. Why not teach your Yorkie how to give paw or roll over? If the mental aspect is more important than the physical, there are games specifically designed to stimulate a dog's mind.
Puzzle Toys
If your pup's hyperactivity is due to boredom, put its mind to work with some toys that require it to think and that help develop your dog's cognitive function.
Some of the best puzzle toys for dogs allow you to fill them with treats and then require your dog to solve a little puzzle to get at the tasty treat. This is an excellent activity to keep your Yorkie's mind occupied and put its energy toward a goal, instead of destructive behavior.
Build A Routine
A dog can become hyperactive when it feels insecure. This usually happen when a dog is newly adopted and has been transferred to a new environment.
It is the unknown that causes stress, which can lead to hyperactivity.
The situation improves if you give your Yorkie a routine. It gives your pet an idea of what to expect in its new life. As a result, it will calm down.
You want to create a daily routine for your dog, that includes all the daily doggie events like walking and eating. They should take place more or less at the same time every day. The key is consistency.
Why Are Yorkies So Hyper: Related Questions
Next, we will answer some common questions related to hyperactivity in Yorkies. If you have any additional questions, please feel free to ask them in a comment below.
Are Yorkies A Hyper Breed?
Yorkies are known for being a hyperactive breed. They're high-energy dogs. If you're planning to purchase a Yorkie, you should bear this in mind.
The best thing to do if your Yorkie is running around and causing havoc is to just ignore it. You shouldn't shout at it, because it may mistake this as you cheering it on.
Can Yorkies Be Left Alone All Day?
This depends on the age of your Yorkie. If your Yorkie is still a puppy, you should only leave it alone for short periods of time, for example if you go to the supermarket or out for a bite to eat.
Yorkie puppies still need constant care. You need to let them out to relieve themselves frequently and you need to play with them on a regular basis, so that they can burn off any excess energy.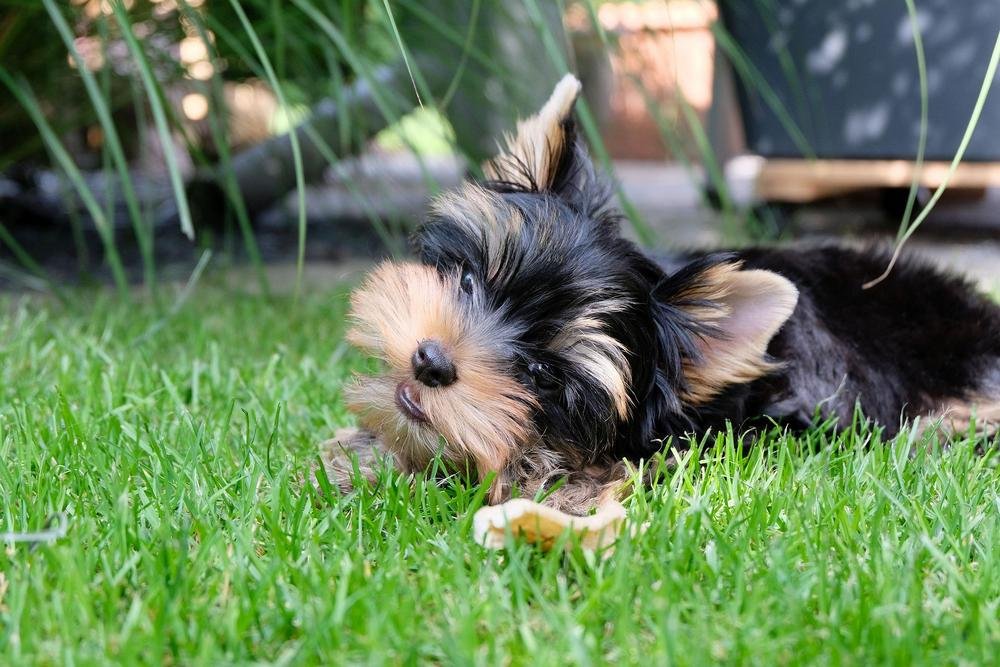 Yorkies that are over eighteen months old can be left for longer. You can leave an adult Yorkie for up to six hours a day.
This is because they require less attention, they take longer naps, and they don't need as many bathroom breaks. They can also usually keep themselves entertained.
Senior Yorkies can be left from two hours to six hours. It depends on their health, more than anything. You should be able to judge how long you can leave your senior Yorkie alone.
If you need to leave your pup alone for work, you should get a pet sitter who can check in on it occasionally. You could also get a second dog, or even a cat, to keep it company. Are Yorkies good with cats? Most are, if they are properly introduced.
When it comes to getting a second dog, some breeds make better companions for Yorkies than other. Learn which dog breeds get along well with Yorkies.
Why Does My Yorkie Go Crazy?
A more popular term for this is the "zoomies". This is when your Yorkie flies around the house, jumps onto furniture, and sometimes knock things over.
This is more common in younger dogs and usually happens when they are really happy or have a sudden burst of energy.
Sometimes, they may do it if they are feeling stressed to burn off anxiety, just like we would by going for a run. However, it is more common if they are feeling happy.
These zooms may only happen for a minute or so and it's usually best to let your Yorkie run around so that it can get all of its energy out of its system.
If your Yorkie is zooming inside the house, you may want to direct it to a carpeted area to avoid any slips and tumbles, which could result in your Yorkie hurting itself.
Why Yorkies Are Hyper: Conclusion
In order to treat your Yorkie's hyperactivity, you first need to figure out why it is hyperactive. Once you know that, calming your pup down becomes easier.
In most cases, it is simply a matter of not enough exercise or boredom. And you fix both of those in the same way: physical and/or mental stimulation.
This simply means you need to take your pup out for a walk, or play a game with it, or give it a fun toy to keep it occupied. However, if the issue is an underlying disease, you need to get your vet involved.