Yorkies get very excited.
Seriously, just about anything can set them off.
And it often seems like there's no calming them down either.
But you can calm a Yorkie down. It's not easy, but it is possible.
Even better, you can make calming down a learned behavior, so that your Yorkie calms down faster in the future. And also stays calm a lot more.
Keep reading to learn a number of effective techniques for calming down a Yorkie, as well as teaching it to stay calm a lot more.
How To Calm A Yorkie Down: The Basics
Calming your Yorkie down may take a bit of practice—on your part and the part of your beloved pup.
Learning how to do it will take time and patience, but it is worth it. You can expect your Yorkie to be much calmer in the long run.
Follow these guidelines to get started on building a future with a much calmer Yorkie. It is possible!
Reward Calm Behavior
One of the most common mistakes Yorkie owners make is rewarding the wrong kind of behavior. The truth is that Yorkies are naturally excited dogs, and it doesn't take much to get them provoked.
When it occurs, you want to do what you can to not engage with this behavior. Unfortunately, it can be pretty frustrating when your dog is acting out—and this can cause you to act in ways that make the problem worse—not better.
For instance, if you start yelling at your dog, your Yorkie may misinterpret it. Instead of realizing that it is being scolded, your dog might see it as you engaging with it.
In this light, it becomes difficult to calm your Yorkie down, because it now believes you are participating and engaging in its uncalm behavior.
Over time, this creates a positive feedback loop in which it believes it gets rewarded for acting out. This makes it increasingly more difficult to get your dog to calm down later on, because you now need to fundamentally alter its expectations.
So what can you do to combat this?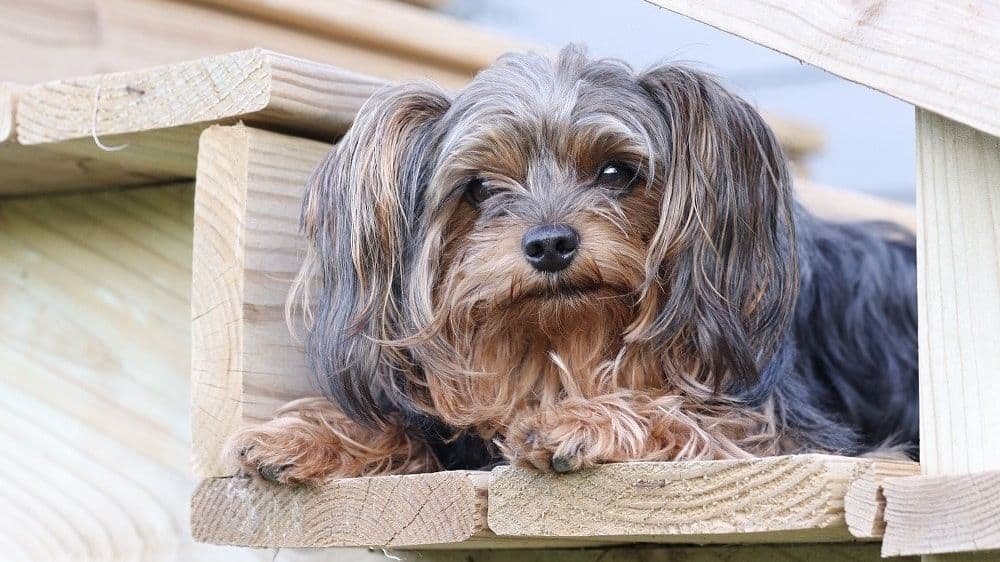 For starters, you're going to have to change your response to your Yorkie's hyper behavior. Instead of yelling at it or chasing it around, make sure that you act calmly.
Though this may be hard at first, make sure that you're not giving your Yorkie any attention when it's misbehaving. Instead, wait for it to calm down. Only then should you reward it.
But don't stop there. Ensure that when your Yorkie is calm, you use this opportunity to teach it a new command. When it is calm, for instance, teach it the word "calm." Then reward it.
Over time, your dog will begin to associate this calm behavior with treats—giving you leverage to calm it down in the future. This proves much more effective than engaging with your dog when it is going crazy.
Again, it will require patience on your part, but it's a technique that pays off in the long run. By following this technique, you'll be able to finally teach your dog how to calm down—even when it doesn't want to.
The key to success here is consistency. Make sure that you're not arbitrarily enforcing your new policy. Every single time your dog does manage to calm down, repeat the same pattern of saying "calm" and rewarding it with a treat.
This will ensure that your dog learns the command quickly. Being inconsistent with your training can damage your long-term chances of success, so make sure that you stay on top of it.
Though this due diligence can be tiring at first, you'll greatly appreciate your efforts once your dog has learned to stay calm.
Practice Crate Training
We know that many people are against the idea of putting their dogs in crates. However, this can often be an effective way to keep your dogs calm—especially when you have visitors.
Here's the deal—and it's not as bad as you think. You only have to put your dog in the crate until it calms down. And usually, they calm down quite quickly.
Being in the crate can actually be soothing for many dogs, and it can signal to them that they need to be a bit calmer. Because their space is limited, they will naturally begin to calm down.
How you want to use crate training is up to you. You don't have to do it unless you want to, but many experts advise using crate training if you have a dog that gets particularly excited when company comes over.
By putting your dog in a crate, you show courtesy to your guests and get your Yorkie to calm down enough to come out and socialize.
You don't have to keep your dog in there for long periods. Just enough to get it adjusted to the new situation and bring its level of agitation and excitement down.
Learn how to crate train a Yorkie here. And if you are not sure what type and size of crate you need, we have an article on the best crates for Yorkshire terriers.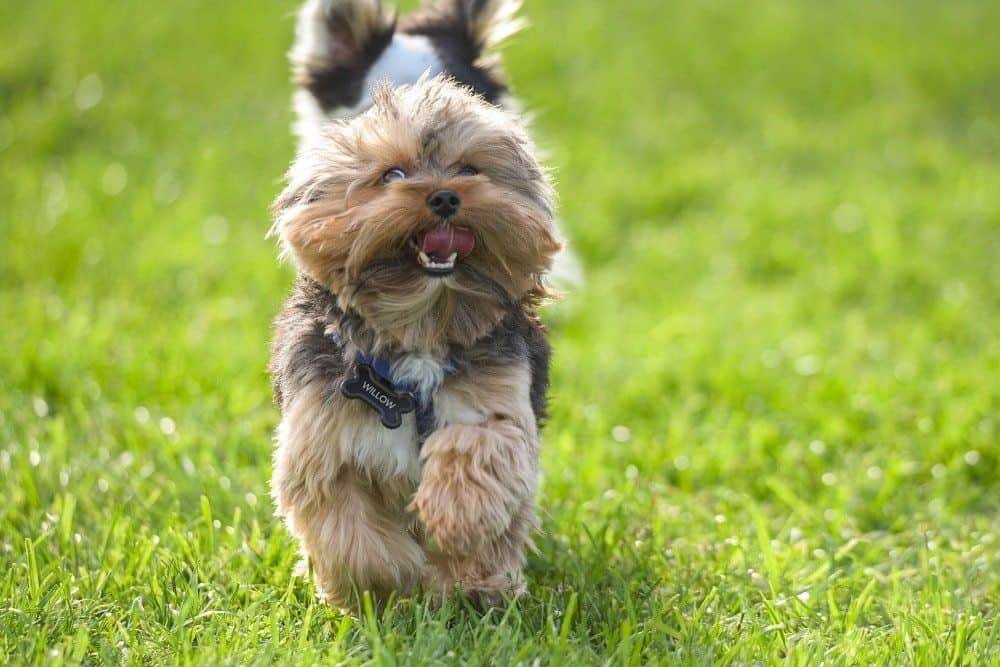 However, be sure that you're fair about it. You're going to want to give your dog a treat when it is calm. Basically, do exactly what you would have done if it calmed down on its own without the crate.
Reward the good behavior. Remember, consistency is key here. If you start sending your dog mixed signals, you can undo the work that you're trying to do.
For this reason, make sure that no matter how you get your dog to be calm, you give it a reward for its good behavior.
If you're not opposed to crate training, it can have one more crucial benefit. You may find that your dog is quite rowdy when you're not home. And this can be pretty damaging.
If this is the case, you may want to put your dog in a crate when you're not home. But if you do this, make sure that the crate is large enough and that it has access to food and water inside. And, of course, you'll want to make sure that you're not gone for too long.
Again, the goal here would be to use this as a short-term teaching method. You don't want to rely on this as a long-term thing, because it can start to affect your dog's quality of life.
Instead, use it until your Yorkie is able to stay calm enough to not destroy property while you are gone.
You may find that your dog likes its crate. If this is the case, consider leaving the door open so that it can go in and out of it at will. This will be incentive enough for many dogs to lay in their crate during the day, though they won't be restricted to doing so.
This provides a more humane option for keeping your Yorkie in check, even when you're not at home.
Spend Time With Your Yorkie
The next thing that you can do is quite crucial. Remember that your Yorkie is a hyper dog. This breed is very family-friendly and craves attention.
And if it is not getting any, it is likely to start acting out. For this reason, make sure that you've set enough time in the day aside during which you can play with your dog.
Go for walks, play, and do other activities that allow it to burn off its excess energy.
Additionally, by fulfilling your pup's social needs, you'll help ensure that it's in a better mood mentally. This will help prevent it from acting out in a plea for attention.
The good news is that there are multiple ways that you can start spending time with your dog to keep it calmer throughout the day. If you're looking for ways to make this even more effective, consider the following tips.
Go Out In The Mornings
This is especially important if you know that you're going to be gone for an extended period during the day. Make sure that you're waking up early enough that you can spend some time with your pup before heading out for work.
This will give your dog the chance it needs to bond with you and feel secure before you leave. In this way, you can leave it feeling better, giving it the support it needs to be calmer throughout the day.
For this reason, it's important that you help your dog get up and active in the mornings.
You may choose to also burn some extra energy by going for a walk together. This will help keep your dog in line while you're not at home.
Without doing something together in the mornings, you may find that your dog is more hyper throughout the day. This is because it hasn't gotten the attention it needed from you in the morning.
Buy Toys
But going out isn't the only way that you can start to help get your dog calmer. You can also do this by buying toys.
Make sure that you're buying toys that are appropriate for Yorkies—such as small squeaky toys—so that it can have fun while staying safe.
By playing with your Yorkshire Terrier throughout the day or in the evening, you can ensure it feels better before bedtime. What's more, by using toys and building familiarity with them, you'll give your dog something to do when you're gone.
For instance, instead of trying to chew your belongings, your pet may turn to its toy during the day when it feels bored or lonely.
Quality Time
Finally, make sure that you're giving your Yorkie enough quality time. Yes, this means giving it all those kisses and cuddles that it (and probably you, too!) has been craving.
Remember that your Yorkie always wants your attention. It's not going to be annoyed if you decide to carry it around or give them a little extra sugar on the side.
For this reason, you may want to consider holding your yorkie on your lap as you watch TV or do other actions together with you.
But remember, if you're putting your dog in a high place, make sure it doesn't jump down. Yorkies can have weak joints, so jumping from high places can cause undue stress. Because of this, make sure that you've always got your eyes on your dog, to ensure that it is staying safe.
With quality time, you can fill the emotional void that can often cause Yorkies to act out and be too hyper. Remember, you'll want to space this loving out throughout the day so that your dog feels taken care of constantly.
You may choose to do this in the morning, again when you get home, and once more before you go to bed. This will help ensure that your dog always feels loved and stays on its best behavior.
Calming Down A Yorkie: Final Thoughts
Learning how to take care of a Yorkie can seem a bit daunting. Because this breed of dogs can be especially hyper, you may feel that you don't have enough time on your hands to deal with it.
The truth, however, is that with a bit of TLC, you can make your dog feel comfortable and stay calm throughout the day.
By following the practical methods in this guide, you can learn to help your dog calm down when it's hyper—as well as prevent it from getting too riled up. And that means a much better relationship with your dog!