There are 7 basic commands every dog should know.
If you've ever adopted an untrained dog, you'll know just how frustrating it can be when your pup does not listen to you at all.
But don't blame your poor dog.
It is up to you to teach your dog the commands you want it to obey.
At first, this can seem like an impossible task.It can seem like your little buddy will never learn.
But don't worry and just be patient with your pooch.
If you follow the steps below, and just keep at it, you can successfully teach your dog each of the 7 basic dog commands.
What Are The 7 Basic Dog Commands?
The seven basic dog commands you can teach your Yorkie are: sit, come, down, stay, no, take it, drop it, and off. These commands might seem like a lot to teach your dog, but once it masters them, your life will be so much easier.
Some of these commands are easy to teach, but a few of them are quite challenging. Especially if you have a high-energy, short attention span dog like the Yorkshire terrier.
But all dogs can be trained. It just takes lots of patience and the right approach. We can't help you with the former, but our step-by-step instructions below will help with the latter.
The key with most dogs is to keep training sessions short. This is even more true with dogs like Yorkies.
Do several sessions per day, but limit them all to 10 or 15 minutes or so. It differs from one dog to the next. You'll quickly learn the limit of your pup's attention span. Let's get right to it and start with perhaps the most basic command of them all.
Sit
Sit is one of the simplest commands and most dogs can master it in just a few days. Once your Yorkie gets this one, it will be so much easier to manage. Here is how you train your Yorkie to sit.
Have your dog's favorite treat in your hand, near its nose.
Raise your hand with the treat so your pup follows it with its head and naturally lowers its hind quarters into a sitting position.
Once your dog's rear end touches the ground, allow it to eat the treat.
Repeat this a few times using the treat as a lure again.
Next, try it again with an empty hand. Even though the hand is empty, when your dog sits, reward it with a treat.
Once your dog responds to your hand signal to sit, start saying the word "sit" right before you give the hand signal. As always, reward success.
Repeat this command several times throughout the day. Repetition will help your pup remember it faster. A good time to practice is before a meal. That way, the meal itself can be the reward for sitting successfully.
Come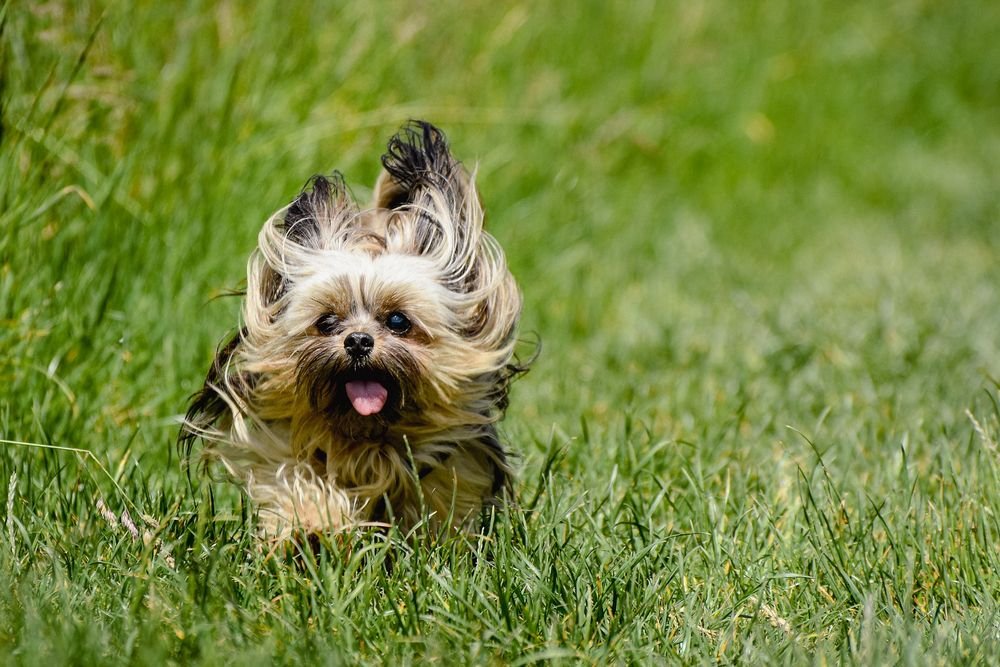 I'm sure you can already see the value in your dog mastering this command. It comes in handy all the time, for example if your dog chases after something, or runs toward a visitor who may not be comfortable being greeted that way, or chases after another dog, or simply takes off for whatever reason.
Here is how you train your dog to learn the command "come".
Start indoors and move around 10 feet from your dog while it is lying around or busy with something else. Look your pup in the eyes (you can say its name to get its attention) and say "come" in a clear and happy tone.
Pat your legs, clap your hands, tap the floor, or do something similar to encourage your dog to approach. Keep saying "come" until your dog comes all the way to you.
Once your dog has made it, reward it with cuddles, praise, and a tasty treat.
Repeat this process multiple times. Once your dog gets it, you can move further away, and even go into other rooms and call your dog.
You should also add some challenges. Find something to distract your dog (like a chew toy or something else that easily steals its attention) and practice again to see if you ca overcome the distraction.
Once your dog is an expert at coming to you indoors, it's time to repeat the process outdoors. Start in your yard and keep increasing the distance and the distractions. Pretty soon, you'll be ready to practice in a park.
An alternative method to teach this command is to put a leash on your dog then move back some distance. Say "come" and pull gently on the leash, so your pup moves toward you.
Whenever it stops, pull a bit again. Once your dog has come all the way to you, reward it with effusive praise and a treat.
It is important to only reward your dog if it comes all the way to you. Do not reward it just for looking your way, of for coming a few steps toward you.
It is also important not to follow up the "come" command with a negative. For example, don't have your dog "come" and then immediately give it a bath (assuming it hates baths), take it to the vet, or even something as simple as leave the park.
You don't want your pup to make a negative association with coming, or it will stop wanting to come when called in the future. We also have an entire article on teaching your puppy to come when called.
Down
This command is arguably the second most difficult of the 7 basic dog commands (after "heel"), because it requires your dog to get into a submissive posture. But if you maintain a happy tone and disposition, your dog will be much more likely to comply.
You also want to wait to teach this one until your dog has mastered "sit." Here are the steps.
Begin indoors and have your dog sit. Hold a treat near its nose. Slowly move the hand with the treat to the ground between your dog's front paws, while saying the command "down."
Some dogs lie down immediately, while others need a bit of time. Just keep your hand on the floor with the treat covered, until your dog lies down. Reward your pup with enthusiastic praise and the treat as soon as it lies down.
Repeat this multiple times until your dog gets it. Then keep repeating, but increase the distance and add distractions, as with the previous command.
Once your dog has mastered this command from the sitting position, begin giving the "down" command when it is standing or moving around.
Stay
Most dogs are not good at staying still, especially young dogs, and especially Yorkies. That is the biggest challenge you will face when trying to teach your pup this command.
As a result, it will probably take some time to get this one down. Stay patient and don't get discouraged. You'll need the "sit" command for this one, too, so make sure your dog has that one down first.
You will also need a release word to tell your dog when it can stop "staying." A lot of people just use "ok" or "free." We're going to teach that command first, before getting into "stay."
Have your dog sit. Drop a treat on the floor nearby and say the release word as it steps forward t get the treat.
Repeat this a few times, then begin saying the release word before dropping the treat so that your dog understands that the command means it should move again.
Once your dog gets the release command, it's time to work on the "stay" command.
Have your dog sit and give it a treat. Say "stay" and after a short pause give another treat for staying in place. Then say the release word.
Repeat this process while slowly increasing the amount of time between treats. If your dog gets up too soon, don't worry about it. Try again with a shorter time between treats.
Once you get to a point where your dog stays put for several seconds, it is time to up the difficulty. Take a step back and say "stay". After the pause step back to your dog and give the treat, then release.
Keep increasing the difficulty, by moving a further distance away, turning your back on your dog, adding distractions and so on. You will need to up the difficulty extremely gradually on this one.
Heel
This command tells your dog to walk calmly by your side, instead of constantly pulling on the leash, trying to sniff everything in existence. This is especially useful if you have a large dog that can easily pull you over and injure you.
It should go without saying that you should have already leash trained your Yorkie puppy on the basics, before attempting this. It is the most difficult of the 7 commands. Here is how you teach it.
Put your dog on a leash in a distraction free location, like indoors or in your yard. Stand with your dog on your left side (this is the traditional heel position, but if you prefer the opposite, go for it).
Tell you dog to sit and reward it when it sits next to you. Make sure your dog is calm and paying attention to you, then hold a treat in front of your dog's nose, give the "heel" command and step forward. The treat should lure your dog forward, while staying at your left side. Reward your dog wit the treat and effusive praise.
Repeat the process, taking two steps this time. Reward again. Try to hold the treat in such a way that your dog stays as close to you as possible.
Keep practicing for about 10 minutes, rewarding your dog every time is takes a few steps in unison with you. After 10 minutes, take a break and do another 10 minute session an hour or more later. Do a few of these sessions per day.
You dog will lose focus and wander off at some point. When that happens, command your dog to come back next to you and sit down again. Then repeat the training.
Once your dog is following the heel command consistently (this could take a week or more), start doing the training without a treat in your hand. Keep it in your pocket and bring it out only to reward your dog when it walks in stride with you for a few steps (start with two, then gradually increase the length of time).
After a few more weeks, you can begin having your dog heel in more distracting locations, like the park. You can also begin using treats less and less. Instead, use verbal rewards, i.e. praise. You can also practice heeling without the leash, but you'll want to move back to a safe location to begin that training.
Leave It
Dogs get into everything and that includes things they should not have. Some because they are dangerous and others for various other reasons. That is where the command "leave it" comes in handy. It is also useful when training a dog to stay in the yard.
To teach it, you have to show your pup that it is ok to let something go, because they can get something better in return: a treat. Here are the steps to teach this command.
Show your dog a nice treat, but don't let it have it. Close your hand around the treat as your pup nudges at your fist to get the treat out. Don't let him or her have it.
Wait quietly until your dog backs off for a moment to reassess. As soon as the is even a bit of distance between your dog's nose and your hand, open it and let it have the treat, along with effusive praise.
Keep repeating this process, until your dog learns that moving away from the treat is what earns it the treat.
Once your pup has figured that out and is moving back every time to get he treat, start gently saying the command "leave it" as it backs off. Then give the treat as before.
Keep practicing until your dog understands that "leave it" means it should leave the treat.
Now it's time to make things harder. Begin by keeping your hand open, so your dog can easily get the treat, and saying "leave it". Make sure your pup gets tons of praise if it stays away from the treat. Give it a treat from your other hand, but not the one it "left". If your dog tries to eat the treat, close your fist around it and wait for it to back away. Then give a treat from the other hand.
Once your dog has this down with a treat in your hand, move on to practicing with it on the floor, and also with other items. Once that is mastered, you can move outside where there are more distractions. Also practice with random items your dog finds outside.
Off
The "off" command comes in handy when you want your dog to get off a piece of furniture. It is also useful if your dog tends to jump up on people when greeting them.
Not everyone is comfortable with this, even with small dogs that are not dangerous like Yorkies, so you can use "off" to get your dog to leave them alone.
They key with this command, as with all others really, is to use positive reinforcement, not negative. In other words, reward good behavior, instead of punishing bad.
What's different about this command is that you can't just teach it any time you want. You have to wait until your dog does something bad, where the "off" command will come in handy. Here is how you teach the "off" command.
The next time your dog jumps on the sofa, bed, a person, or anything else you don't want it on, grab a tasty treat and hold it out for your dog.
Use the treat to lure your dog off whatever it is on and say the command "off". Once all four paws are on the ground, reward with praise and the treat. You could also put the treat directly on the ground and lure it off that way.
Practice this every chance you get. Be consistent. If you ignore your dog jumping on things you don't want it on, you'll send mixed messages. every time your dog jumps on those things, practice the "off" command.
If you are trying to teach your pup not to jump on people, consistency is even more important. You need to make sure other people do not greet your dog happily when it jumps on them, otherwise you are sending mixed messages.
Importance Of Training The 7 Basic Dog Commands
Training your dog with some basic commands is like teaching your child the right thing to do. It is your responsibility as a parent. You wouldn't want your child out in the world doing bad things, right? It's the same with your dog.
Training is essential for dogs to develop a good attitude towards others. Proper training is one of the best things that you can do for your pooch.
Some also say that a trained dog is likely to feel less left behind whenever you go to parks. That's because they will know exactly what to do in a given situation, instead of being confused. This makes them more at ease.
Another bonus is that a well-trained dog won't have to be locked up in the garage every time you have a visitor. You don't have to worry about them jumping all over your guests or otherwise misbehaving.
Training is also important, because it teaches your dog that you are in charge. Too many dogs feel they are the master and that is never a good thing. Having your dog learn new commands is great, but learning that it needs to obey your commands is the most important outcome.
Of course, this is easier said than done, especially with some dogs. Some breeds are harder to train and dogs of certain ages are harder to train. We've all heard the saying, "you can't teach an old dog new tricks." Is that really true?
Best Age For Training A Dog
It is best to start training dogs as early as five weeks old. At that age, their brains are fully grown and capable of learning.
It is the best time to introduce socialization with people and to start positive reinforcement training. If you do not begin training in these formative stages, the entire training process will be more difficult.
In other words, it is definitely harder to teach an old dog new tricks. It is certainly possible, but it will be much more difficult. Like humans, dogs learn best and fastest when they are young. Read our article on how to train a Yorkshire terrier puppy for more on training young dogs.
7 Basic Dog Commands: Conclusion
The seven basic dog commands ensure that your pup can function as an upstanding member of society. They also let it know that you are in charge and they need to obey.
Teaching these commands, especially heel and down, can seem impossible at first. It will take a lot of practice. The keys are consistency, patience, and positive reinforcement.
Make learning fun and it becomes an activity your dog enjoys doing together with you! It will happily follow the basic commands and learn more advanced Yorkie tricks, like giving paw.