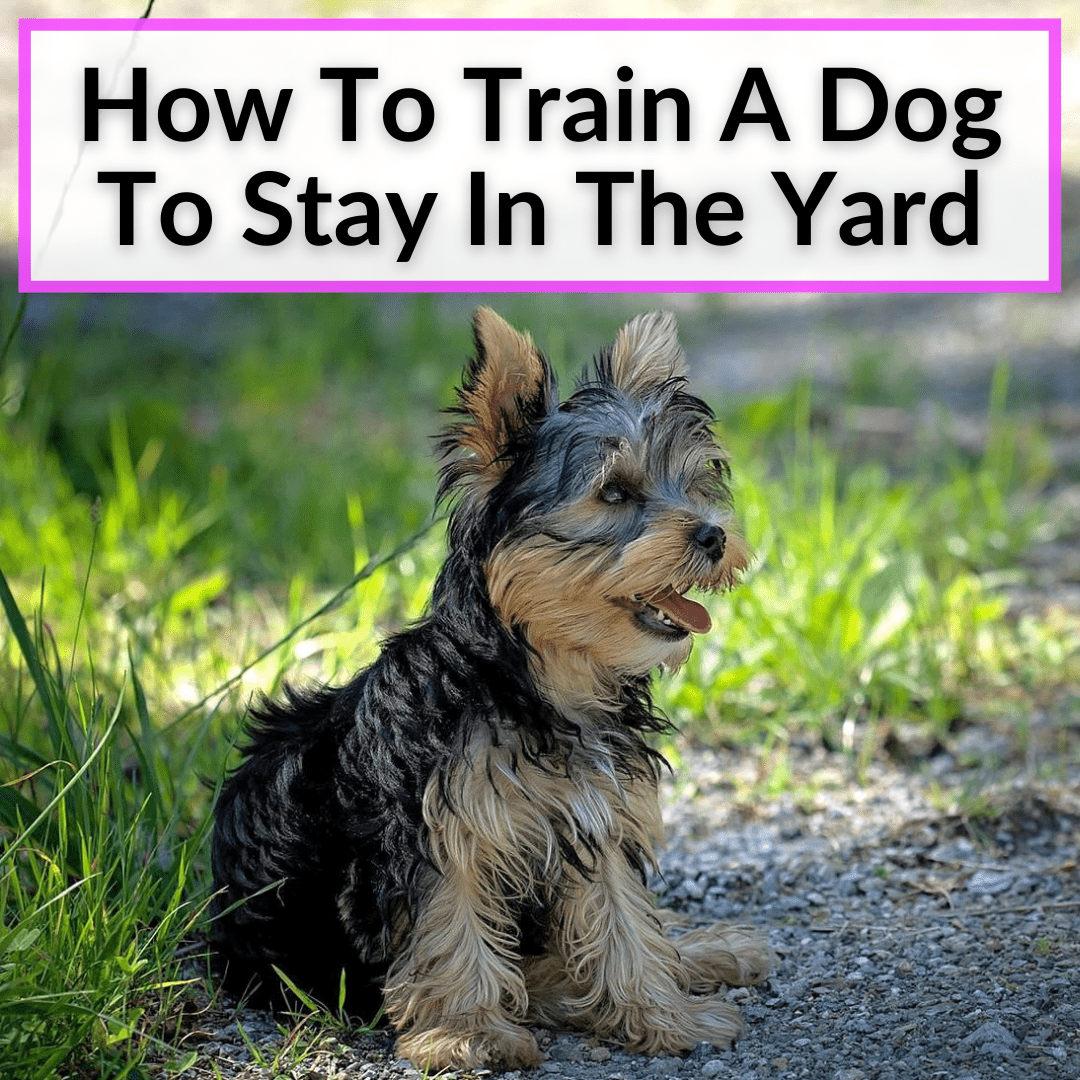 An open yard with no fence presents a problem for dog owners.
You want to allow your dog to spend time out in the yard, but what's to keep it from running off?
Of course, you could install a fence, or use an invisible fence with a shock collar, or tie your dog up with a longer rope so it still has space to run.
But wouldn't it be better if your dog just stayed in the yard on its own?
Of course it would! But making that happen is not easy.
But it is possible.
Keep reading to learn how to train a dog to stay in the yard, without resorting to shock collars or other similar methods.
How To Train A Dog To Stay In The Yard
You have a yard with no fencing and you're worried your dog might wander off, annoy your neighbors, or potentially even become roadkill. Before you do this, it is helpful if you dog already knows a few basic commands.
At the very least, it should know the "come" command. We have an article on how to train a Yorkie to come. It should also know "sit", "stay", and "off". Here is how you can train your dog to stay in the yard on its own.
Materials Needed
Leash
Marker Flags (optional)
Treats
Step 1: Walking The Border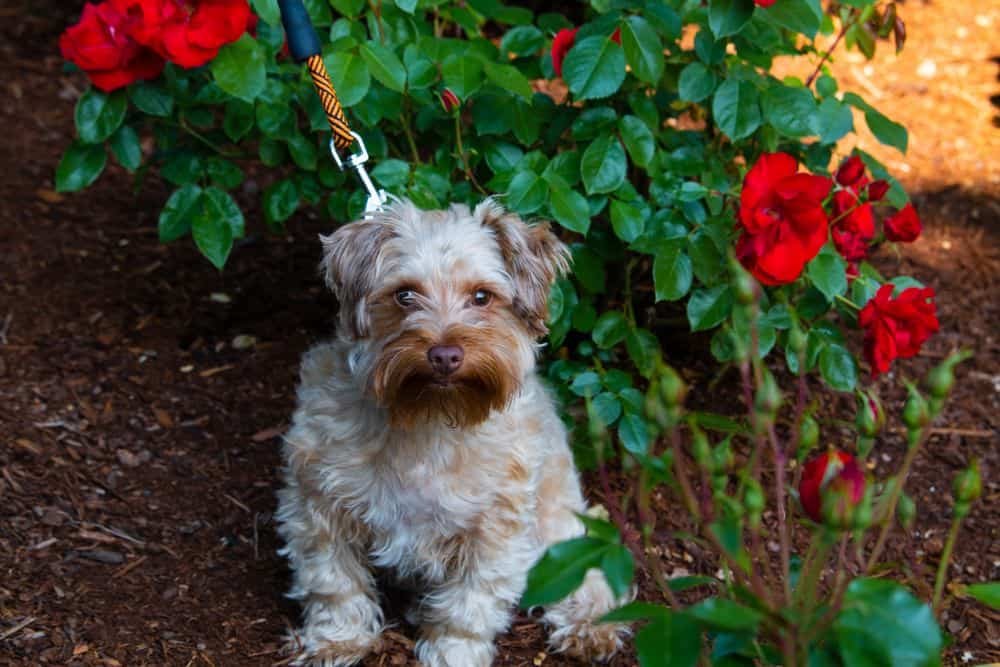 The first step in training your dog to stay in the yard is to simply walk around the border of your yard a few times with your pup. You'll want to put your dog on its leash for this first step, to ensure it doesn't try to run off. This means, your Yorkie puppy should be leash trained already.
This boundary training is still a new experience for it, at this point. Any time your dog crosses the border, gently pull it back. Once it is within the border again, praise it and offer a treat.
Walk your dog around the border of the yard several times each day. I recommend at least five or six times. Repeat this step for several consecutive days.
You can even use marker flags bought from your local hardware store to mark the boundary. This way, your dog can visually see where the border is and have a reference for the point it should not venture past.
Step 2: Sweeping Motions
Once step one is completed, you'll want to repeat the same step, but this time with sweeping hand motions.
Walk your dog around the border of your yard as before, but use your arms and hands in a sweeping motion so that your pup can see the boundaries of your yard.
Just like before, you'll want to do this a few times each day and continuously for a few days. After you have completed this step, your dog should be well on its way to understanding where your boundary line lies.
Step 3: Commands
Once your dog has grasped the perimeter of your yard, you can move on to testing out commands on the border.
The first command you should try is getting your dog to sit at the border of your yard. You should do this in a number of different places around the border. The aim of this step is to tell your dog not to move past the perimeter.
Next, you can practice the "stay" command. Order your dog to stay and then try to challenge it by you crossing the borderline yourself.
If your dog follows, then it looks like you've still got some work to do. I suggest repeating the first couple of steps again. It can take many weeks until your dog gets this, so don't lose hope
Once your dog stays every time, you know your training is working and it is learning not to go any further.
Step 4: Leave It
This step is one you do when you're coming back from a walk with your dog. Once you get close to the border, drop something enticing on the ground and tell your dog to "leave it".
Keep repeating "leave it" as you walk closer and closer to the border. This should teach your dog not to go after anything outside of the perimeter.
Obviously this will only work if you have already taught your dog the "leave it" command. If not, do that first. It is one of the seven foundational dog commands.
Step 5: The Treat Challenge
Now it's time for the biggest test of them all for your dog: the treat challenge. You can only complete this step once your dog fully understands the "leave it" command.
You will need to make sure you have some treats in your pocket. Then walk up to the border of your yard with your dog. Throw a treat onto the other side of the perimeter.
If your dog doesn't chase after it, you have managed to fully train it not to go beyond the borderline. If it does go after the treat, use the "leave it" command to let it know not to chase after the treat.
It will take some time to train your dog not to go past the border. You'll need to make sure you have plenty of patience, and plenty of treats to reward it with when it has done a step correctly.
Make sure you're training your pup every day, because this makes it easier for it to pick up on what you are trying to teach. But keep each session short. No more than 10 to 15 minutes, especially if you have a breed with a shorter attention span, like a Yorkie.
How Do I Get My Dog To Stop Leaving The Yard?
Your dog may keep escaping from your yard, even if you do have a fence. There are plenty of things you can do to try and avoid any more escapes.
Remove any climbing aids from your yard that your dog could be using as a method to escape. These include things such as children's play toys, garbage cans, piles of wood, and benches.
If your dog is escaping by digging, then you may want to think about pouring concrete along the perimeter of your yard or burying something such as chicken wire along the fences so your dog won't be able to get out.
Simple things to do include making sure your gate is fully locked, or that the wind won't blow any gates open. If you are particularly worried, then it might be a good idea to not leave your dog unattended in the yard.
How Do I Get My Dog To Stay On The Ground?
The only way to do this is by training your dog. Any unwanted jumping, especially when you have people visiting your home, isn't something you want your dog to be doing. It can become quite embarrassing.
You can try the four on the floor approach, where you teach your dog to say hello with all four paws on the floor. You may want to try this on family members first.
You teach your dog to keep all paws on the floor by using its leash as a restraint. Try this in three to five minute sessions on a regular basis and your dog should soon understand that it shouldn't be jumping up at guests.
If it repeats each session successfully then make sure to reward it with its favorite treat. You can also teach your dog the "off" command. It is another one of the 7 basic dog commands, so it is something every dog should learn anyway.
Training Dog To Stay In Yard: Conclusion
Yorkies were originally bred to catch rats. They still have a strong natural instinct to chase animals, insects or whatever interests them.
This makes it especially hard to keep them from running off in pursuit of something. And Yorkies can run fast for their size.
Unfortunately, this can put their lives in danger. Traffic is an obvious threat, but the animals they might chase are threats as well. There are several diseases yorkies can catch from rats.
Luckily, there are precautionary measures you can take to keep your pooch safe and sound in the comfort of your yard. Many owners will use an invisible fence to keep their dogs in the yard.
But if you prefer not to go that route, you can follow the steps above to train your dog to stay in the yard. It will take time and patience, but if you keep at it, your dog will learn.