All dogs love to run.
The Yorkshire Terrier is no exception.
But with those tiny legs, you can't expect your Yorkie to beat a Greyhound in a race.
That said, Yorkies are surprisingly fast for dogs their size.
How fast can Yorkies run exactly?
Obviously, it varies from dog to dog and depends on a number of factors.
But we can give you an average speed.
Keep reading to learn just that. We'll discuss how fast Yorkies can run on average and also give you some tips on increasing your Yorkie's speed, plus other things you'll need to know if you want to take your pup running.
How Fast Can A Yorkie Run?
The average Yorkie can run at 10 to 15 miles per hour (16 to 24 kilometers per hour). Some Yorkies that have been trained in agility are capable of attaining speeds up to 30 mph (48 kph).
That is fast for such a tiny dog, but much slower than most breeds. Yorkies have tiny bodies, short legs, and less endurance, making it hard for them to keep up with other dogs.
Of course there is a lot of variation among Yorkies. In general, a Yorkie's running speed depends on its age, health, and body composition. Let's take a closer look.
How Fast Yorkies Run
Yorkies are one of the smallest dog breeds. As such, they have short legs and obviously can not run nearly as fast as long-legged runners like Greyhounds and Salukis.
Nevertheless, most Yorkies are capable of running quite fast over a short distance. As mentioned, they can run between 10 and 15 miles per hour. The specific average speed the Yorkshire Terrier breed is capable of attaining while running is 16.1 miles per hour (25.9 kilometers per hour).
And with proper training, you can get a Yorkie to run at a speed of almost 30 miles per hour. That is why this small dog breed often competes in canine events like agility, fast CAT (Coursing Ability Test), tracking, etc.
A Yorkie registered as MACH5 Ydk's Diamond In The Ruff (owned by Jennifer Yates) reached a speed of 18.476 mph in the AKC 2020 Fast CAT. Similarly, a teacup Yorkie named Amber won first place in agility in 2012 in the 4-inch tall category.
Are Yorkies Good Running Dogs?
As mentioned above, untrained Yorkies can easily run at speeds up to 10 to 15 miles an hour over a short distance. They might have short legs, but they can move those tiny legs quickly. They also have a lot of energy and are generally pretty active dogs.
However, Yorkies' tiny bodies have lower endurance and cannot perform adequate breathing when compared to some of the larger breeds. This makes it difficult for most Yorkies to keep up with other fast dog breeds.
This is an important detail to consider if you're planning to buy or adopt a Yorkie and you want to take your dog running. Having said that, you can still train your Yorkie to be your running companion.
In fact, when done properly, running can be an excellent exercise for your Yorkie. And Yorkies, like all dogs, need daily exercise. They're an active breed and without exercise, they can get bored, depressed, and even destructive.
How To Train Your Yorkie To Run With You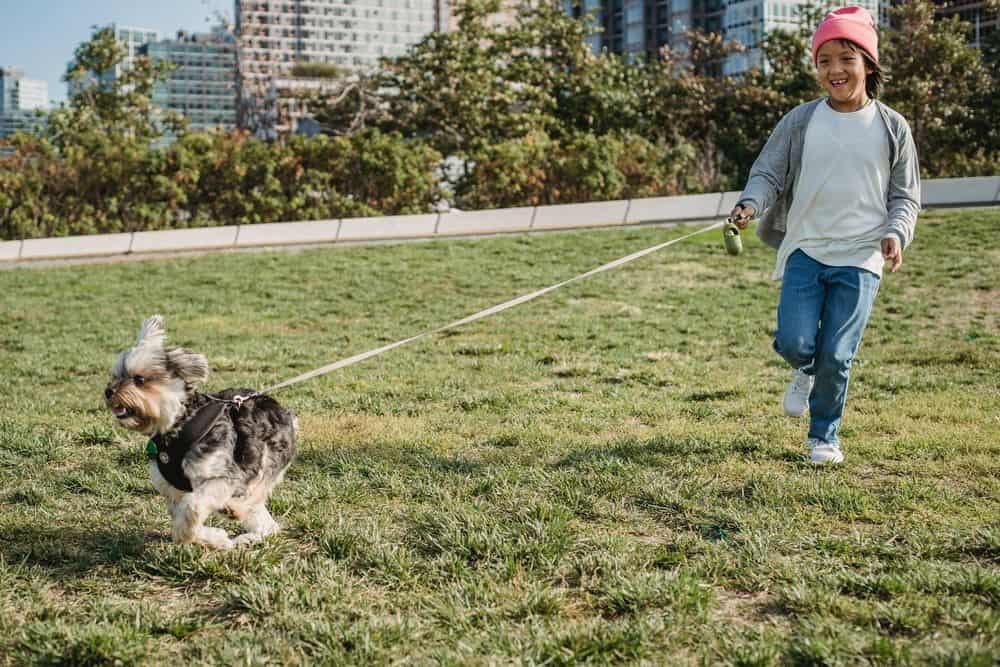 Before you attempt to boost your Yorkie's top running speed, here are some tips to help you safely make your Yorkie your running companion.
Start Small
Instead of taking your pet to run right away, start at a dog park. This will give your Yorkie an opportunity to meet and play with other dogs. Not only will this allow your fur baby to socialize, but it will also get it running and playing with other dogs.
Running with other dogs can also encourage healthy competitiveness and might even help you discover your pet's potential for competing in events like agility, tracking, etc. Not only that, but if your pet runs alongside other larger dogs, it might begin to increase its average speed.
Use A Harness
A harness is a better choice than a collar-leash system, especially for small dogs that run. Collars could choke your dog and even injure its fragile neck. Like most small dog breeds, the Yorkshire Terrier is prone to tracheal collapse, which makes a harness a much better choice.
Your Dog's Comfort Comes First
Always keep an eye on your Yorkie while running with it. Its comfort should be your top priority. Only if your pet is comfortable will it be able to understand its body, how it can move, and how dexterous it can be. This is important for your Yorkie to learn new agility skills.
How Far Can I Run with My Yorkie?
There are several factors to consider when deciding how much and how far to run with your Yorkie.
Your Yorkie's Age
It is best not to over-exert very young puppies or senior Yorkies. Both have delicate joints and it is best to check with a vet before you take your young or old pet running.
Also, never allow your Yorkie puppy to jump from a height. Even jumping from the ground can cause injury, since Yorkies can jump high for their size.
Your Pet's Energy Levels
If your Yorkie is healthy, excitable, loves to run and play, and seems to be a natural-born runner, you can start off with a couple of miles a day and slowly work up to 5 miles a day.
Start Slow
We recommend running no more than a mile to start for dogs that are not especially athletic. For dogs that have not exercised much before, it is best to start really slow. Do not expect your Yorkie to start running 5 miles from the first day.
How Long Should You Walk Your Yorkie?
A daily walk of 30 to 45 minutes or twice-daily walks of 15 to 20 minutes each is good for most active and healthy Yorkies.
There are some high-energy Yorkies that can walk 3 to 6 miles (5 to 10 kilometers) daily and still have the energy to play with the kids or run around the yard afterward.
In other words, it all depends on your pet. Some Yorkies can easily benefit from longer walks. Always listen to your pet. If it seems tired, slows down, or turns around to go back home, then do as it says.
Other Good Forms Of Exercise For Yorkies
There are countless opportunities to get your Yorkie moving through the day. Here are some great activities to get your pup moving.
A Game of Fetch: Fetching is a great activity for your kids to bond with your Yorkie and also get them moving. You can play it in the yard or even indoors on a rainy day.
Swimming: Most Yorkies love swimming and it is an excellent low-impact cardio activity for their joints. Make sure to invest in a swimming vest for your little dog.
Obedience Training: The beauty of obedience training is that it not only gets your Yorkie moving (commands like recall, come, retrieve, etc.) but it provides excellent mental stimulation as well.
Stairs: Simply running up and down the stairs can also help your Yorkie burn a lot of calories.
Tug-of-War: This wonderful activity is great for bonding with your Yorkie. It can also build muscles and help your pet lose weight. Rope toys used for tug-of-war can even clean your pet's teeth!
How Fast Can Yorkies Run: Conclusion
Yorkies may not be the fastest runners in the dog world, but they are surprisingly fast for their tiny size. And they are among the most playful dog breeds out there.
These dogs have a lot of energy to spare. That means you can certainly go on runs with your Yorkie, but you do need to make sure you don't over-exert your tiny little pup.
Begin slowly and always pay attention to your dog. If it begins to tire, don't force it to keep running.