Yorkies love to jump.
It is a natural instinct embedded in their genes.
But it is also a problem.
And I don't mean just the problem of your Yorkie jumping up on strangers.
Jumping can actually be dangerous to your Yorkie's health.
They can jump quite high and the impact from the landing could damage their tiny joints and bones.
Keep reading to learn just how high these tiny balls of energy can jump and why it is usually a good idea to train them not to jump so much. We'll also show you how best to accomplish that.
How High Can Yorkies Jump?
The average Yorkie can jump up to 24 inches, which may be hard to believe, given the Yorkshire terrier's small size. It means they can jump up to three times their height, which is actually normal for dogs of any breed.
Of course, they usually pull this feat off when they are full of energy and playing, or when they are trying to greet someone new.
But there is a problem. Jumping that high can actually cause an injury upon landing. So why do they jump high enough to hurt themselves?
Why Yorkies Jump
There are a few reasons your Yorkie may be jumping. It's a natural behavior that all dogs do when they are overexcited, want to show some gratitude, or even when they are trying to show some dominance.
The reason your pup is jumping depends on the situation it is in. For example, if it is jumping at someone new, it could be that it is overexcited. It's always exciting meeting a new person!
Sometimes, your Yorkie could also be trying to grab your attention. It may just be that it wants you to give it more attention than you are.
If the jumping becomes too much for you, you can try and stop it by turning around and not giving your Yorkie any attention. Any type of reaction apart from ignoring your dog, be it good or bad, could be a sign of encouragement and it will likely continue to jump at you.
Minimizing Jumping
If your Yorkie jumps a lot, you probably want to try and minimize it, or even put a stop to it altogether. As mentioned, one way to do this is by not paying your Yorkie any attention.
If your dog starts to jump up at you, simply turn away from it. Cross your arms and try not to make a sound, since any movement or noise may be considered a sign of encouragement for your Yorkie.
Once your pup realizes it is not receiving any attention from you, it should stop jumping and move on to the next tactic to get your attention. Do this often enough and it will learn that jumping does not get it what it wants.
Rewarding your Yorkie when it does not jump up can also be a way to minimize this habit. Make sure you have some treats in your pocket and every time your Yorkie doesn't jump up at something, reward it.
This could be when it meets a new person and doesn't jump, or when it is overly excited and does not jump. Your dog will soon learn that it gets rewarded for keeping all four paws on the ground.
How To Calm Your Yorkie
Yorkie often jump simply because they are hyperactive. Why are Yorkies so hyper?
It's usually just excess energy. This is especially common if they are younger dogs, because young pups have lots of pent-up energy that they need to burn off.
To calm your Yorkie down, I would suggest trying two things. First, you can use its toys to distract it. Second, give it some exercise to burn off that energy. You could play a game of fetch, or simply take it out for a walk.
If your Yorkie is jumping up after a long, hard day then the last thing you're probably going to want to do is to take it out for a walk. If this is the case, you can give it a toy so that it can blow off some steam.
It may not be a good idea to give it something like a squeaker, because the noise could actually have the opposite effect and rile up your dog even more. That won't put a stop to the jumping.
Instead, you could try giving your dog a puzzle toy like these. Something where your Yorkie has to try and get a treat from an entrapment. This is a great way to distract your dog and calm it down.
If you have some extra time on your hands, you can always take your Yorkie for a walk. This gives it a chance to run around in the fresh air and is a perfect way to calm it and let it burn off some energy.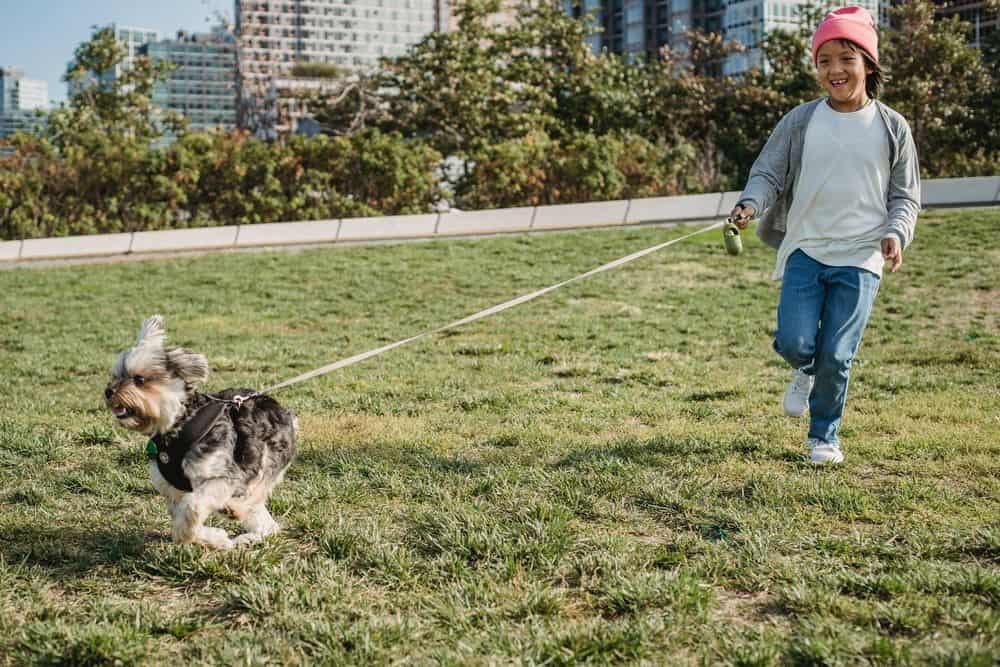 Hopefully, your Yorkie will be far too tired to do any jumping when you get back home!
Is Jumping Bad For Your Yorkie?
In some cases it can be bad for your Yorkie, as mentioned. You should try and put a stop to jumping right away, especially if your Yorkie is under 15 months.
Because such a young dog is still developing, it will still have growth plates at the end of its bones. These growth plates are made of cartilage, which is easier to damage. And you really don't want your Yorkie puppy to damage them.
the type of floor you have in your home could also make jumping bad for your dog. If it is jumping on grass or soft carpet, it will usually be okay.
However, if you have a hard tiled or wooden floor, the impact from the landing could have an effect on your Yorkie's legs and ankles. It could cause an immediate injury or lead to problems down the road.
Excessive jumping could cause arthritis, especially as your Yorkie becomes older. Too much jumping means an overuse of the joints. That is why it may be best to try and train your Yorkie out of the habit of jumping.
Can A Yorkie Jump Off A Couch?
Because  Yorkies are smaller and more delicate dogs, they can be more prone to injuries when jumping off a couch. They can usually jump up to two or three times their size, but it can put unnecessary stress on their joints and legs.
If you are worried about your Yorkie jumping off the couch, you could invest in a small ramp. It goes up against your couch and does not take up too much room. It allows your Yorkie to easily get on and off the couch, without having to jump.
Are Stairs Good For Yorkies?
There are no signs that stairs are bad for your Yorkie, especially if it is healthy. If your Yorkie is sick or has a problem with its joints, like arthritis, then it may be a good idea for it to avoid the stairs.
You may need to carry your pup up and down the stairs, and purchase a stair gate to stop it from climbing them on its own and risking an injury.
Can Yorkies Jump High: Conclusion
Yorkies can jump up to two feet high. That is impressive for such a small dog, but it can also pose a problem.
Your Yorkie jumping is not necessarily a bad thing, but it can lead to minor, or even major, injuries. A Yorkshire terrier's small, delicate body can easily take damage when landing from a a high jump, especially if jumping on a hard surface.
That is why it is generally a good idea to train your Yorkie not to jump. It is best to use positive reinforcement to do any type of training, which means repeatedly rewarding your pup when it does not jump.
Before long, it will learn that it receives a reward when it stays firmly on the ground.