Everybody loves Yorkies!
They are a wonderful breed: cute, loving and loyal. But they are also territorial and will fiercely defend their territory.
Even the slightest hint of an intruder can unleash a fury of barking.
So are Yorkies barkers then? Yes, they are.
In fact, Yorkies bark more than most breeds. And there are a few reasons for that.
Keep reading to learn exactly why Yorkies bark so much, plus what you can do to curb this behavior for your sake and the sake of your neighbors.
Why Do Yorkies Bark So Much?
Yorkies bark a lot because or their genetics. They are fierce, territorial dogs that do anything to protect their area. They also have acute hearing due to the unique shape of their ears, which means they hear even the slightest sounds and perceive them as threats.
There are also multiple reasons why your Yorkie will bark. And different situations result in different types of barking.
Reasons Yorkies Bark
Let's look at some of the causes for the barking behavior, before moving on to the different types of sounds your Yorkie might make.
Genetics
We already mentioned this above. Yorkies come from a long line of fierce dog breeds. And that's why they have an aggressive bark no matter their tiny body size. However, you can learn how to train a Yorkie not to bark.
Emotional Needs
Most Yorkies easily get bored or anxious. They like attention and will get frustrated if they don't get it, leading them to make themselves heard in an attempt to get attention.
You need to learn read the signs to determine what is really going on with your barking pup.
A common cause is loneliness.
Your dog might bark when left alone, because it is lonely. Leaving your dog at home alone affects their emotional state.
Can Yorkies be left alone? Sure. But not for more than a few hours. And it is always best to minimize the time you leave your pup by itself.
Physical Needs
A Yorkie might bark to indicate some physical need. For example, your pup may bark when it is hungry, thirsty, or hot.
This means your dog is asking you for help in accommodating a need. Another common reason for barking is when your dog wants to go out for some exercise, or because it needs to relieve itself.
Environment
A stressful environment will also result in your dog barking excessively. This can happen if you lock your dog in pen for a long time, or if you otherwise restrict its movement, by tying it up, for instance.

Barking in dogs may also be triggered by other environmental factors such as sirens, other dogs barking, storms, loud noise, other humans or animals, and many others.
Now that we've learned why Yorkshire Terriers bark, it's high time we find a way of dealing with excessive barking.
What To Do About Excessive Barking
You will never get your Yorkie to stop barking entirely, but you can reign it in a bit. Try the following tips to get your pup to stop barking so much.
Make Your Yorkie Feel At Home
Create a warm and cozy home environment for your Yorkie. They always bark as a sign of frustration or anxiety. This happens mostly when you leave your dog home alone for long periods.
Establish a routine so your dog knows when to expect you at home. But if you have night shifts and an unpredictable schedule, you should consider hiring a pet sitter.
This will help keep your Yorkie busy all day and it will not even realize you are not around. You can also consider doggie daycare or dog walking services.
It is also a good idea to provide your dog with a range of entertainment toys for indoor activities. But don't give all the toys to your dog at once. Providing different toys every day (you can rotate them) allows your pup to experience something new every day.
Ensure Your Yorkie Gets Plenty Of Exercise
Regular exercise helps keep the anxiety levels of your pup in check. Going for a walk is a great form of exercise that also makes your dog happy and is a good bonding experience for the two of you.
The frustration that builds up from staying indoors all day is also reduced. Your furry friend just loves it when you allow it to have an adventure in the outside world.
If your Yorkie gets enough exercise while out, it could instantly fall asleep after the long walk. That's always a nice bonus.
Keep in mind that Yorkies have short legs, so don't walk too fast or you will exhaust your little pup. Yorkies also shouldn't burn too much energy in one go, since they risk having health complications.
Dissuade Your Yorkie From Barking
We all have different ways of stopping bad habits in our dogs. The most common way of stopping excessive barking is by squirting water all over your Yorkie's face.
Dogs don't like it when you splash water on their faces. You can instantly follow up this action with a strong command such as "Quiet" or "No."
Also, you can try making louder noise to disrupt your Yorkie's concentration. For instance, shaking a bottle of soda filled with pennies rapidly.
Some owners use a no-bark collar that produces citronella whenever your dog starts to bark. Dogs don't like the smell of citronella, so this will help keep barks in check. However, be careful when using a no-bark collar, since it might mess up with your pup's emotional state.
Most importantly, the collar seems to have a drastic effect, especially in small dogs. Therefore, you should only consider this option when all the other alternatives have failed.
Use Treats And Rewards
A better option than using dissuasive methods is to take some time to try stopping your dog from barking using commands.
When your pup barks, tell it "quiet" or "no", just as in the previous method. But instead of making noise or using some other form of punishment, give a reward instead.
You can offer your Yorkie a treat after it has quieted down. Accompany the treat with excited verbal praise that let your dog know it has done something good. In fact the praise is more important than the treat.
Eventually, your dog will learn than stopping barking when it hears the command will gain it praise or a treat. It will then happily stop. The next point covers training in more detail.
Train Your Yorkie To Stop Barking
When training your Yorkie to stop barking, treat it like you would when training it to do anything else. Start with simple commands like "sit", "shake hands" or "quiet."
Make sure that your dog maintains focus on you during the entire training session. Yorkies are easily distracted, so you should ensure that there are no distractions in the environment.
It is important to keep in mind that it doesn't make any sense to shout at your dog to stop barking, because your dog doesn't understand what you mean.
You need to first train your dog to understand that a simple command like "quiet" means that you want it to stop barking. Once it has learned, you can use the command.
Start by approaching your Yorkie, getting its attention, and saying the command loudly and clearly.
It is also important to maintain a strong emotional bond with your dog at all times. That way, it will be able to express how it feels in ways other than barking.
The benefit of this is that both you and your neighbors will be at peace. What's more, your Yorkie will have a more stable emotional connection with you.
Next, let's take a look at some of the different sounds your Yorkie will make, along with what it is trying to communicate with each one.
Yorkie Barking Sounds And What They Mean
As you are most likely aware, dogs don't just make one type of sound. They produce various different sounds that differ in some way from barking.
It is a good idea to learn to understand the more common sounds Yorkies make and what they mean. So let's go over them, to help you better understand your pup and how to help it when it needs something.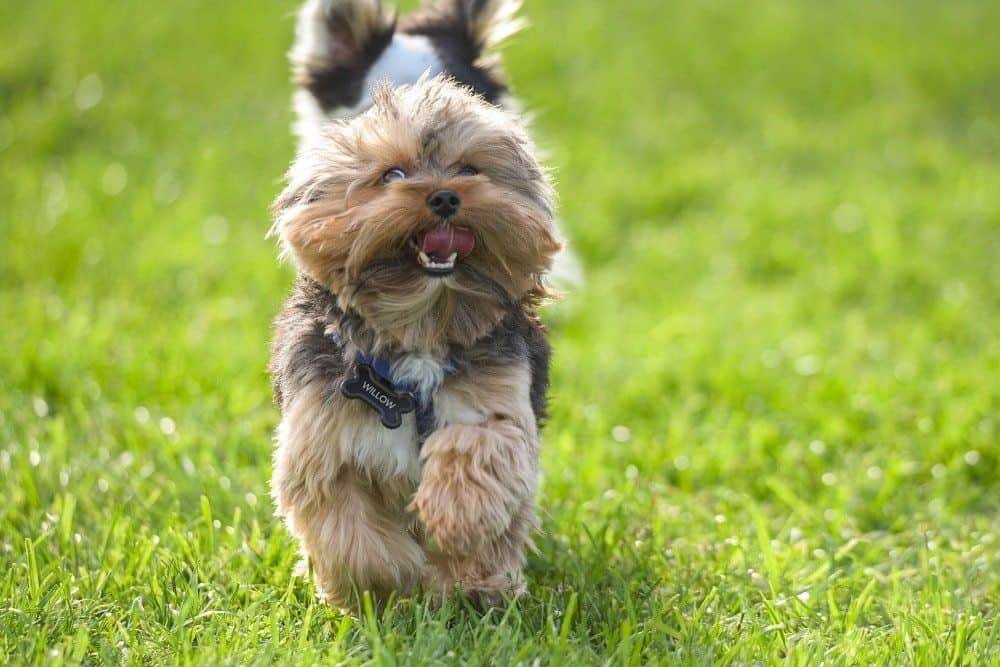 High-Pitched Barking
Have you ever noticed that your Yorkie sometimes produces a high-pitched bark when you are busy doing something else? Well, this is the type of bark Yorkies use when they are seeking attention.
Generally, Yorkies produce a high-pitched bark when they want your attention. They are trying to communicate that they need you to fill a certain need, like playtime or going outside.
Low-Tone Barking
Your Yorkie will produce this sound when there's an impending threat in your vicinity. They can also produce this sound when there's a sudden change in the environment.
Some Yorkies are very sensitive and will bark in low tones when they hear a flock of birds, wind, or even a loud car on the street. Often, you will not see or hear anything, leaving you wondering what in the devil your pup is getting so worked up over!
Growling
Growling is typically a warning behavior. Dogs will growl to alert you to something. After the growling, your dog is likely to produce a low-tone bark.
Yorkies are very territorial and will always try to protect their environment. If someone or something they don't know tries to invade their space, they will growl to warn the intruder. If the intruder does not heed the warning, they will move on to the low-tone bark.
Whenever you hear your dog growling, it's best to stay as far away as possible. Think of it the same as the warning sign that rattlesnakes give you with their rattle, before they actually strike.
We're not saying that your dog will bite you, but it is a possibility. If you do not heed the growling warning, you might not like the results.
The combination of growling and certain other signs can give you a clearer picture of your dog's intention.
Let's say your dog starts to growl, while also producing a tooth snapping sound. This means that your Yorkie is trying to tell you that it has teeth and is not afraid to use them.
Whining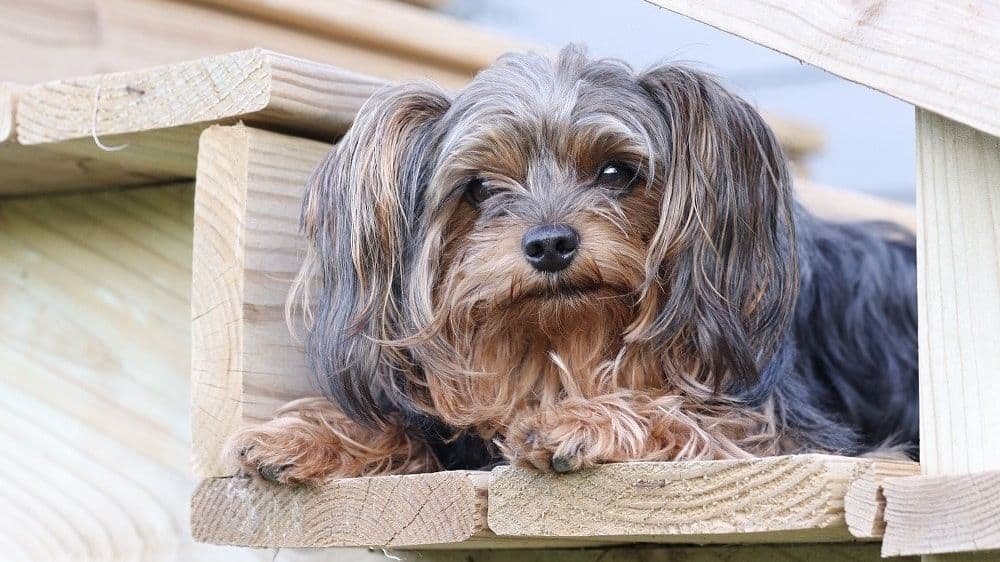 Why is my Yorkie whining? Whining indicates that your dog is probably in distress and needs your help.
Yorkshire Terriers whine when they are feeling lonely, often because you left them home alone. It means they miss their master.
In other cases, whining can also mean that your dog is hurt or in pain, probably from an injury. In these cases, it will typically lie down and not want to be touched.
If the pain is intense, your dog will start to feel like every single this is a treat. This can cause some Yorkies to become aggressive. For that reason, approach your dog with caution, if it has an injury.
Whimpering
Whimpering is common in little puppies. It is the equivalent of whining. Adults whine. while little puppies  whimper. Both sounds mean the same thing: that your puppy is distressed, hurt, sad, or lonely.
Yelping
This is a sound that your dog will produce when injured. It's easily distinguished from normal barking by its high-pitched and fast nature. Your dog will instantly yelp when it feels a sudden pain.
For instance, when your Yorkie steps on a thorn or any other sharp object, it will instantly yelp.
As a good owner, you should run to the rescue of your dog. That's because dogs will yelp once, but then stop when the initial intense pain is gone. But that doesn't mean that they are no longer in pain and in need of assistance.
Your pup is likely to walk around with an injured paw without even producing a sound. This could affect the health of your dog in the long term.
Your dog might also suffer an infection that could keep getting worse without you even knowing. That's why you should always check on your dog and offer assistance whenever you hear it yelp. You may need to get it some type of pain medication for Yorkies, too.
Moaning
Moaning in people and dogs is quite different. Most people moan when they are injured, but it's a whole different thing when it comes to dogs. Dogs will only moan when they are happy.
One of the things that will make your Yorkie moan is when you rub its tummy, or you show it signs of affection. This will typically put your Yorkie in a good mood and it will produce a moaning sound to show its feeling of contentment.
Why Yorkies Bark So Much: Final Thoughts
All dogs bark. Yorkies bark more than most. Do teacup Yorkies bark a lot, too? Yes, it is all Yorkshire terriers and all of them for the same reasons we covered above.
And often, the barking becomes excessive. That can become annoying to you, but more importantly, it could be a huge nuisance to your neighbors.
Luckily, you can get your Yorkie to stop barking with some training. But make sure you train your pup using proper methods. Otherwise, you will just confuse your dog and waste your time.
Barking is one of the things this breed is known for. There are a few other major traits that distinguish them. Read "What are yorkies known for?" to learn more.