The American Kennel Club (AKC) only recognizes four standard Yorkie coat colors.
If you want to have an officially recognized purebred Yorkshire terrier, it must have fur in a combination of two of those colors.
If you're not set on having an AKC-recognized purebred Yorkie there are some pretty cool different colors of Yorkies out there.
They may not be officially recognized, but they have one thing in common with purebred Yorkies.
They're just as adorable!
However, you can never enter them into a competition. At least not as a Yorkshire terrier.
Keep reading to learn exactly what colors a Yorkie must have in order to be considered purebred. We'll also go over all the other non-standard colors Yorkies come in.
What Colors Do Yorkies Come In?
Yorkies come in four different color combinations, according to the American Kennel Club (AKC): black and tan, blue and tan, black and gold, and blue and gold. Any dog that does not have those colors is not considered a purebred Yorkshire terrier.
However, there is one new exception.The AKC now also recognizes Parti Yorkies (black, tan, and white) as a nonstandard variant of a  purebred yorkie. They are not allowed in the conformation portion of competitions, though.
There are also a number of other colors, but these dogs are not considered purebred Yorkies. If that does not matter to you, they can make for much more unique pets.
Let's take a closer look at all of the possible colors of Yorkies, including the officially recognized yorkie coat colors, and the nonstandard colors.
Different Colors Of Yorkies
Most Yorkshire terrier puppies are born with a black and tan coat, which changes to blue and gold as the puppy matures. However, some puppies are born with blue and gold coats, or some other combination of hose four colors. And some adults have combinations other than blue and gold.
However, there are also yorkies with colors other than those four, or the now officially recognized parti colors.
A good example is the Biewer terrier. The first one was born in Germany in 1984, with entirely different coloring than the standard black, tan, blue and gold colors.
It was a yorkie purebred, but it did not meet the official requirements to be considered purebred. And these days, it is recognized as its own separate breed: the Biewer terrier (many still call it the Biewer yorkie).
What is a Biewer Yorkie exactly? We won't go into that breed here, since it is distinct from the Yorkie. But follow that link for an in-depth look at the Biewer breed, and this one for a comparison of the Yorkie and the Biewer.
Now, let's take a close look at all of the different colors of yorkies, including the officially recognized yorkie coat colors and nonstandard colors that are not recognized.
Black And Tan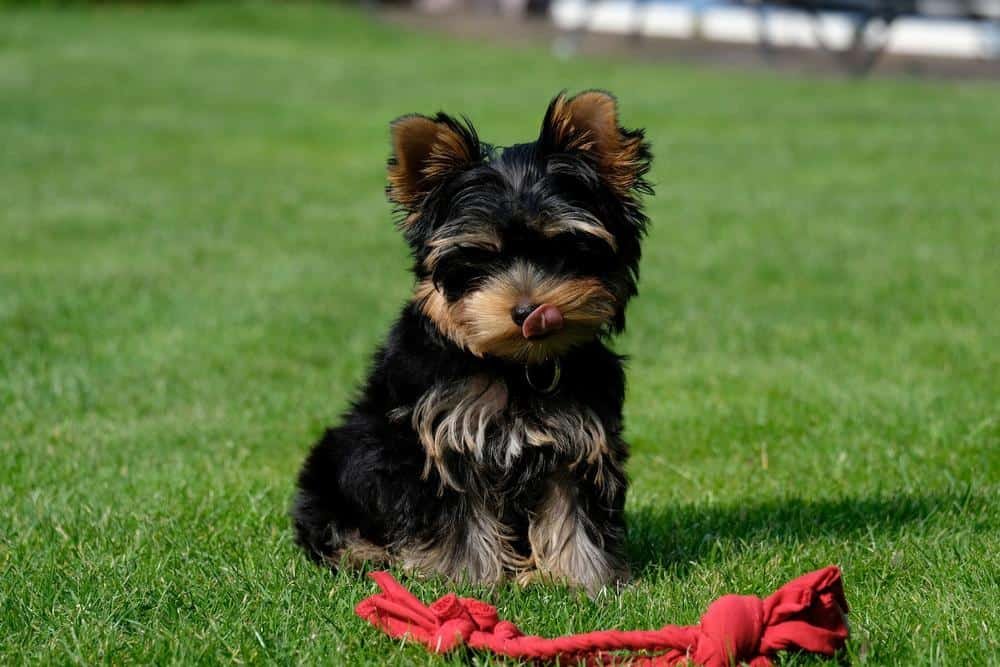 Black and tan is the most common color for Yorkie puppies. The colors usually change by the time the dog reaches the age of two. However, some adult dogs retain this coloring, if they lack the graying gene that lightens the hair color.
In black and tan colored Yorkies, the black coloring is present all over the dog's body, tail, and head. The tan color usually shows up on the legs, chest, around the mouth, and inside the ears.
Black And Gold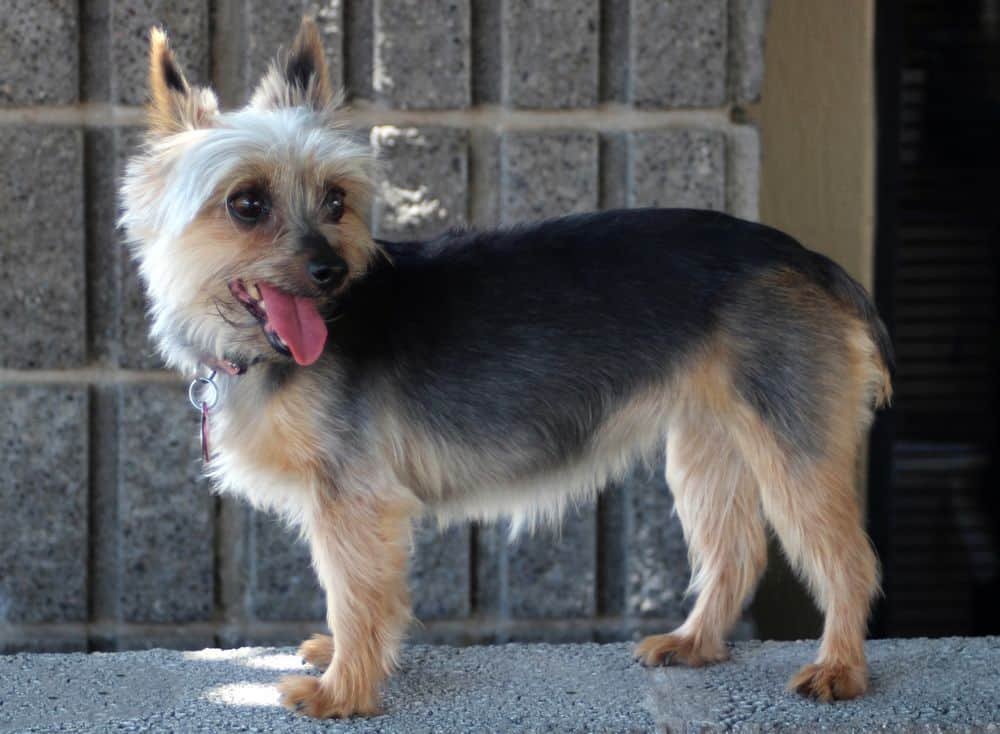 Black and gold Yorkies result when the tan portion of the coat lightens to gold, but the black portion does not lighten to the common steel-blue color.
The pigment pheomelanin is responsible for gold, yellow, or reddish colors in dogs. The production of this pigment is controlled by the 'e' gene.
Every Yorkie also has two 'e' genes. The recessive 'e' gene allows the golden color to shine through. If a Yorkie puppy receives the recessive 'e' gene from both its parent dogs, then it will have more of the gold coloring.
In black and gold Yorkies, the black hair is rather light and the non-black (i.e. gold) areas on the face legs, and chest, are shiny and shimmering.
Blue And Tan
A blue and tan Yorkie is similar to the black and gold one, except it is the tan color that does not lighten, while the black does. In essence, the graying gene only works on the black portions of the coat.
It is most common to see this color (and the previous one) as your pup transitions from its puppy colors to its adult colors. In other words, the black portions of the puppy's coat lighten faster than the tan ones. The tan ones usually catch up and change to gold, too.
This color is also common in one specific Yorkie crossbreed: the Silky Terrier. Purebred Silkies all have a blue and tan coat. Our article comparing the Yorkie vs Silky has much more on the differences and similarities between these two closely related breeds.
Blue And Gold
The blue and gold coloring occurs due to the double gray gene. Both the black and the tan potions of the puppy's coat lighten and become blue and gold. The hair is lighter at the tips and darker at the root.
The blue is not bright blue, but a steel-gray blue. It appears all over the body as th base color, while the gold is all over the face and legs. This is the most common color combination in adult yorkies.
Parti Yorkie
The AKC started recognizing Parti-Colored Yorkies in 2000, with their tri-colored coats in black, white, and tan. Sometimes, they also have chocolate in place of white.
Most typically, Parti Yorkies have more than 50% white along with black and tan. The white occurs when both parents carry the recessive Piebald gene.
Parti Yorkies are allowed in agility and obedience portions of a competition, but not in conformation. They are very similar to Biewer terriers, but those dogs are considered a separate breed, not a Yorkie variety.
Blue-Born
This differs from the steel-blue color that is standard in adult Yorkies. Blue-born Yorkies are born with entirely blue fur. You might think this sounds cool, but it is actually a terrible condition for the dog.
Entirely blue Yorkies are not healthy. Most don't live past a few days and the ones that do usually have to be euthanized to prevent them from suffering. Even ones that make it to adulthood rarely live comfortable lives.
Black
Completely black Yorkies are rare and they are not purebred. Stay away from breeders that promise "purebred black Yorkies". If you see an all-black Yorkie, it is a crossbreed with a black breed, like a Dachshund or a Miniature Pinscher.
It is possible for some purebred Yorkies to appear all black, but if you look closely, you will see that they do have tan fun in there as well. And if they are young, chances are the colors will change as they mature. A full grown black yorkie is extremely rare.
Chocolate
The b-allele gene can sometimes give rise to a completely purebred Yorkshire terrier with chocolate brown coloring. However, this is rare and most breeders have to mix in some other breed's DNA to get this rare coloring.
The chocolate hue has a rich solid brown color with dark undertones. If a breeder promises you a purebred chocolate Yorkie puppy, do not hesitate to ask for the details of the puppy's past 5 generations. There is almost certainly a non-yorkie ancestor in there somewhere.
Liver
There is a difference between chocolate and liver Yorkies. The latter has reddish undertones in its dark brown coloring. Sometimes, the liver coat might have some white or tan markings on the chest. This is a rare color in the breed.
White
White yorkies exist, but they are very rare. They are almost never purebred Yorkshire terriers and they have the DNA of other breeds like Havanese or Maltese.
Some also believe that white Yorkies are albino but that is not true. White Yorkies have black eyes and noses and are leucistic. Albino Yorkies, on the other hand, tend to have pink noses and paw pads and gray or blue eyes.
Sometimes a purebred Parti Yorkie will look like an all-white Yorkshire terrier, but if you take a closer look, you will almost certainly find some fur in other colors. All-white Yorkies are always a crossbreed of some type.
Red-Legged
As the name indicates, the red-legged Yorkie has the tan coloring on the legs turn into a rich red color. Sometimes, the tan also takes over all of the coat so the Yorkie might not have any blue or black at all.
Yorkie Coat Colors: Related Questions
We get a lot of questions related to a Yorkshire terrier's coat colors. We'll answer the most common ones here. If you have additional questions, please feel free to ask them in a comment below. If it's a good one, we'll end up adding it to this section of the article. And if not, we'll still answer it in a comment.
What Is The Rarest Color In A Yorkie?
There are many rare colors in Yorkies. White, all-black, golden, liver, and chocolate are some of the rarest colors in Yorkshire terriers. Typically, breeders achieve these rare colors by cross-breeding a Yorkie with another breed.
What Colors Are Purebred Yorkies?
Purebred Yorkies can only be black and tan, blue and tan, blue and gold, black and gold, or parti colors. Any other combination of colors is not considered a purebred Yorkie, according to the AKC guidelines.
When Does A Yorkie Puppy Change Colors?
The age at which a Yorkie begins to change colors varies from dog to dog. But on average, the Yorkie puppy coat begins to change color around the age of six months. But it does not happen all at once. It is a gradual process.
Most puppies complete the color change and have their adult coats by the age of two. However, it can take up the the age of three in some dogs.
Do Yorkies Go Gray?
All dogs can get gray hairs as they age, just like humans. But it is also possible for a Yorkie to begin turning gray much earlier in life. There are a number of possible reasons for this. Read "Why is my yorkie hair turning gray?" for an explanation of what might be going on.
To What Colors Do Yorkie Puppies Change?
First, let us clear up a misconception. The hair itself does not actually change color. Instead, it is replaced by new hair. The puppy hairs fall out and are replaced by adult hairs.
Imagine if this did not happen. Your dog would have the same hair its whole life. Could you imagine how disgusting that would get? And how damaged the hair would eventually be?
While Yorkies do not shed like other breeds, they do lose hair as it gets replaces, just like we do. And when this happens between the age of 6 months and two years, they get a coat that is a different color than the previous one.
A Yorkie's coloration does not change dramatically, but there is almost always some change. When, how much, and in which way it changes differs from one pup to the next.
Generally, the fur lightens from puppy to adult. Most commonly, the black fur of a puppy changes to the familiar steel-blue, and the tan fur changes to gold.
Sometimes, one, or both, of the puppy colors do not lighten. Or they lighten a lot less.
It is also possible for a puppy, and the then resulting adult, to have primarily one color only. The secondary color is still there in a purebred Yorkie, but in tiny amounts.
Sometimes, the tan in the puppy coat turns into a deep, shiny red, resulting in the red-legged yorkie. These are rare.
How Do You Care For A Yorkie Coat?
Yorkies need regular bathing because of their coat. Bathe your Yorkie once a month at the very least. Bathe your Yorkie puppy for the first time when it is a few months old.
You also need to brush or comb your pup regularyl. Ideally, you should give it a quick brushing once a day to remove any tangled and matted hair, especially if the hair is longer.
Brushing Or Combing
Groom your dog using a good dog brush or comb for Yorkies. You should do this every day, to prevent the formation of stubborn tangles and knots. Use your fingers to gently untangle especially matted areas, before running the brush or comb through them.
Bathing
Put your Yorkie in the bathtub, the kitchen sink, or the bathroom sink. When filling the tub or sink with water, don't go above six inches, and ensure that the water has a bearable temperature for your dog.
If your Yorkie squirms or becomes agitated when being bathed, stay close and comfort him or her. Get your pup's coat wet before applying a shampoo.
Start with the head and work your way down to the hind legs. Keep the shampoo away from the eyes. Only use the best shampoos made specifically for dogs. Since dogs and humans have very different chemical balances, human shampoos are not appropriate for Yorkies.
After rinsing out all the shampoo, dry your thoroughly with a towel. Pat it down instead of rubbing, because rubbing might cause knots and tangles in the coat.
You could also blow dry your dog's hair, especially if it is a colder day. Make sure to set your blow dryer to low, so as not to burn your pup. Excessive heat can damage the fur and also potentially cause skin burns.
After you are done bathing your Yorkie, it is a good idea to brush or comb it, as outlined above.
Colors Of Yorkies: Conclusion
Yorkies come in four official color combinations: black and tan, black and gold, blue and tan, and blue and gold. These are the only four combinations recognized by the AKC as a purebred Yorkie. However, they do recognize the white, black and tan Particolored Yorkie as a nonstandard variant.
But there are a number of other possible color combinations. While these dogs are not considered purebred and are usually the result of crossbreeding, there is nothing wrong with them.
As long as you don't mind not having an officially recognized purebred Yorkies, some of these other colors can make for a more unique and interesting dog.
And if you are hoping to find Yorkshire terriers for free, your chances increase considerably, if you don't necessarily need a purebred dog. They increase even more if you are fine with an older dog.