The Yorkie Maltese mix undoubtedly ranks very high on the cuteness scale.
But where does it rank when it comes to other factors?
How big do Yorkie Maltese get? How much care do they need? Are they good with kids and other pets?
We'll cover those and all other pertinent questions below.
And we'll begin with the most important one. The average size of a Morkie. Given the two parent breeds, the answer should not surprise you at all.
How Big Do Morkies Get Full Grown?
An average adult Yorkie Maltese dog grows to a height of 6 to 10 inches and weighs between 4 and 8 pounds.
It is not uncommon for them to weigh up to 15 pounds, with some growing even larger than that. In general, male Morkies tend to be slightly larger than their female counterparts.
General Info On The Maltese Yorkie Mixed Breed
The Morkie is a combination of the Maltese and Yorkshire terriers. Both parent breeds are hugely popular. with Yorkies ranking #9 ut of 194 breeds, and Maltese ranking #33.
Given that, it comes as no surprise that the Morkie has become one of the most popular designer crossbreeds in the US since its introduction in the late 1990s.
In the beginning, this breed was called the Yorktese. Today, Morkie is the more common term. It is also referred to as a Morkshire Terrier, or simply a Maltese Yorkie Mix.
These dogs were bred with the intention of creating the ultimate designer lap dog, one that is affectionate, confident and low-shedding.
It has been a big success, but that does come with a larger price tag than average. Morkies can cost from $1,500 to $3,000, despite the breed not yet being officially recognized by prestigious kennel clubs like the AKC or UKC.
Morkie Characteristics
Whenever you mix two breeds, the result is always a "luck of the draw" type of thing. Puppies of mixed parents could take on a majority of the characteristics of one of the parents, or a more equal mix of the two.
You never know what you're going to get. One thing that does distinguish Morkies, at least in the US, is the lack of a tail. The Maltese Yorkie has a tail at birth, but just like breeders do with Yorkies, they tend to remove Morkie tails at birth.
Maltese Yorkie Size And Weight
When it comes to the Yorkie and Maltese mix, both breeds are already fairly similar, so there is not that much variation.
In terms of size, the Maltese is slightly larger than the Yorkie on average, but the difference is minimal. For that reason, an adult Morkie is generally about the same size as a purebred full-grown Yorkshire terrier or Maltese.
Morkie Coat And Grooming Needs
Both parent breeds are considered non-shedders, so the same goes for the Morkie. This does not mean they don't shed at all, but they shed very little, making them great for those who are allergic to dog hair.
Both the Yorkshire terrier and the Maltese are also famous for their gorgeous coats, so you can expect your little mix to have a beautiful fur coat as well.
But that stunning coat does require a bit of grooming. This is especially true if you let the coat grow long.
The longer the hair, the higher the chance of knots, matting and tangled hair, and the faster they start appearing.
You'll probably want to give your Yorkie Maltese a quick daily brushing. You should also give it a bath at least once monthly, but better twice. This does depend on how filthy your little pup likes to get.
Be sure to use dog shampoo and not human shampoo. It is specially formulated for pooches. Any of these top shampoos for Yorkies will work great for a Morkie as well.
Morkies should see a groomer once a month, too. They can give your dogs hair and nails a trim, though you can certainly groom your Yorkie Maltese yourself at home, too.
Make sure the hair around the eyes and ears never gets too long, since it can irritate your poor dog and end up causing problems.
Don't forget the teeth either! Brush your dog's teeth three times per week to maintain good dental hygiene and ensure its teeth and gums remain healthy.
Yorkie Maltese Personality And Temperament
Morkies have tons of energy and personality. They are friendly and playful, but also fierce and loyal.
In fact, their loyalty can often become a problem. They need a lot of attention and, combined with their extreme loyalty, this can lead them to become emotionally dependent on their owner.
You need to set the right balance between spending time with your dog and giving it space. If you don't you can end up with a pup that is far too dependent on you that suffers behavioral issues and separation anxiety as a result.
Getting that balance right is not always easy. And you need to know that this breed does require a bit more of your time than many others. The Maltese Yorkie mix is best suited for owners who have plenty of free time to spend with their dogs.
Yorkie Maltese mixes tend to be good with other dogs, although having a larger dog in the same house increases the risk of injury. The bigger dog could easily injure the Morkie by accident, simply by playing around.
But you do need to make sure you socialize your Morkie from an early age. You need to get it used to being around other people and/or animals.
This also goes a long way toward ensuring your pup does not become overly attached to you. It also helps curb their excessive barking, which is another potential issue with this breed.
Morkies love barking. They bark for any number of reasons, but it usually comes down to attention seeking. You can take steps to reign in their barking, though.
Training a Morkie is made easier thanks to their high intelligence, but their short attention span offsets that. You'll want to create a distraction-free training environment and keep training sessions short.
Always use positive reinforcement, not negative. This means you should not scold your dog for doing something wrong. Instead ignore bad behavior and reward good behavior. They learn much better than way.
Common Morkie Health Issues
Yorkshire terriers are generally very healthy dogs and Morkies inherit those traits. As a result, they live longer than many other breeds, with an average lifespan of 13 years and some dogs living as long as 17 years.
But they are prone to a few key health issues, mostly due to their small size and their genetics. These are the most common ailments from which Morkies suffer.
Eye, Ear, and Oral Issues: usually due to excessive hair growth or poor dental hygiene
Collapsed Trachea: occurs from prolonged use of a collar; use a good dog harness instead
Reverse Sneezing: read this article on Yorkies snorting for more
Hypoglycemia: low blood sugar, usually due to poor nutrition
Portosystemic Shunt: inherited disorder in which blood does not flow through the liver for cleansing
Patella Luxation: birth defect that essentially results in the dislocation of the kneecap
In general, if you feed your Morkie a healthy diet and you take it to the vet for regular checkups and all important vaccinations, your dog will remain mostly healthy.
You should also do your research before ever getting your dog. Make sure the breeder is reputable and a member of a safe breeding association. You want as much information as possible on the conditions at their facilities and on your dog's parents.
Yorkie Maltese Dietary Needs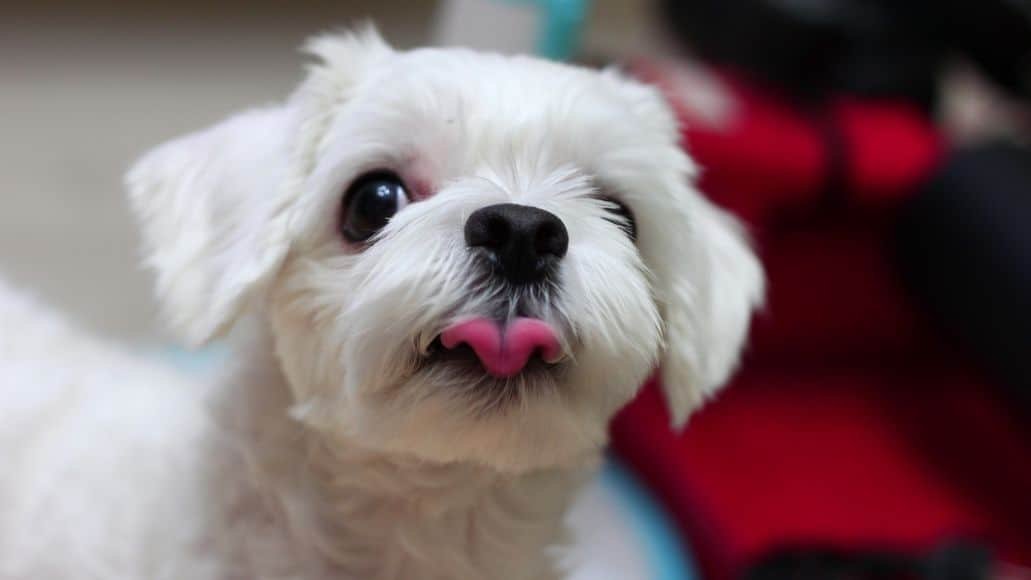 Like their parents, Maltese Yorkie mixes have huge appetites in relation to their sizes. But their tiny stomachs can't fit all the food they need in one sitting, so you'll need to feed your pup 3 to 5 times per day.
In general, a Morkie needs between 200 and 300 calories per day when it is fully grown and between 300 and 500 during the first 18 months, when it is still growing.
It is important not to overfeed your dog. You also want to make sure you only feed it quality healthy dog food.
Remember to count snacks when totaling up the daily calories. If you give a lot of treats, those calories add up! And don't feed your pooch table scraps. That's just never a good idea.
Morkie Exercise Requirements
The small size means that Morkies don't need a ton of exercise when compared to larger dogs. In general, 30 to 40 minutes of walking per day is sufficient.
It is best to spread this out over two walks. Two 15 to 20 minute walks every day would be perfect.
In addition to that, try to get your pup some more strenuous exercise 2 to 3 times per week. You could play fetch or tug-of-war, for instance.
How Big Yorkie Maltese Get: Conclusion
Yorkie Maltese mixes are a toy breed. As such, they never get large. In general, there is not much difference between the size of a Morkie and the sizes of its two parent breeds.
In fact, these dogs have characteristics that are very similar to their parents in many ways. The result is a wonderful, loving dog that makes for a great pet, especially for those with an allergy to pet hair.
But they do offer some unique challenges as well. But take it from me, those challenges are more than worth it! This is one incredibly (and incredibly cute!) breed.