Yorkies are tiny dogs.
Even the largest weigh under 20 pounds and most weigh well under 10.
But not all.
Some Yorkies are far larger than the average.
If your Yorkie is on the larger side, it may indicate a problem.
But it may also be perfectly normal.
Keep reading to learn the two main reasons why some Yorkies are larger, and what (if anything) you need to do about it.
Why Is My Yorkie So Big?
The American Kennel Club (AKC) standards state that a full-grown Yorkie should weigh a maximum of 7 pounds and measure 6 to 9 inches from the floor to the withers.
But many Yorkies fall outside this range. And that is not necessarily a bad thing.
There are two primary reasons your Yorkie might be larger than the standard set by the AKC. The first is genetics and it is not something you can change. The second is lifestyle and that is very much in your hands.
Determining which of the two is the issue in your case should not be overly difficult. But it isn't as simple as you may thing either.
Just because your dog is larger than any of its siblings for example, that still does not mean that you are overfeeding it or it isn't getting enough exercise. It has a different (but similar) genetic makeup to its siblings, so it may just be naturally larger than them, in the same way that I am not as tall as my brother.
Our article "How Much Should A Yorkie Weigh?" details some ways you can determine whether your Yorkie is simply larger by nature, or whether it is larger because it is eating too much and not getting enough exercise.
Once you have determined that, keep reading for a deeper explanation of both the genetic factor and the lifestyle factor.
Genetics
A larger-than-average Yorkie may result from a pairing of a dam (female) and a sire (male) that weren't purebred Yorkies. This could be intentional, but often no one knew that one of the parents was not purebred.
It could be that a larger breed mated with a purebred Yorkie somewhere along one (or often both) of the parent's bloodline, resulting in larger puppies. The dam and sire weren't able to produce standard-sized Yorkies because of their unique genetic composition.
It is important to keep in mind that Yorkie puppies cannot be planned down to the last gene. Every litter will always have bone and body structure differences due to each puppy's unique genetic composition.
Every parent contributes his or her genetic material to each puppy, and even siblings have different genetic compositions.
While it is possible to get a general idea of the puppies' size and appearance by looking at the dam and sire, it's impossible to be completely accurate. Some puppies end up larger and some smaller.
The genes from ascendants as far back as ten or more generations will reveal themselves in the puppies' size at birth and adulthood.
It is why some purebred Yorkies end up larger than expected at birth. It is not all that common, but still possible.
According to AKC standards, a Yorkie can be considered purebred if its pedigree stretches back to three generations. Perhaps, your Yorkie has a larger dog as an ancestor further back than three generations.
Diet And Exercise Habits
While genetics is beyond your control, your Yorkie's diet and exercise habits are entirely in your control! If your dog is larger than average, then you may be at fault.
You may have been feeding your Yorkie large amounts of food or feeding it more often than recommended. You may also have been giving nutritional supplements when none were needed.
It is also quite common for owners to give their dogs far too many treats between mealtimes. And many treats are basically considered junk food for dogs (so give only good treats, and no table scraps).
You may also have been remiss in providing your Yorkie with the opportunity to play, which is a must since Yorkies are energetic dogs. You may live in an apartment complex where it doesn't have sufficient space to run around, much less play with other dogs.
Just like humans, Yorkies need a healthy diet and sufficient exercise to keep them in good health. If your Yorkie is large because it is overweight (read "How Much Should A Yorkie Weigh?") it would be a good idea to discuss ways you can help your dog lose the excess weight with your vet.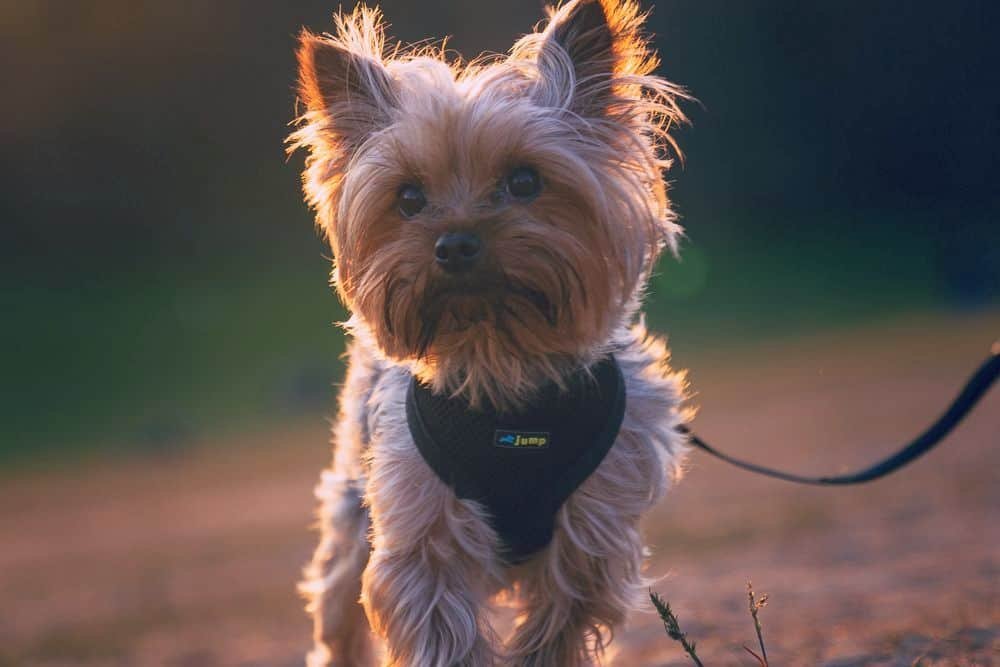 In general, you will want to reduce the overall number of calories your dog eats per day. Make sure to count every treat, too. You may also want to switch to healthier food, if you have been feeding your dog food that is not all that good for it.
You definitely want to stop feeding your dog table scraps. You should also keep an eye on it and make sure it is not getting food from some other source.
Finally, you probably should get your pup more time to exercise. This means longer walks or more frequent ones. You should also make sure it gets two or three rigorous exercise sessions per week.
These can take the form of games like fetch or tug of war. But really, anything where your dog is exerting a lot of energy is fine. So just get your little Yorkie running!
Why Your Yorkie Is So Big: Conclusion
The size of your Yorkie may or may not be your fault! If your dog is larger due to its genetics, there is nothing you can do and also nothing you should do. As long as it is healthy, everything is fine.
But if your dog is larger because it eats too much or it does not get enough exercise, you need to take measures to remedy the situation.
It is a good idea to discuss the issue with your vet and come up with a plan to help your pup lose weight. IF you prefer not to involve a vet, it usually comes down to switching to a healthier diet, reducing the number of calories, or increasing the amount of exercise. In many cases, you'll need to do all three.