All Yorkies are beautiful.
But most find the rare Golden Yorkie more beautiful than the rest.
Part of that is the simple fact that this color is rare. All of the rarer Yorkie colorings are more in demand.
Yet the golden coat color is the rarest and most prized of all.
But should you get one?
Many people will tell you not to. That is primarily due to the unethical breeding practices that generally go hand-in-hand with rare Yorkie coat colors.
But not all breeders are unethical. Some golden Yorkies are the result of natural breeding, and not inbreeding. Of course, those are rarest of all.
Keep reading to learn everything you need to know about the Golden Yorkie and the similar, but different Golddust Yorkie and Blonde Yorkie.
Rare Golden Yorkie
Golden Yorkies are Yorkshire terriers with solid gold coloring all over the body and face. Since the vast majority of Yorkies are mostly blue with gold on their legs and heads, the solid gold coloring is a rarity.
In fact, any single or solid coloring in Yorkies is a rarity. Most Yorkies are bi-colored, usually black and tan as puppies and blue and gold as adults. But gold is the rarest.
This makes it highly sought-after. No wonder, breeders charge as high as $4000 to $8000 for rare Golden Yorkies.
What Makes The Golden Yorkie So Rare?
First of all, breeding a completely golden-colored Yorkie involves a complicated process. In most cases, golden Yorkies are not purebred. They usually have some other dog breed's DNAs in their blood, which is what results in them only having a single color.
Breeders often cross a tan Yorkie with other dog breeds such as Biewer terriers or Silky terriers. In rare cases, they may have two golden Yorkies producing a litter of solid gold puppies.
Mostly, this is accomplished through inbreeding. This is always an unhealthy dog breeding practice that only unethical breeders use to produce rare colored pups.
Of course, ethical breeders need to be extremely knowledgeable about canine genetics, in order to successfully cross-breed Yorkies to achieve a golden color. This is why the price of golden Yorkies is so high.
Shady breeders will not always disclose all of the information concerning a golden Yorkie's lineage. They may claim that their golden Yorkie is 100% purebred. Often, unethical breeders may try to pass off a light tan colored or reddish Yorkie as a golden Yorkie.
That is why it is important that you do your homework before selecting non-standard colored puppies like golden Yorkies. Sure, exotic and rare colors will earn you plenty of compliments, but that could come at a price. Always be sure to buy your puppy from a reputable breeder.
What Gives A Golden Yorkie Its Golden Color?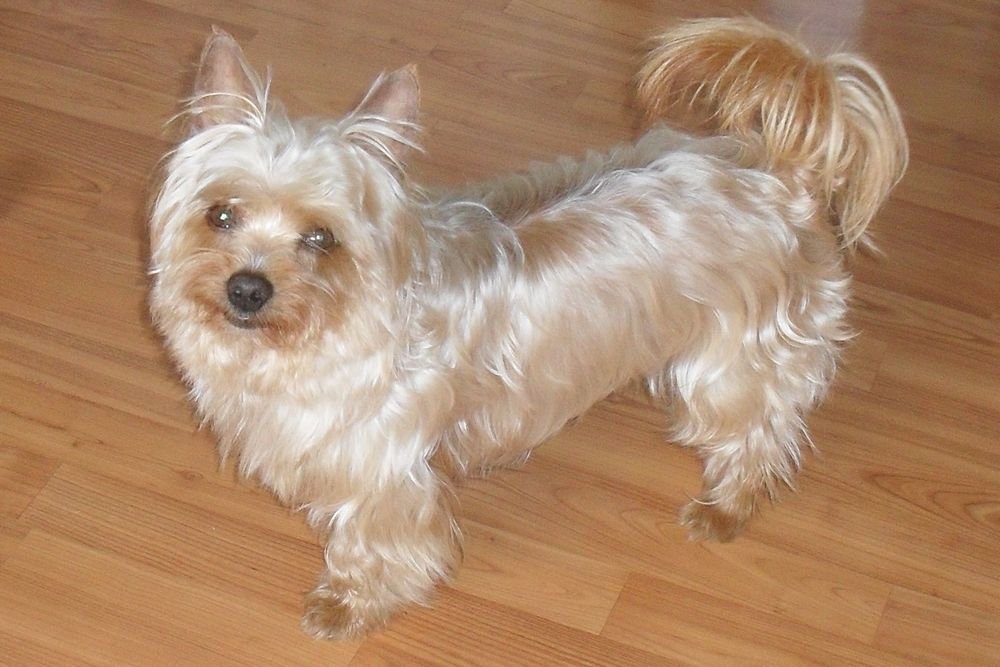 Golden Yorkies look gorgeous, there is no doubt about that. Their silky coat shimmers in the light, just like silk golden-silver yarn.
To understand what gives a golden Yorkie its beautiful coat color, you need a basic understanding of dog genetics. Two pigments are responsible for a dog's coat color: Eumelanin and Pheomelanin.
The Eumelanin pigment contributes to grey, brown, or black. The Pheomelanin pigment imparts the yellow, red, or golden colors.
For Pheomelanin to be more dominant than Eumelanin, a puppy needs certain genetic combinations of the gene known as the 'e' (extension) gene.
Without going into too much complicated scientific jargon, a Yorkie puppy will only acquire a yellow or golden-colored coat, if it has the e-gene in a combination of recessive 'ee-genes' from both parents.
Are Golden Yorkies Healthy?
As explained above, true golden Yorkies are extremely rare. The Yorkie puppies that are born completely golden have to have two completely golden parents, too.
The true gold color is also an indication that the dog has the recessive golden gene. And this gene could bring some health issues with it.
Yorkie breeders who breed for color often use unsafe methods to develop these rare colors. They are only after profits, so they may not conduct health tests on their breeding dogs.
Sometimes they even inbreed their Golden Yorkies to continue developing such rare colored puppies. Inbreeding can result in many health issues in dogs such as skeletal irregularities, deafness, cardiac issues, and even reproductive problems.
Gullible owners who are after rare colors may not be aware of these health issues and end up paying purebred prices for their puppies.
Since solid-colored Yorkies are not standard dogs, they are not AKC registered. This is why there is very little information about them. Any documentation about rare golden Yorkies with specific health problems may be hard to come by.
If you trust the breeder from whom you purchase your purebred Golden Yorkie, then it is likely that she or he has tested their breeding dogs for health issues. In that case, you have a good chance of getting a healthy puppy.
Remember that solid-colored Yorkies are not eligible for dog shows. And good breeders who genuinely care about the breed's welfare will refrain from specifically breeding golden Yorkies.
This helps maintain standard colors and other characteristics in the breed. This is also the reason why reputed breeders will themselves advise potential pet owners not to go for such rare colored Yorkies.
Full Grown Blonde Yorkie
Blonde Yorkies have a fair, pale yellow coat. The gorgeous coat may actually be a combination of silky white with gold. This rare Yorkie coat is eye-catching and stands out in a crowd. No wonder it is also popular among dog owners.
Blonde Yorkies differ from golden Yorkies in that they have more white in their coats. Golden Yorkies tend to have shimmering golden strands with only undertones of silver.
Both golden and blonde Yorkies may also show a mixture of hues. For example, there may be some tan, brown, or even black visible upon closer inspection.
Blonde is not a standard color in the breed. It is highly likely that any blonde Yorkie is not purebred. Eve if it is, it cannot participate in dog shows as a Yorkie.
Gold Dust Yorkie
A Gold Dust Yorkie (also spelled Golddust) is a cross between the Biewer terrier and the Yorkshire terrier. The resulting dogs have gorgeous white-gold coats that are rare, attractive, and much sought-after.
The Golddust mutation occurs when the eumelanin pigment is 'switched off' and only the pheomelanin is visible, giving the coat its rare gold-white hue.
To produce Golddust Yorkies, both parents have to be either Golddusts themselves, or they could be a cross between a Biewer and Yorkshire terrier, where both parent dogs carry the recessive gold-white gene.
Several German breeders, including one named Kristen Sanchez Meyer, a genetics biology teacher, have studied such rare Yorkies extensively. Thanks to her commitment to the Golddust Yorkie breed, it is now officially recognized and registered in Germany. But not in the US.
Since the Biewer terrier is also descended from the Yorkshire terrier (see a comparison of the Biewer terrier vs Yorkie here), Golddust terriers are very similar to regular Yorkies. They seem to have no sense of their small size.
They are brave and they have a strong desire to go on adventures. They are bundles of energy, bravery, loyalty, and intelligence.
The Golddust is a great companion for owners who take the time to learn how to care for a small dog. Golddust Yorkies are affectionate and caring animals that can be easy to train, due to their intelligence. But you have to know how to deal with their stubbornness and short attention span.
The Golddust makes a fantastic watchdog. It is very territorial and will defend you and your property with more bravery than most dogs that are far larger.
Problems can occur when you allow your dog to take over the house, due to its cute, petite size. You need to make sure your little pup understands that you are in charge.
They are also excellent apartment puppies. They are relatively active indoors and can thrive in either a yard or without one.
These dogs do have a delicate digestive system. Make sure you feed them a healthy diet. They also need plenty of exercise. This means at least two walks per day and two or three sessions per week of rigorous exercise, like a game of fetch.
If your Golddust is zipping around the house like a speeding bullet, it needs to go on more or longer walks. It will also appreciate an off-leash romp in a secure, open field, like a wide, fenced-in yard.
As you might expect, that gorgeous golden coat need some love and attention too. Give the coat a quick brushing every day, if possible. But make sure you brush it thoroughly at least once a week. A bath every two to three weeks is also important.
The longer the dog's coat, the more care it will need. You'll need to brush long coats every day for sure.
Are Yorkies The Right Dog For You?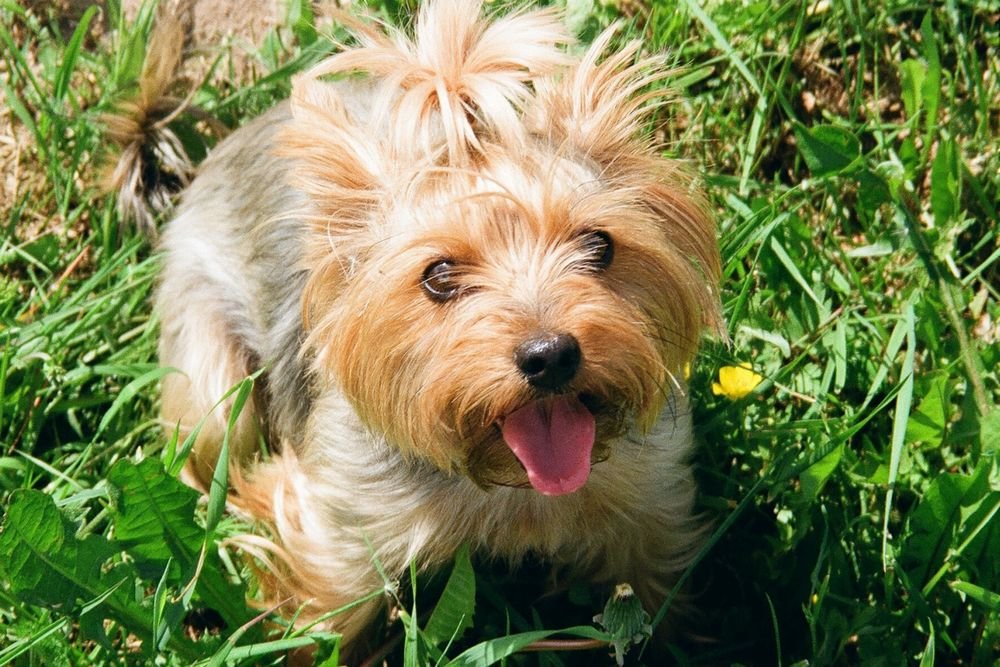 Whether all golden, or with standard coat colors, the Yorkshire Terrier is, without a doubt, one of the cutest dog breeds ever created. However, the breed is more than just attractive. It has many other benefits.
Naturally, it also has its drawbacks. Let's take a quick look at the advantages and disadvantages of Yorkshire Terriers, to help you decide if this breed is a good match for you and your family.
The Pros Of Owning A Yorkie
They don't require the same amount of food as larger dogs.
They are loyal, caring, and affectionate.
They are hypoallergenic.
They are small.
They have no trouble adjusting to apartment life.
They are less difficult to transport than bigger dogs.
The Cons Of Yorkie Ownership
Yorkies are great dogs, but they aren't for everybody. Keep the following points in mind, to prevent any possible negative surprises down the road.
It takes a bit longer and more patience to potty train them.
If you're looking for a guard dog, they are probably to small, despite their bravery.
It takes more time to groom them.
They are not the best breed if you have small children.
There could be issues if you also have larger dogs.
They usually sell for much higher prices than many other dogs.
Rare Golden Yorkie: Conclusion
Most Yorkies are black and tan as puppies and blue and gold as adults. The only other officially recognized (by the American Kennel Club) color combinations are black and gold and blue and tan. Of course, when we are talking about blue, it is not a deep blue, but more of a silverish-gray type of blue.
There is one other officially recognized Yorkie color pattern. The parti-colored Yorkie. What is a Parti Yorkie? It is white with black and tan and the AKC recognizes it as a nonstandard variant of a purebred yorkie.
No Yorkie with a single coat color is recognized as purebred. That includes the Golden Yorkie. Of course, that does not mean there is anything wrong with owning one. Just make sure you get it from a reputable breeder who is not specifically breeding gold colored Yorkies.