Sometimes it's nice to be different.
Everyone else has the standard blue and gold Yorkie.
Wouldn't it be cool to have a completely different color?
And what could be cooler than an all-black Yorkie?
But do they exist?
Yorkie puppies are often born black, although they always have at least some color in there.
But their colors change as they age.
Are there any full-grown black yorkies out there?
Keep reading to find out. We'll cover everything you need to know about black Yorkshire terriers.
Full Grown Black Yorkie: Do They Exist?
No, there are no purebred all-black Yorkies. Black Yorkshire terriers do exist, but if you take a closer look one, you will notice barely discernible tan coloring on its chest, legs, or face.
You can sometimes only see these markings upon closer inspection. And if there are no markings at all and the dog is indeed completely black, then it is a crossbreed between a Yorkie and a breed with a standard black coat.
So basically, there are black Yorkies, but they are either not completely black or not purebred Yorkshire terriers. But how common are these black non-Yorkies?
Are Black Yorkies Rare?
We can never tell for sure how rare a dog of particular coat color is. After al, just because you and I haven't seen one, does not mean that it does not exist.
And since the AKC and most other National Yorkie Clubs do not consider an all-black Yorkie as a standard color, there is no way of keeping track of their actual numbers.
In short: there could be just 50 all-black Yorkies in the entire world. Or 100. Or 5000.
Sometimes, a rare all-black Yorkie might turn up at an animal shelter. Sometimes, you may have that one all-black Yorkie puppy in a litter of regular pups at a reputable breeder.
However, if a breeder promises to have an entire litter of all-black Yorkies, then you need to be very cautious. These are definitely not going to be purebred Yorkie puppies. The breeders will have had to mix in some other breed's DNA, in order to get that all-black coat.
Unethical breeders will go to great extents to create rare and uncommon coat colors. For example, they might use techniques like in-breeding to get that rare all-black offspring.
Inbreeding is known to result in many health issues in the puppies. Often, inbred puppies end up with behavioral or temperamental problems as well.
No All-Black Yorkie Is 100% Black
Good breeders will tell you that no all-black Yorkie is 100% black. It is bound to have discernible markings on its face, chest, and legs. You might only see these markings if you look closely. They may sometimes become more prominent as the puppy matures.
The deep black coat will definitely have dark tan or chocolate brown markings that may not be visible at first glance. However, upon closer inspection, you might see these markings around the dog's mouth, upper chest, throat, legs, feet, and behind the tail.
And the chances of having such a purebred all-black Yorkie, which is not actually completely black, are very low. If you want completely black, you will need to settle for a crossbreed.
As mentioned earlier, breeders will have to use dogs like Miniature Pinscher, Dachshund, or some other breed that tends to have black coats to get that all-black coat.
In short: a purebred all-black Yorkie is an impossibility. A breeder will only be able to achieve the all-black color by mating a Yorkie with another dog of another breed having an all-black coat.
And even then, the chances that the offspring are all black are not high. To increase those chances, the breeder will have to use a black Yorkie, which, as mentioned, are rare.
Non-ethical breeders have no qualms about inbreeding many times over to get black puppies. They will go to any extent to achieve those rare and in-demand coat colors.
Unfortunately, these unethical breeding practices could lead to health and temperamental issues, and it is little wonder that many of these poorly bred dogs end up in shelters.
Why Some People Reject Black Yorkies
While all-black Yorkies may be in demand as house pets due to their rare and exotic looks, many breeders do not want them. After all, serious Yorkie breeders only want show-quality dogs that are AKC-approved and conform to the standards specified by the club.
Since the all-black Yorkie color is not a breed standard, breeders are likely to reject them. After all; these dogs cannot enter competitions or win show titles. For breeders, these are extremely important aspects of dog breeding.
Well-informed potential pet owners might also reject all-black Yorkies, because they may be aware of the health issues these dogs tend to have. This is because of the high likelihood of mixed breeding and inbreeding in their bloodlines. The same is also true of all-white Yorkies.
The sad part is that gullible buyers often fall for the schemes of such unethical breeders. They even buy such rare colored Yorkies for massive prices, because the breeder advertises them as 'rare' or 'never before seen'.
Such backyard and unethical breeders are only after profits and are not at all concerned about the Yorkshire terrier breed welfare.
How Yorkies Get Their Coat Color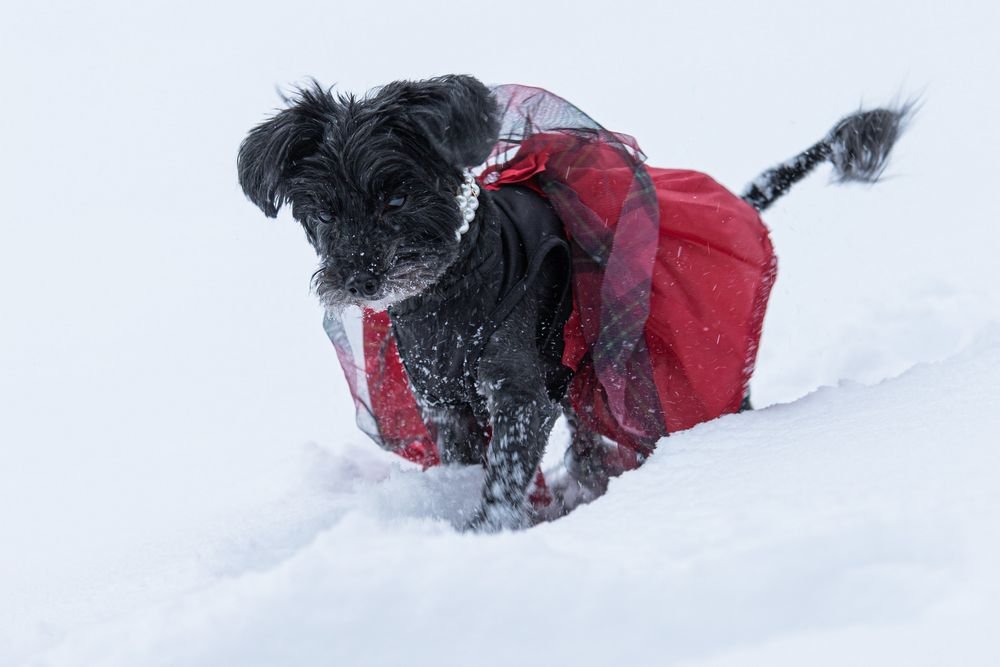 All dogs have two pigments (eumelanin and pheomelanin) in their skin and their hair follicles contain melanocyte cells. These three elements, combined with other genetic factors, work together to determine the dog's coat color.
The pigment eumelanin is responsible for the black coloring, while the pigment pheomelanin is responsible for red, tan, etc.
A Yorkie's color depends on the combination of these pigments. Furthermore, the melanocyte cells in the hair follicles add more melanin pigment to the coat colors as the hair grows.
This too determines the dog's coat color and is also the reason why Yorkshire terriers change coat color as they grow.
Of course, factors like genes also contribute. Genes can impact the production and strength of the two pigments. As a result, the red or the black may intensify.
How Much Is An All-Black Yorkie?
Purebred Yorkie puppies from top breeders tend to cost between $800 and $5,000, depending on factors like the dog's age, its lineage, whether it is AKC registered, and also the coat color.
Naturally, since all-black Yorkies mostly aren't purebred, they should not cost as much. You may want to steer clear of breeders who promise their all-black pups to be purebred. If you ask for documentation and the breeder hesitates, that is a clear sign that the puppy has some other dog breed DNA in its blood.
Sable Yorkie: Related Questions
We're going to answer the most common questions we get related to all-black Yorkies. If you have additional questions, please do not hesitate to ask them in the comments below.
What are all black Yorkies called?
All black Yorkies are called melanistic Yorkies. Melanism occurs due to a gene mutation.
What is the rarest color in Yorkies?
Chocolate, all-white, all-black, and liver-colored Yorkies are quite rare. Mostly these are not purebred dogs, however.
What is a blueberry Yorkie?
A blueberry Yorkie is the result of crossing the Biewer Yorkie with a merle-colored Yorkshire terrier. The resulting dog is white-blue-tan or white-blue-gold in color with the biewer terrier temperament and size.
What are the different Yorkie coat types?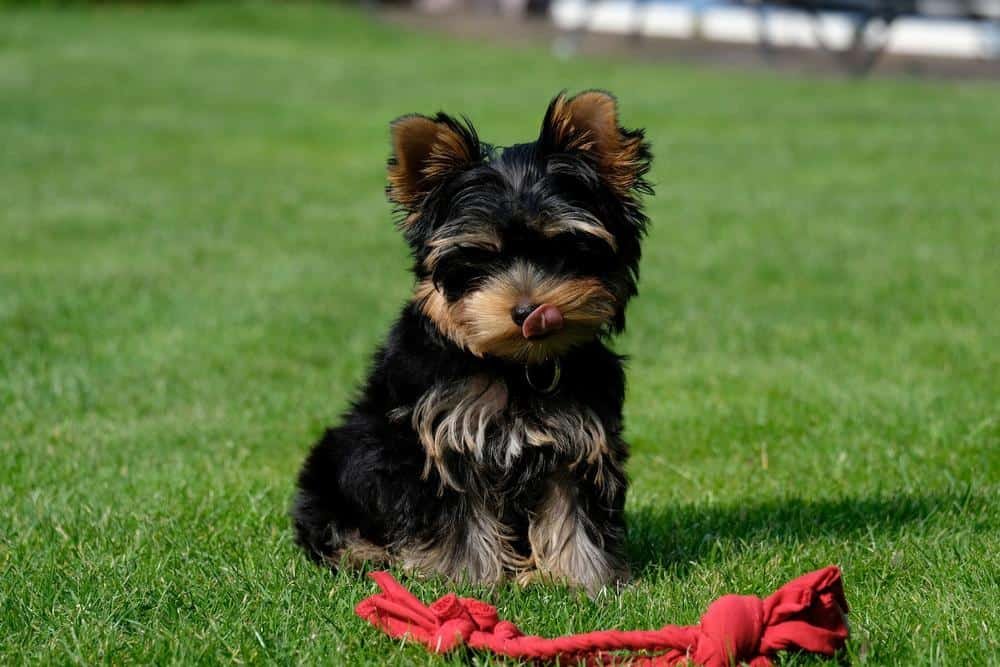 Yorkies don't just have different colors, they also have different coats. These are also determined by their genetics. They can have a puppy coat, a silky coat, or even a soft or cotton coat.
Puppy Coat: as the name suggests, Yorkies have this coat in their newborn state. It is softer and thicker than an adult's coat. Most Yorkie puppies are born with a puppy coat, but not all.
Silky Coat: the silky coat is the AKC standard for Yorkshire terriers. If you plan to enter your Yorkie in a dog show, it needs to have this type of coat to qualify. Yorkies actually have hair, not fur, and the standard for the breed prescribes extended, straight hair with glossy sheen.
Cotton Coat: Yorkies can also have soft, wavy, coat that resembles combed cotton. This coat type does not brush out long and smooth, and often looks wavy, thick, and a little bit textured. This is true even if you use the best dog brush for Yorkies you can find.
Some Yorkies do have different coat types. For instance, a black Yorkie might not be purebred and a result of crossbreeding. Since they are not pure Yorkies, their coat often has characteristics of another breed. Black Yorkies may have dull, thick hair or rigid hair. However, there is no linkage between the color and the type of coat.
What are some other rare Yorkie colors?
Black is not the only color you can find that differs from the four standard Yorkie color combinations. Some of these color variations are the result of crossbreeding with another breed of dogs.
Other variations result from breeders intentionally breeding two dogs that have recessive genes.
Just be mindful that this type of breeding does tend to result in puppies with more health issues. It is always a good idea to do your own research on the breeder, before getting a Yorkie with a nonstandard coat.
Here are some of the other rare color variations you can find in Yorkshire terriers.
Parti Yorkie
What are Parti Yorkies? They have a tri-colored coat made up of black (or blue), white, and tan. Blonde and chocolate Parti Yorkies also exist.
Sometimes a Parti Yorkie will look completely white, but it will always have some other color in there. You may just have to look a bit closer for it, similar to the all-black Yorkies.
Producing a Parti Yorkie requires the breeding of two parents with the recessive S-locus gene, which usually manifests itself in white hair around the majority of the dog's body.
The question of whether the Parti Yorkie is a purebred Yorkshire Terrier is still a matter of debate.
Some breeders believed that a Yorkie was bred with another breed like a Maltese (read our article on how big Morkies get for more on this crossbreed) at some point in the lineage. That's where the white hair comes from.
Despite all of the debates, the AKC recognizes the Parti Yorkie as an official Yorkshire Terrier breed, albeit a nonstandard variant. This means they are not able to take part in the conformation portion of dog shows.
There are a lot of similarities between this dog and the Biewer Terrier, so people often confuse the two. But there are also still a lot of differences between the Parti Yorkie and Biewer Terrier.
Chocolate / Brown Yorkie
A lot of breeders actually advertise this type of Yorkie as Chocolate Yorkie. Usually, these Yorkies are produced by crossbreeding Parti Yorkies with other Parties, or with standard Yorkies.
Because they both have the recessive gene, there is a good chance it will lighten up the coat's eumelanin, resulting in the brown color.
Some people also believe that the Chocolate Yorkie was only made possible by crossbreeding somewhere up in their lineage.
Golden Yorkie
As the name implies, the extremely rare Golden Yorkie is golden, all over its body. This color comes from a predominance of the phaeomelanin gene across the board.
Even if it is genetically possible for a Yorkie to end up blonde, it is highly unlikely a Golden Yorkie is purebred. But there are true purebred Yorkies that have much more golden or tan hair than blue hair.
Red Yorkshire Terrier
Red Yorkshire Terriers can actually be purebred. They are also called Red-legged terriers. The red coloring results from the phaeomelanin gene.
This gene is the same gene component that gives a Yorkie its golden color. The only difference is that there is a greater abundance of melanin, making the hair appear a little darker than usual.
This coloring is actually more common on the dog's underside, especially its chin, chest, and legs. Hence the name Red-Legged Yorkie.
All Black Yorkie: Conclusion
There are no true all-black Yorkies. Any black Yorkie is either not purebred, or it is not completely black. Look closely enough and you will see other colors.
That said, there is nothing wrong with back Yorkies, as long as they were not bred specifically to be black. That usually means inbreeding, which, in turn, means a much higher risk for health issues.
But if the black Yorkie comes from a reputable breeder and you don't mind that it is not going to be considered a purebred Yorkie by the American Kennel Club, then it can be a wonderful pet.