Yorkies have a unique coat in the canine world.
Their hair is more like human hair than other dogs.
This gorgeous, silky coat is their most distinctive feature.
It helps them stand out and it is a big reason Yorkshire terriers are one of the most popular dog breeds worldwide.
But just like gorgeous human hair, gorgeous Yorkie hair needs regular grooming.
And it's not just the hair. There are other grooming tasks you need to stay on top of.
Keep reading to learn how often a Yorkie should be groomed to keep it happy, healthy, and looking its best.
How Often Do Yorkies Need To Be Groomed?
Yorkies need regular grooming. You need to brush your pet's coat at least two to three times a week, and ideally every day. You should also brush your Yorkie before every bath, which should be about once a month.
Regular brushing keeps your dog's coat free from mats, tangles, parasites, and dirt. You should also brush your Yorkie's teeth daily, and clean its ears and trim its nails regularly.
If this seems like a lot, it is, in some ways. Yorkshire terriers do require more grooming than many breeds. Of course, you can just hire someone to do the grooming, but it can cost quite a bit to groom a Yorkie if you pay a professional.
It makes a lot of sense to handle many of the easier grooming tasks on your own. Getting the proper grooming tools won't cost you much. And if you look at the grooming tasks as a good bonding experience with your pup (which they are), they no longer seem like chores.
Whichever way you want to view these grooming tasks, nothing will change the fact that they need to happen regularly. Let's see why Yorkies need regular grooming, and what can happen if you fail to provide it.
Yorkies Need Regular Grooming
Regular grooming is very important for a Yorkie's health and overall well-being. No one likes a bad hair day and your Yorkie certainly doesn't either. They feel just as uncomfortable as we do when our hair is all tangled and ratty.
Here are the main reason Yorkshire terriers need regular grooming.
To Ensure Their Overall Health And Well-being
Grooming your Yorkie is more than just having it look and feel good. It is vital for your pet's health and overall well-being.
Regular grooming is definitely more than just a bath and combing or brushing. It also includes examining your pet for lumps and bumps, oral care, ear examination and cleaning, and nail trimming.
Your pet's coat speaks volumes about its overall health. If it is dull and lackluster, or has sores or lesions, then it is likely that your pet has allergies, a hormonal imbalance, or other serious health issues. Poor nutrition can also be a reason behind your Yorkie's lackluster coat.
To Curb The Spread Of Disease
An ungroomed Yorkie is more likely to carry fleas, ticks, and other parasites. Many of these parasites are carriers of serious diseases like Rocky Mountain Fever, Bubonic Plague, etc.
Ungroomed dogs also carry fungi, ringworm, or other harmful pathogens. Susceptible individuals — the elderly and kids — could pick up these diseases from an ungroomed Yorkie.
A lot of these issues can lead to various complications. Often, they cause your pup to scratch a lot, which can lead to scabs on your Yorkie's skin. Those can easily become infected.
You may also end up with a Yorkie with bumps on its skin. These are usually harmless, but can sometimes be serious. And even harmless bumps can turn into a more serious problem, so stay on top of the grooming.
To Bond With Us
When you have a well-groomed Yorkie on hand, you feel like cuddling and petting it. Yorkies themselves like to be clean and feel good when they look good. A clean, well-groomed Yorkie is definitely a better companion to have.
The act of grooming itself is also a great way for you to bond with your Yorkie. Animals groom each other as a way to interact socially and it is the same when we do it with them.
To Present A Positive Public Image
Keeping a well-groomed Yorkie says a lot about you as a responsible dog owner. You can proudly strut your beautiful pet around and it is sure to fetch compliments!
You might be able to take it to places where dogs aren't allowed normally. After all, a well-groomed Yorkie is often considered a well-mannered Yorkie.
Not only can you proudly take your pet on walks, but also to hospitals to visit sick individuals and cheer them up. You can even train a Yorkie to be a therapy dog or a comfort dog, in which case it is even more important for it to be well-groomed and tidy.
Consequences Of Not Grooming Your Yorkie
When we think about what it takes to keep our Yorkies healthy, many of us only think of feeding it a good diet, taking it on long walks, and occasionally taking it to the vet for checkups.
But grooming is also essential for your Yorkie's well-being. Here is some of the potential negative consequences of letting your Yorkie go for too long without grooming.
Build-Up Of Dead Skin And Dirt
Brushing and combing followed by regular baths remove dead skin and dirt from your Yorkie's coat. Regular coat brushing also redistributes the skin's natural oils to keep your Yorkie's coat healthy and shiny.
Without grooming, debris accumulates over your pet's skin. Over time, this could lead to serious skin issues. Dandruff and dirt build-up can make your Yorkie super itchy. Scratching could result in pus-filled lesions or secondary infections that may require antibiotics to treat.
Parasitic Infestation
Grooming is also a chance to examine your pet for fleas, ticks, and mange. When you brush your pet, you end up removing these parasites. Furthermore, bathing with the best flea shampoo for Yorkies helps kill the eggs and larvae of fleas and ticks.
These parasites can make your Yorkie miserable. Some sensitive dogs even suffer from Flea Allergy Dermatitis (FAD), which causes intense itchiness and wounds.
Mats And Tangles
A long-coated Yorkie with fine silky hair could develop knots and tangles, if not brushed regularly. The fine hair is more prone to tangling and these knots are very difficult to get rid of. You might even have to shave or cut those knots and that could damage your pet's beautiful coat.
Joint Pain Or Damage
If you don't trim your Yorkie's nails regularly, they could grow inwards and hurt your pet's delicate paw pads. To compensate, your dog has to adjust the way it walks, which puts pressure on its delicate joints. It also results in poor posture and pain.
Dogs with long nails also tend to slip on tiles and smooth surfaces, which can make them susceptible to injuries and fractures.
Ear Infections
Lack of grooming can also be detrimental to your Yorkie's ears. It could result in a foul odor and even lead to painful yeast infections. This danger is even larger when taping Yorkie puppy ears. You must clean them before taping.
Tips For Grooming Your Yorkie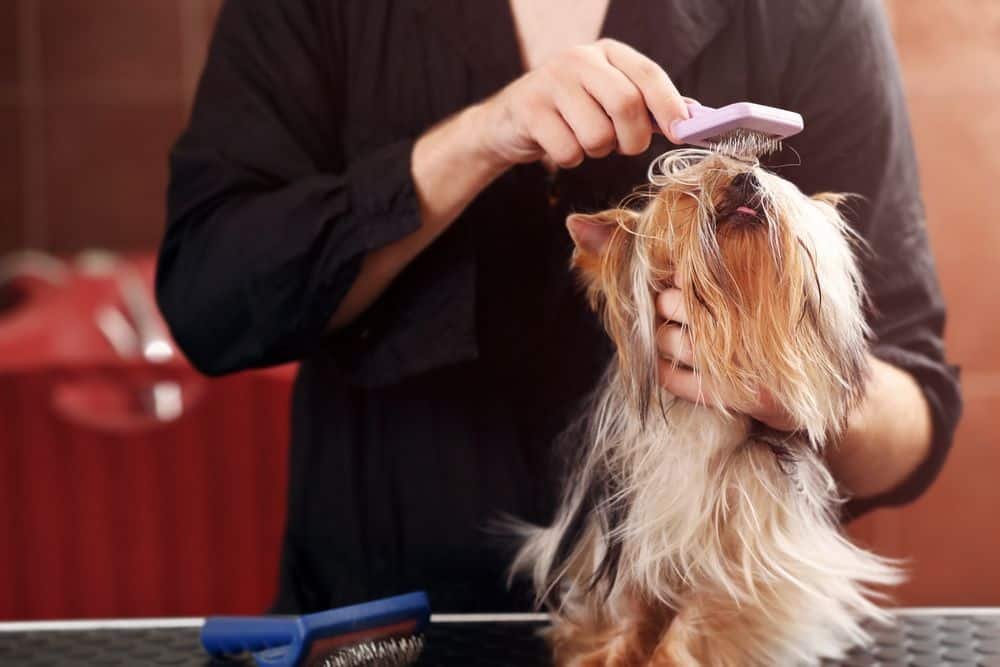 Here are some tips to help you maintain your Yorkie's coat.
Groom, Groom, Groom
Brush your pup thoroughly every other day (even better, give it a quick brushing every day), bathe it at least once every three weeks, and take your pet to a professional groomer for a haircut every 3 months.
But don't take your dog the groomer for a cut too soon. It is important to know when you should give your Yorkie puppy its first haircut.
Use A Vet-Approved Shampoo
Never use human shampoo, or even baby shampoo, to bathe your Yorkie. The same goes for human conditioners.
Only use pH-balanced, vet-recommended shampoo specially formulated for dogs with long, silky hair. This article will help you find a good shampoo. If your Yorkie has a specific skin issue, get recommendations for a medicated shampoo from your vet.
Use Pet Wipes Or Dry Shampoo
These can clean and deodorize your pet between baths. You can also use a homemade spray made of a few teaspoons of apple cider vinegar, a cup of distilled water, half a cup of aloe vera, and a few drops of lavender essential oil. Mix the solution and spray it all over your pet's coat for a fresh-smelling Yorkie.
Trim Nails Regularly
The length of time between nail trimming for small dogs depends on the rate at which its nails grow. In general, you can trim your Yorkie's nails once every 3 to 5 weeks. It is best to trim the nails once they have grown long enough to touch the ground when your little dog is standing up.
How Often To Groom Yorkie: Final Thoughts
The luxurious Yorkie needs proper care and maintenance. Without it, it won't be luxurious for long. Worse, inadequate grooming can cause numerous health issues for your poor pup.
Ideally, you want to brush your Yorkie every day and give it a bath at least once a month, unless it is very young. Do not bathe your Yorkie puppy until it is 8 weeks old.
If daily brushing is difficult, you need to do it at least three times per week. The longer you go between brushings, the longer each brushing takes.
In addition to brushing and baths, you also need to brush your Yorkie's teeth, trim its nails, and check and clean its ears. May owners prefer to let a professional groomer handle most of these tasks, but  unless you're rich, you'll probably need to do the brushing yourself, at the very least.